Fashion

Summer is here and is showing its most beautiful side. We've teamed up with Kariem Hussein – the European champion in the 400-metre hurdles – to show you the best outfits of Strellson's current summer fashion 2019.
About Kariem Hussein
1.92 tall, blue eyes and a sympathetic smile, already at the first handshake it becomes clear: Kariem radiates something calm, friendly and down-to-earth. He grew up as the son of a Swiss woman and an Egyptian dad on the countryside near Lake Constance and became enthusiastic about football and other sports at an early age.
Pictures & Rights @ https://www.stcphotography.ch
Location @ https://www.villa-am-see.ch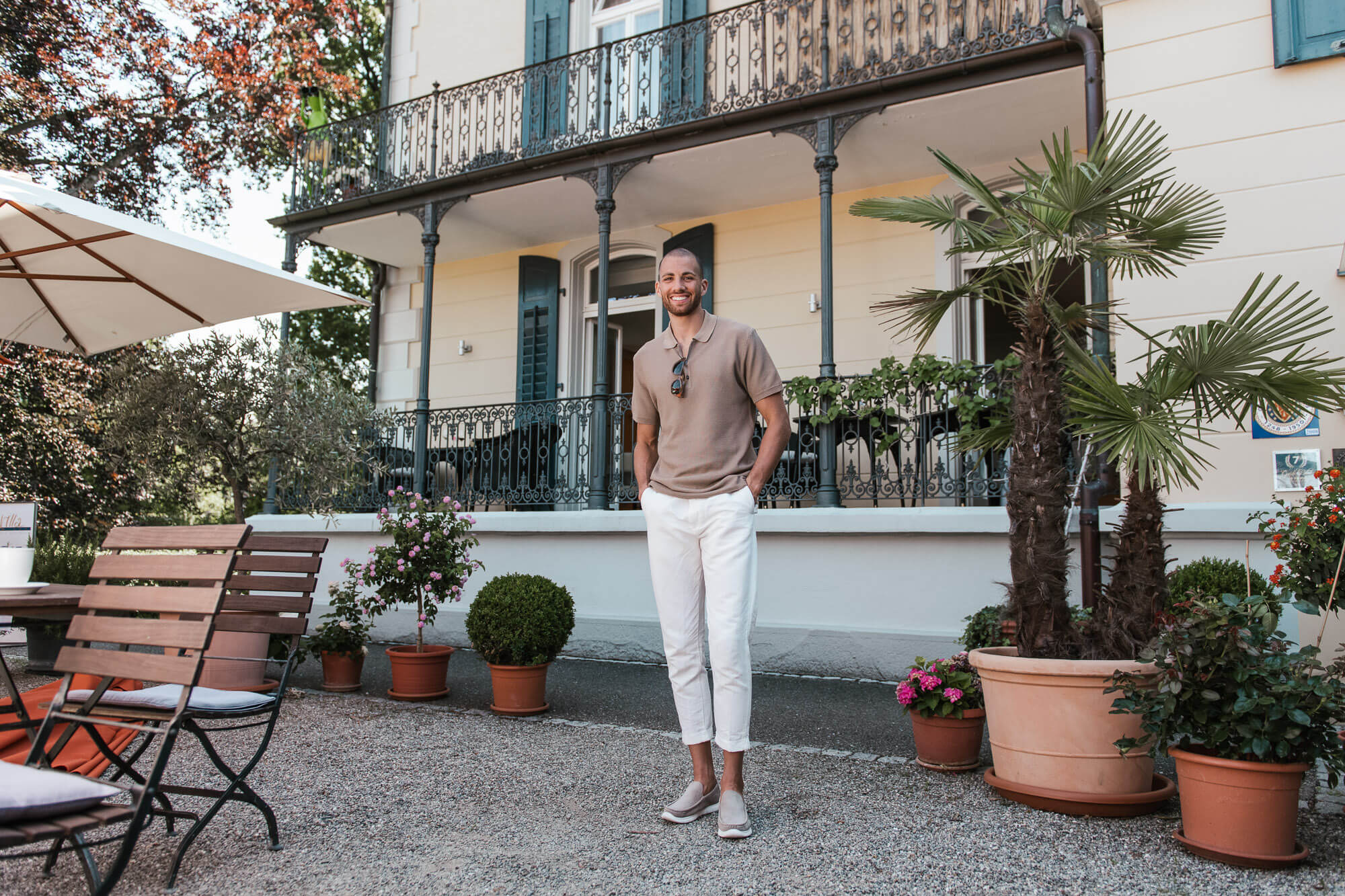 2014 – the highlight of the European Athletics Championships 2014
At the age of twenty, the young athlete decided to switch from football to athletics. After a hard and focused training session, he managed the coup in Zurich in 2014: he became European champion in the 400-metre hurdles. He charmingly explains to us that in this sport, his body size is quite suitable for him.
Kariem recently completed his medical studies, proving he is more than just good-looking and disciplined in every respect.
Kariem Hussein shows the latest summer fashion 2019 by Strellson
Strellson – the company based in Kreuzlingen – can look back on over 30 years of history and has meanwhile developed into a global brand and perhaps something of an insider's tip. Fact is: there is a lot of style and quality at a top price.
1st Maritime Looks & Yachting
With these outfits you can't go wrong when it comes to summer fashion 2019. The looks are ideal for a leisurely stroll along the shore, a sailboat trip or a glass of rosé on the water. The combination of blue and white fits so wonderfully into the theme of yachting and is definitely one of our favourites.
Tip: The shorts can also be combined with an apricot-coloured shirt, which adds a little extra freshness to the look.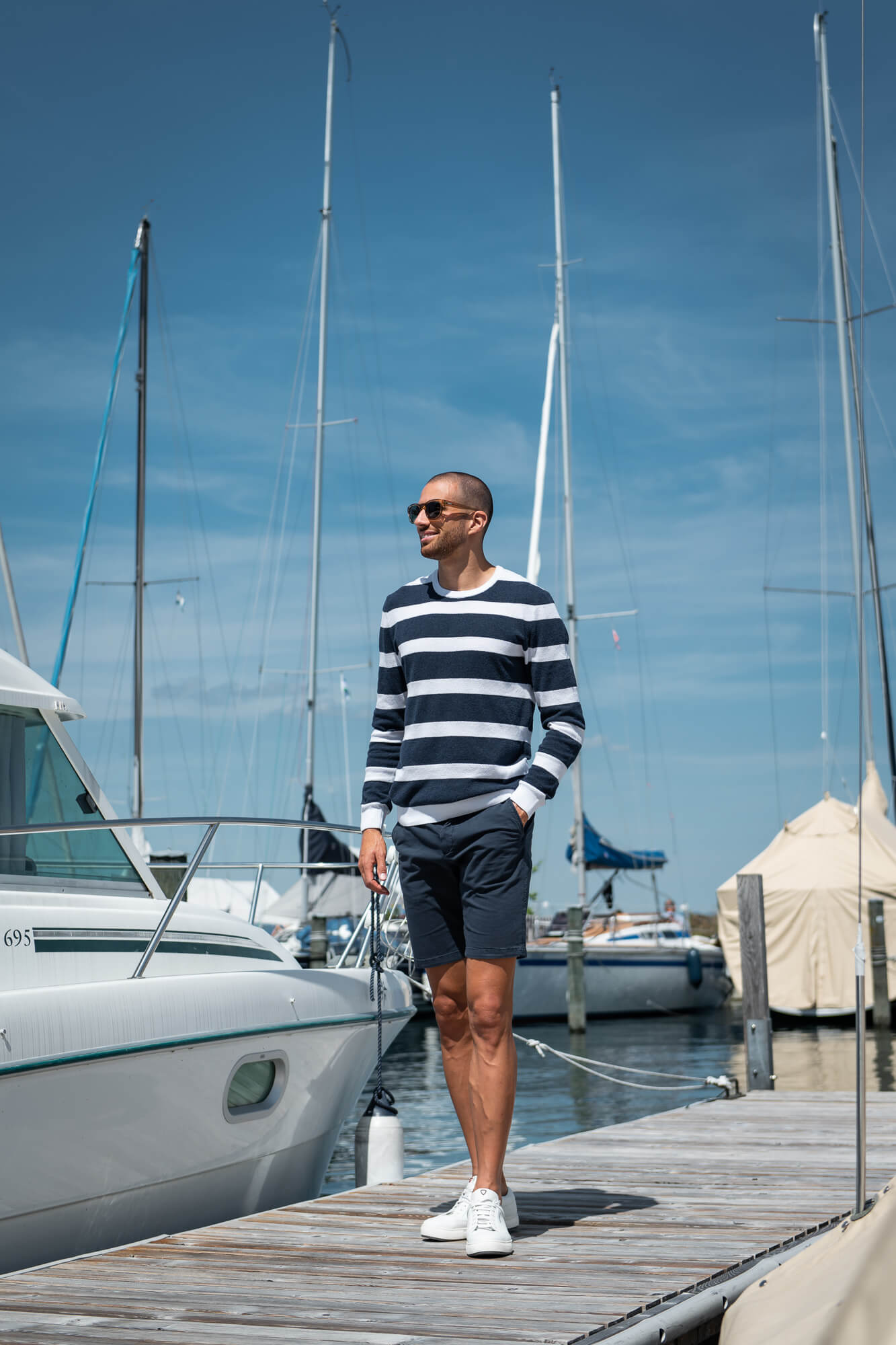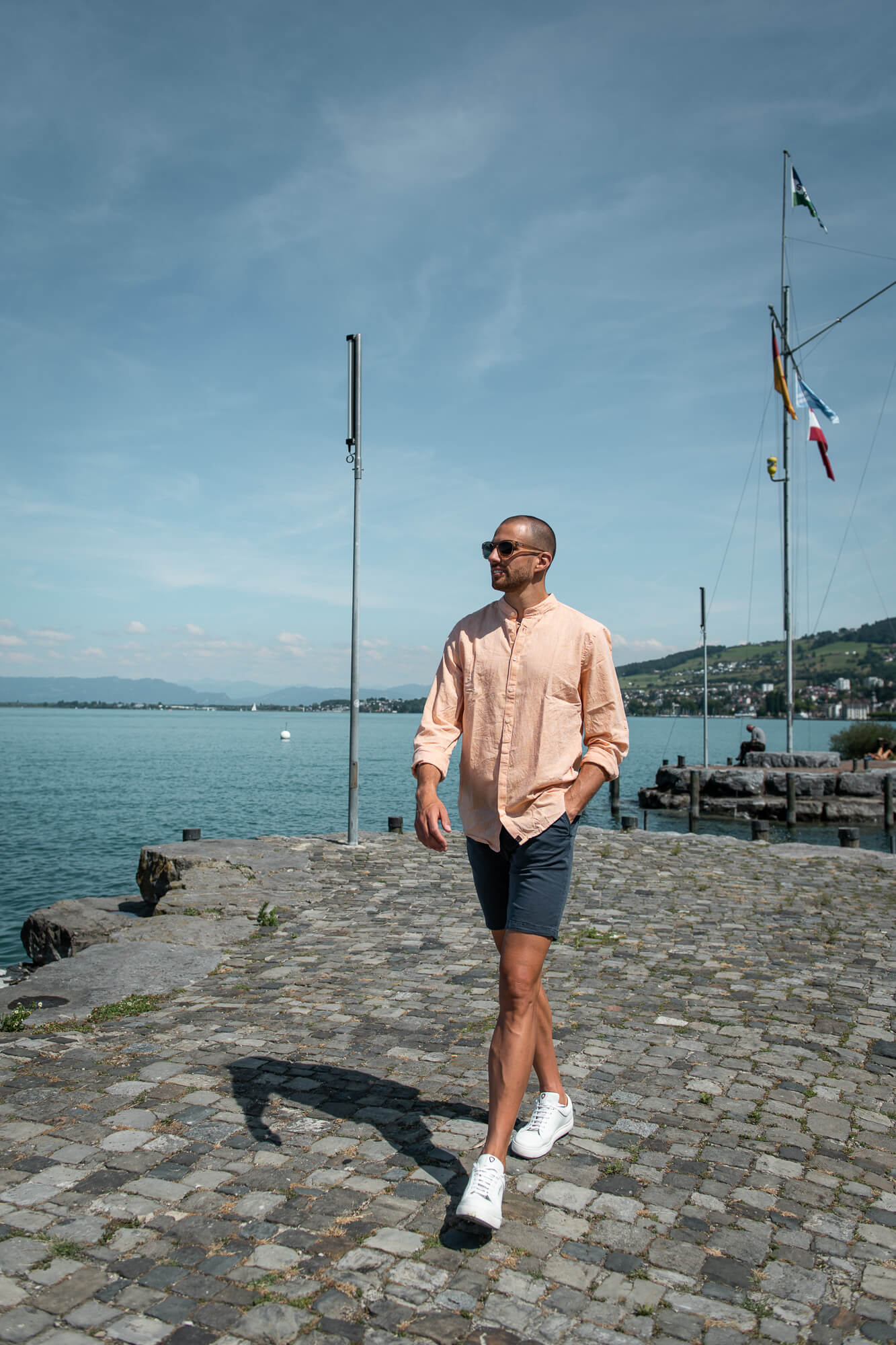 Shop the look
2. Sporty & casual
If you prefer a sporty and crunchy look, choose a short Sports Crush pants and shirt. The outfit looks cool, easygoing and is perfect for all those who like it casual.
Tip: Strellson also has some great swimming trunks on offer – check it out!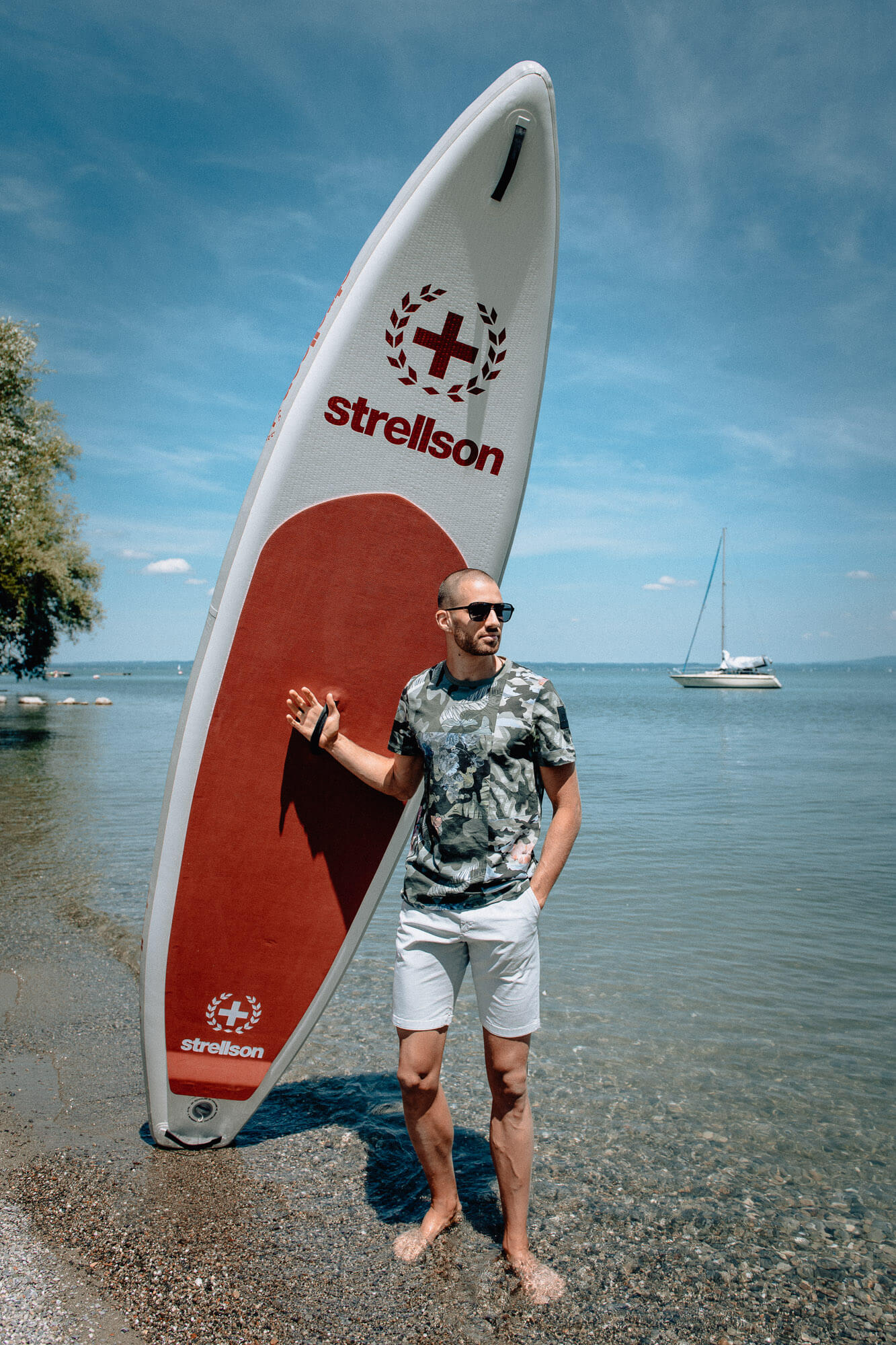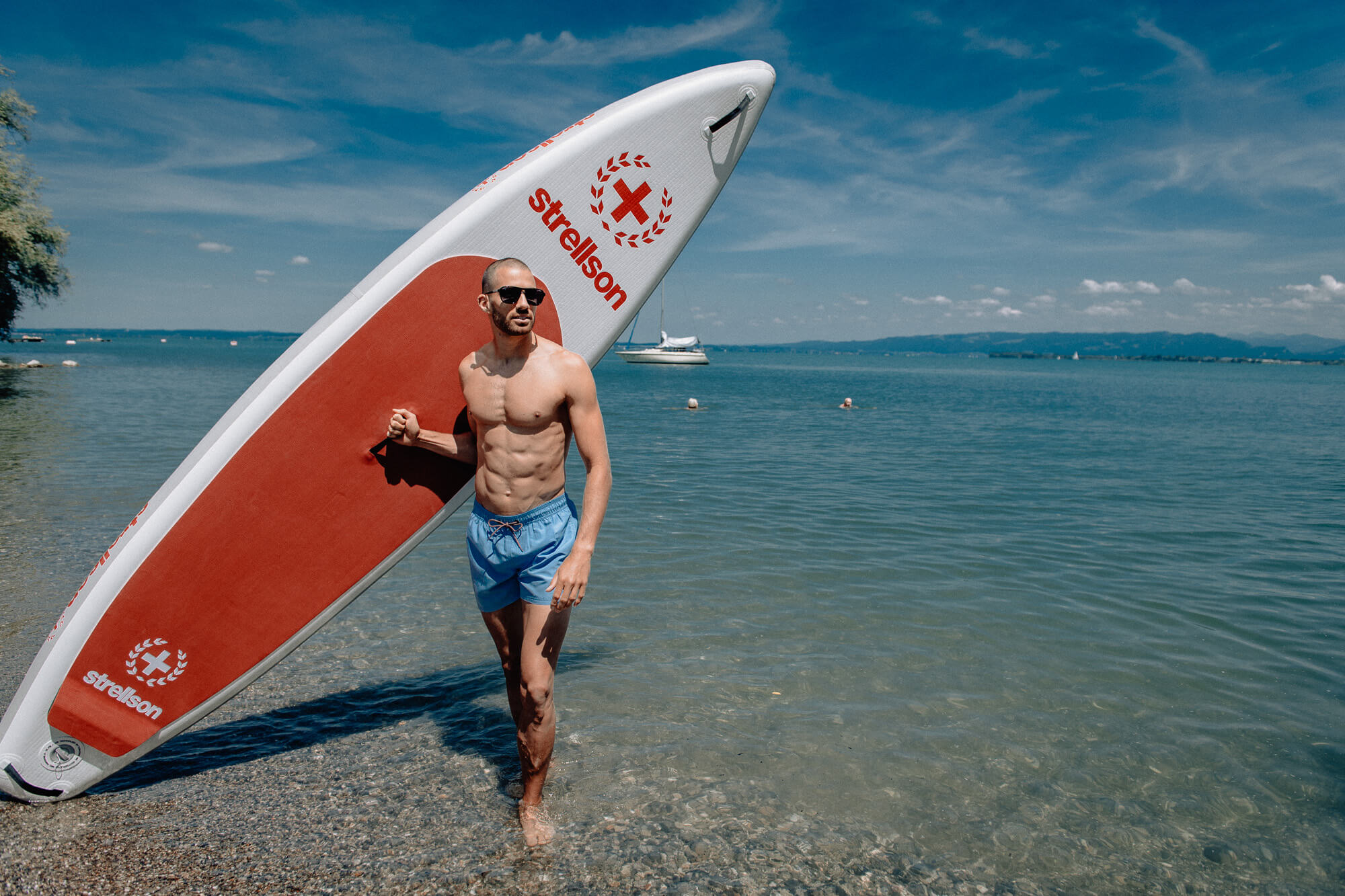 Shop the look
3. Coffee or dinner at the restaurant
Kariem shows with this great look that summer fashion 2019 can be a bit classic. The outfit is perfect for a coffee in the late afternoon or an evening dinner on a cosy terrace.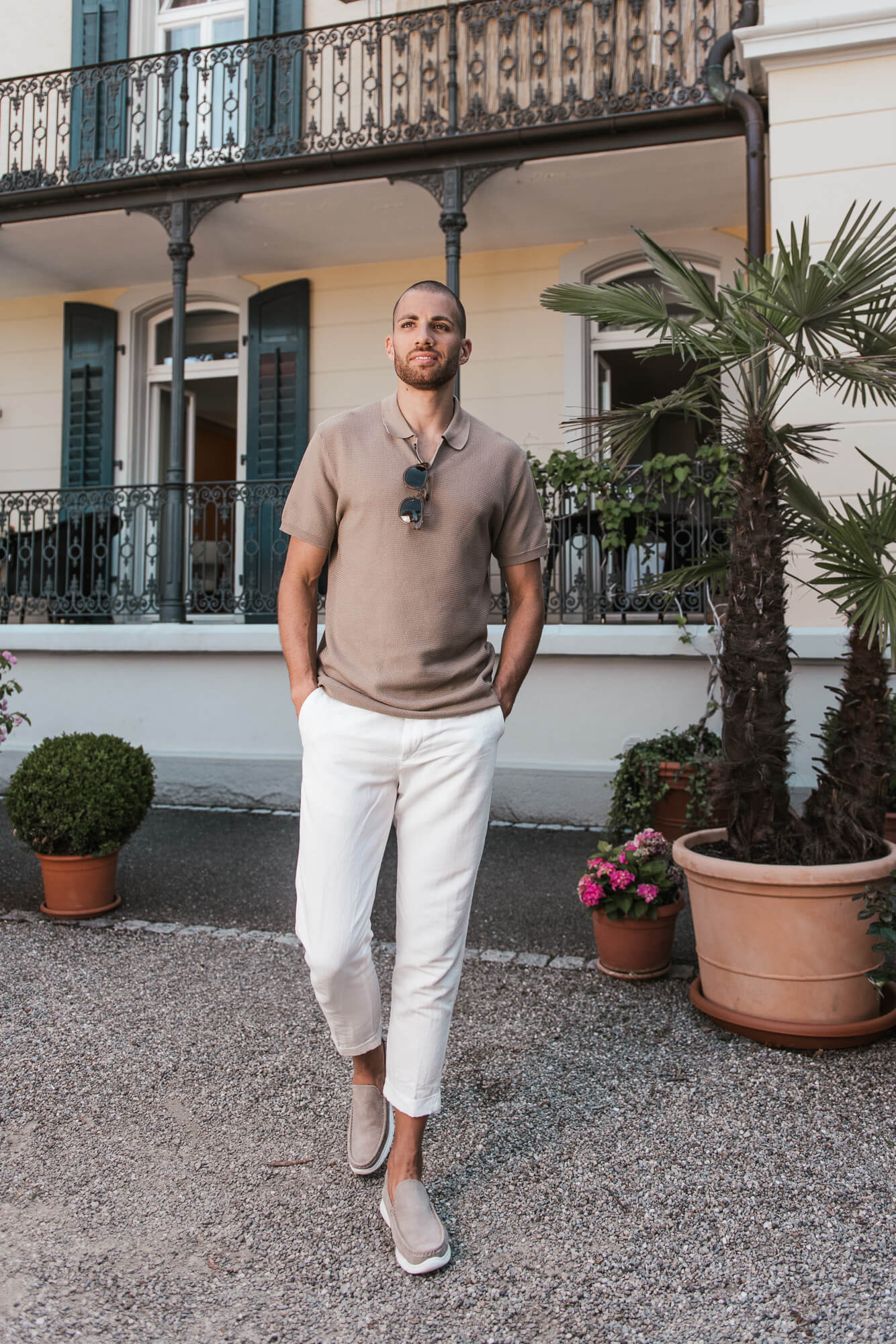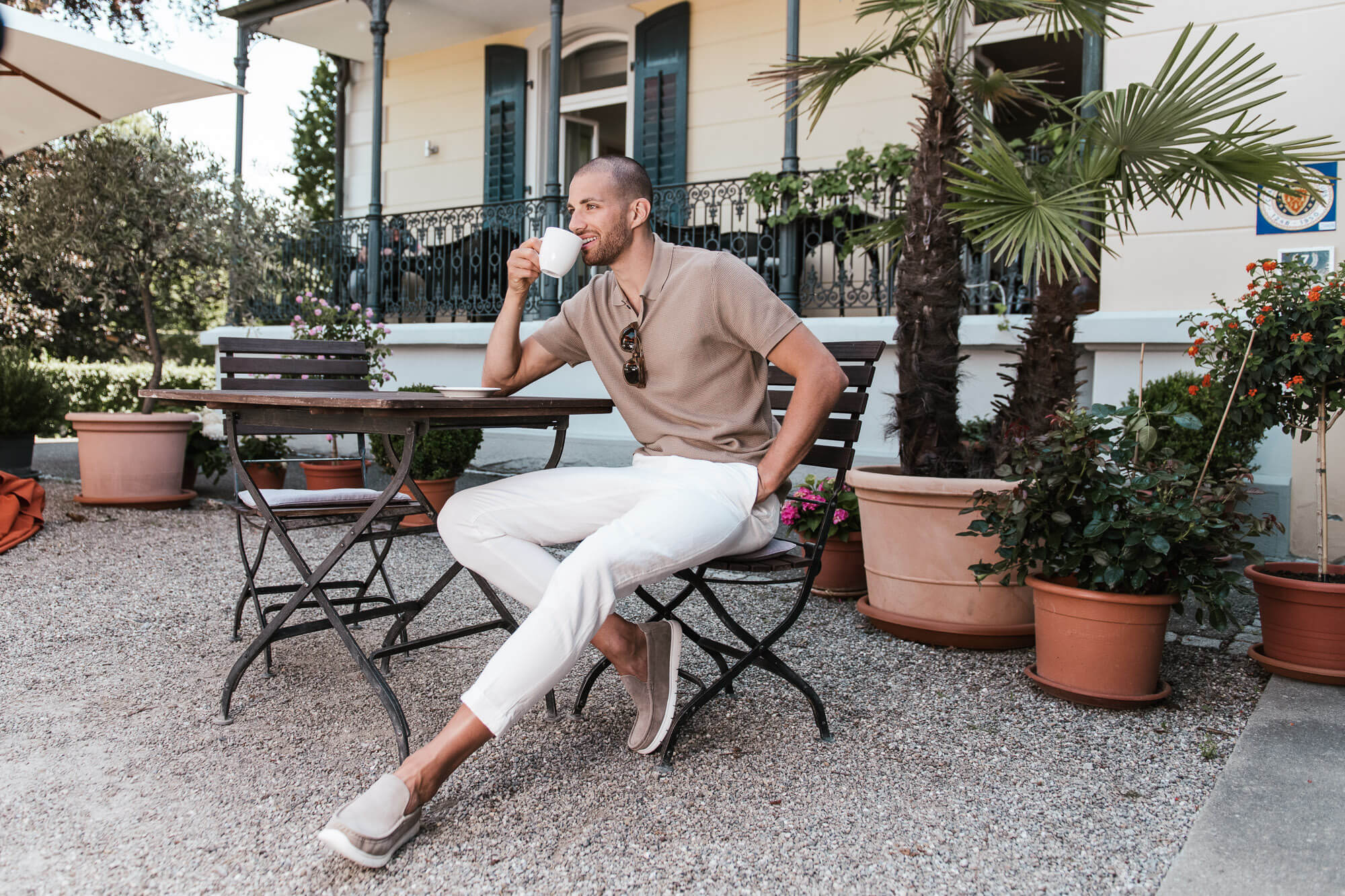 Shop the look
/
0 Comments
/
by Ralph Widmer
https://agentlemans.world/wp-content/uploads/2019/07/yachting-look.jpg
1333
2000
Ralph Widmer
//media.agentlemans.world/2017/01/agw-logo-605.png
Ralph Widmer
2019-07-19 08:22:44
2019-07-19 16:03:43
Kariem Hussein shows Strellson's latest summer fashion 2019
Fashion

Twice a year various exhibitors, fashion enthusiasts, fashion brands, spectators, peacocks and photographers are traveling to Florence. It's time for Pitti Uomo 96 – the biggest fashion fair for men and benchmark for fashion – a good reason to show the coolest fashion trends for the summer of 2019.
Fashion trends 2019 – With style into summer!
Florence showed its best side last week: it was sunny, around 35 degrees warm and the alleys full of people in good mood. Every 6 months we can look forward to a good glass of wine, a few steaks and fancy looks – the Italian town is simply wonderful.
Today's fashionable man is allowed to take risks and show some courage for colours and unusual looks. This summer, we're showing our favorite outfits we've seen in Florence. The common theme? It's all a bit about South American flair or styles you might see on a South African safari.
Linen is the must-have for the summer
It's hard to miss: Linen as far as the eye can see. Linen consists of a natural fibre, which is obtained from flax and radiates a pleasant naturalness. At warm temperatures the fabric has a cooling effect and is therefore comfortable to wear. Linen fabrics are of high quality and finely woven but still robust.
Tip: Linen often creases quickly, there are mixtures of linen and cotton that are less susceptible.
Havanna Looks – Flower Shirts & Shirts
The styles remind of good old Havana with its vintage cars, colorful houses, palm trees and the never-ending evenings in the light of lanterns with rum, cigar and salsa.
By the way: are the sandals back? You can often see it at this year's fair. Conclusion? It suits the 'Havana Look' very well!
The colours of summer 2019: white, beige, brown & green
The Pitti is teeming with imaginative looks in all colours and shapes! But with these 4 colours you can't do anything wrong with fashion trends 2019 in summer: White, beige, brown and green could be seen everywhere at the Pitti 96 – by the way, they also combine perfectly!
Cigars – smoking is allowed!
The trend from last year continues and inspires the photographers – smoking cigars is away from the 'Wall Street image' and fits perfectly to the fashion trends of 2019! The Davidoff Churchill with its spicy wood and leather notes over the creamy, sweet accents is definitely our favourite.
/
0 Comments
/
by Ralph Widmer
https://agentlemans.world/wp-content/uploads/2019/06/pitti-96.jpg
800
1200
Ralph Widmer
//media.agentlemans.world/2017/01/agw-logo-605.png
Ralph Widmer
2019-06-17 13:40:50
2019-06-17 14:21:45
Fashion trends 2019 - With style into summer!
Travel

A few words about Western New Guinea
Western New Guinea or West Papua is the western half of the island of New Guinea, which belongs to the continent of Australia. Western New Guinea is part of the Republic of Indonesia, while the eastern part is Papua New Guinea.
There are about 3 million inhabitants, who cultivate about 260 (!) different languages and dialects. The lifestyle of the region could best be described as 'back to the roots'. In the west, a large part of the population feeds on hunting and gathering.
Accordingly, a trip to this region is relatively long and certainly full of adventures and experiences.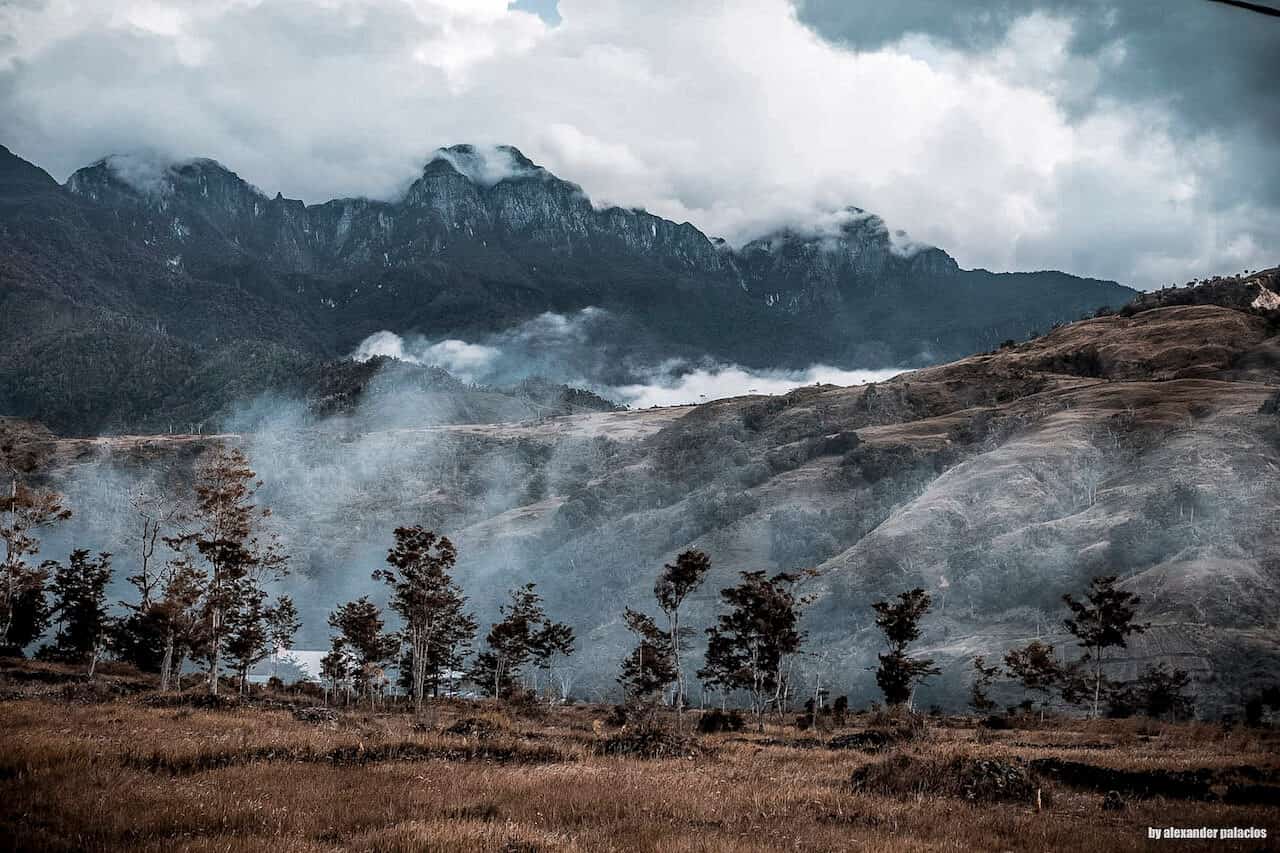 Alexander Palacios Introduces Himself
Alexander, you made an impressive journey to Western New Guinea. First tell us something about yourself.
I have been living in Switzerland since 2005, 11 years in the Basel area and one year in Zurich.
I'm a photographic artist in the field of fashion photography. Among other things, I have worked for various magazines and commercial companies. I also work in portrait photography.
In 2010 I won the Hasselblad Junior Contest in Switzerland, my prints are sold worldwide. At auctions such as the Hotel Dolder, my works reached prices of up to CHF 15,000.
What visual language do you cultivate?
In the field of cultural photography, my pictures describe real and untouched worlds. Among other things, they are collages, the way I see things and absorb them through my senses.
How exactly do such projects work?
Through my frequent travelling and discovering worlds, new projects emerge. These inspirations, combined with my photography, are the foundation of my exhibitions.
Since life outside of Europe or the western civilized world is quite different, you have to be very flexible. It is important to rely on one's own qualities, with a greater goal: to see interesting and new things, to discover them and bring them home with you. To inspire people and on request these pictures are for sale.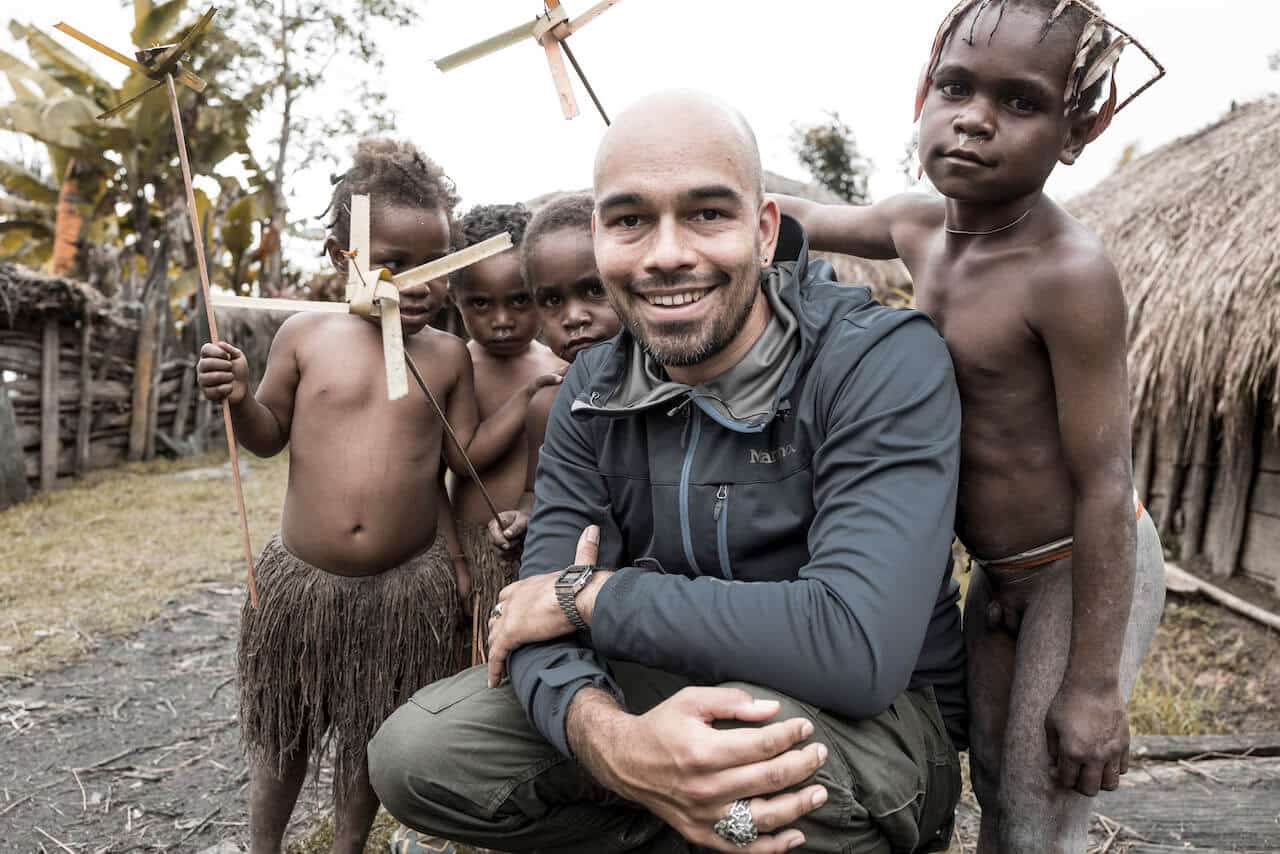 An adventure trip through Western New Guinea
Why Western New Guinea?
A friend's family owns a company (http://www.papua-indonesia.com), they have always offered trips to various corners of Papua. The Baliem Valley is still relatively untouched and has great adventures. So we set out to explore this beautiful region and discover the indigenous people.
What were the challenges?
I had the biggest concerns because of the risky flight.
The Baliem Valley and the airport are located at about 1600m above sea level, surrounded by mountains. The airport can only be approached by sight. Due to short term fog formation airplanes often crash.
There were two crashes within approx. 10 days before our arrival. The airline 'Trigana', with which one flies from Jayapura to Wamena, belongs to the most dangerous airlines of the world. But my curiosity and interest in other cultures and stories was stronger.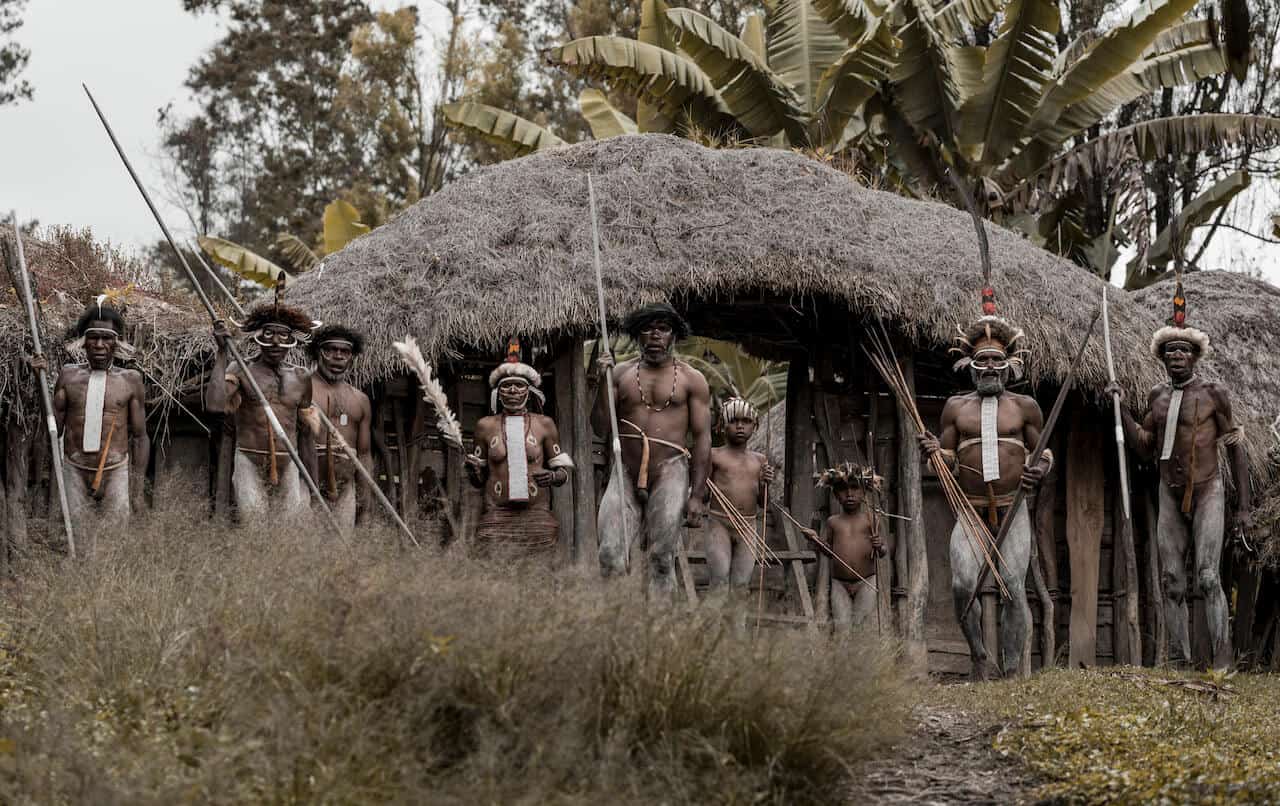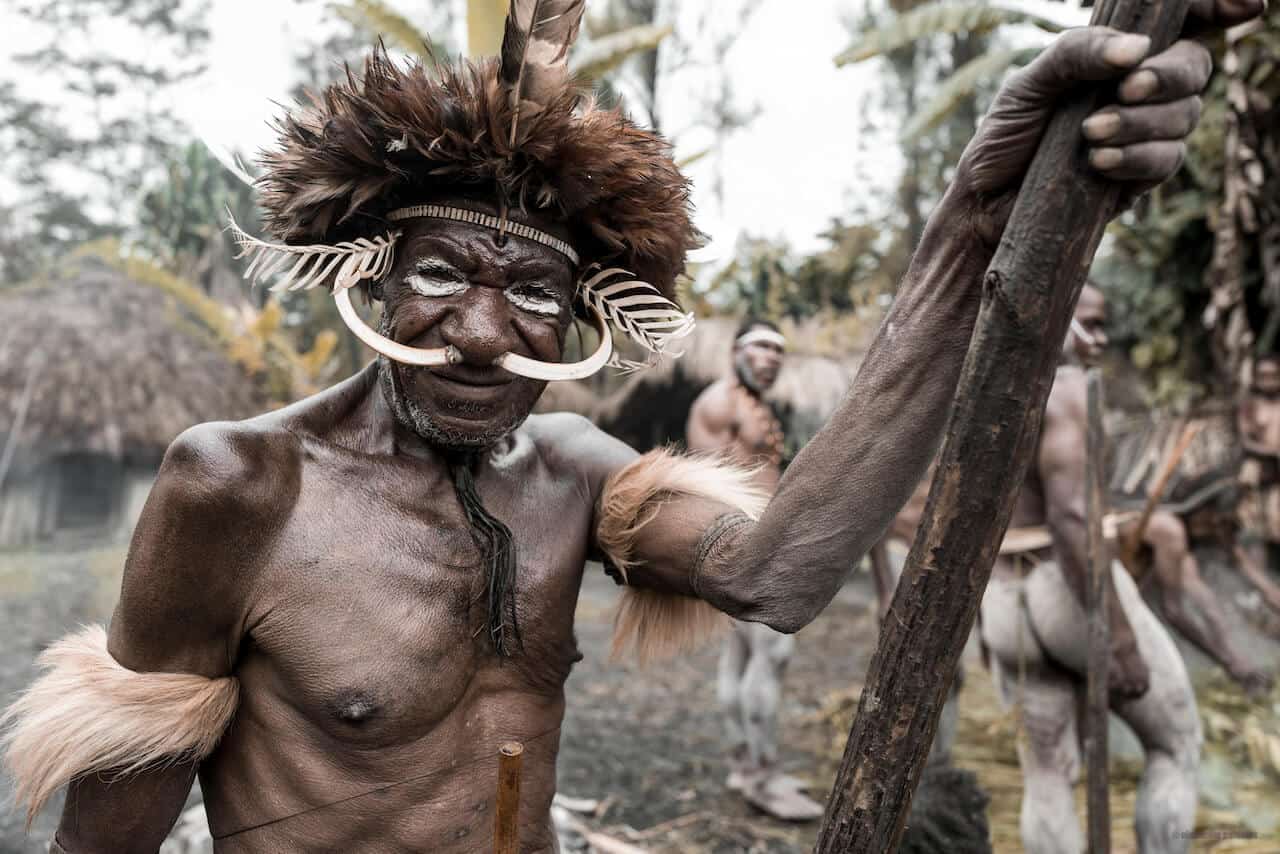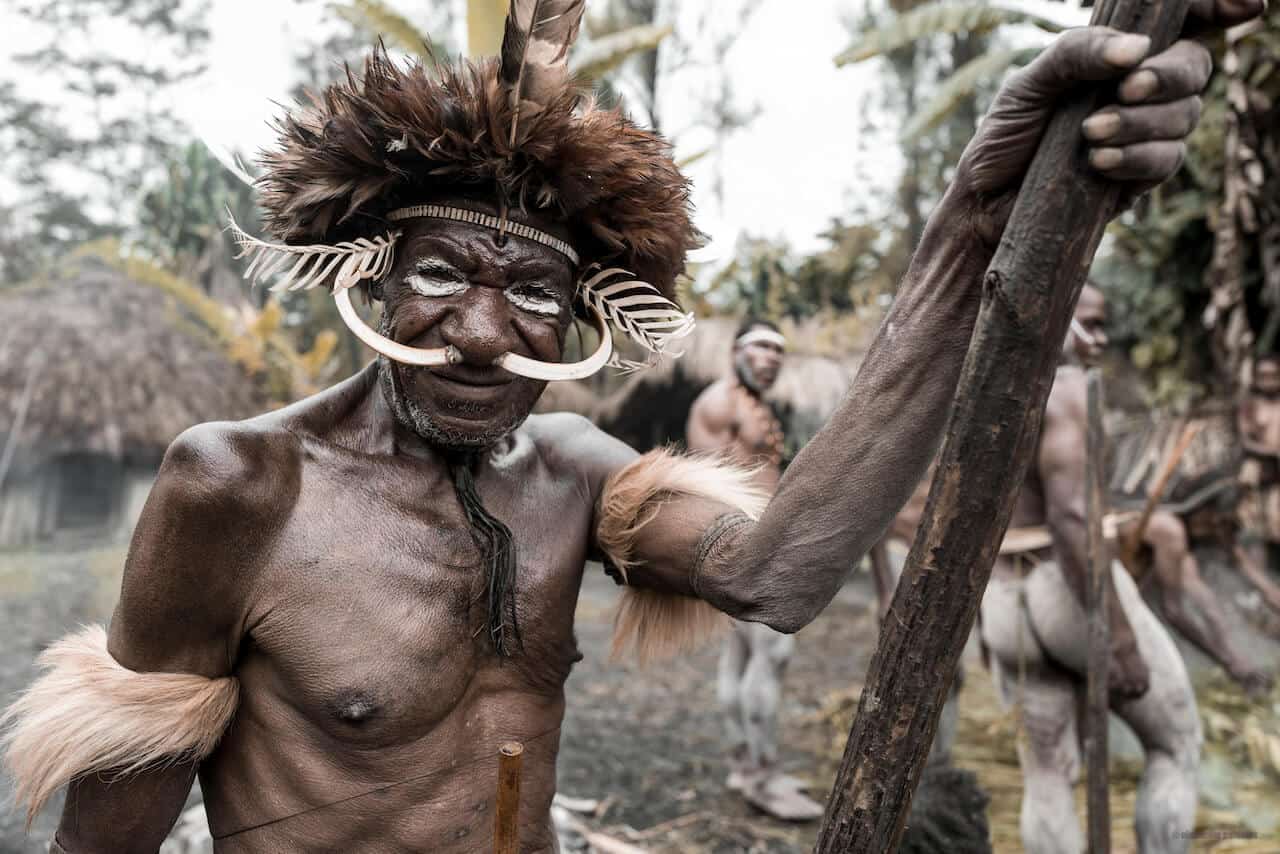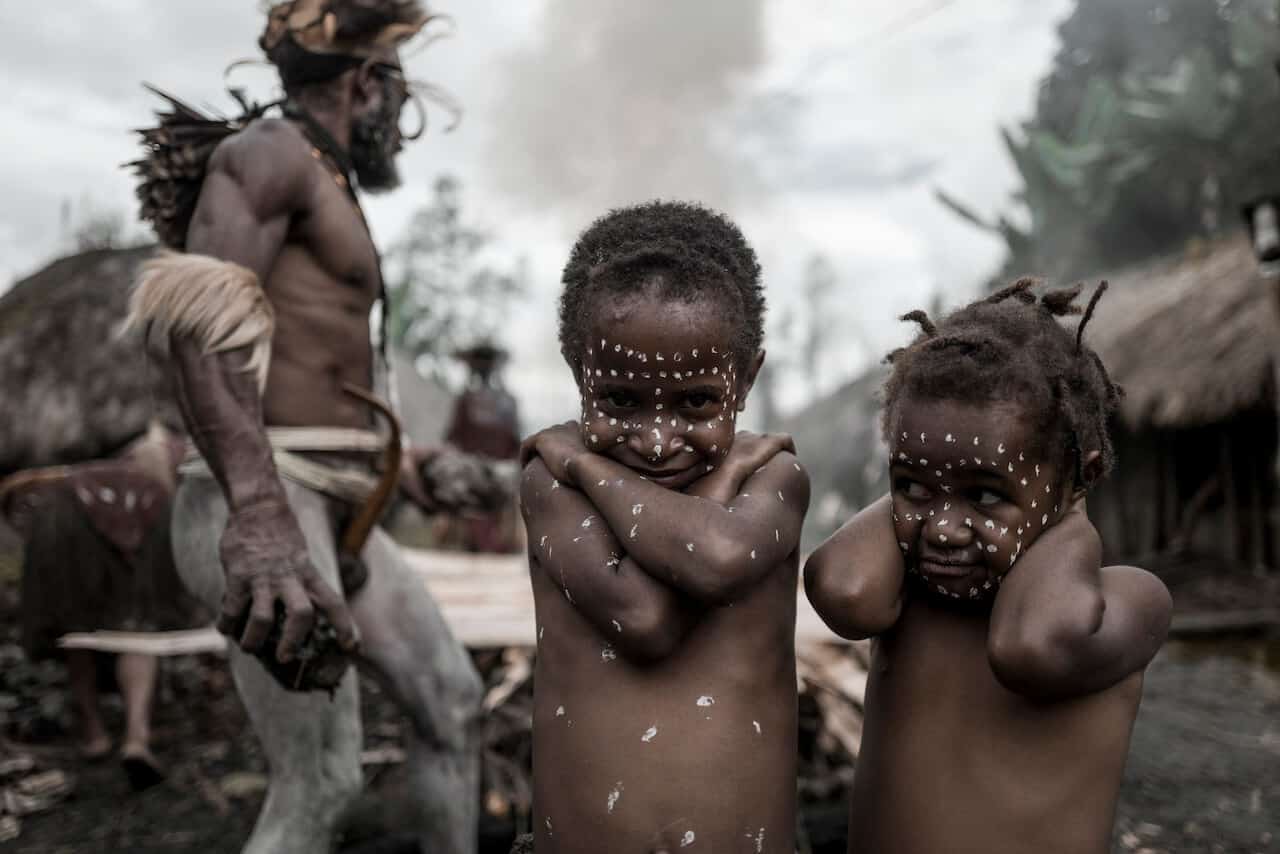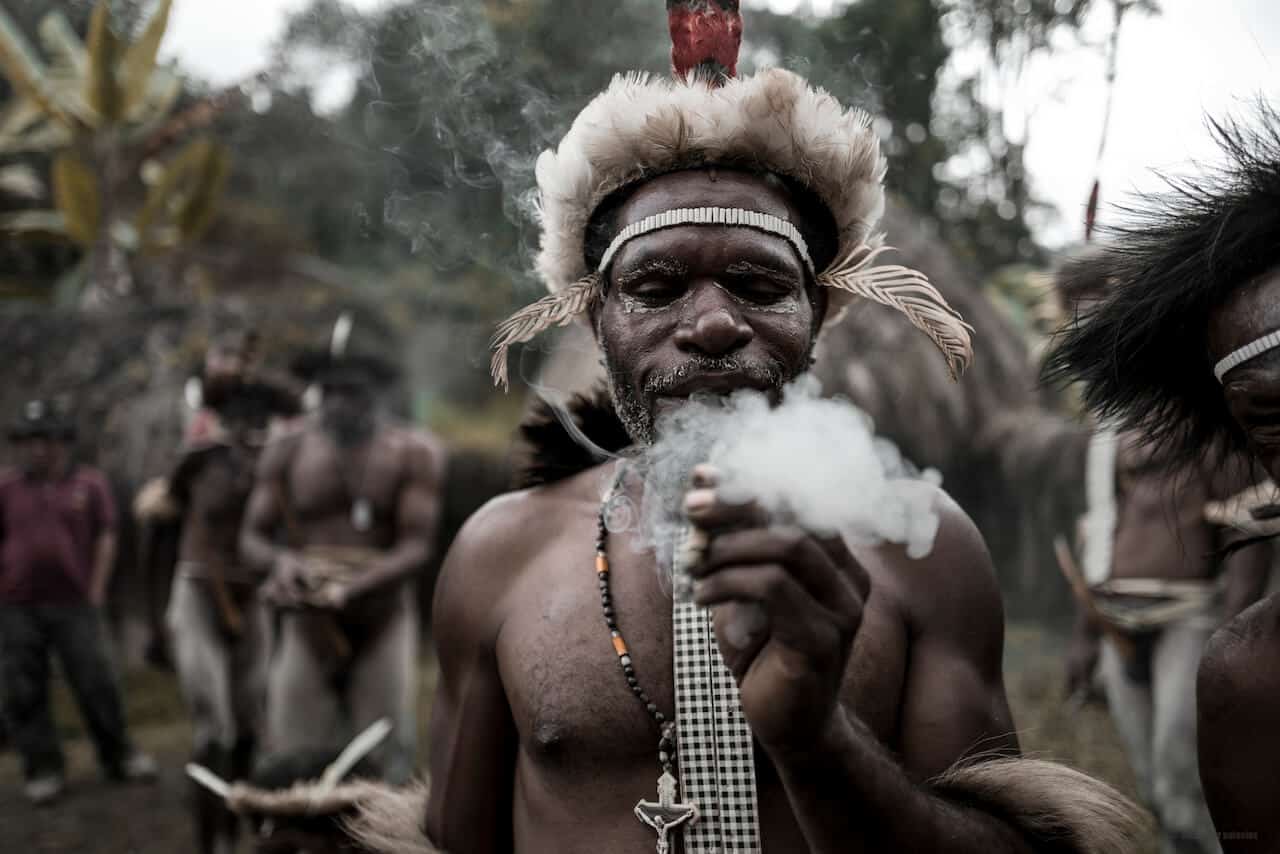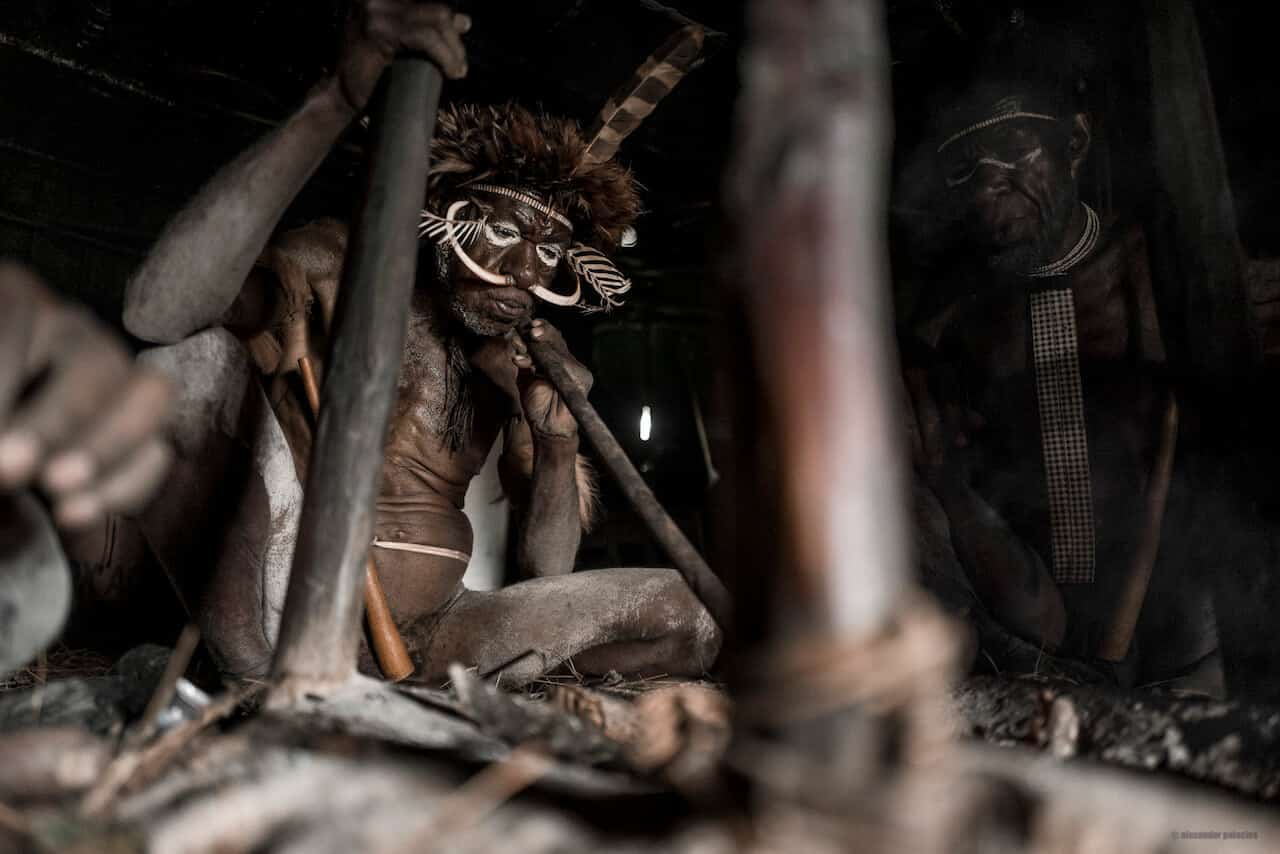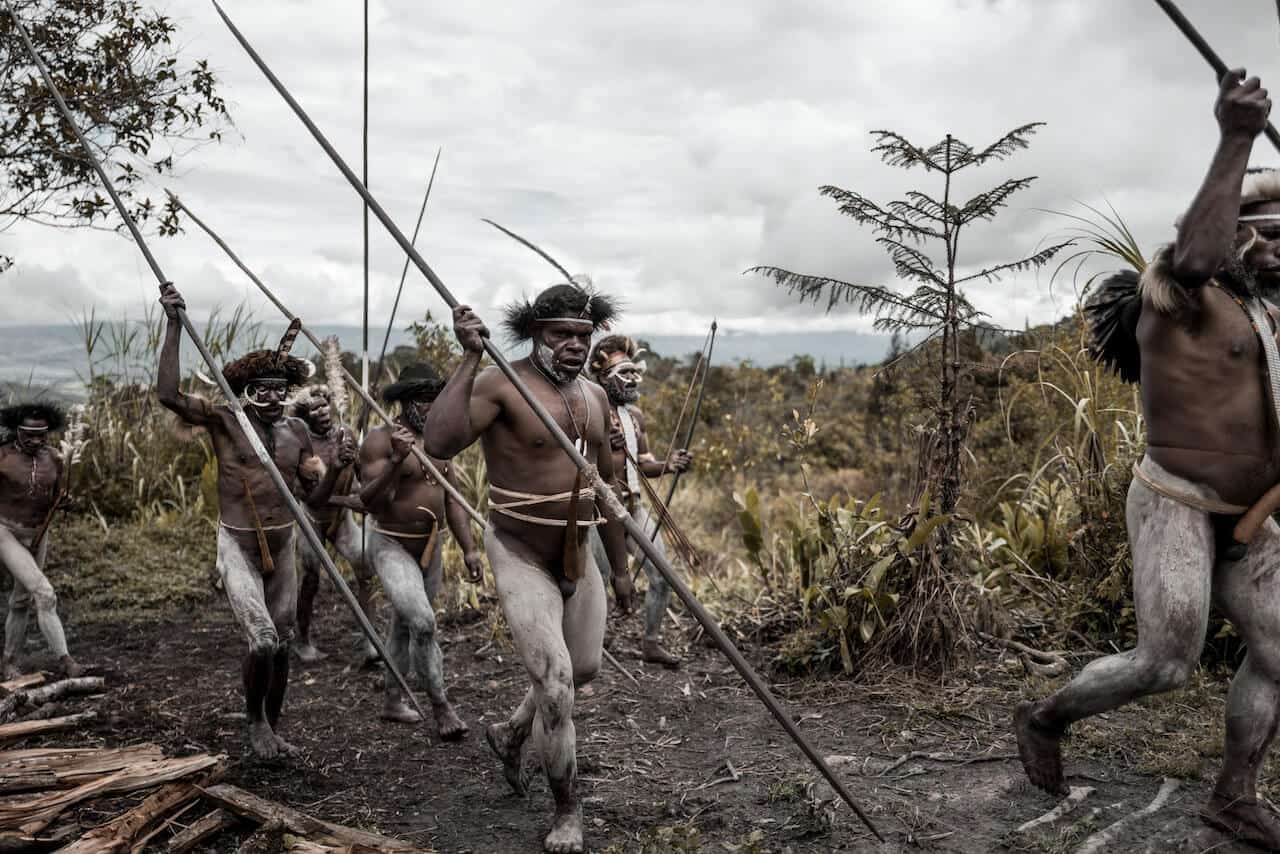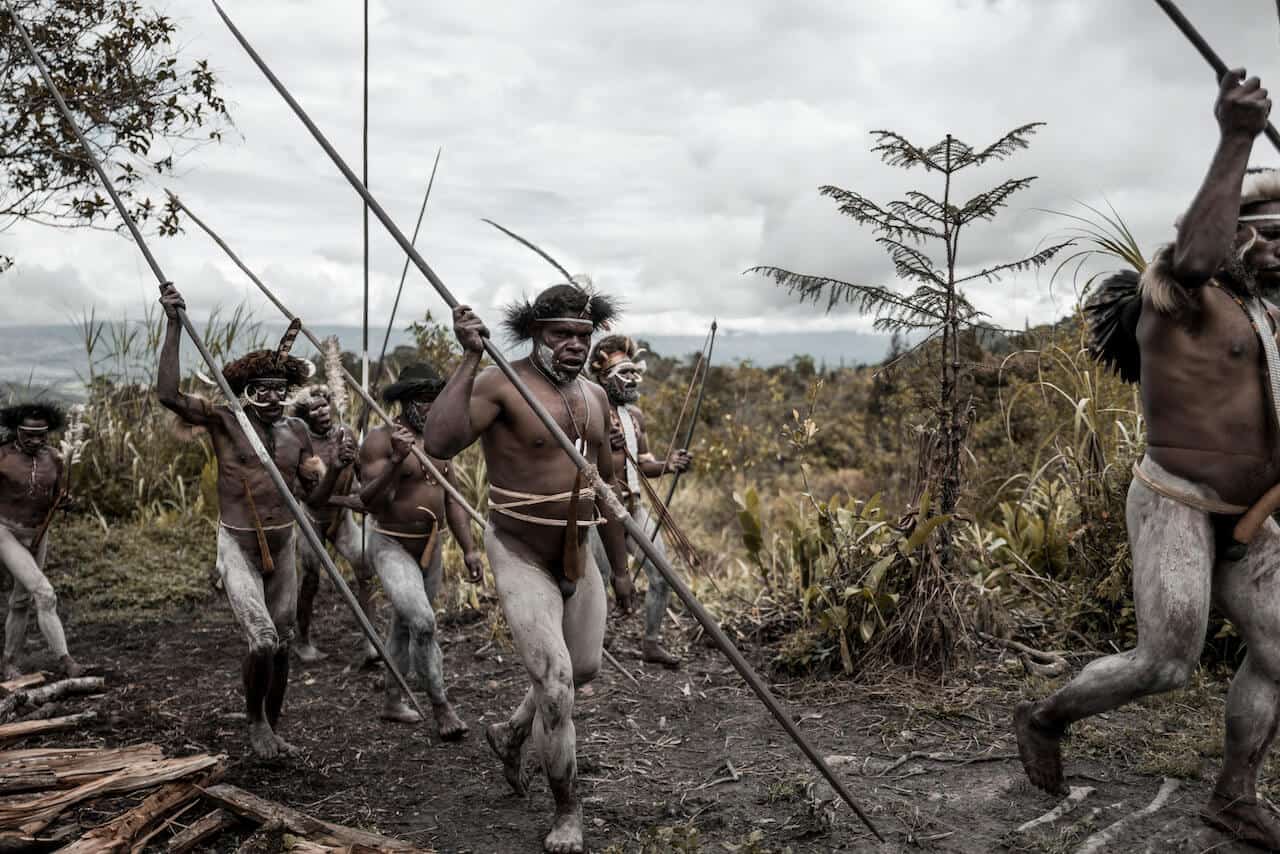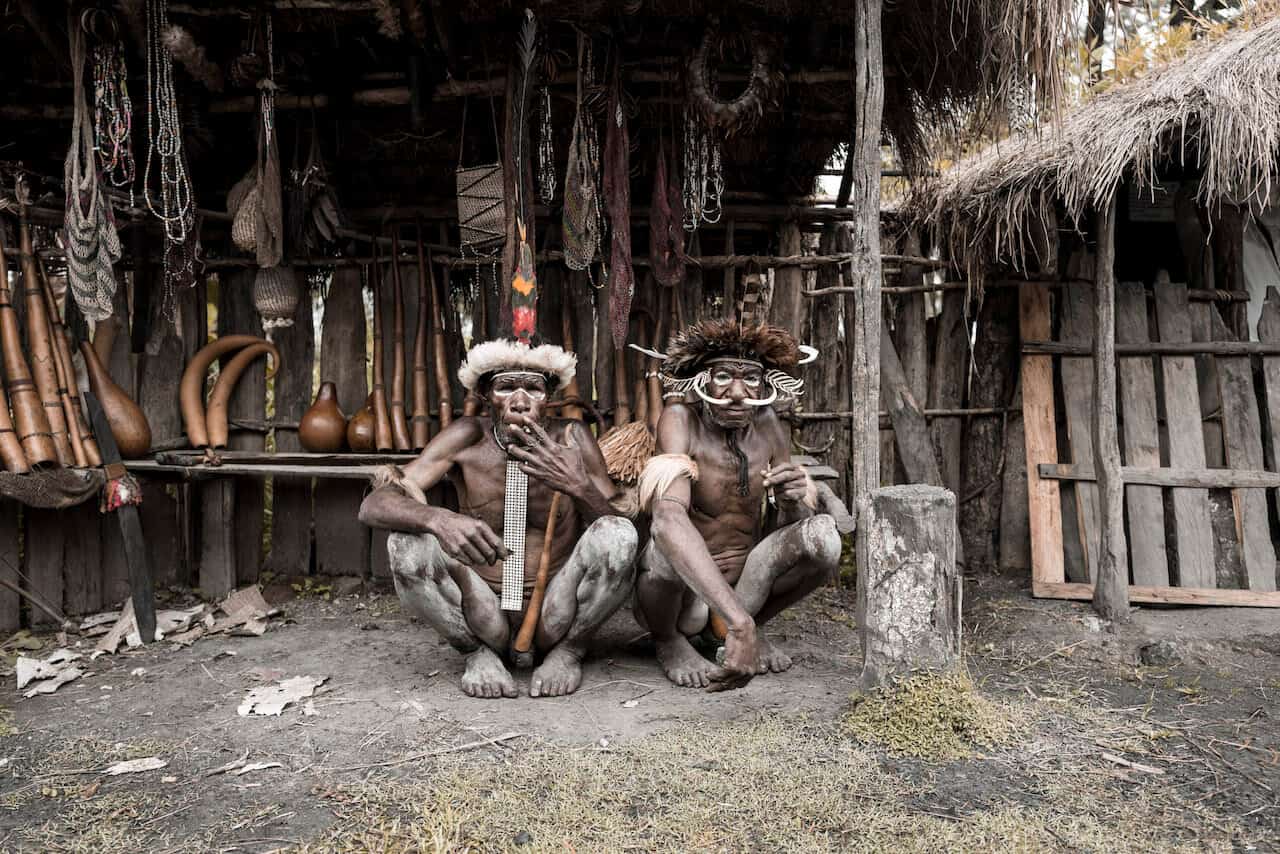 What about cultural differences?
As a child I have always lived between different worlds, as the son of a Peruvian and a German mother. Often it was difficult to be treated differently because of the colour of the skin. But now I am very happy because I can walk around in different worlds in a very inconspicuous way.
In Wamena, however, one notices that there are hardly any Europeans there. The inhabitants of Western New Guinea resemble optically the well-known Aborigines from Australia.
During a trip to the city of Wamena, the people look at you like a zoo animal. But if you smile at the people or wave to them, they have such a warm-hearted charisma and are happy with you. There are few fears of contact, which I noticed especially on the trekking tour.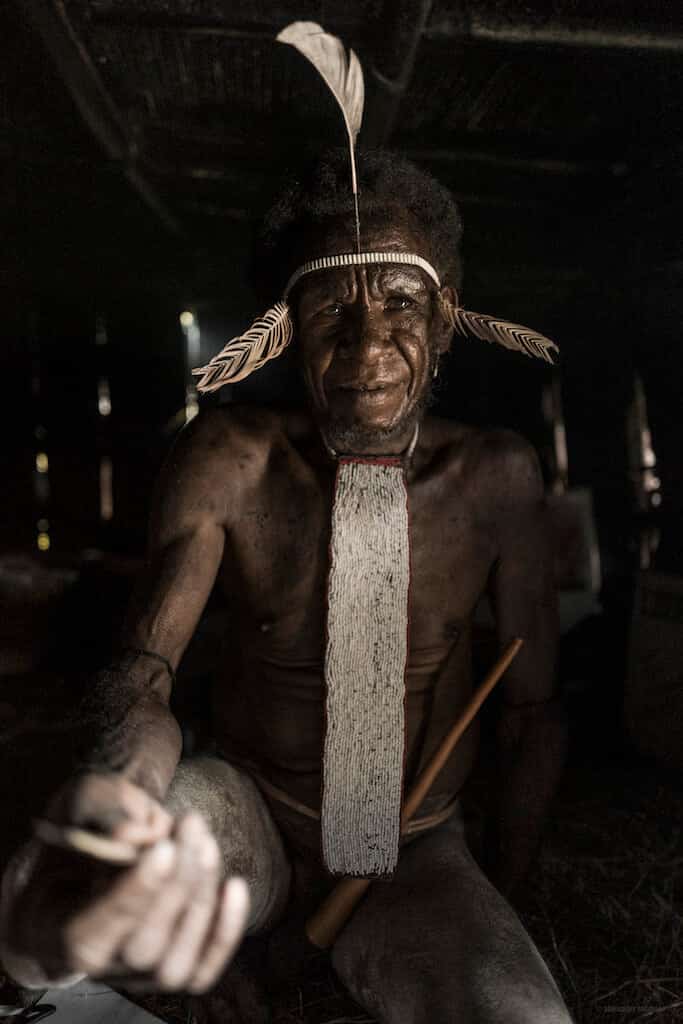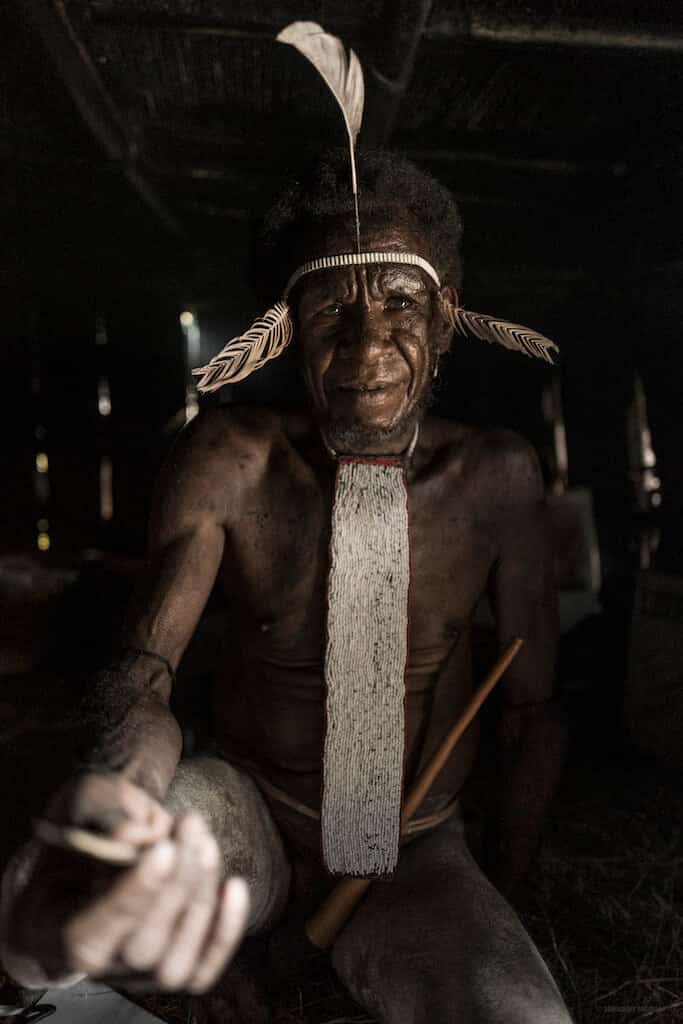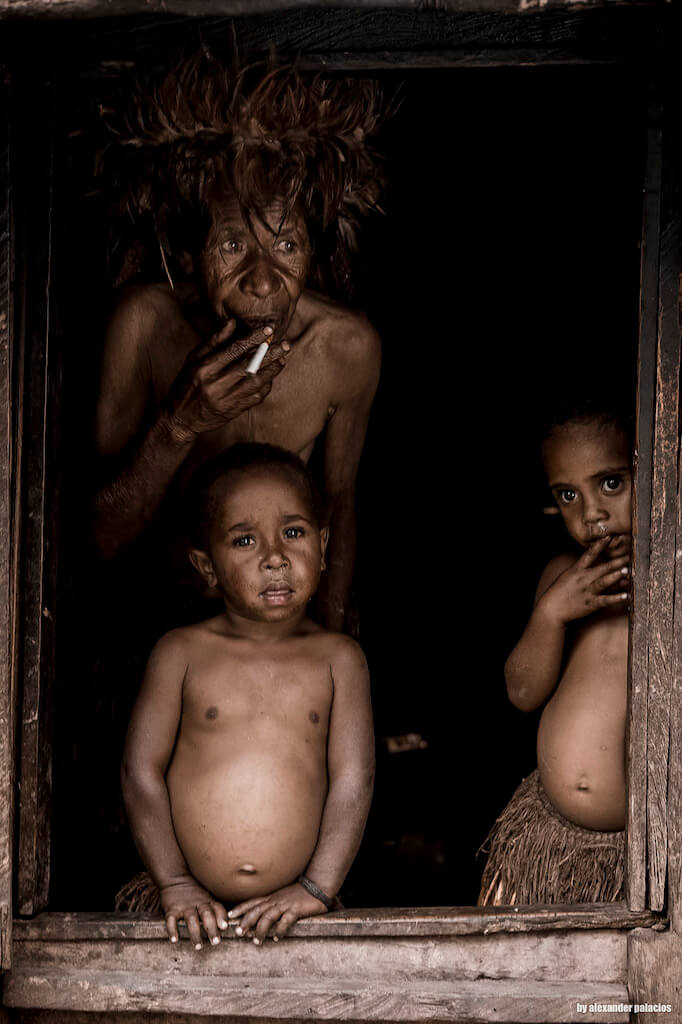 What were your greatest adventures in Western New Guinea?
You sleep in huts on straw, in the middle of it a campfire. You need the fire so the rats don't come. Fire and straw at the same time really take getting used to. Once one of our porters kindly put a candle in the middle of the straw while we slept.
It is normal for people to sleep in smoke because it keeps them warm. This leads to problems with the bronchi, both young and old. Life expectancy is about 60 years.
Also very interesting for me to see, is that men have top trained bodies. Due to the sun and the smoke, men usually look 20 years older than they are. Medicine and telephones or Internet do not exist. If a fire breaks out or a rockfall occurs in the gorge, you are on your own.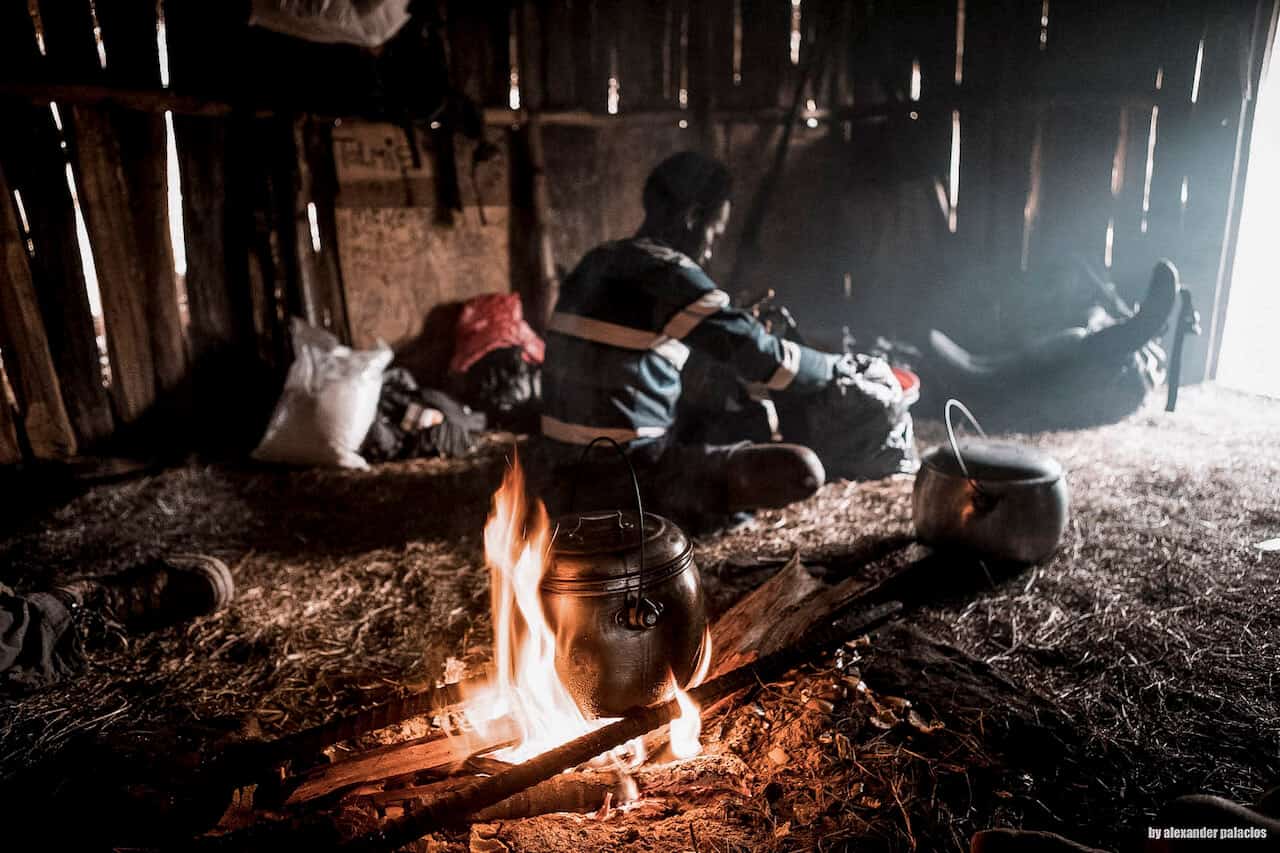 Were you scared once?
Yes, when we had to cross a bridge. The locals advised us not to cross it. The bridge was sloping due to the soaked ground and the rotten wood. Many boards were broken and we had to decide if we wanted to risk it. The other option was a 36 hour detour. So we made a plan how to cross the bridge without an accident.
The water whipped against the stones, one hardly understood his colleagues. There was only one steel cable between you and the torrential floods. I tried to calm down and carefully cross the bridge.
These are all experiences that we no longer have to make in our civilized world. When I then commute between worlds and hear what some people complain about, all these problems seem a bit strange.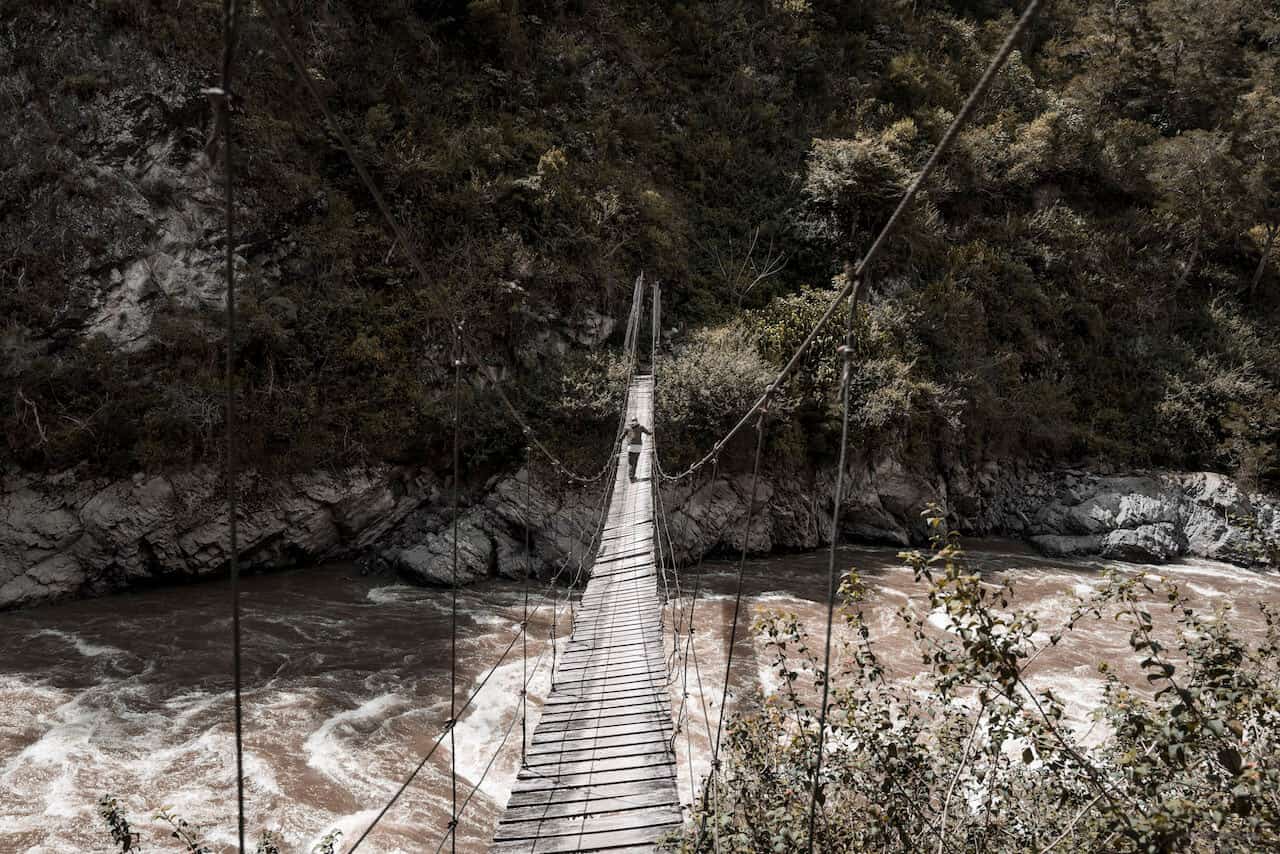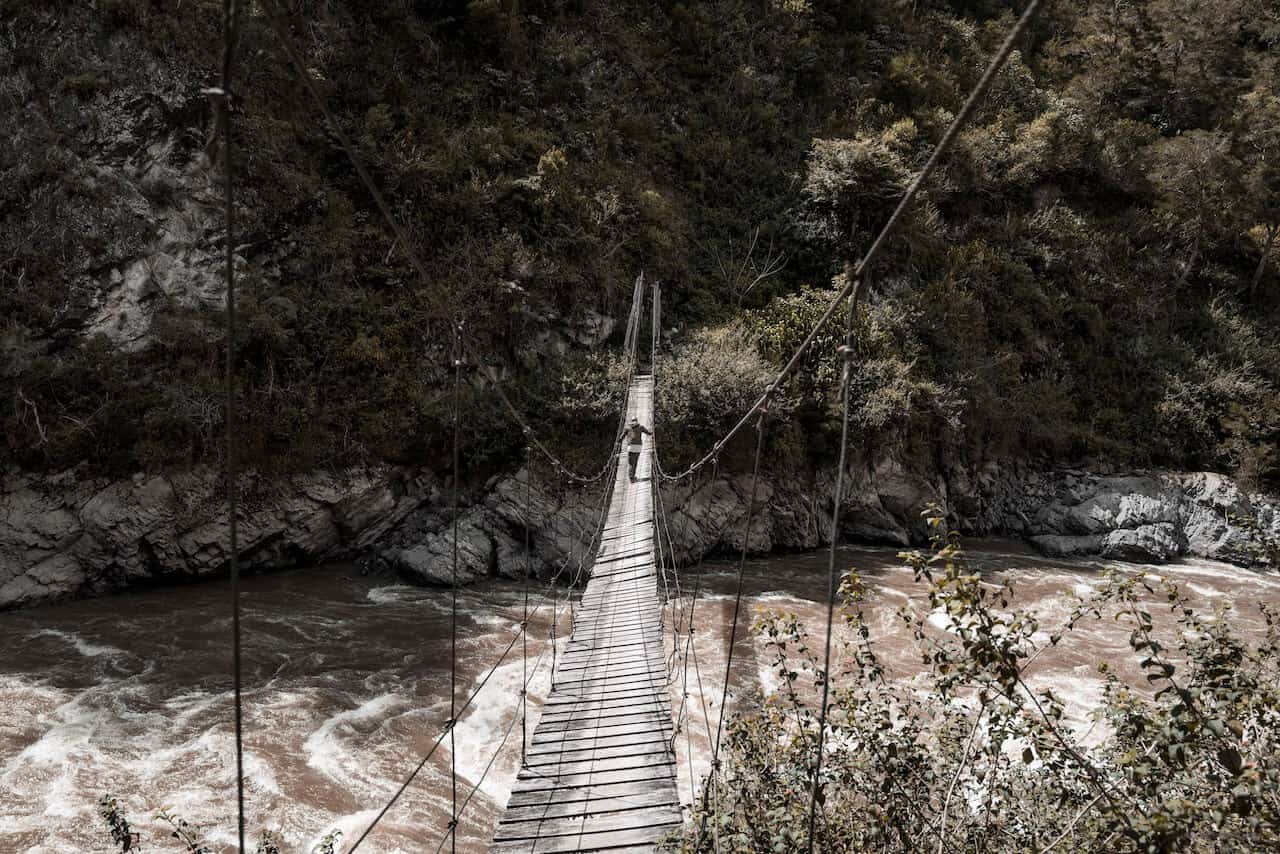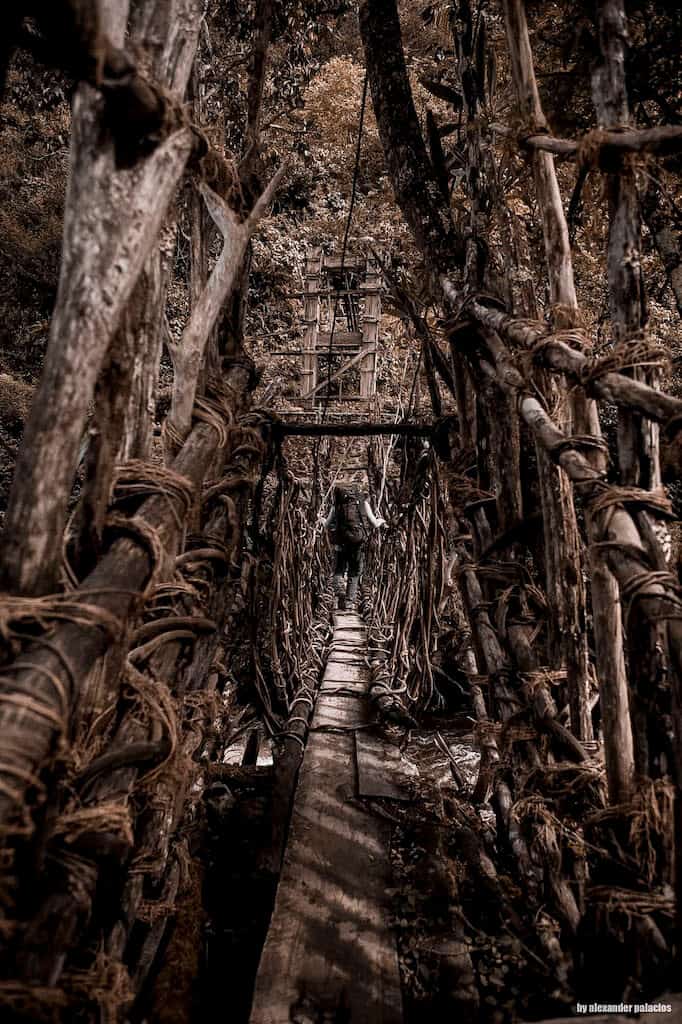 What was your motivation?
For me there is not only the striving for 'higher', 'faster' and 'further' in our culture. Life offers more. I hope to motivate people to do something for their consciousness.
What wisdom would you like to give us on our way?
In the Baliem Valley we visited the Danis. They made a pig festival for us. We could become part of the culture and experience one of their highest festivals. We became part of the family. Although it was difficult to see how an animal is killed, I could see that the people treat the animals and nature very respectfully.
Many say they would like to experience such adventures. To this I say: every day you have the opportunity to get rid of your fears. Change means progress.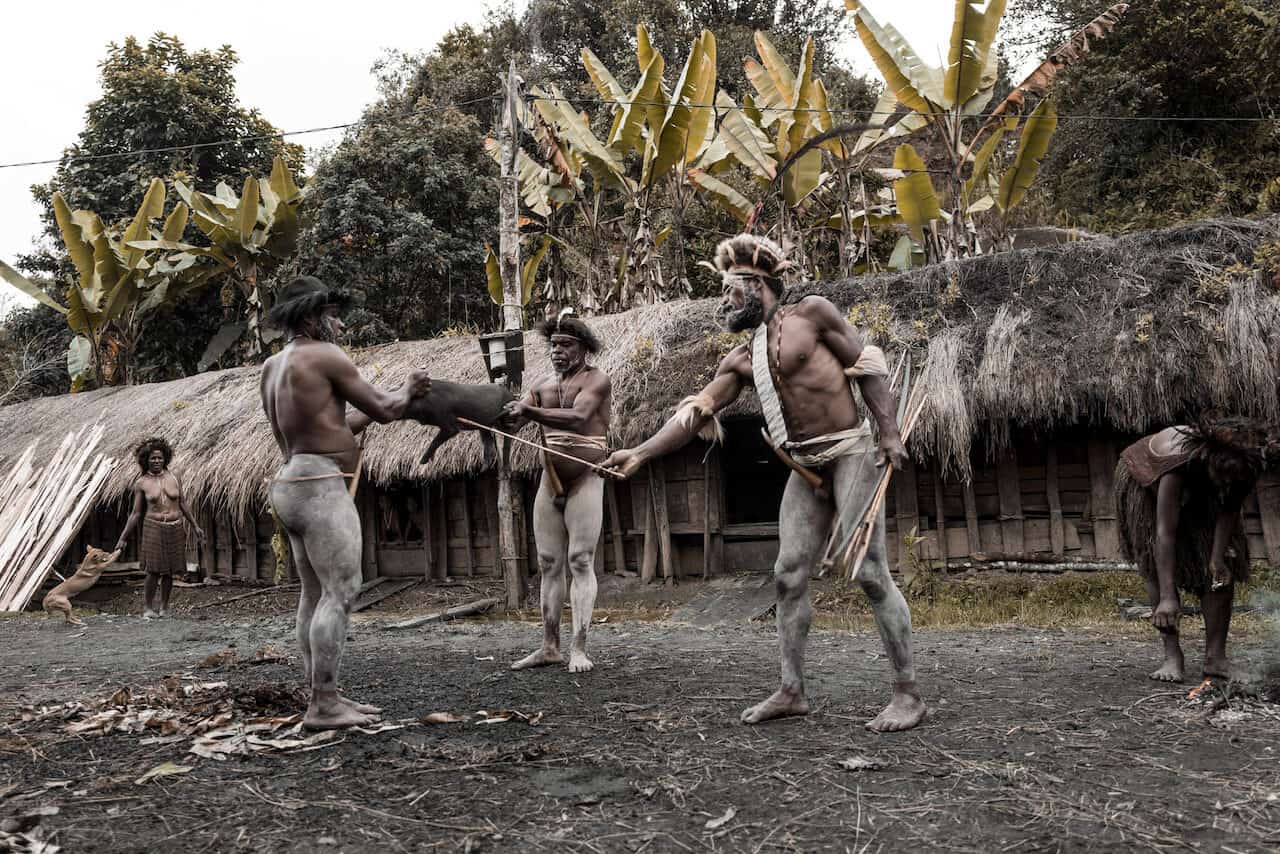 You also sell your photos…
Yes, I always try to find new interested parties and investors who are interested in my works of art. This allows me to always tell new stories and show inspiring pictures.
Contact
Website
Instagram
@lookatpalacios
/
0 Comments
/
by Ralph Widmer
https://agentlemans.world/wp-content/uploads/2019/06/Indonesien-Ureinwohner.jpg
806
1280
Ralph Widmer
//media.agentlemans.world/2017/01/agw-logo-605.png
Ralph Widmer
2019-06-17 09:15:37
2019-06-17 09:46:39
Western New Guinea - A Journey Into An Untouched World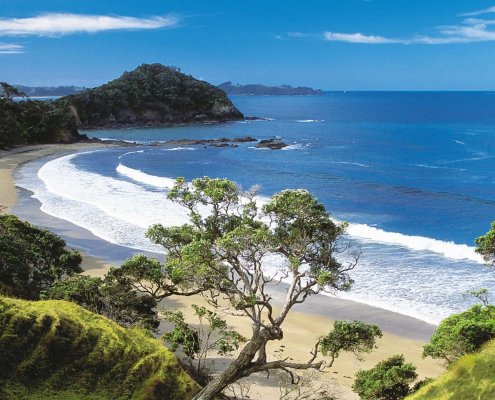 Everyone has a friend who has been to New Zealand before. And in every travel guide there are the same New Zealand Highlights. There is still enough to experience and enjoy on these two big islands - we have started our research and show the…
https://agentlemans.world/wp-content/uploads/2019/06/neuseeland-nordinsel.jpg
1300
2340
Carlo Sterling
//media.agentlemans.world/2017/01/agw-logo-605.png
Carlo Sterling
2019-06-17 08:13:55
2019-06-17 08:33:37
New Zealand Highlights - 4 insiders on the North Island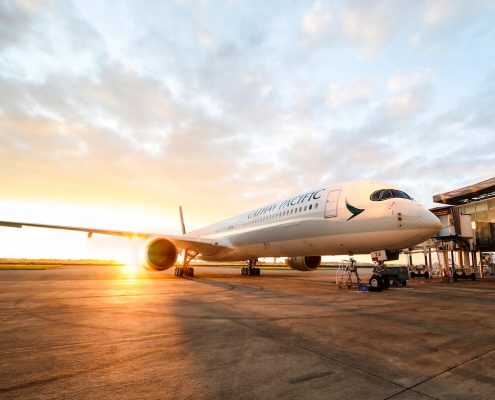 Since 31 March 2019, travellers can look forward to connections from Zurich to Hong Kong in a new Cathay Pacific Airbus A350-1000. After an interesting aircraft tour we had the opportunity to fly the new Cathay Pacific Business Class a few weeks…
https://agentlemans.world/wp-content/uploads/2019/05/Cathay-Pacific-A350-1000.jpg
798
1280
Ralph Widmer
//media.agentlemans.world/2017/01/agw-logo-605.png
Ralph Widmer
2019-05-28 13:36:35
2019-05-29 12:50:36
Our Review of the new Cathay Pacific Business Class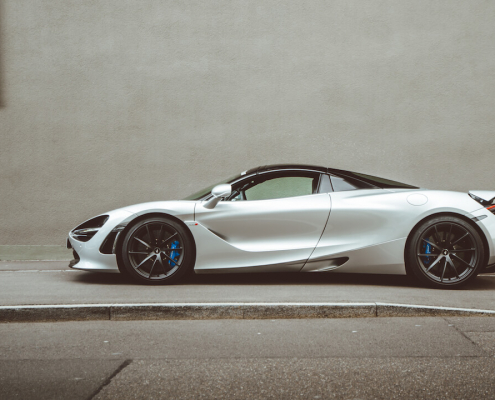 The thrill is guaranteed here: the new McLaren 720S Spider comes up with a convertible top speed of 200 mph, 720 bhp and a dry weight of 1332 kg. With such a lightweight achieved, the British car manufacturer once again proves its role as market…
https://agentlemans.world/wp-content/uploads/2019/05/mclaren-spider.jpg
720
1280
Ralph Widmer
//media.agentlemans.world/2017/01/agw-logo-605.png
Ralph Widmer
2019-05-27 13:03:09
2019-05-27 13:21:06
Open-Air adventure at its best: the McLaren 720S Spider