Cars

With the new McLaren GT, the British sports car manufacturer presents the second Grand Tourer in the brands history, promising: more power, 570 litres load capacity and a lot of comfort. Sounds like a GT for performance enthusiasts? With a carbon fiber monocoque, an empty weight of 1530 kilos and a 620 hp Biturbo V8 mid-engine, it definitely is.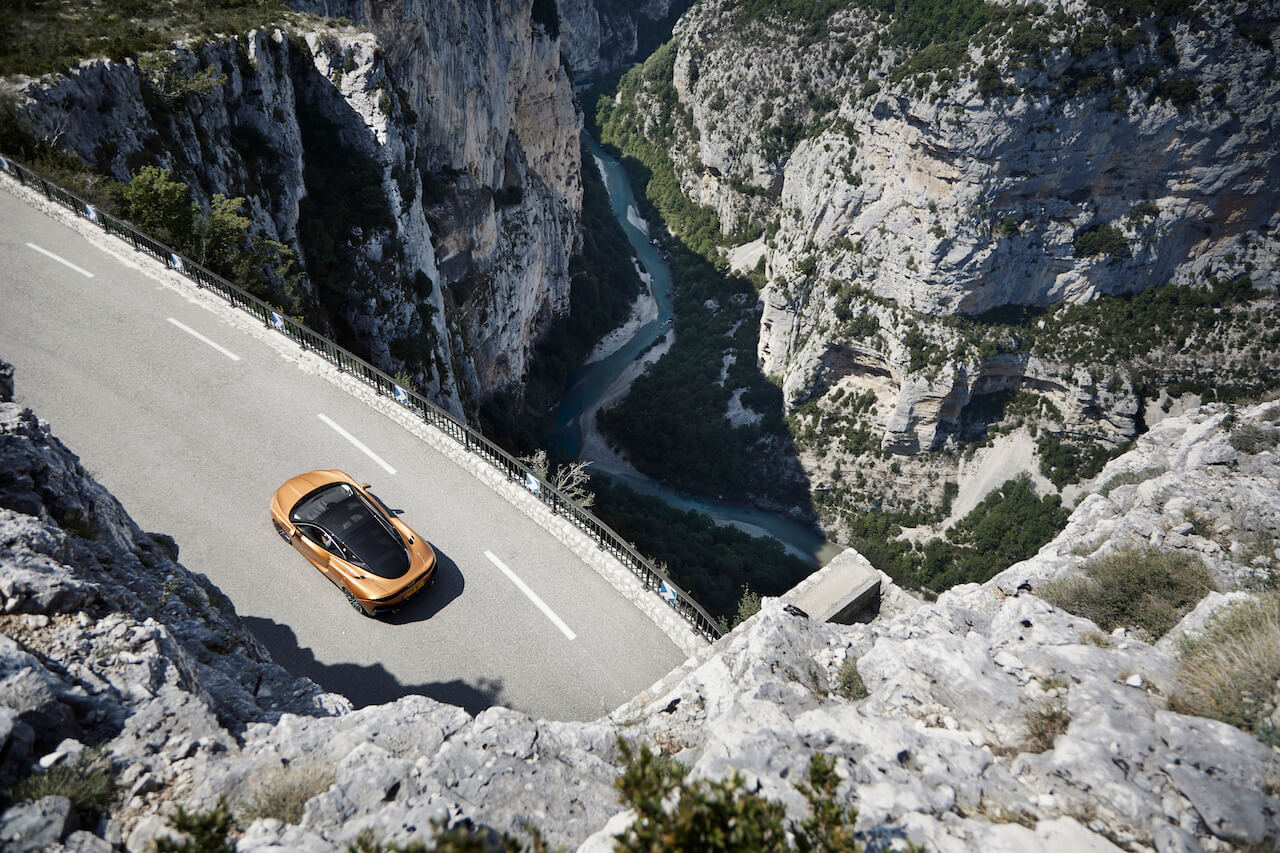 Grand Touring meets sportscar – the new McLaren GT
The fact that McLaren produces enormously fast and above all light sports cars – e.g. the 720S – has been proven by the independent manufacturer of supercars for a while now. The 570GT was already a success and now follows the second Grand Tourer: the McLaren GT. It has the ability to cross continents (sounds cool, doesn't it?), but is lighter (only 1530 kilos), faster, more appealing and offers a lot of space. So if you expect a classic GT, you might be wrong, simply because the new McLaren GT can do more than just power straight ahead and carry luggage.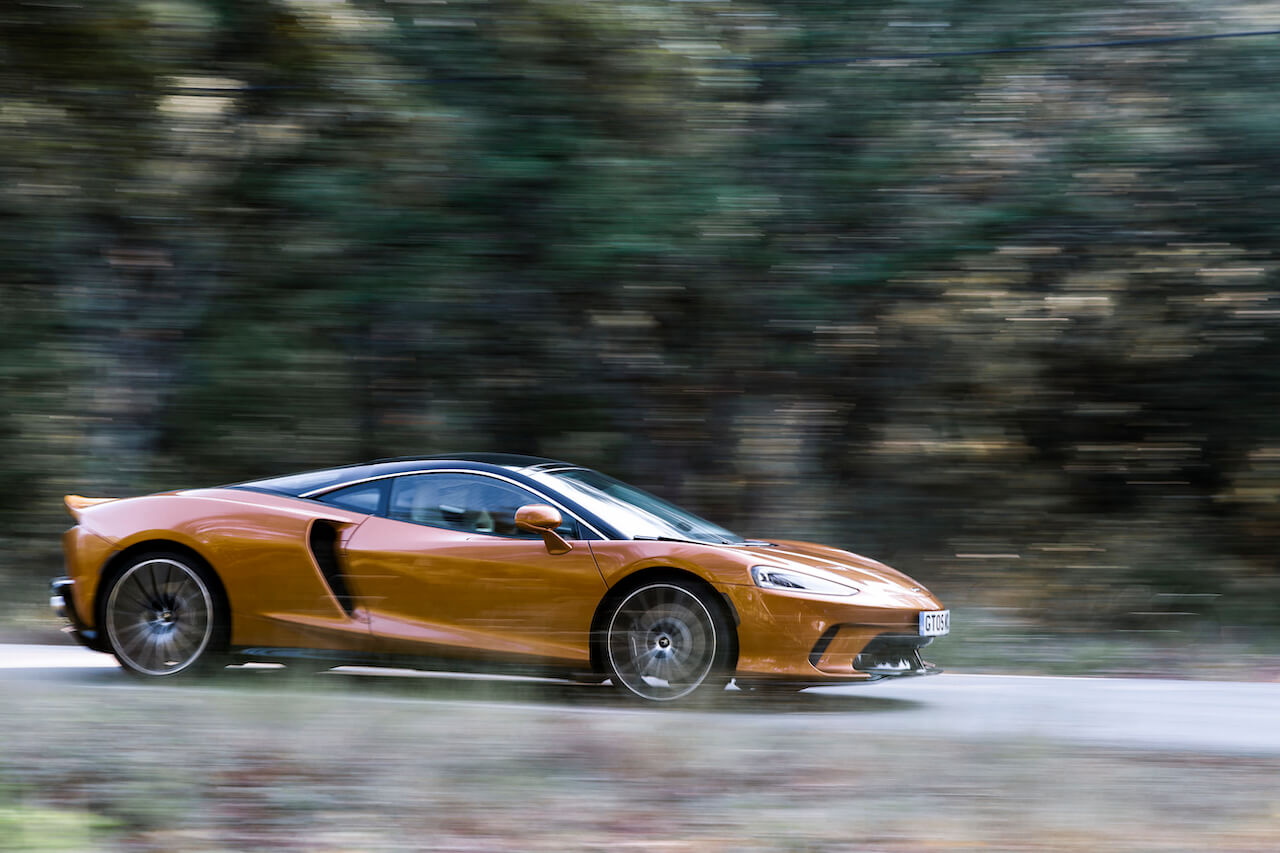 What can be expected here?
Our first impression? The new McLaren GT looks a bit more decent than its siblings with an underbody clearance of 110 mm (130 mm for vehicle lift), 21-inch alloy wheels and a glazed tailgate with a proud 420-litre storage space. Well, it's a GT. How much the devil is in the detail, you can feel at the latest when driving – but more about that later.
With a length of almost 4.7 metres, the McLaren GT is slightly longer than the Sports or Super Series. Other features include: elegant outer lines, an integrated fixed rear wing, a large diffuser and thick exhaust tailpipes as well as a drop-shaped cab with glazed C-pillars and a fully glazed tailgate.
570 litres of storage space – ideal for a golf or skiing holiday
As already mentioned, a well-designed GT should be sexy, spacious and comfortable. The fact that McLaren achieved a masterpiece here – with 570 litres of storage space –  is shown in a direct comparison with the Aston Martin DB11 (270 litres capacity).
Wait a minute, more than twice as much space as a DB11?
Exactly. Due to the low height of the engine and the positioning of the exhaust system, you can easily transport a golf bag or two pairs of 185 cm long skis and boots as well as luggage, whilst another 150 litres of storage space can be accommodated in the front luggage compartment. Since you will be traveling together ideally, we will also test whether it is big enough for 2 golf bags.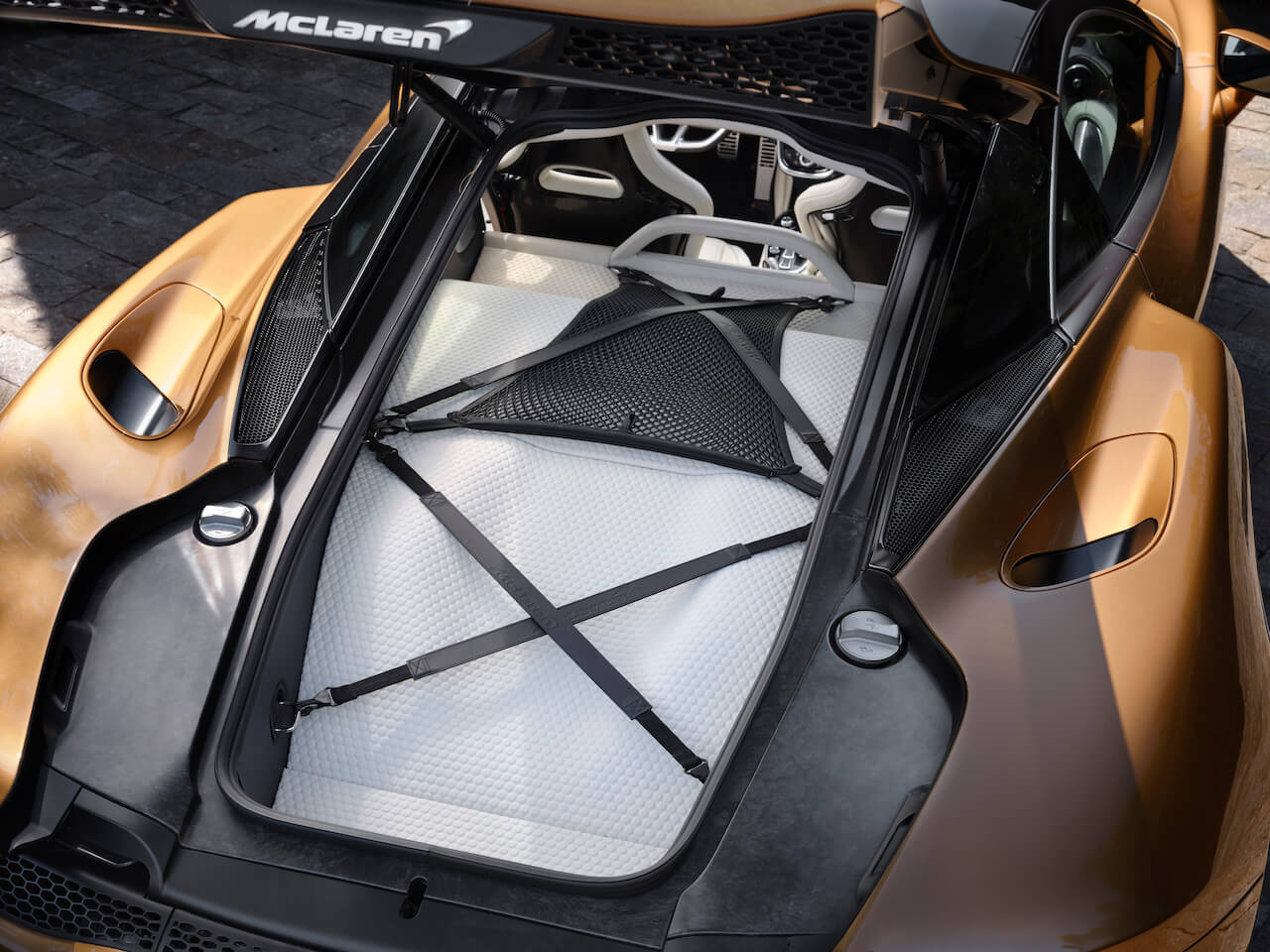 What about the interior?
The interior of the new McLaren GT looks light-flooded and luxurious, there is hand-stitched leather and almost all buttons and the shift paddles are made of machined aluminium. The specially designed GT seats are comfortable and ideal for longer journeys. A 7-inch touch screen with a new infotainment system was installed, which became much more responsive thanks to the 10-core processor.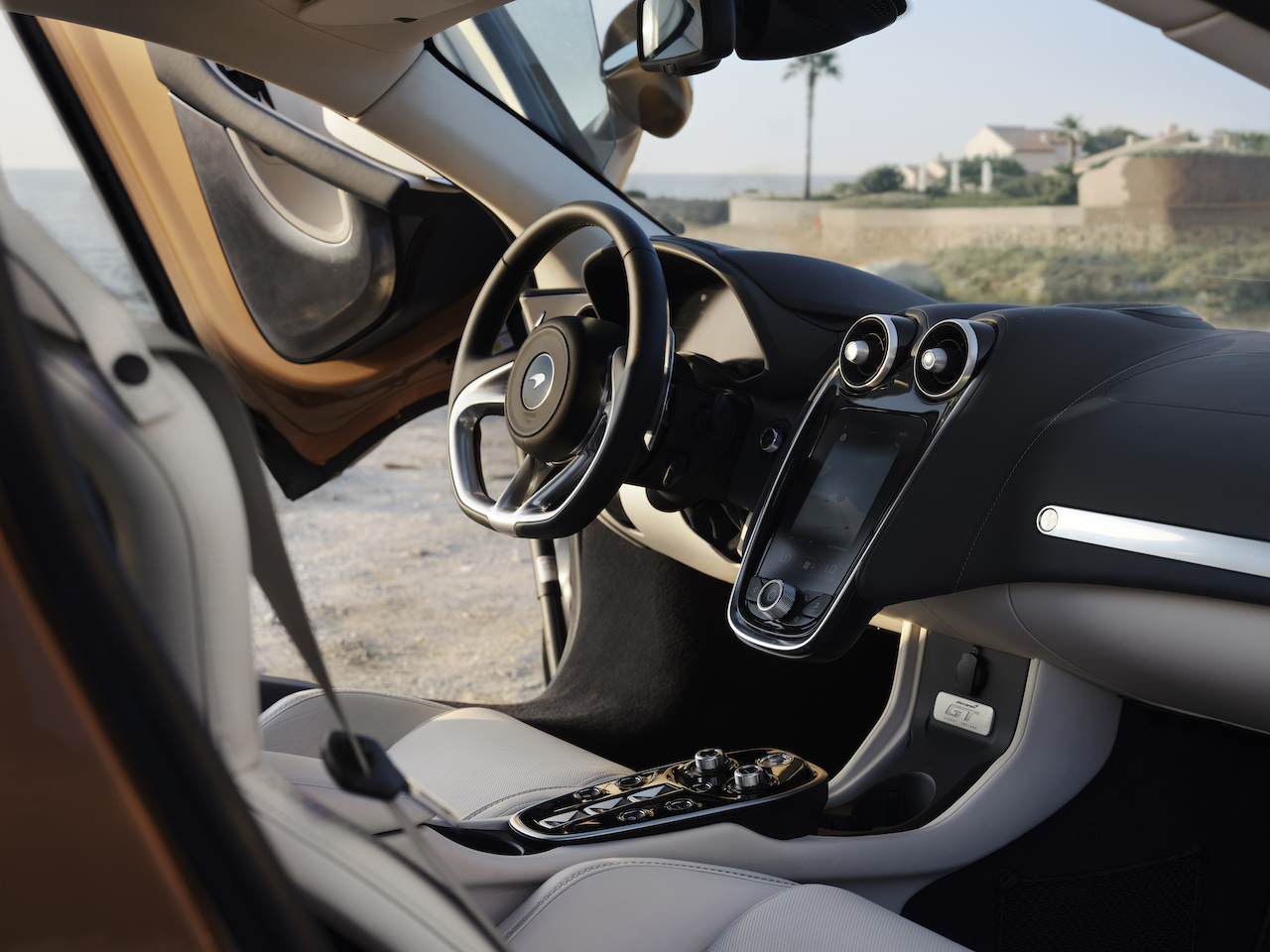 On the Road in Southern France
When getting in, the bright and luxurious interior is the first thing that catches the eye. Comfortable suspension and plenty of room for a golf holiday – the rocket-like feeling of a 720S is thus gone here and also matches the GT image.
Starting the engine doesn't feel McLaren-typical at all. The sound is a bit closer to a classic V8. Two active exhaust flaps, which open or close depending on engine load and rpm, are decisive. The power also feels different: it is more even, smoother, more solid and is therefore ideal for a trip to the Côte d'Azur.
The fact that there is still a McLaren in the DNA can be seen on the one hand from the design, but at the latest when you step on the gas it comes to the action: 620hp, 630Nm (at 3,000 rpm 95% of the power is delivered) and an acceleration of 0-100km/h in 3.2 seconds. With an empty weight of 1,530 kilograms, the McLaren GT can be steered effortlessly through the narrow curves of southern France, while uneven surfaces are cushioned within milliseconds by sophisticated adaptive dampers.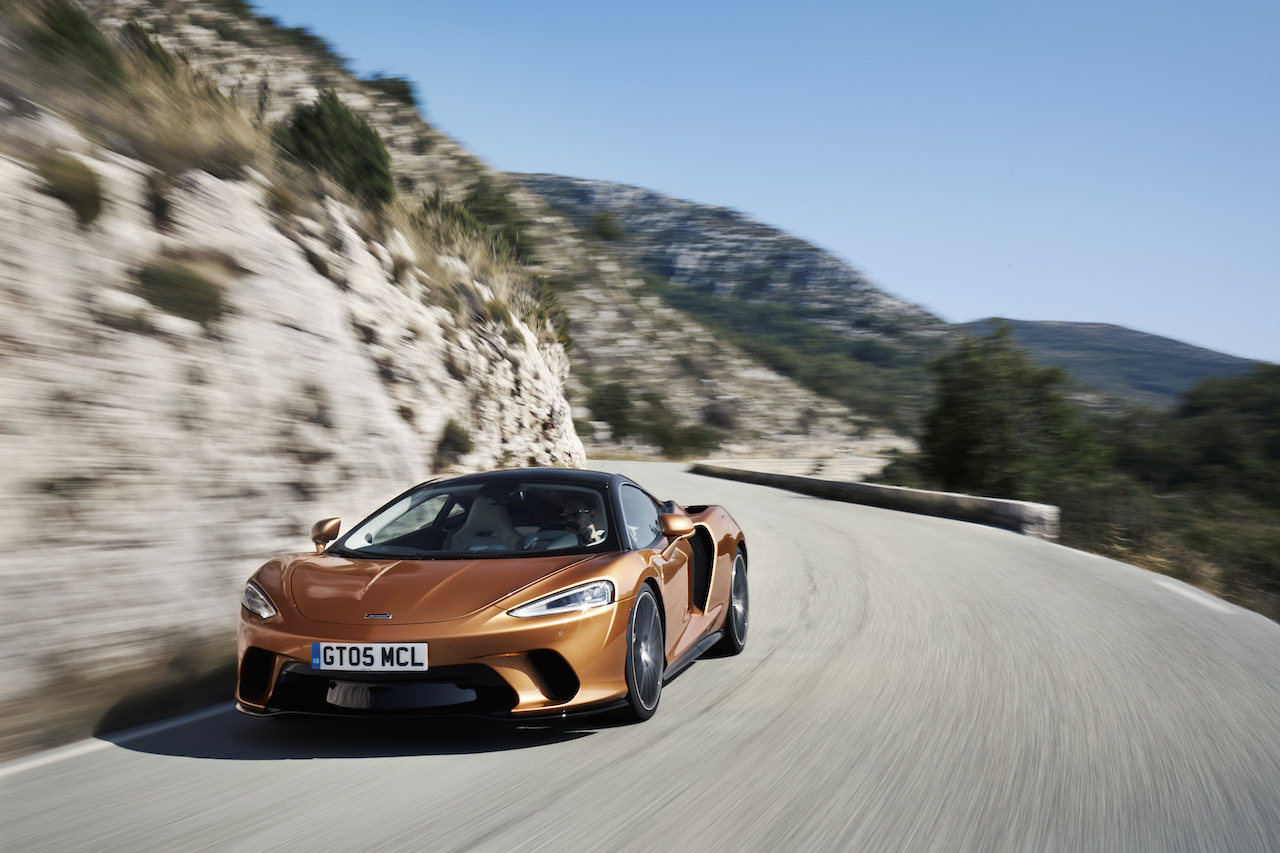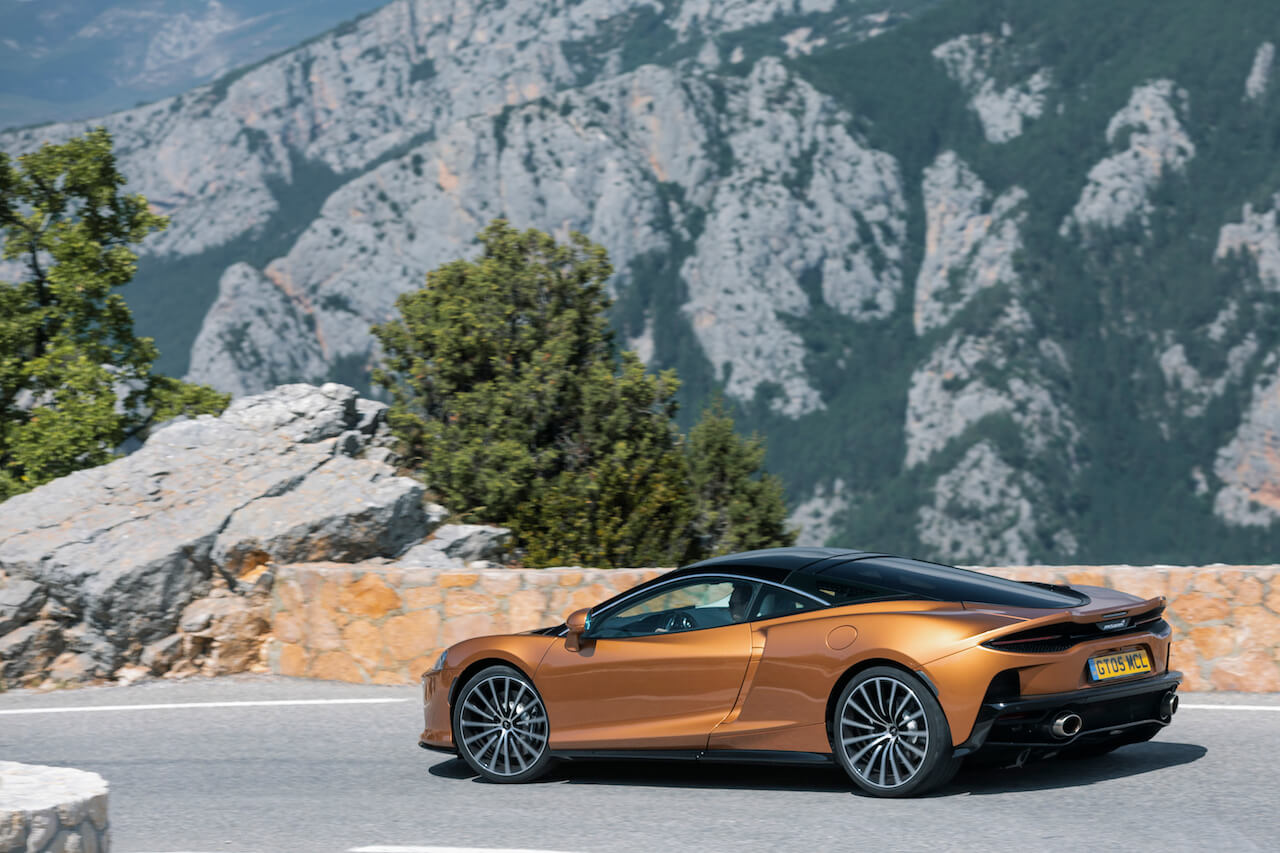 Conclusion?
The McLaren GT literally drives like a mid-engined super sports car. It is manoeuvrable, drives through curves without any problems and does not tend to understeer. If you like it comfortable, switch off the 'active mode' and cruise in peace into your well deserved vacation. Even if it is a GT, the McLaren DNA – low weight and unbelievable cornering dynamics – is clearly recognizable. There are no bells and whistles like adaptive cruise control or blind spot monitoring , the weight has priority.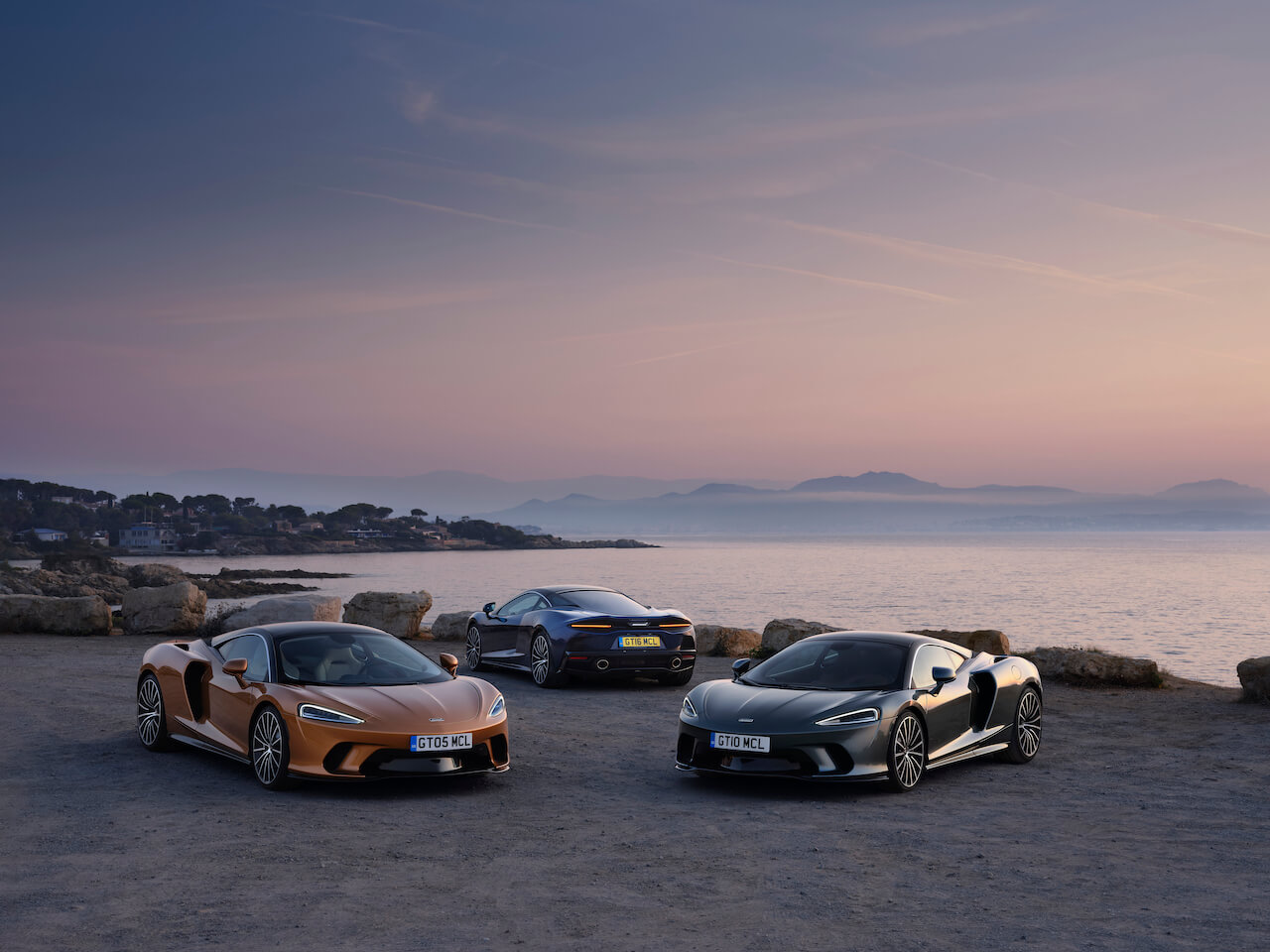 The origins of Grand Touring
The term "Grand Tour" originally comes from the Renaissance and stood for the obligatory journey of the European aristocracy. In the 1950s to 1970s followed classics like the Ferrari 250 GT, the Maserati 3500 GT or the Aston Martin DB5, which still today have a unique appearance and belong to the most beautiful cars at all. Nowadays a GT is a comfortable and powerful sports car with that certain something.
McLaren GT Technical Data
Engine

Performance
Gearbox
Weight
Capacity
0-100km/h
Basic Price
4.0 litre twin-turbo V8, 3.994ccm

620 bhp / 630 Nm
7-speed dual-clutch transmission
1530 Kg
570 litres (front: 150; rear: 420)
3.2 seconds
163,000 £ UK, 210.000 $ US
/
0 Comments
/
by Ralph Widmer
https://agentlemans.world/wp-content/uploads/2019/09/mclaren-grand-tourer.jpg
853
1280
Ralph Widmer
//media.agentlemans.world/2017/01/agw-logo-605.png
Ralph Widmer
2019-09-19 09:36:58
2019-09-19 13:36:21
Grand Touring in its own league: the new Mclaren GT
Golf, Watches

The atmosphere was great and Crans Montana showed its best side last week – it was time for the OMEGA Masters. It was also the ideal opportunity to show the latest master stroke of the Swiss watch manufatory, an ultra-light golf watch: the OMEGA Seamaster Aqua Terra "Ultra Light".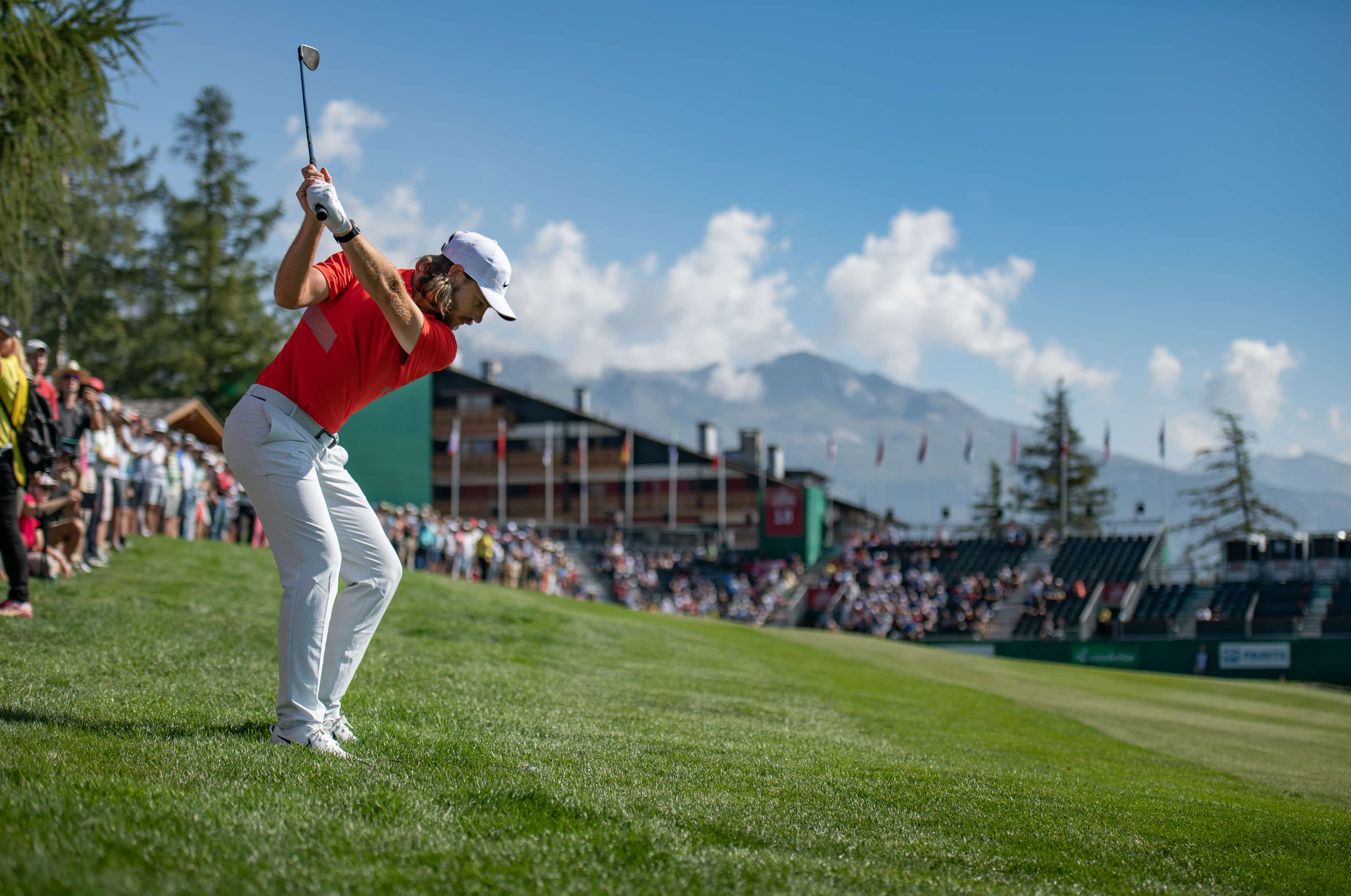 A prestigious tournament in Crans Montana
The annual OMEGA Masters is the largest and most famous golf tournament in Switzerland and attracts numerous golf enthusiasts and spectators. This year, professional golfers and OMEGA brand ambassadors Rory McIlroy, Sergio Garcia and Tommy Fleetwood were on the course. But they were not the only talents in the spotlight: their teams also included Justin Timberlake, Niall Horan, Dennis Quaid, Anthony Mackie and Michael Peña.
I am proud to have played a role in the development of OMEGA's Ultra Light golf watch. As an athlete, I know what a watch needs and through our collaboration we have been able to create this timepiece. It is an absolute pleasure to wear this watch, no matter what sport you play. – Rory McIlroy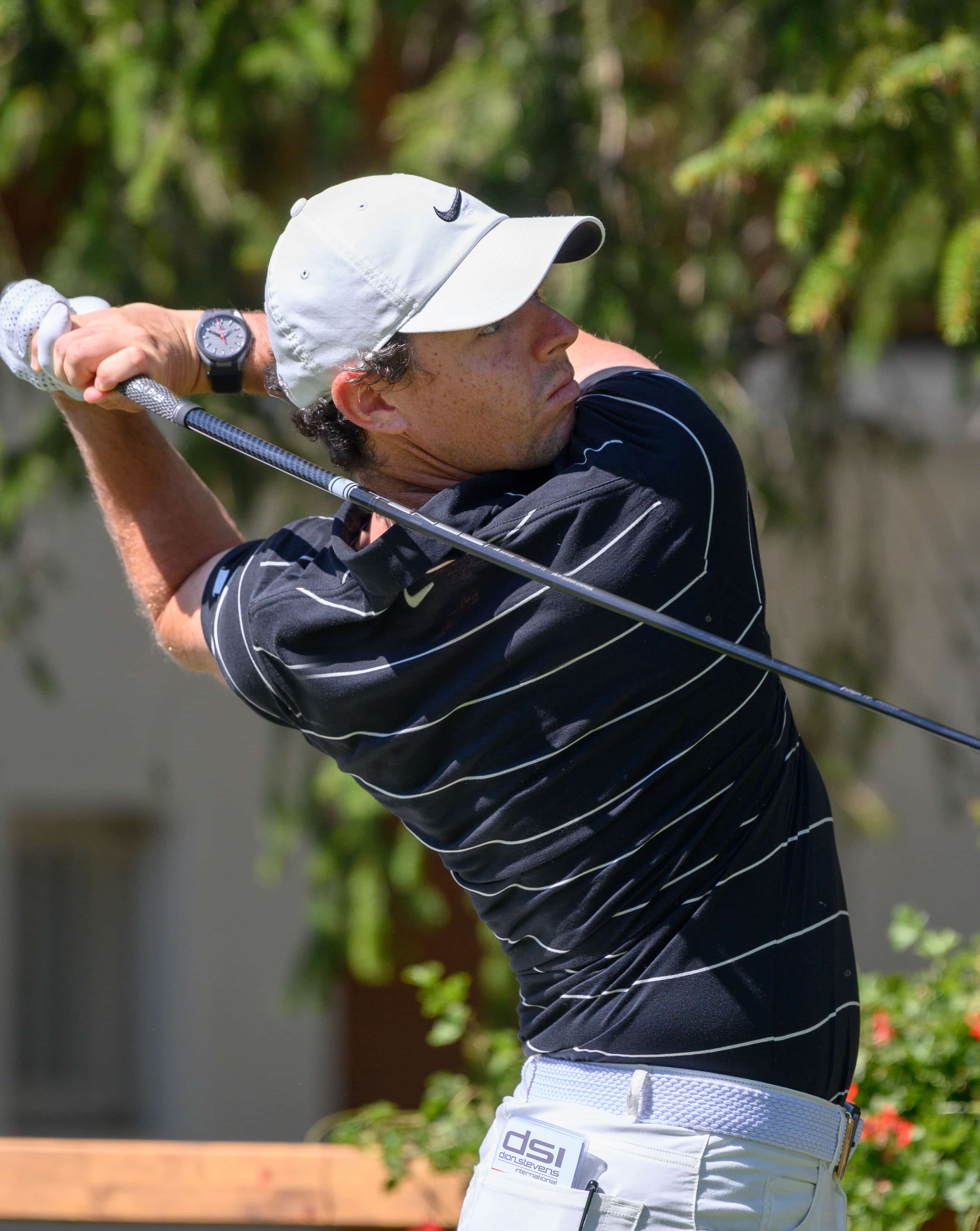 55 grams – OMEGA presents an ultra-light golf watch
For every sportsman and athlete there are some components that play a central role in the choice of a watch: Weight, comfort and durability. It was the pioneering spirit and pursuit of perfection that drove OMEGA to develop the perfect timepiece for golf: a golf watch that feels comfortable and light at all times.
Ultralight due Titanium
The case, case back and crown are made of a special alloy called Gamma Titanium. This unique material is also used in the aerospace industry due to its highly resistant properties. It is also harder and lighter than conventional titanium.
The dial is made of sandblasted titanium and is reminiscent of the classic Aqua Terra design. The unique movement – 8928 TI – is also made of titanium to achieve the lowest possible weight of only 55 grams.
OMEGA Seamaster Aqua Terra "Ultra Light" Ref 220.92.41.21.06.001 (red), 220.92.41.21.06.002 (blue), 220.92.41.21.06.003 (green): CHF 48'500.00
Maximum wearing comfort during sport
In golf, the smallest movement – even every millimetre – plays a central role in whether and where the ball flies or rolls. This makes the ideal wearing comfort all the more important when golfing. OMEGA has developed an ultra-light watch that is also comfortable to wear. For example, the telescopic crown can be inserted into the case for added comfort during play.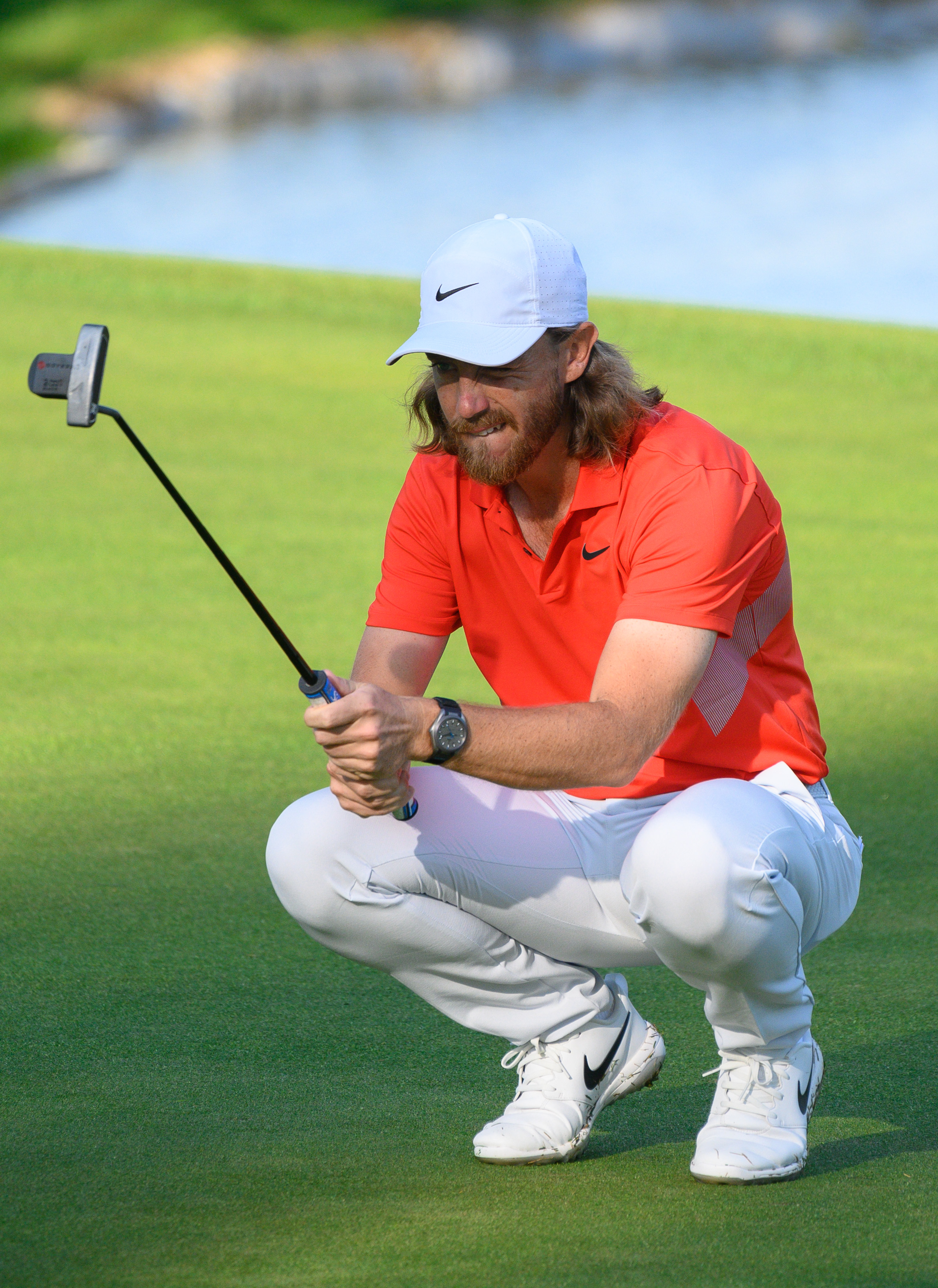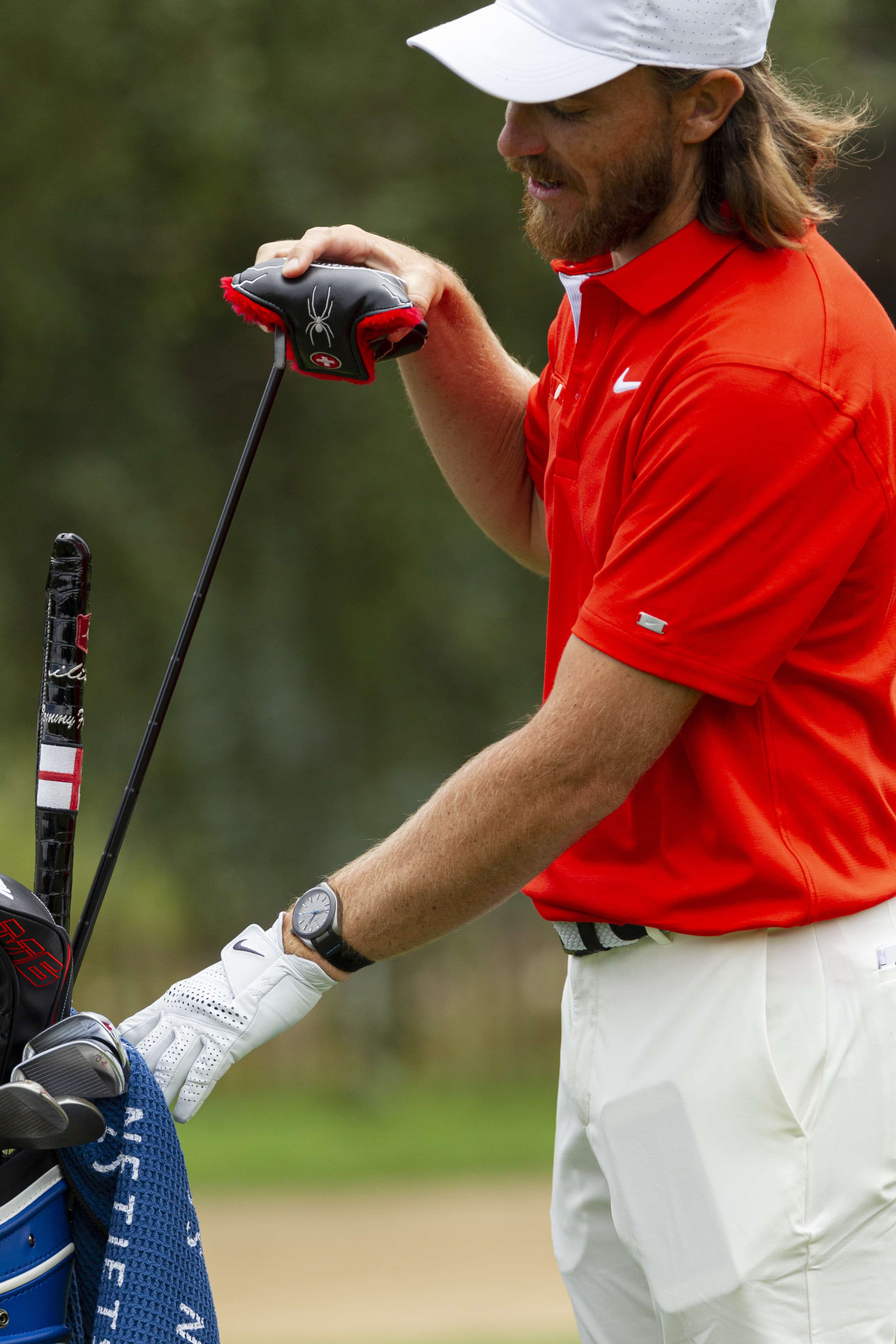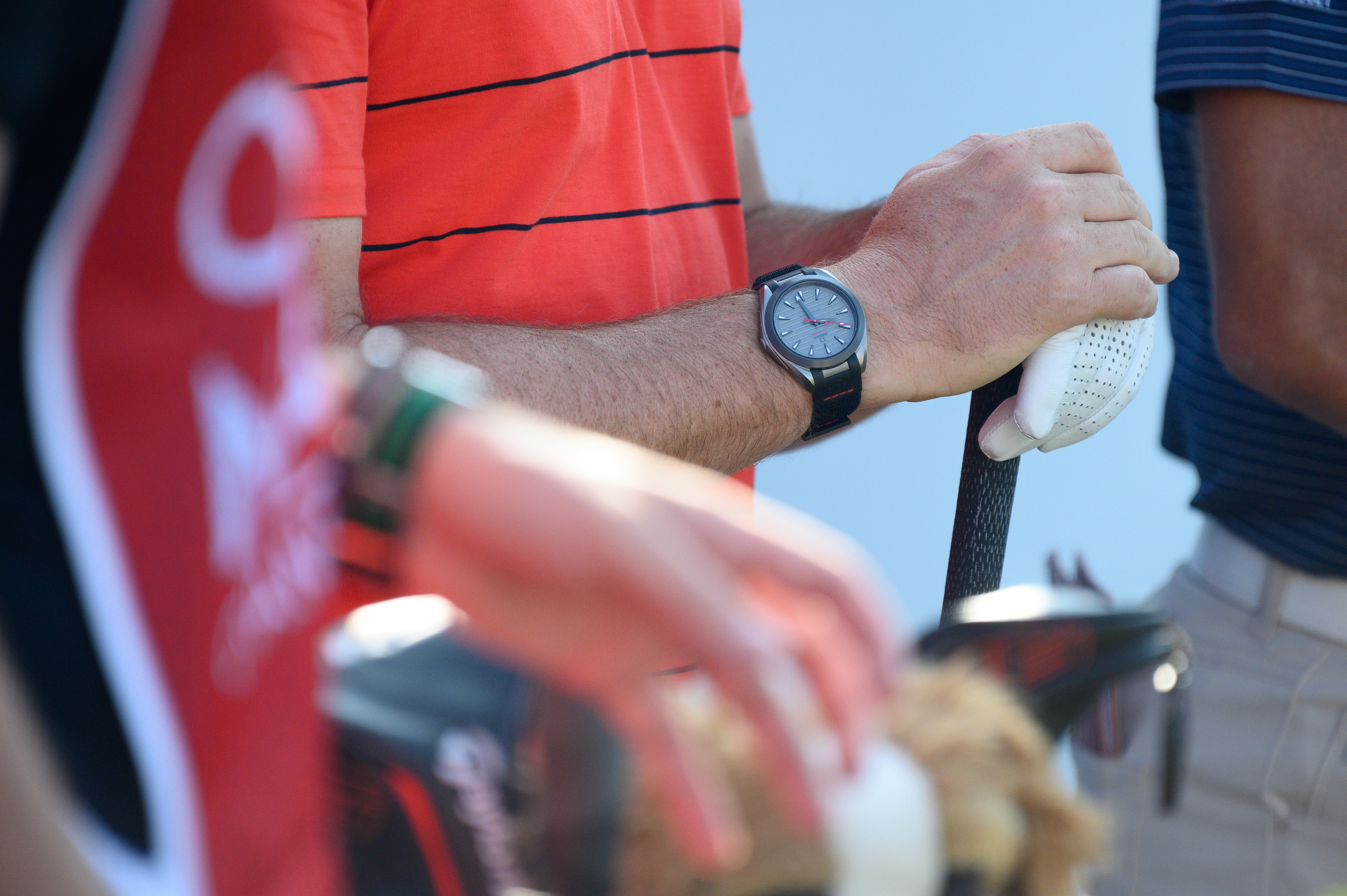 /
0 Comments
/
by Ralph Widmer
https://agentlemans.world/wp-content/uploads/2019/09/Sergio-Garcia.jpg
2673
4010
Ralph Widmer
//media.agentlemans.world/2017/01/agw-logo-605.png
Ralph Widmer
2019-09-04 15:49:08
2019-09-04 16:15:27
55 grams - OMEGA presents an ultra-light golf watch
Gourmet

A healthy and balanced diet is becoming increasingly important and is now part of everyday life. With our Acai Bowl recipe you will be ready for the day! Whether for breakfast or brunch, the popular Acai Bowl is a delicious choice, which is why we show you today a healthy and simple variation to make yourself.
What is an Acai Bowl?
An Acai Bowl looks like ice cream, tastes better and gives you a good feeling when choosing your breakfast. A breakfast for champions, so to speak. An Acai Bowl is basically a thick smoothie decorated with granola, fruits and peanut butter. It's also good for your conscience: you feel happy and full, and don't have to deal with unhealthy donuts or croissants.

What there is to know about the Acai berry
A large part comes from the Amazon region in Brazil. In the Brazilian rainforest, natives have been using the berry in different ways for years. The acai berry has an above-average proportion of antioxidants, many vitamins and minerals are also said to support the body in its activities, especially during sport. Vitamin B3 also promotes the utilization of omega-3 and omega-9 fatty acids.
Acai Bowl recipe – how it's done
The Acai berry is rich in fiber, contains omega 3, 6 & 9 and valuable vitamins & nutrients. Complicated preparation? Far from it! Our Acai Bowl recipe is simple, healthy and delicious.
Ingredients for 3 people – the puree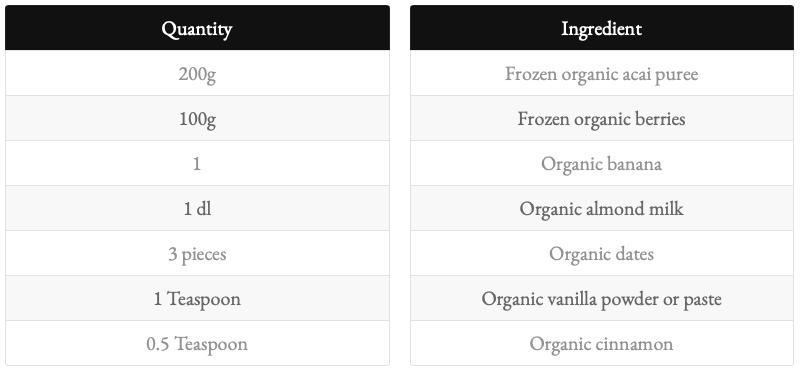 Ingredients for 3 people – the topping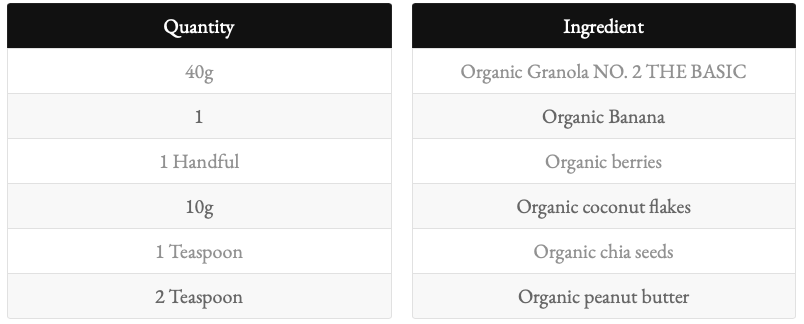 Make your own Acai Bowl – the preparation
Purée all the ingredients of the puree completely in a mixer.

Spread the puree evenly in bowls and decorate the bowl with the topping.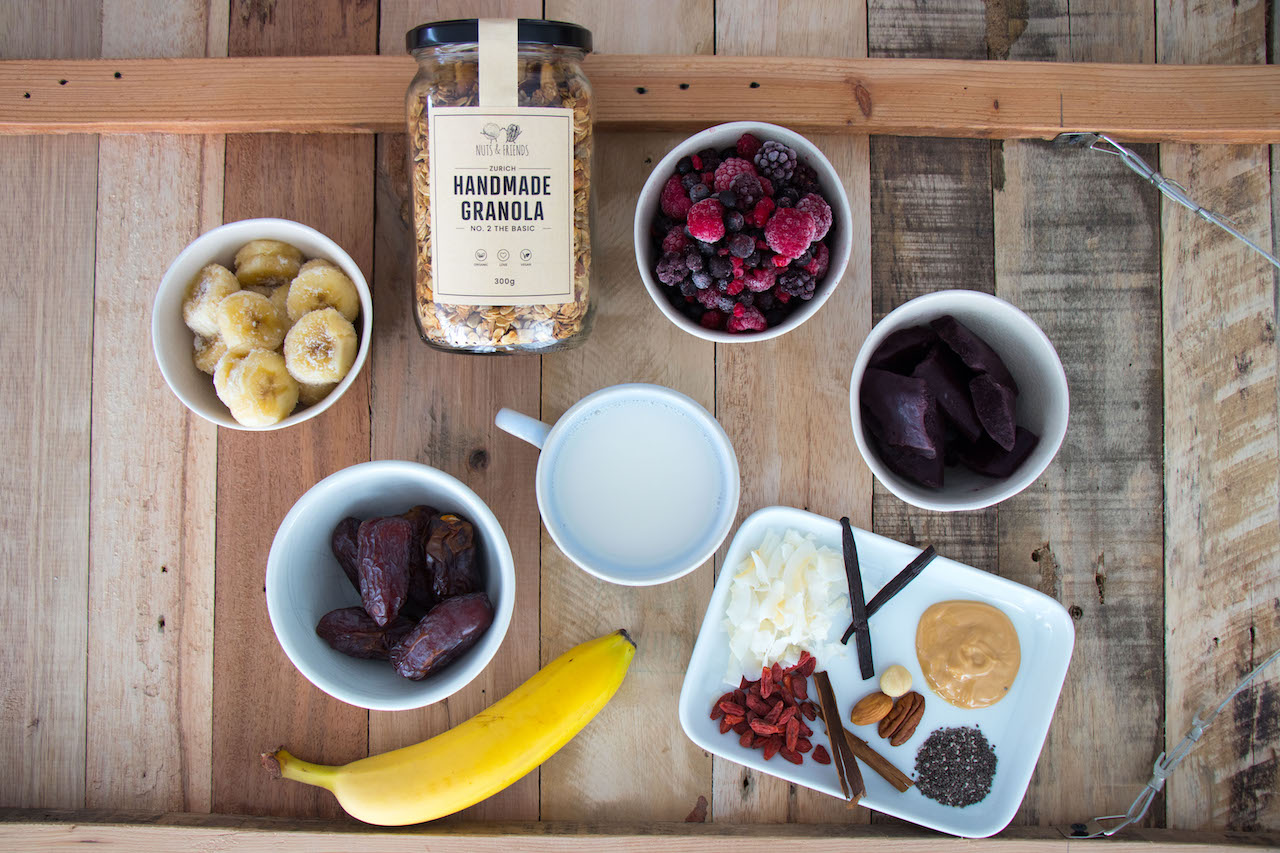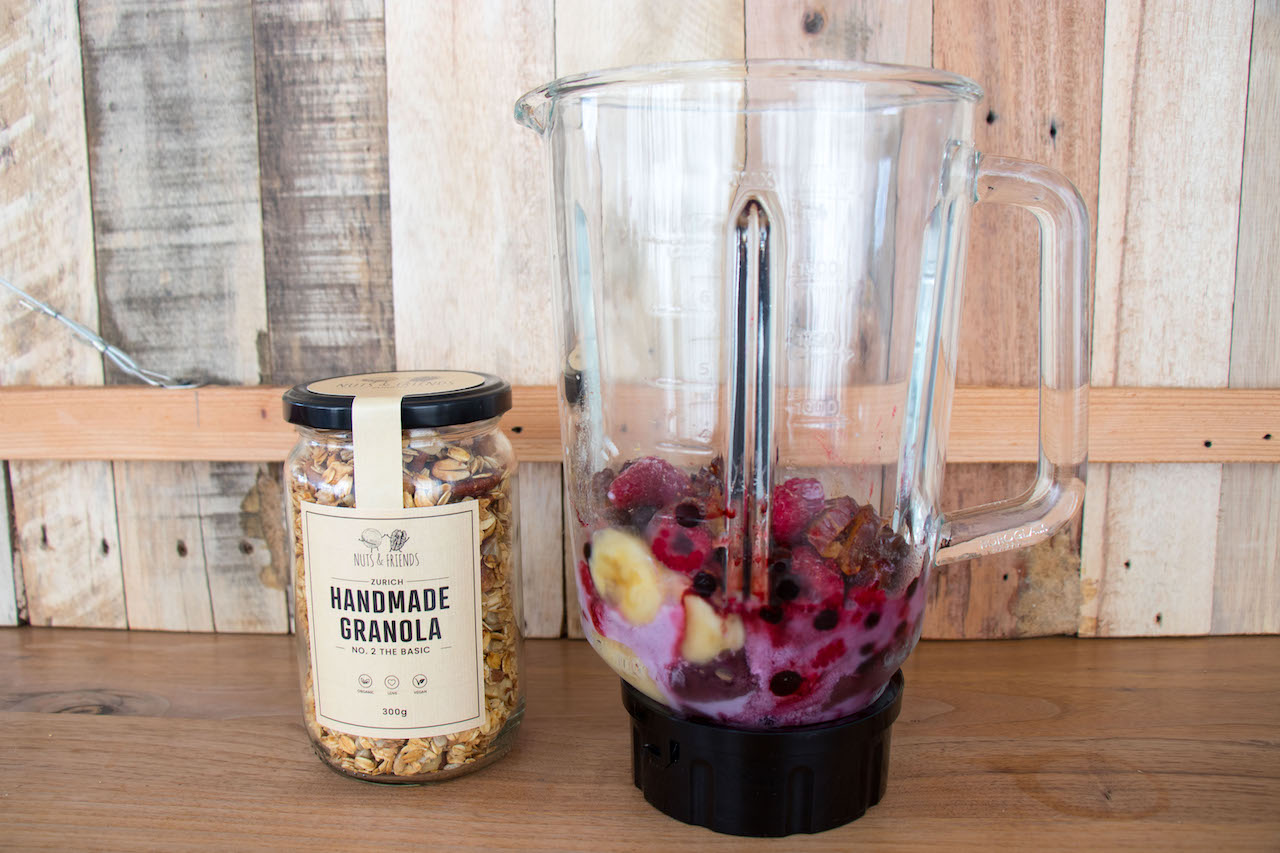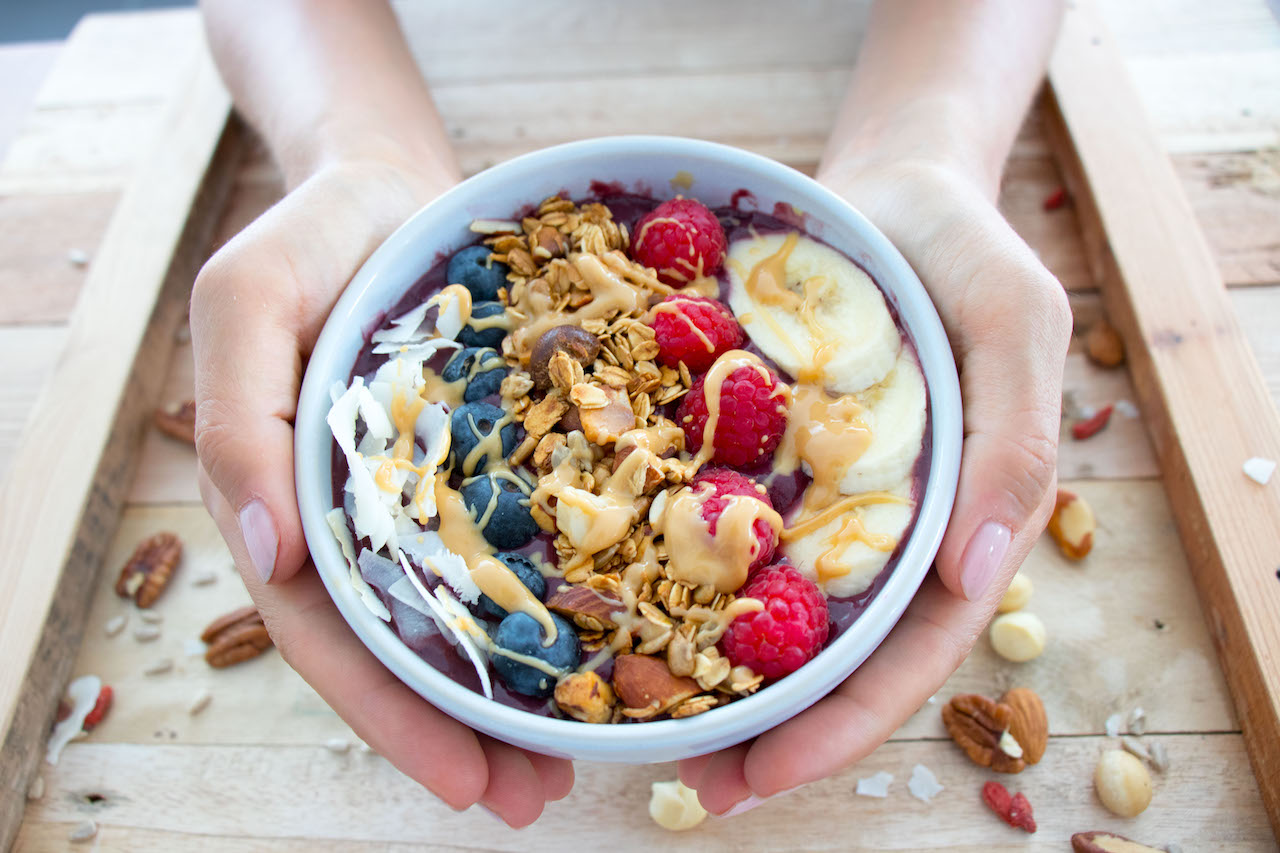 About the Granola from Nuts & Friends
Website http://nutsandfriends.ch
For a delicious Acai Bowl recipe you need a suitable Granola. Recently, Nuts & Friends started producing an irresistible handmade organic granola in the heart of Zurich. It convinces with its above-average nut content of around 30%, is certified organic, vegan and contains no refined sugar. The mild sweetness comes solely from high-quality maple syrup. Currently there are 3 different Granolas offers, all packed exclusively in reusable jars.
NO. 1 THE ORIGINAL, the first creation with high-quality vanilla powder and a hint of cinnamon.

NO. 2 THE BASIC, the basic blend, reduced to the essential and yet full of flavour.

NO. 3 THE KOKOS, the exotic granola treat with coconut chips


How the idea came up
If you look at the muesli and granola packs in the supermarket, you will quickly notice that a lot of refined sugar is used. Due to a lack of healthy granola, Cyrill decided to produce his own granola.
As a sporty and nutritionally conscious gourmet, the focus was on high-quality ingredients and very good nutritional values. The first creation was THE ORIGINAL, whereby the recipe was improved since then. Nuts and Friends was founded in 2019 with the logo showing a happy macadamia nut and a pecan nut. In this sense: have fun preparing and enjoy your meal!
/
0 Comments
/
by Daria Schmidt
https://agentlemans.world/wp-content/uploads/2019/09/acai-bowl.jpg
853
1280
Daria Schmidt
//media.agentlemans.world/2017/01/agw-logo-605.png
Daria Schmidt
2019-09-03 07:55:01
2019-09-03 14:28:14
Simple, healthy and tasty: our Acai Bowl recipe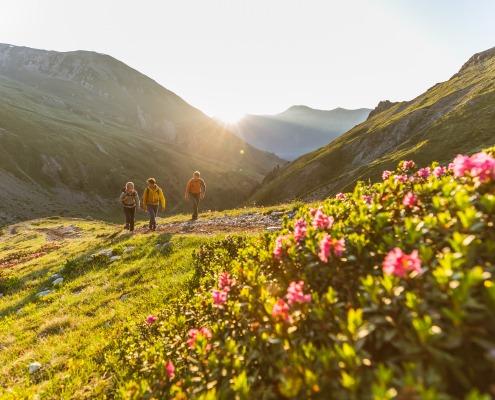 Livigno - The adrenaline madness at 1800 m above sea level of the Italian Alps Have you ever been to Livigno? Livigno is located on 1816 m.a.s.l. of altitude in the highest plateau of Europe and in the second highest in the world after Mexico…
https://agentlemans.world/wp-content/uploads/2019/08/V8A7735Livigno_3000_Sommer2019_chansiheckmair.jpg
4725
7087
Daria Schmidt
//media.agentlemans.world/2017/01/agw-logo-605.png
Daria Schmidt
2019-09-02 09:32:44
2019-09-09 07:27:23
Livigno - Italian kingdom of snow and sun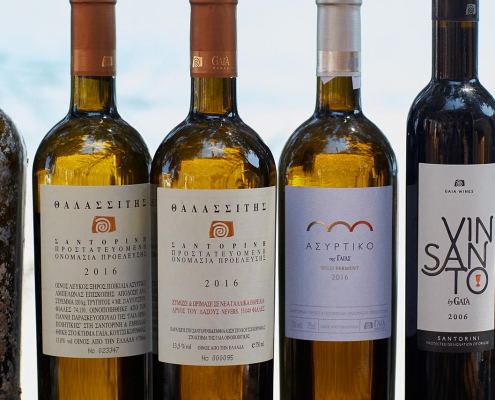 Santorini - the Greek dream of blue and white - the island, whose white houses shine with the sun and the blue domes with the sea. There are innumerable reasons why the island is so hotly sought after, the unique wine is one of these reasons.  The…
https://agentlemans.world/wp-content/uploads/2019/08/santorini_wines_2use.jpg
854
1920
Daria Schmidt
//media.agentlemans.world/2017/01/agw-logo-605.png
Daria Schmidt
2019-09-02 09:31:46
2019-09-02 09:31:46
The peculiarity of the Greek wine culture on Santorini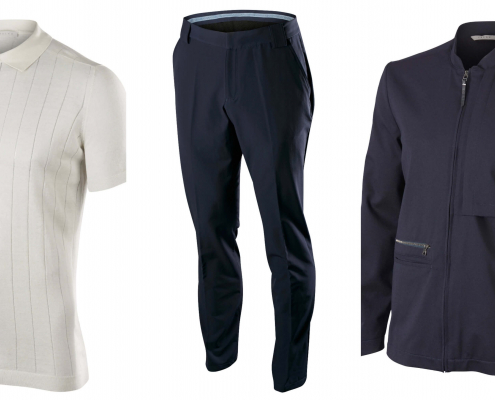 Whether it's heat and wind in Mauritius or a cool morning in Crans Montana, a golfer needs the right outfit for any weather. We have teamed up with the traditional German company Falke to show our favourites in golf clothing for the season. Falke…
https://agentlemans.world/wp-content/uploads/2019/08/golfbekleidung.jpg
2025
3600
Daniel Schenker
//media.agentlemans.world/2017/01/agw-logo-605.png
Daniel Schenker
2019-08-28 08:37:07
2019-09-02 09:33:22
Golf clothing - our favourites from Falke