Snow-covered landscape, cold temperatures, views of the mountains and a cosy ambience: Gstaad is without doubt one of the most beautiful alpine chalet villages in the world. So, we teamed up with Jaeger-LeCoultre and The Alpina Gstaad to get a feel for alpine chic and chalet chic.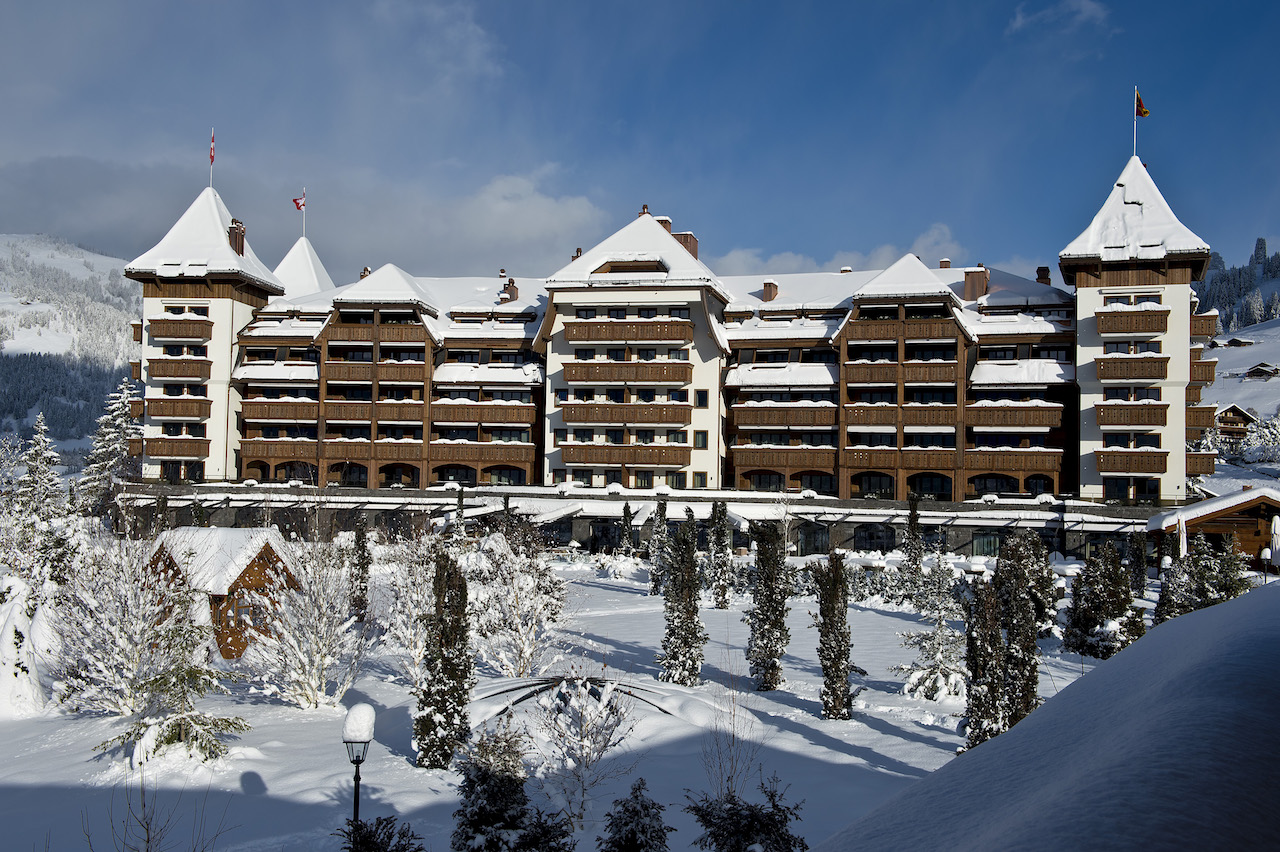 Pictures & Rights by Sebastien Rohner & The Alpina Gstaad
An alpine chalet trip to Gstaad
Gstaad is about 1050 metres above sea level and belongs to the Saanenland region in the Bernese Oberland. The small village has around 7000 inhabitants, all houses are built in chalet style and the village centre is car-free – once you arrive in Gstaad, you feel a bit like in a fairy tale. No wonder that Gstaad, with its unique and relaxed atmosphere, is the destination of numerous celebrities such as Madonna or Elton John.
Alpine chic, chalet chic – this is how it works
What is meant by terms like 'Alpine Chalet', 'Alpine-Chic' or 'Chalet-Chic'?
Alpine chic or chalet chic is a style of furnishing that can often be found in the mountains. A lot of work is done with warm materials such as wood, natural stone, leather or fur, all of which are found in the mountains. The style radiates a very pleasant, rustic and warm energy – depending on the architect, you may also find fireplaces, which makes your stay in an alpine chalet even more comfortable and relaxed.
During the day you spend your time skiing, tobogganing or going for a walk – in the evening there is nothing better than to make yourself comfortable in an alpine chalet. It is a place of tranquillity that cannot be surpassed in its feel-good ambience.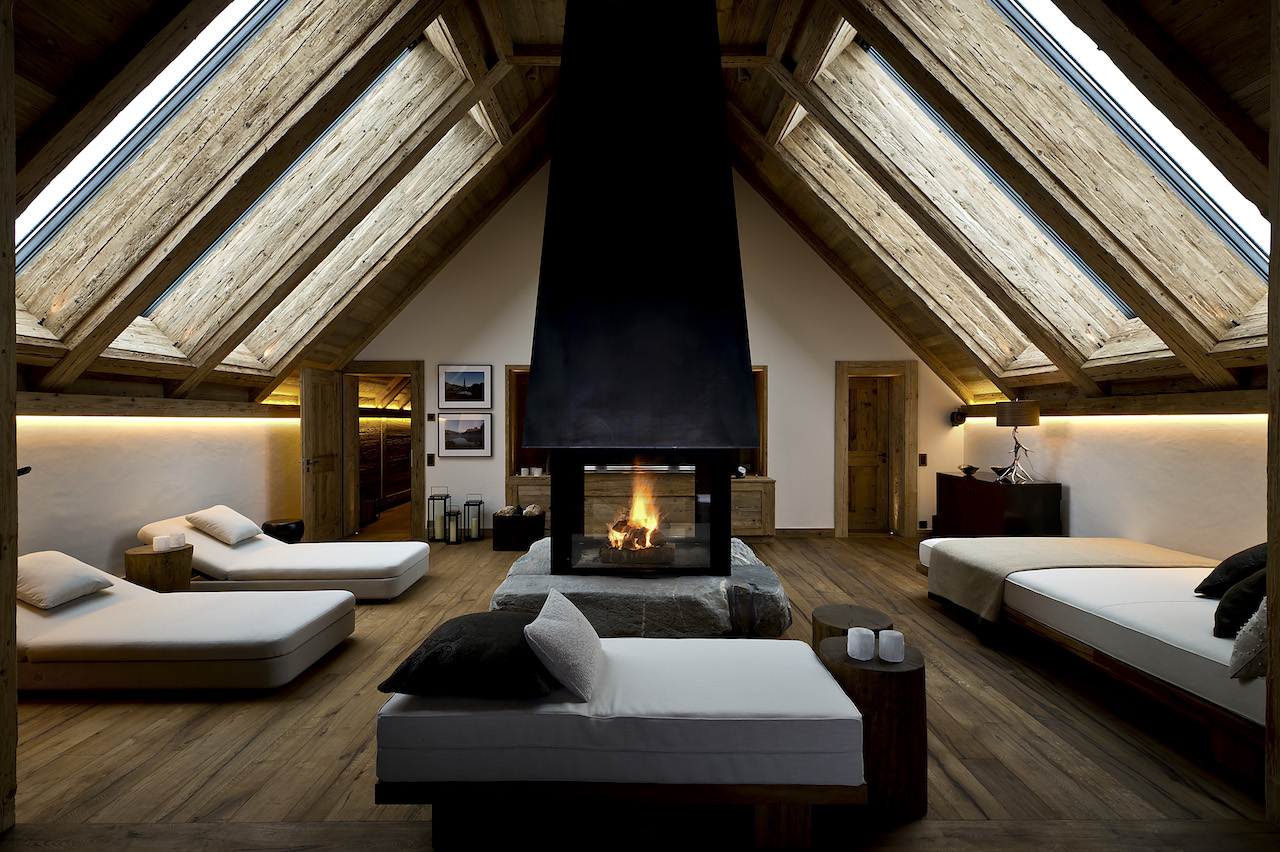 Our journey with Jaeger-LeCoultre
Nestled deep in the Vallée de Joux, one finds the traditional Jaeger-LeCoultre factory. The company is undoubtedly one of the largest watchmakers in the world. Our collaboration began quite some time ago, and after our visit to the manufacture it was once again clear to us how much attention is paid to detail in this traditional company.
Our trip to Gstaad was all the more wonderful because the two Jaeger-LeCoultre Polaris timepieces harmonise so beautifully with this landscape and natural materials.
Jaeger-LeCoultre Polaris Chronograph
An incredible chronograph, which combines elegance and sportiness so beautifully – not only because of this does it fit so well into our alpine chalet story. The vintage touch of the Jaeger-LeCoultre Polaris Chronograph goes back to the 60s and stands for adventure and the conquest of the cosmos.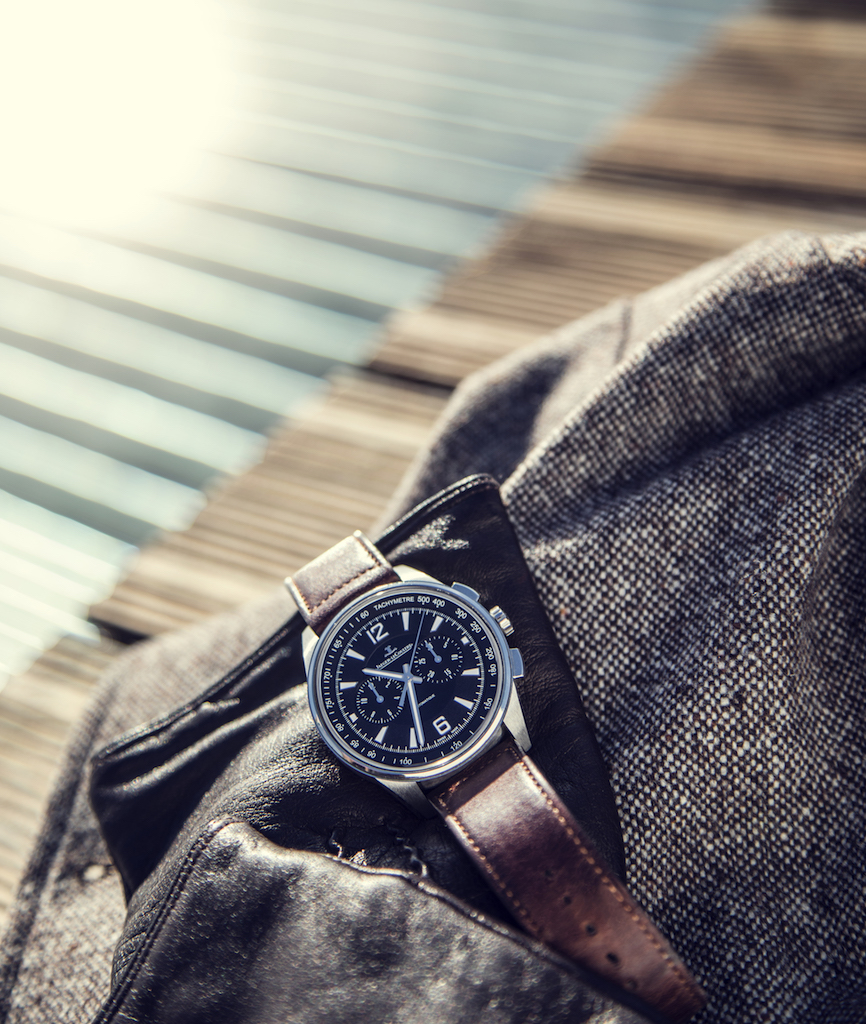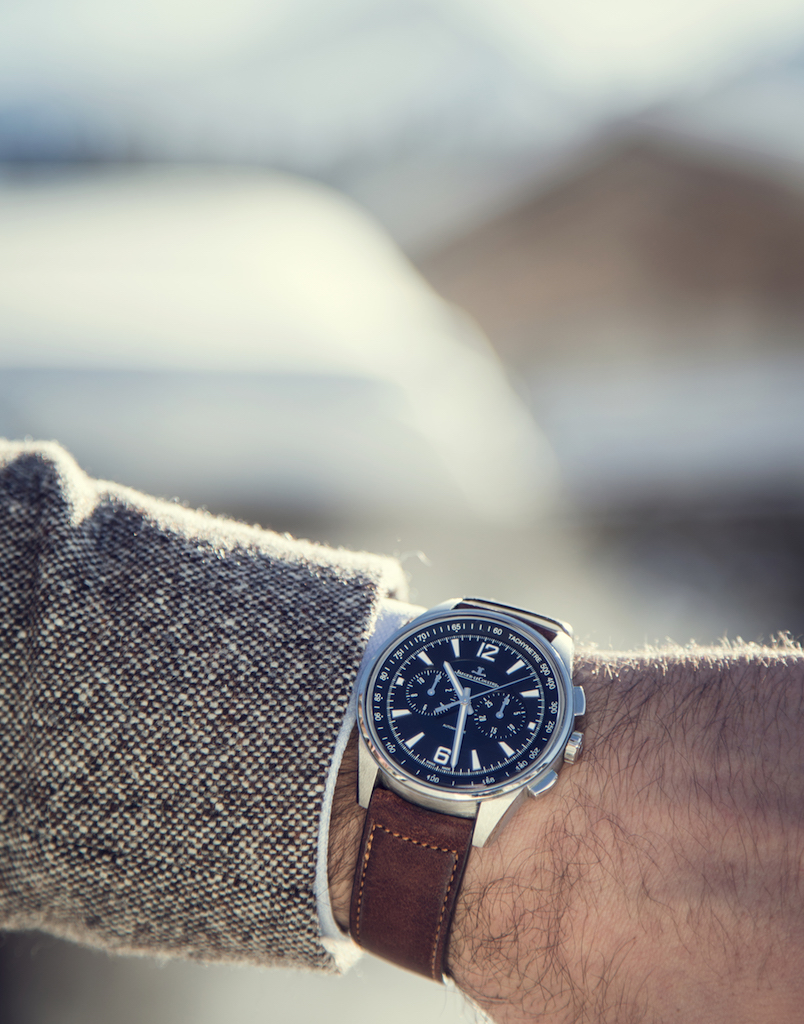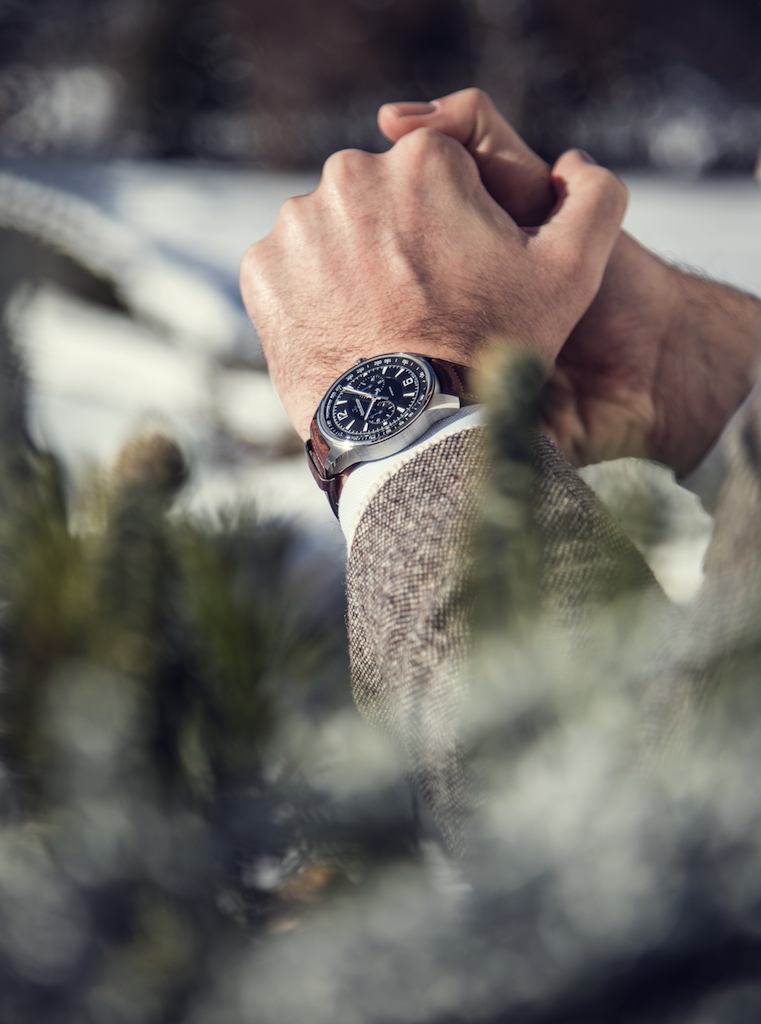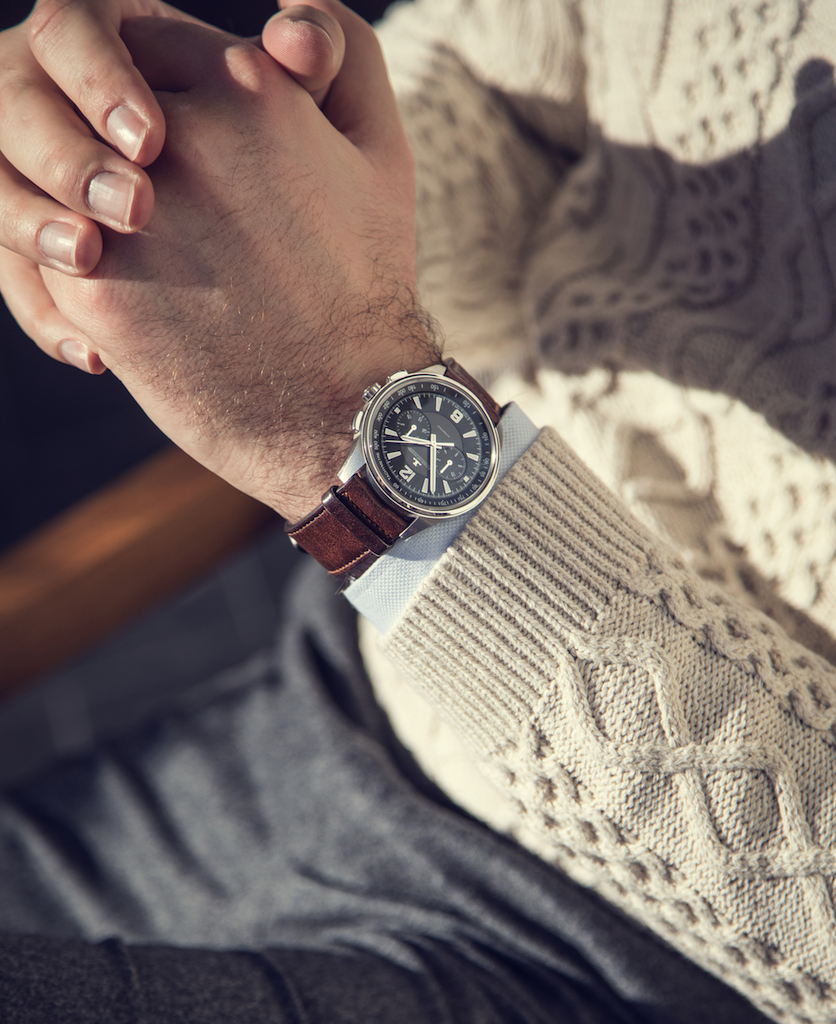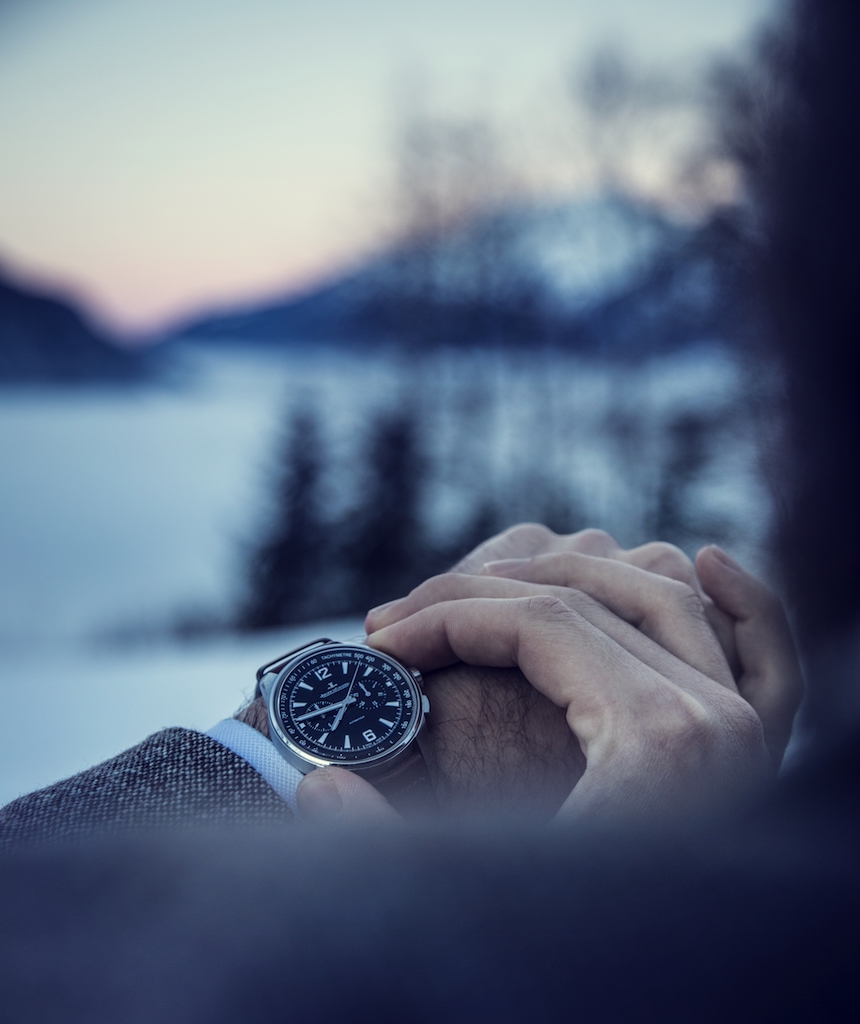 Jaeger-LeCoultre Polaris Chronograph – REF. 9028471 – CHF 10,400.-
Jaeger-LeCoultre Polaris Memovox
The heart of this model contains an iconic function: the alarm "Memovox Polaris". Originally, this function (or "voice of memory") served to remind divers that it was time to return to the surface.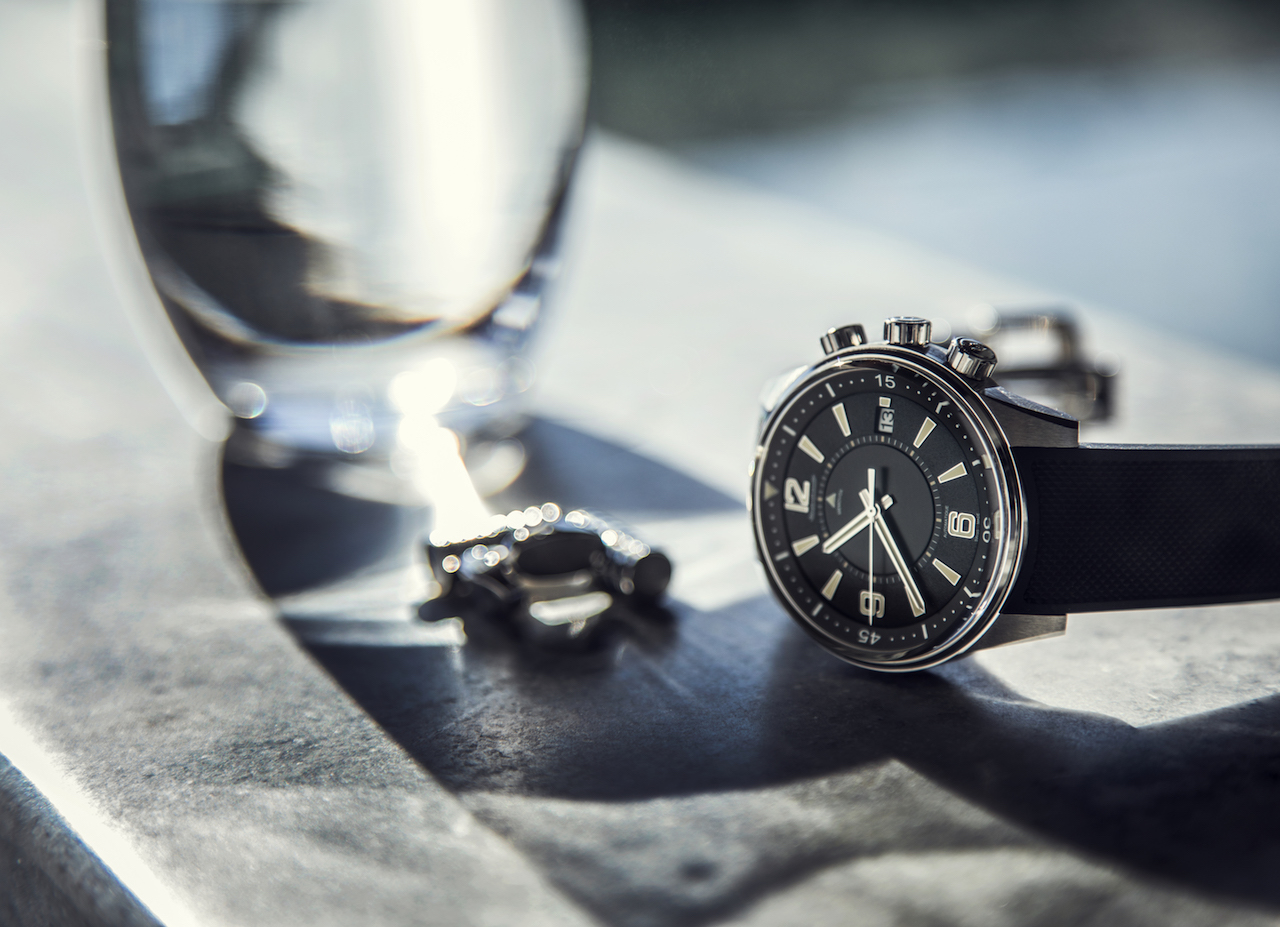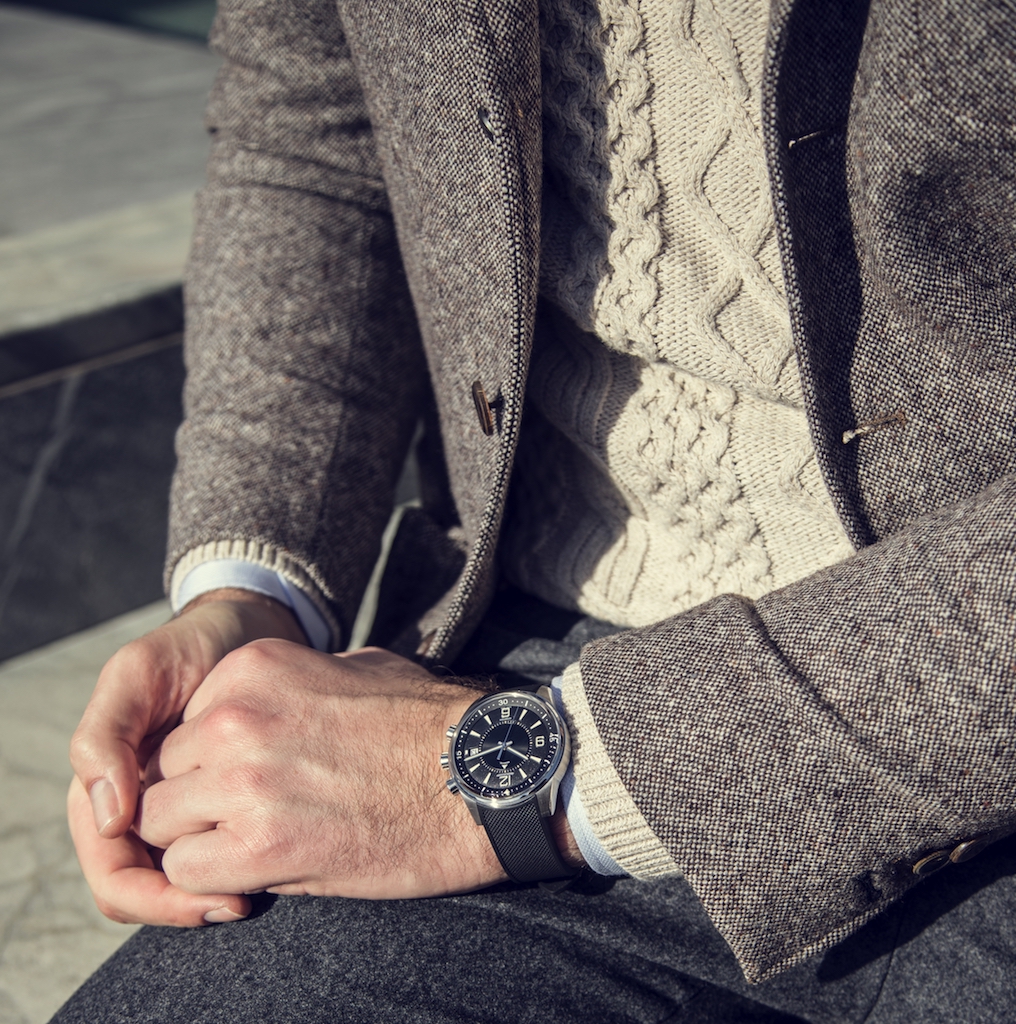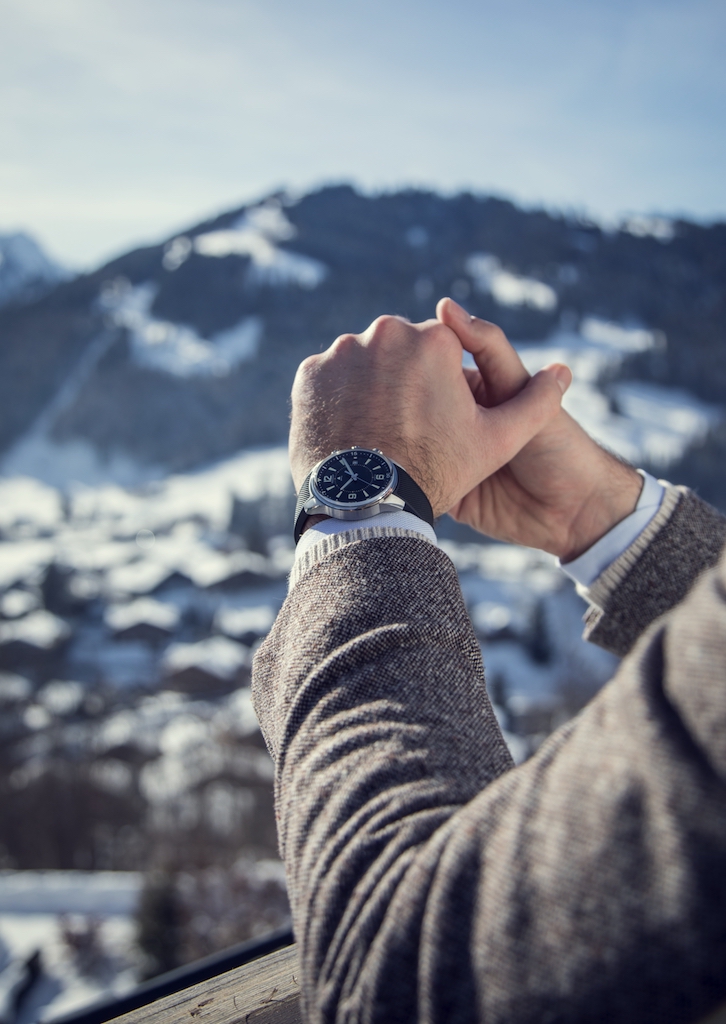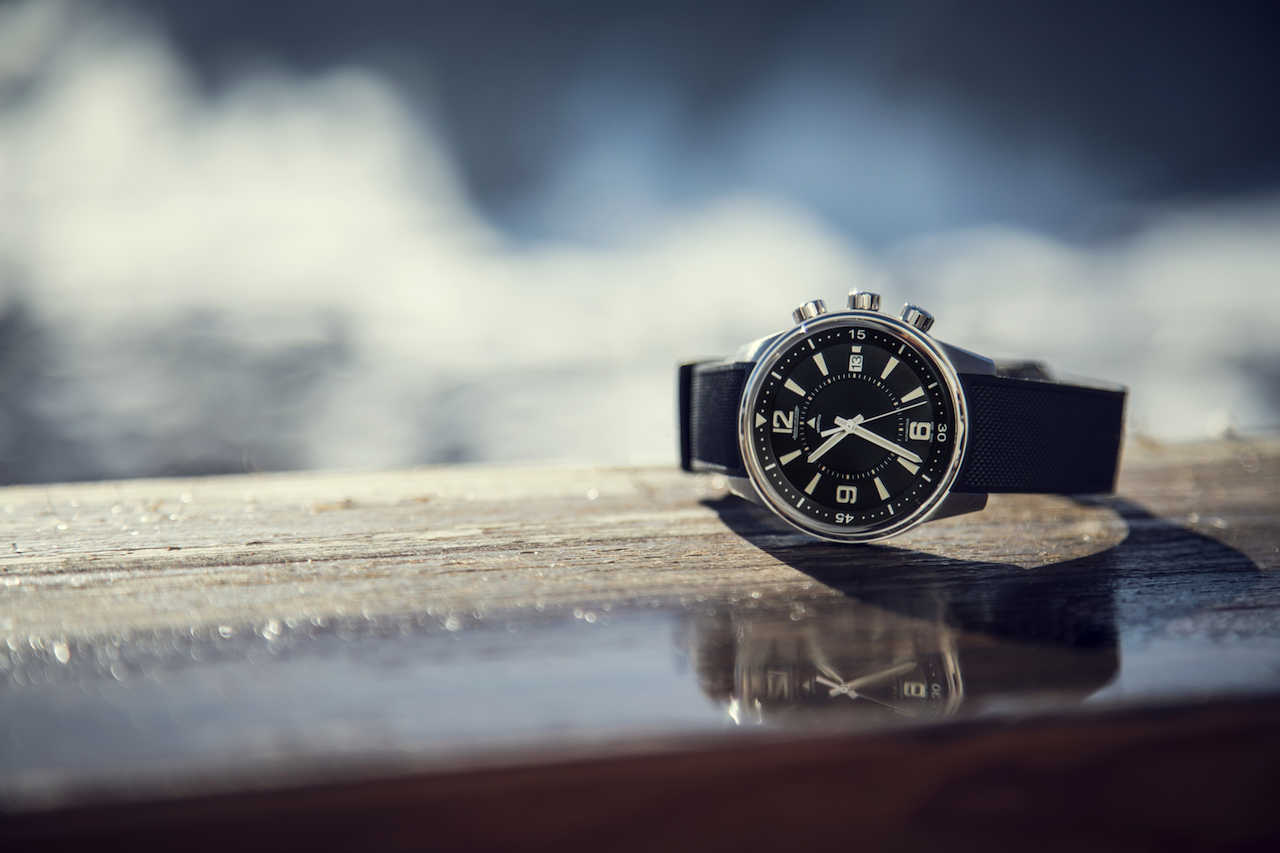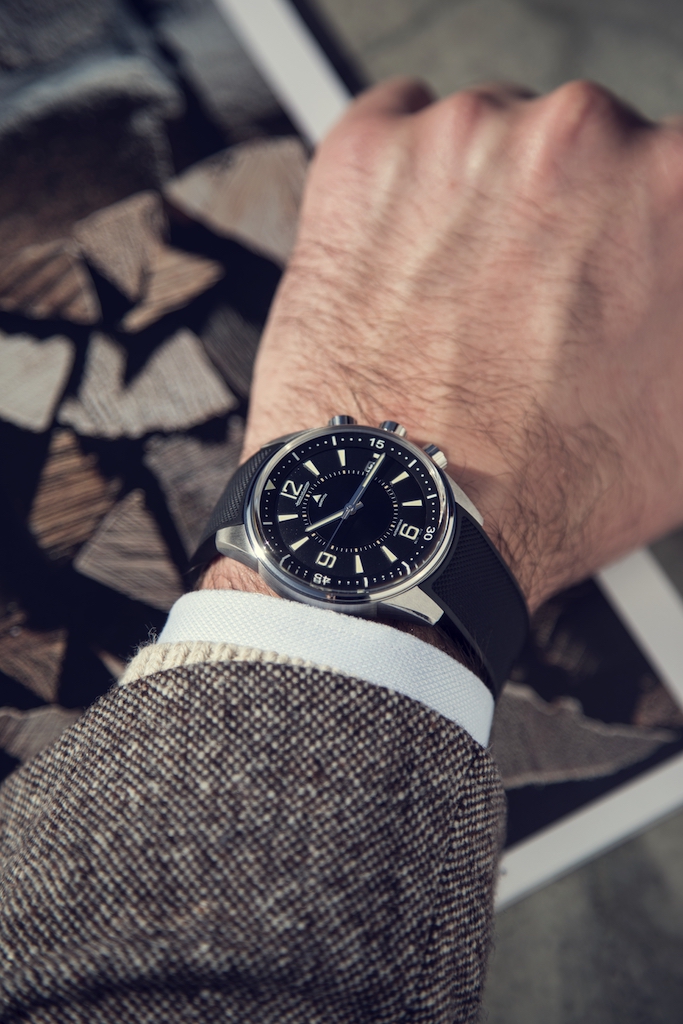 Jaeger-LeCoultre Polaris Memovox – REF. 9038670 – CHF 13,500.-
One of the world's best addresses – The Alpina Gstaad
The Alpina Gstaad is undoubtedly one of the most beautiful Alpine Chalet Hotels in the world, where you will find a symbiosis of Swiss tradition and discreet luxury. A walk from the village centre leads to a small hill where the hotel is located. The view is magnificent: one enjoys a wonderful view of the village and the surrounding mountains.
The hotel was reopened in 2012 and looks back on over 100 years of history, which makes it a unique building, so wonderfully embedded in the landscape. A swim in the outdoor pool is recommended, especially in the morning or evening the panorama is not to be surpassed here.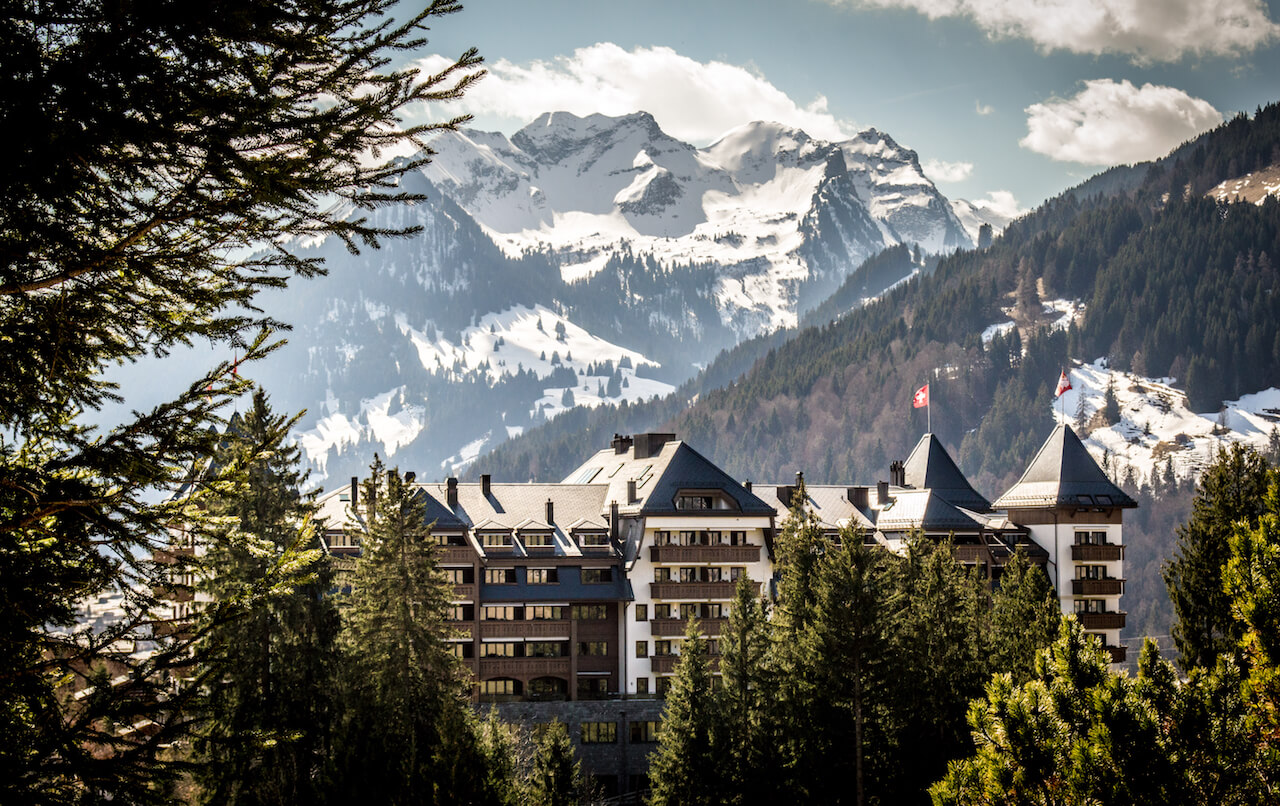 56 rooms with lots of comfort
Also in the rooms you can find some Alpine Chalet Chic: big rooms, fireplaces, cowbells, ceilings with carvings and wooden walls. A perfect place to relax in front of the fireplace in the evening.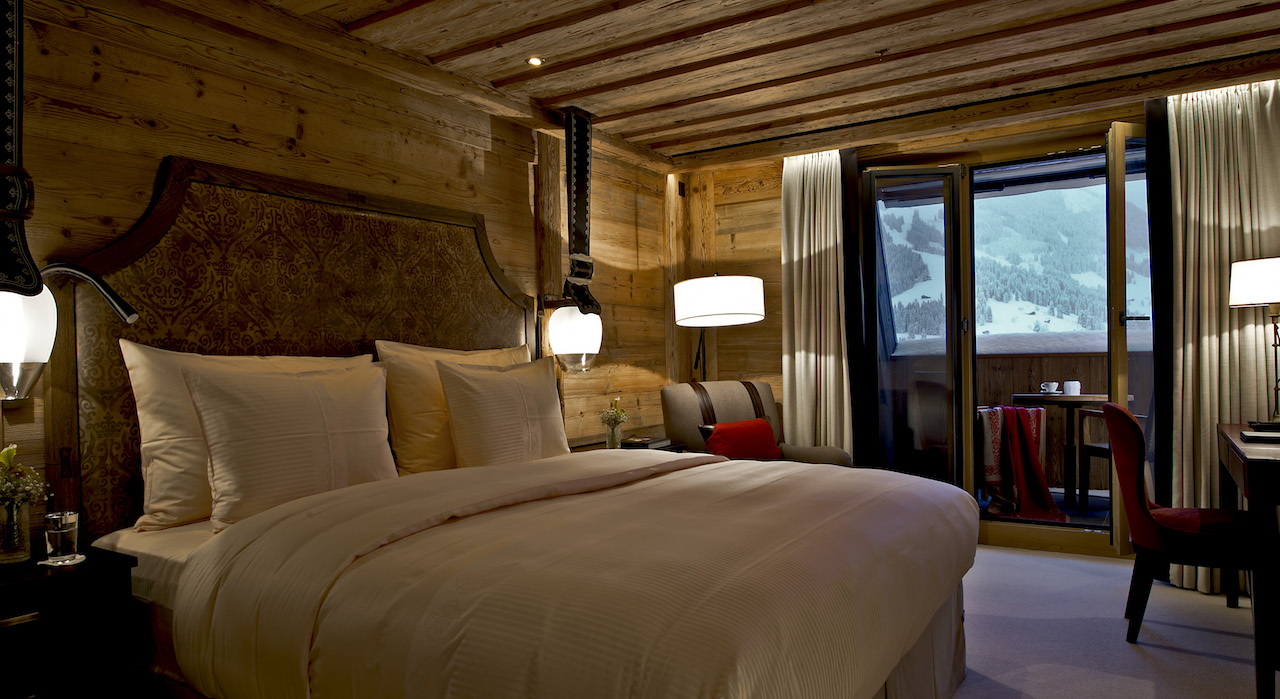 Cuisine in the evening
The Alpina offers a selection of restaurants, including the Sommet, the Japanese Megu and a Swiss Stübli for those who like it rustic. If you would like to enjoy a cigar after the meal, the stylishly furnished lounge is the place to be.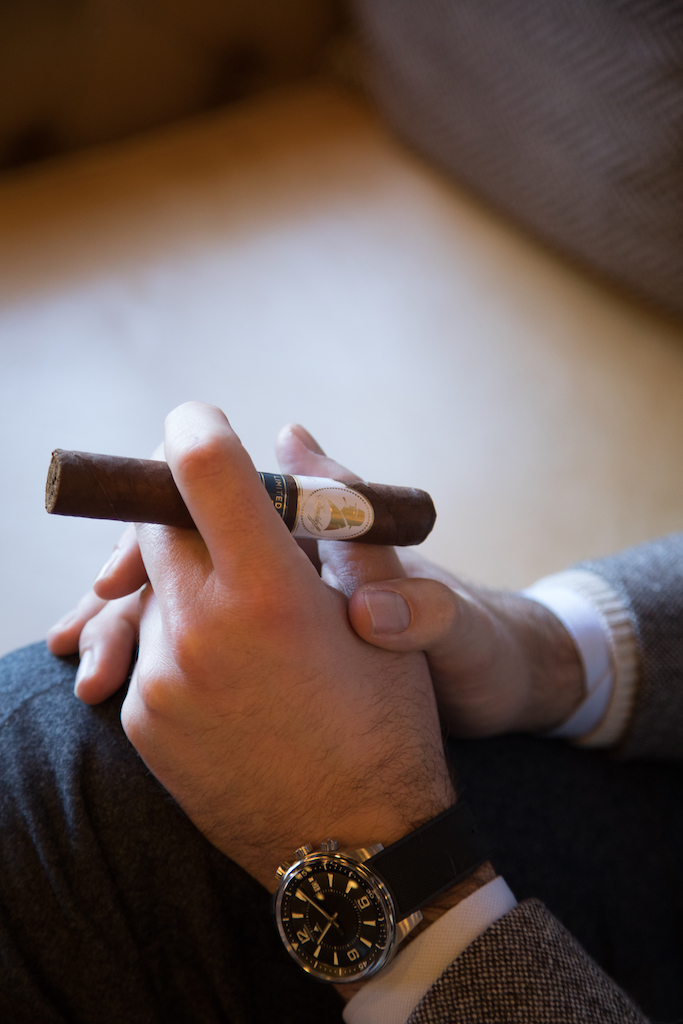 It feels a bit like coming home…
I think that we feel a little bit at home here after our 3rd visit speaks for itself. The staff is very friendly, helpful, attentive and it really feels they work with a lot of pleasure here.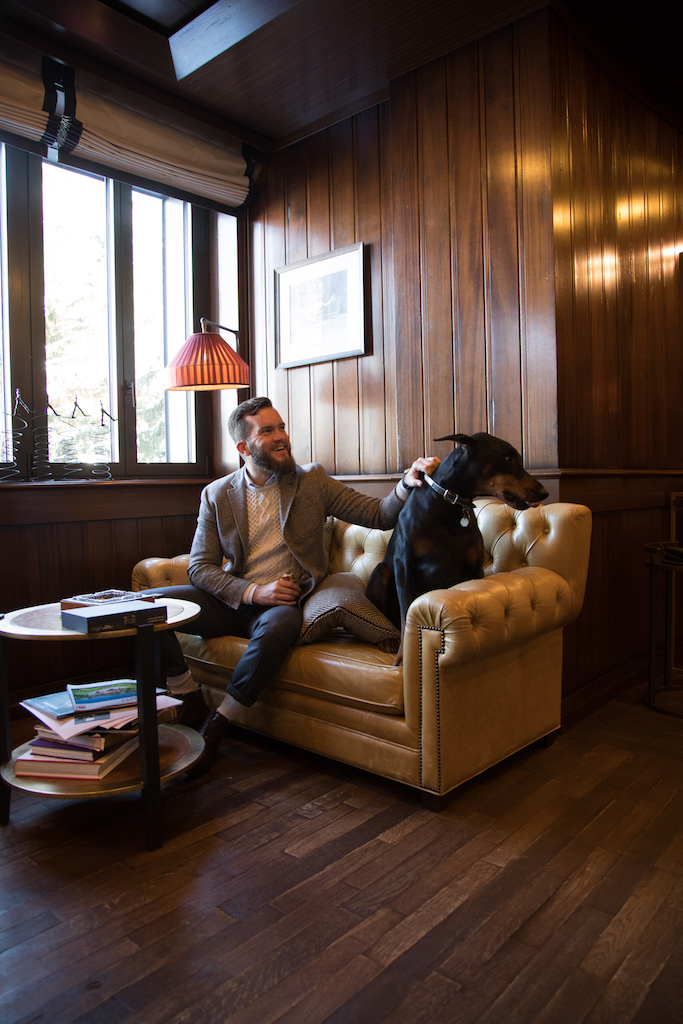 Prices per night incl. breakfast from approx. 690 CHF
https://agentlemans.world/wp-content/uploads/2019/03/gstaad-hotel.jpg
1024
1149
Ralph Widmer
//media.agentlemans.world/2017/01/agw-logo-605.png
Ralph Widmer
2019-03-18 14:56:22
2019-03-18 15:42:36
Our Alpine Chalet Trip To Gstaad

Saalfelden, 20 February 2019. Five hours on a train cutting through the Alps from Switzerland to Austria is an impressive experience in its own merit, but there was a reason I was headed to Austria in the middle of February, and it wasn't to ski. After a comfortable night's sleep, hearty breakfast and double-shot of coffee at the superbly appointed Hotel Gut Brandlhof, I was ready for a day in the very fresh air as the driver of the astonishing Ferrari hatchback… on ice.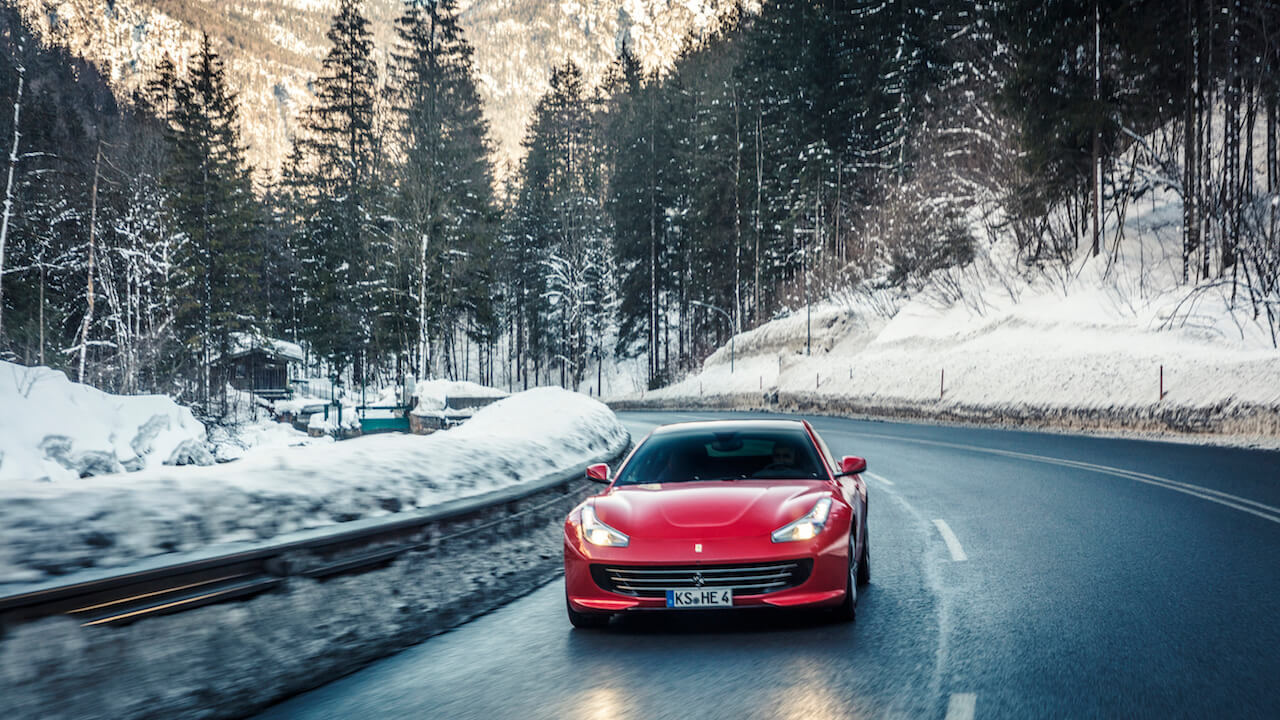 A 4-seater Ferrari Hatchback?
Ferrari is known for its two seater sports cars, but its 4 seater history goes back further than one might imagine. The 250GT/E was the first large-scale production Ferrari to sport the 2+2 configuration, back in the early 1960s. Though there has been a steady succession of 2+2 cars from Maranello to date, it is only recently that these cars adopted a four wheel drive drivetrain.
Ferrari FF vs GTC4lusso
We've covered the GTC4Lusso before, but it's worth going over some of the finer points. This Ferrari Hatchback is the successor to the somewhat polarising FF; the "4 seater Ferrari" occasionally termed "The Breadvan" for its uncharacteristic shape, given its branding. The FF is often thought of as the first four wheel drive Ferrari, and it is, really. Though there was the 408 4RM in the late 80s, the FF is arguably the first real AWD model to hit the mainstream. The FF is a car with real road presence, but really looks like a prototype for the GTC4Lusso, which as is to be expected, is a much more refined-looking vehicle.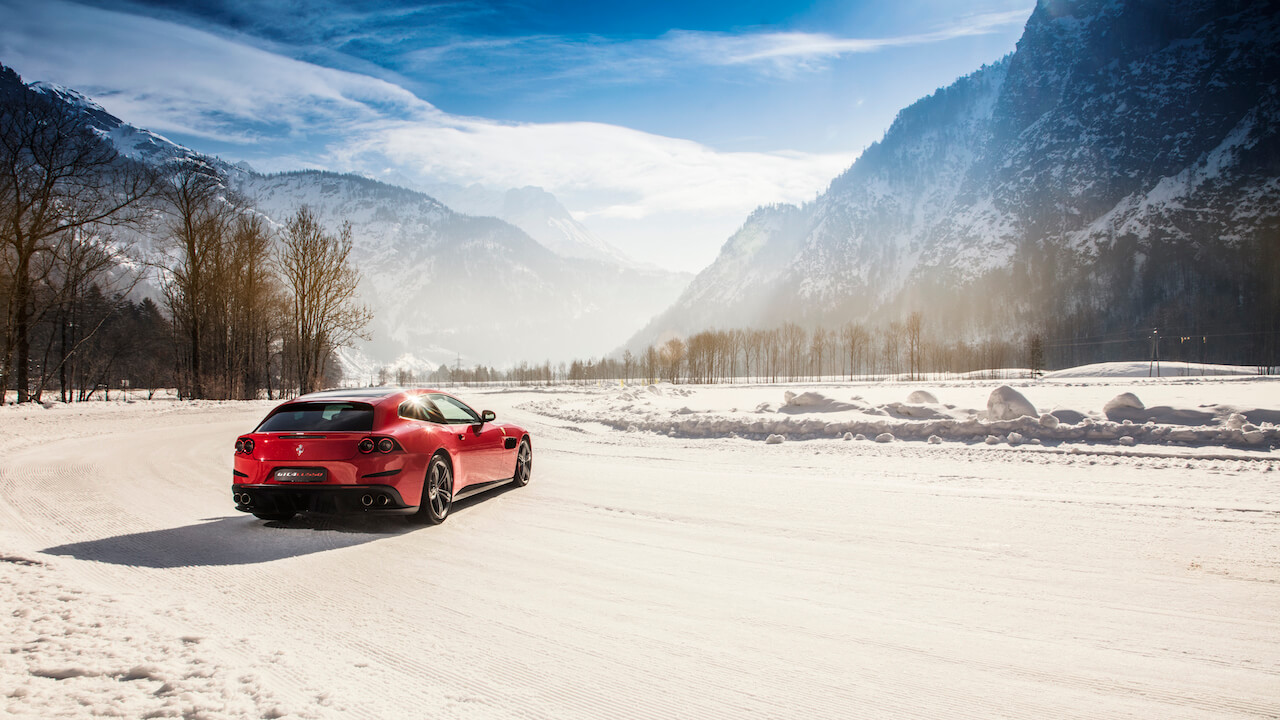 What does the term GTC4Lusso mean?
The name GTC4Lusso has meaning— 'GTC' for 'Gran Turismo Coupé', and I am told the "4" relates to the 4 seats. This luxurious Italian sportscar (Lusso means luxury)  is a 'Shooting Brake', i.e. a coupé with a hatchback, though it really has more of a "fastback" with something of a 60's vibe.
The design differences
The new Ferrari hatchback looks different from every quarter, but has presence no matter from where you're gazing at this magnificent chassis. The exterior is beautifully crafted, and the interior is on another level. The rear lights look very similar to those on the 456 and actually reminded me of the 355 poster child.
The GTC4Lusso is 15mm longer than the FF and there's ample legroom and headroom for my 1.9m frame. There's actually enough room in the back for me to sit there for a short ride; the legroom suffers but it's pretty comfy back there. Perfect for children. Oh, and the panoramic glass roof is theatrical in its presentation of the surrounding landscape. The suppleness of the leather has to be seen, no, felt, to be believed. The interior is superbly appointed, and the infotainment screen is a touchscreen affair (I am not a fan of touchscreens in cars) but it's responsive and puts most other efforts to shame. It even displays speed and RMP for the passenger's benefit.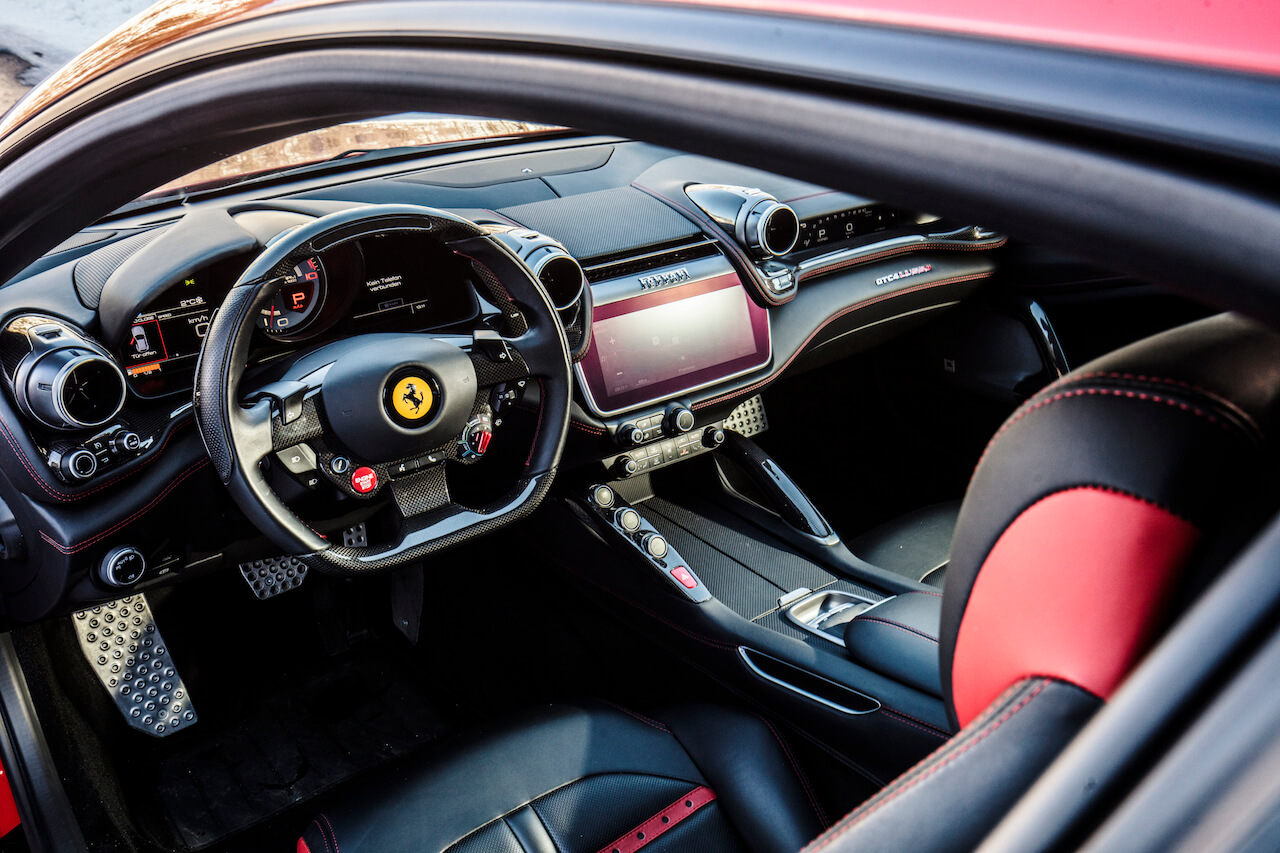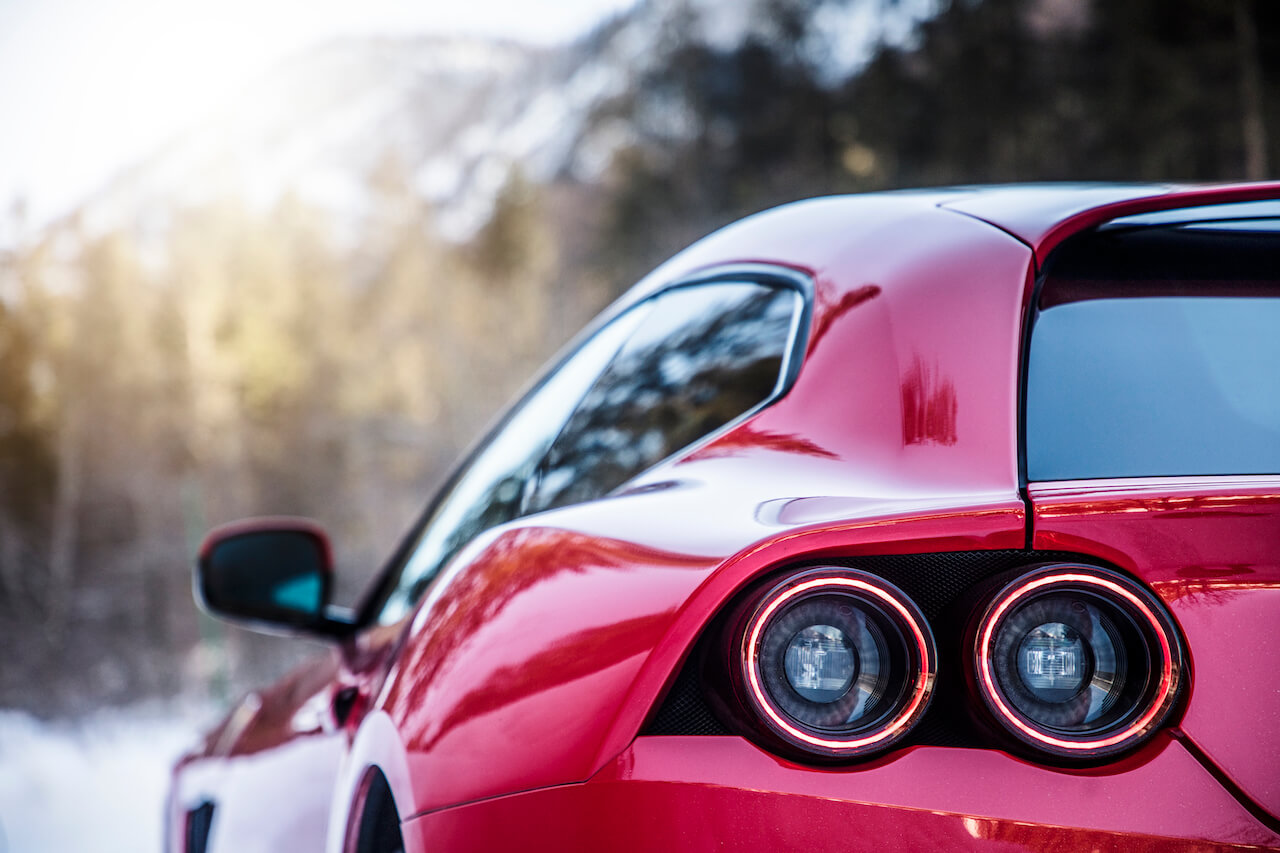 Our driving experience
Getting behind the wheel, the car shrinks around you. Clichéd phrase it may be, but it's really true. This is a 4-seater, but this Ferrari hatchback feels more like a gokart once properly set up. The centre console is nice and high, covering the somewhat unique transaxle system; the seats and steering wheel alike can be perfectly positioned. The steering wheel was a touch smaller than I expected at first, but it's the perfect size. The dials and knobs take a second to work out, but everything simply works in harmony when you're on the road. The indicators are buttons on the wheel, but again, they just work. Perhaps all wheels should be like this? The gear paddles are huge and metal, and mounted on the column, so you always know where they are. A quick gear-pull is always in the same place. The "Manettino" on the steering wheel allows the driver to select from "ice; wet; comfort; sport; ESP off". These are not just "suspension settings" or "throttle response" settings. The car really does transform around you with each setting, and it's something very difficult to put into words.
The car has four-wheel drive (4RM EVO) and four wheel steering (4WS). There's also Magnaride adaptive suspension, and adaptive cruise control—Ferrari has made this car the type of machine you could drive across Europe, perhaps to Monaco, and then take part in a race… on an icy track. Then drop the kids off at school.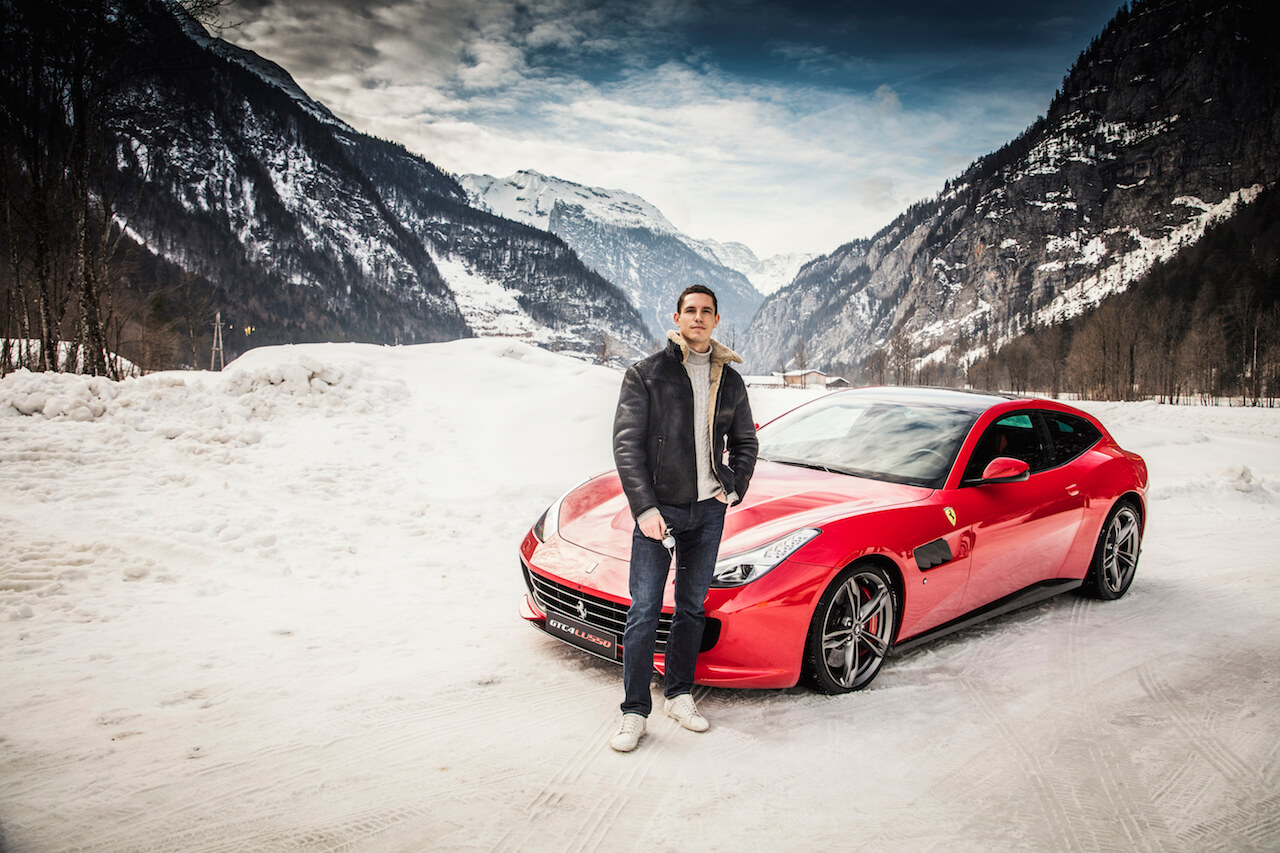 AWD, but not as you know it
Pressing the big red "Engine Start" button is something you'll never get tired of. The engine roars and you know that something special is about to happen. Cars with such engines are becoming few and far between, so enjoy it while you can.
And the engine that powers the Ferrari GTC4Lusso is a 6 litre V12 naturally aspirated engine, which generates 690 hp and 697 Nm of torque (80% available at 1750 RPM). In the dry, 0-100 km/h is achieved in just 3.4 seconds. What more amazing, is that you can drive this incredible vehicle on an ice sheet that's too slippery to walk.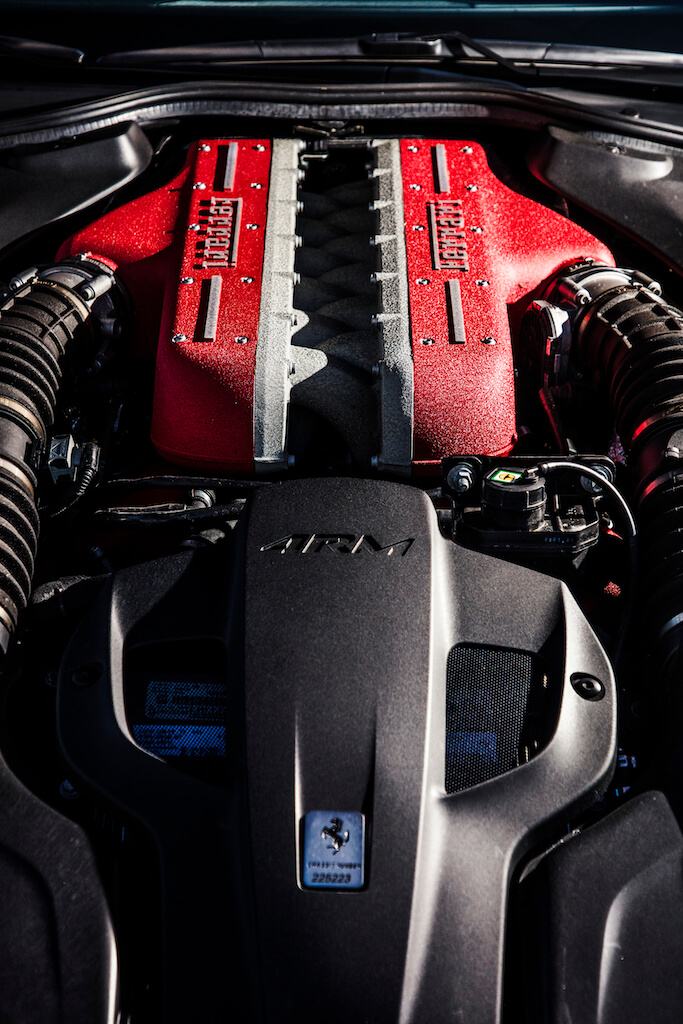 How it feels driving the Ferrari hatchback 
Before we got to the ice arena proving ground, we took to the streets to get a feel for the car. 1m snow walls either side, the width of the GTC4Lusso is something you notice very early on. This is not a slim car. Auto gear changes are superbly smooth, and I completely forgot this is a dual clutch system. We have a chance to play with each setting up to "sport" and see how the car feels. I had switched into manual gear changes very early on (as I like being in control) and the paddle shifts are excellent. Oh yes, and the car sounds absolutely phenomenal with wide open throttle.
I will add that it's relatively easy to make a near-700BHP car go quickly, but difficult to make it usable in 30 zones. This car is a complete pussycat when you want it to be, and is very easily drivable. It is somehow not at all intimidating when you want it to be.
The car feels amazingly light, but planted. It's odd that a car of this side can be driven in such a manner, which is testament to what Ferrari have achieved here.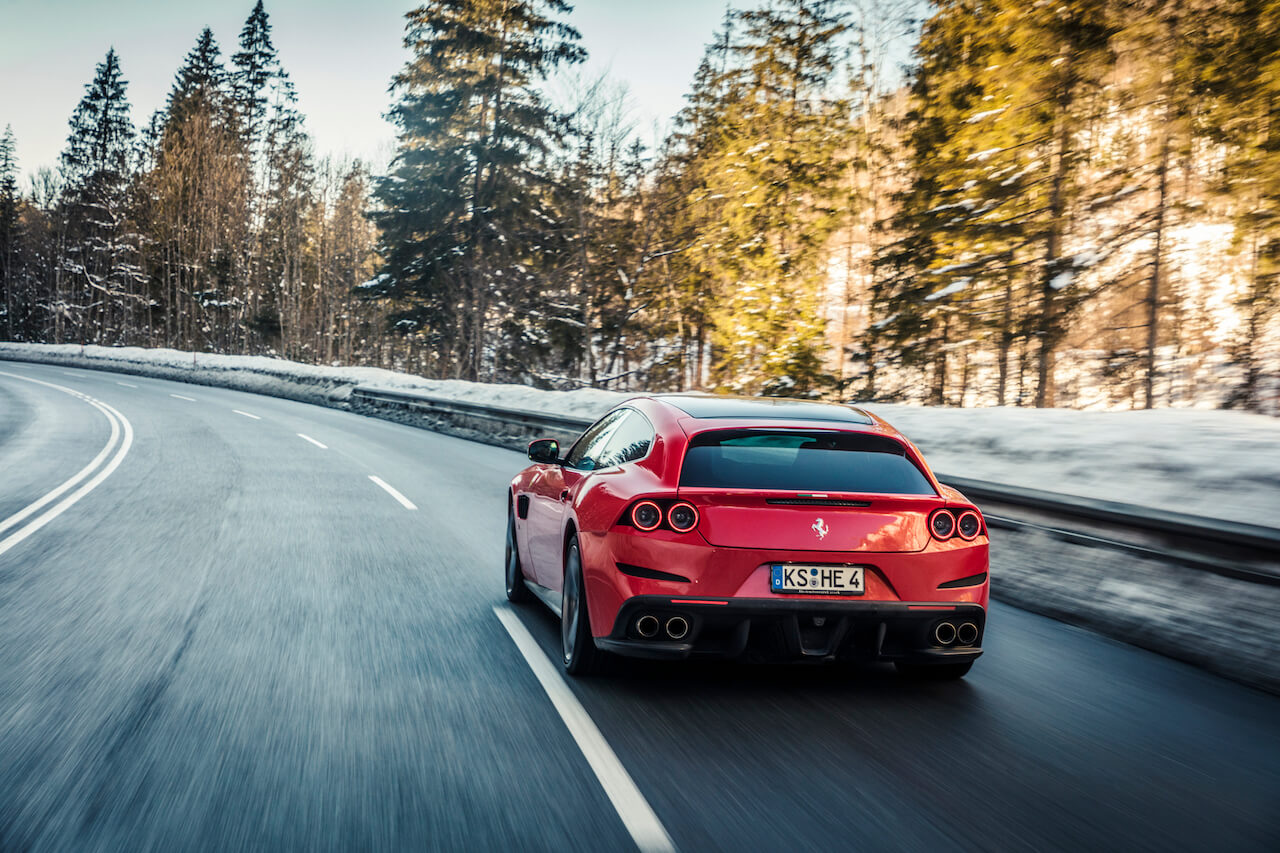 It's just WOW!
Once we make it to the ice track, we put the cars into "snow" mode. This is where my jaw dropped. The Ferrari hatchback is impressive on the road; a real beast. But my goodness. How can an ~1800kg Ferrari hatchback drive around on a sheet of ice without sliding around? Ferrari have performed a miracle with this drivetrain. We performed a few laps of the circuit, for orientation and to feel how planted the car is on the ice. We performed successive laps around the drift circle under different modes: "Wet" allows the tiniest bit of slip from the rear, so just enough to feel like there's an animal here. Switching into "Comfort" really changes things, now the rear can spin just a little more. It's possible to drift and slide around. "Sport" is where things really get silly. Now you feel like a rally driver. Still with complete faith that the front wheels will go where you point them, and they do. When we put the car into "ESP off", it really shows who can drive. Let's put it this way: everyone, instructors included, spun at some point!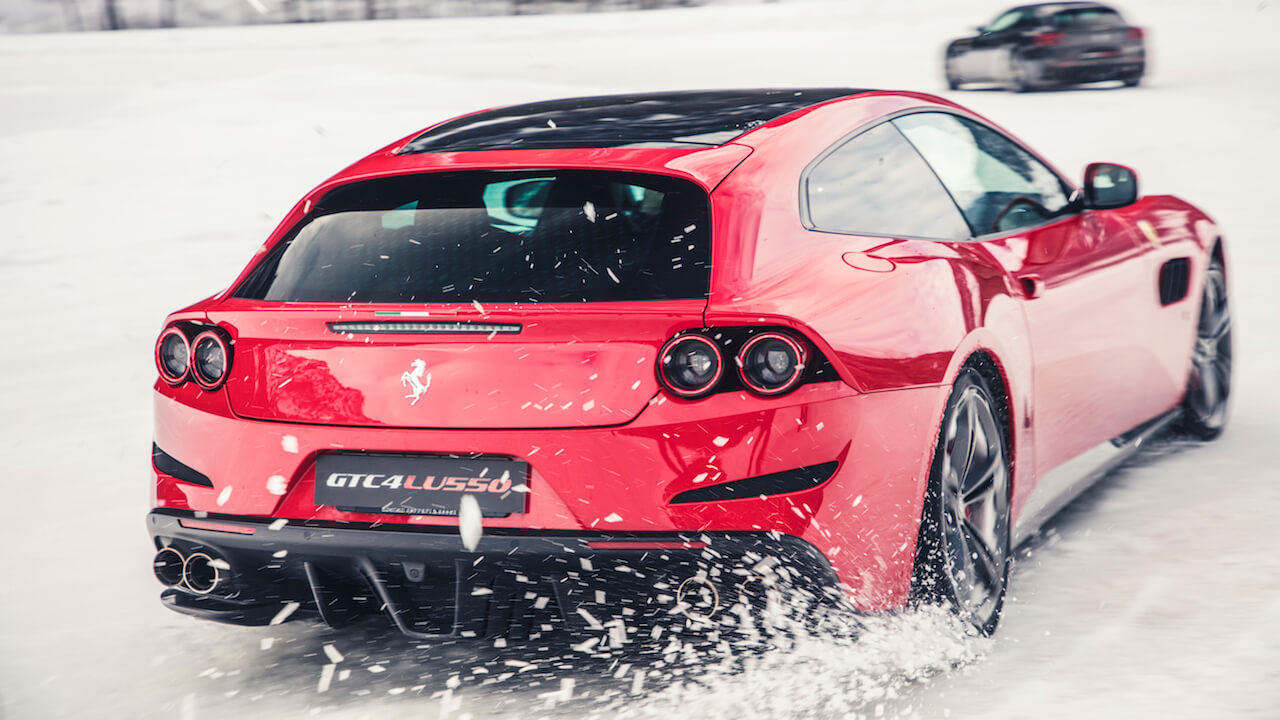 The fully manual system really makes you appreciate how the other modes really offer a completely different driving experience. In "ice" the car behaves like a Range Rover, AUDI or similar SUV… but with a lot more character. I would choose this every single time against any other car, in these conditions. I cannot imagine more fun than sliding a V12 around an ice track.
The end of our journey…
After a superb lunch, we were back out. The afternoon activity was the handling circuit, which was simply outstanding. I felt like a driving god. By now, I was very familiar with the car and its handling, and the car familiar with my abilities. Switching gears, throwing the car around like it was a gokart, snow spraying out behind me with the force of 690 horses… all with a V12 screaming towards 8000 rpms.
After all was said and done, we had one final lap at the hands of a DTM and GT3 racing driver, with a GTC4Lusso with spiked tyres. 200 spikes per tyre, 3mm long. And my word. Speechless. He drove the car faster and with more skill and precision that I would manage after a day of practicing… in the dry. How the laws of physics can be bent like this is astonishing. Words cannot express the marvel of the "snow mode" in this car. A GT car should not handle like this in the dry, let alone on ice.
Drifting corner after corner, on ice, was an experience I will never forget. Ferrari have built something truly exceptional with the GTC4Lusso.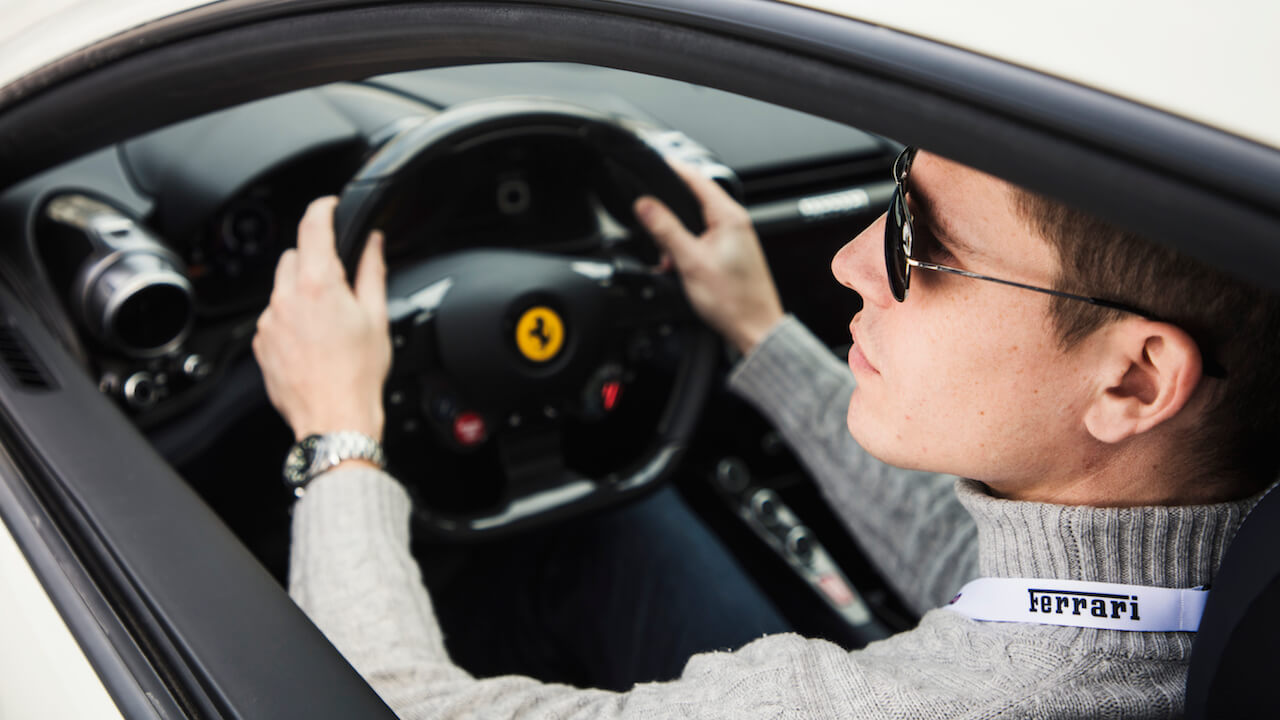 Photos: Lennen Descamps #LNNN
Martin Irwin, Feb 2019
_______________________________________________________
FERRARI Hatchback (GTC4LUSSO)
Engine: 6,262cc V12
Transmission: 7-speed dual-clutch auto, four-wheel drive
Power (hp): [email protected],000rpm
Torque (lb ft): [email protected],750rpm
0-62mph: 3.4sec
Top speed: 208mph
Weight: 1,920kg (kerbweight with 'lightweight options')
MPG: 18.5 (NEDC combined)
CO2: 350g/km
Prices: GTC4Lusso: 309,209 CHF (inc.)
GTC4Lusso + ADAS : 312,360 CHF (inc.)
https://agentlemans.world/wp-content/uploads/2019/03/ferrari-gtc4.jpg
720
1280
Martin Irwin
//media.agentlemans.world/2017/01/agw-logo-605.png
Martin Irwin
2019-03-04 10:33:54
2019-03-06 14:47:21
Driving The Ferrari Hatchback On Snow

The concept of an external influencer in marketing is about as old as marketing itself. Digitalization has only opened up a few new channels and opportunities, so it's no wonder social media influencers are on everyone's lips. That's why we show you the 12 top instagram accounts to follow today.
12 Top Instagram Accounts to Follow
Let's be honest: the social media influencer with their tooth bleaching products, detergents, Paul Hewitt watches and similar junk are slowly getting annoying. That's why we picked out a few top instagram accounts that have the following quality characteristics:
Since this is a men's magazine, they are male social media influencers.

All have been around for a while (most more than 5 years)

Authentic profile

Cleaned up profile

You have long-term relationships with their partners

The content is great
Blake Scott
Blake is an old hand in the industry and has already been in the business for about 10 years. He is an ambassador for Carl F. Bucherer and works with brands such as Triumph, Tom Ford and Bentley. The man is always perfectly styled – an example for every gentleman.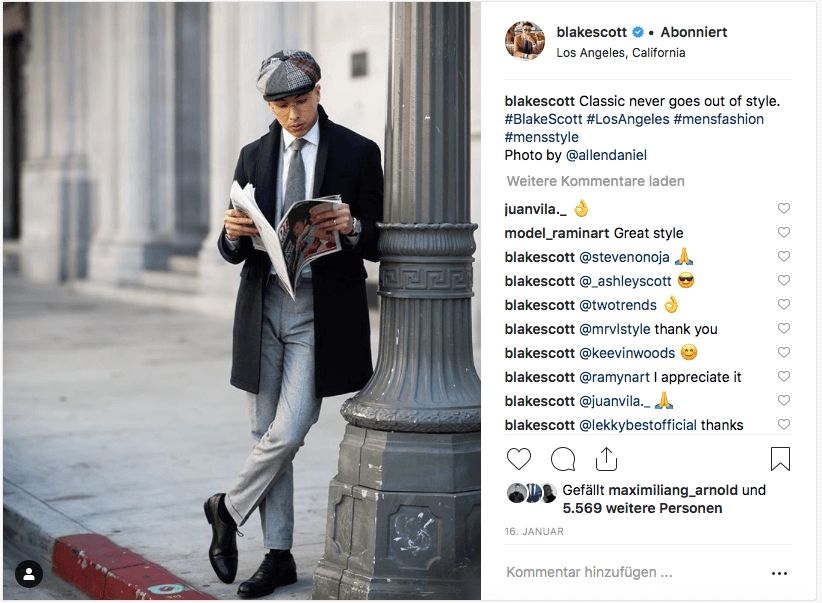 Timothy James
The guy just looks good from every angle. Tim works with international brands like Tom Ford, Bentley or Breitling. He convinces with an authentic profile, his hair and beard are always perfectly styled.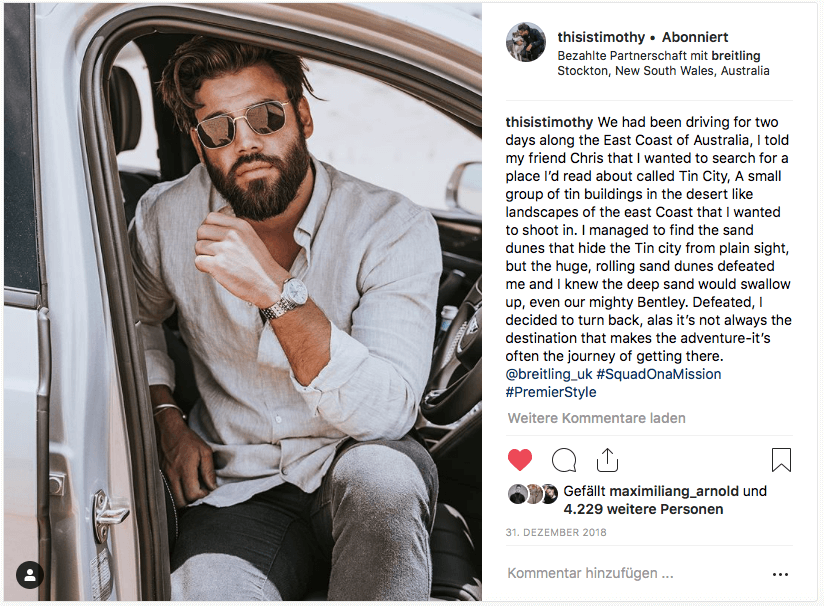 Louis Nicolas-Darbon
Louis has been around for quite some time and is also a gifted artist. At the moment he is skiing in Switzerland.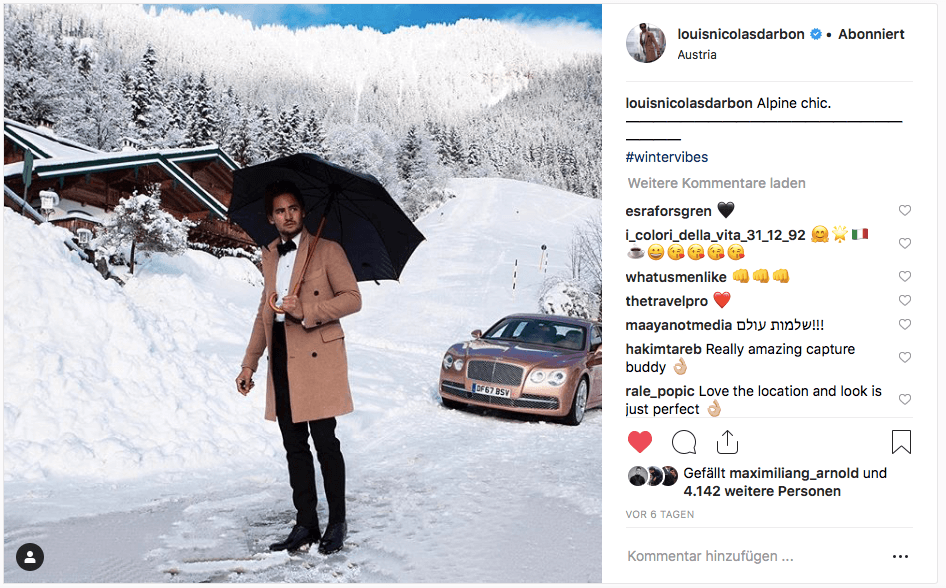 Tom Claeren
Tom embodies the superlatives of life: yachts, airplanes, sports cars, helicopters, airplanes and much more. No wonder brands like Aston Martin, Bentley or Audemars Piguet work with him.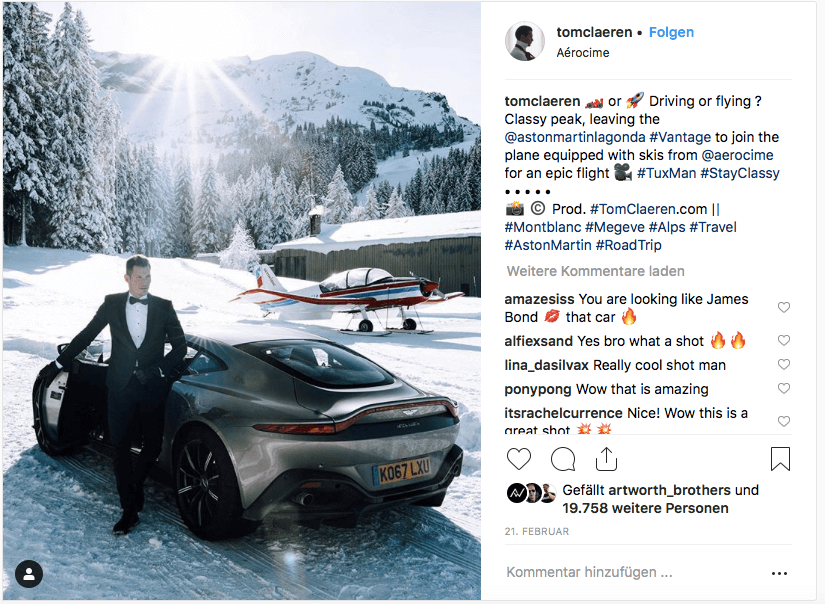 Justus Frederic Hansen
Born in Hamburg, Justus knows exactly how a gentleman dresses and has been successfully demonstrating it for years.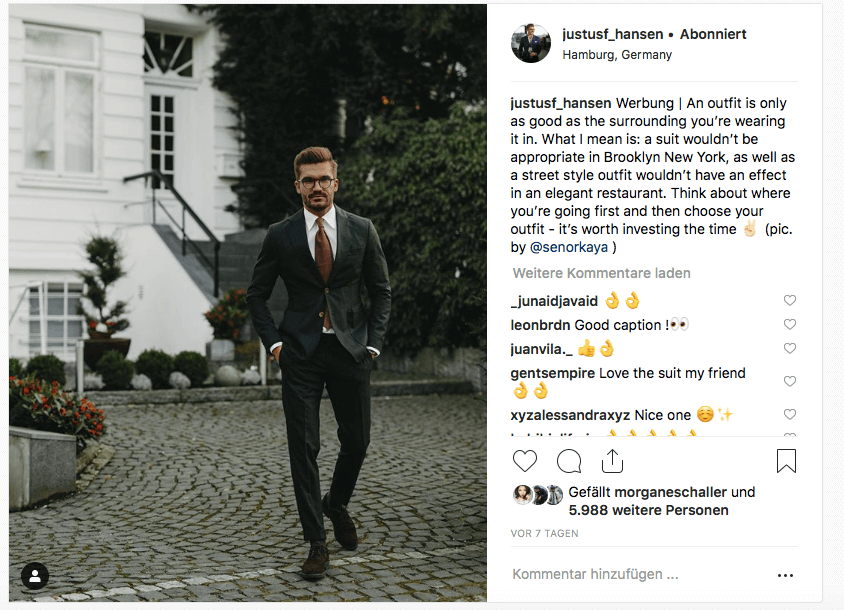 Johannes Laschet
Joe has been around for a while, he became famous for his similarity to Ryan Gosling. Once on the road with Joe, it is hard to overlook how often he has to listen to it. We love his suits and the recently more and more frequently appearing tobacco pipes.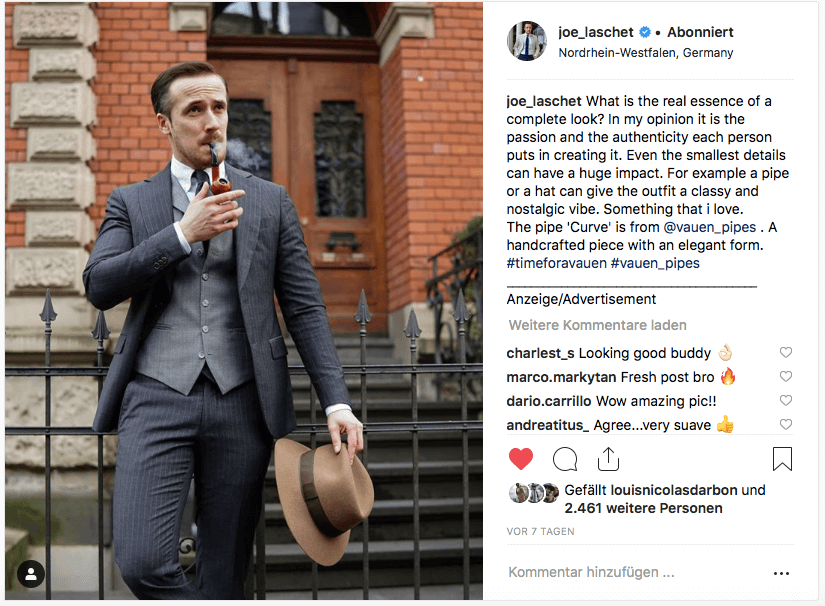 Brian Sacawa
At Brian's profile you will find cool styles and above all incredibly beautiful timepieces, worth a visit!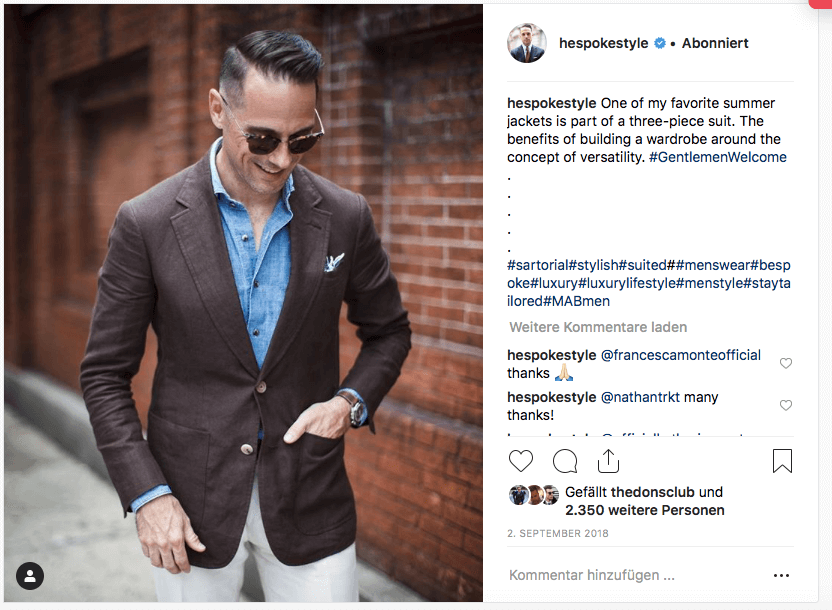 Wilhelm Strängh
Will has this very authentic way of dressing – we definitely like him as an inspiration!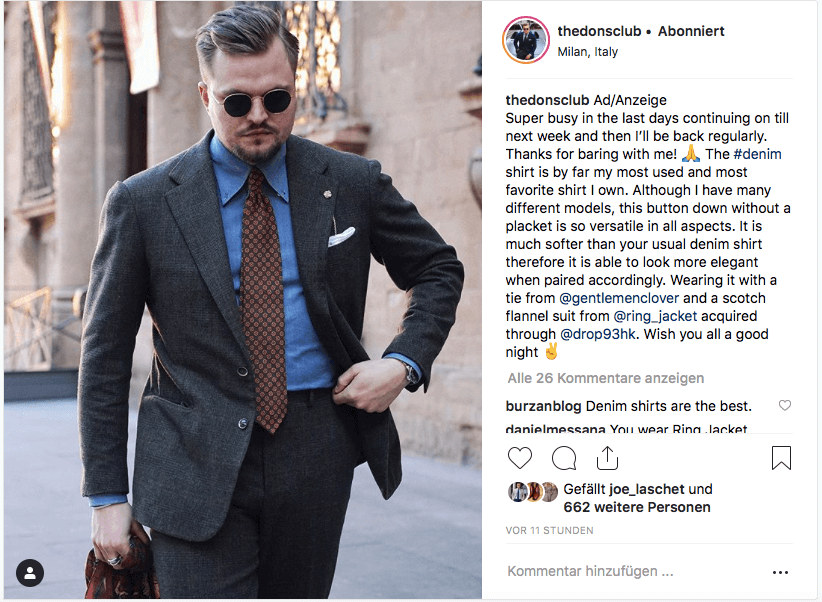 Maximilian Arnold
Max and I have been business partners for a while, he has already tested the Jaguar I-Pace and the Porsche Panamera for us, great and reliable guy – always well dressed!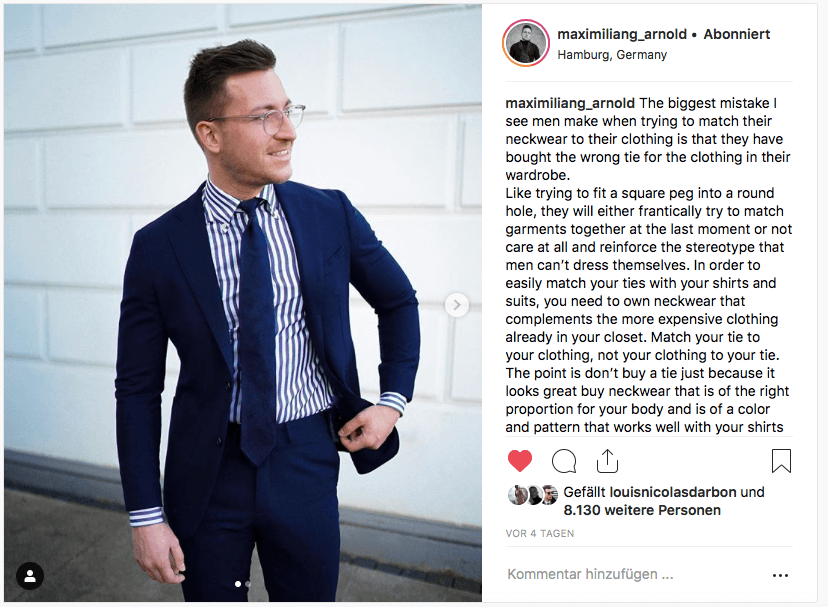 Salomon DuBois Thiombiano
In our opinion, Salomon belongs to the top 5 best dressed men on instagram. His content is always super clean and reposted by international media like GQ or Vogue.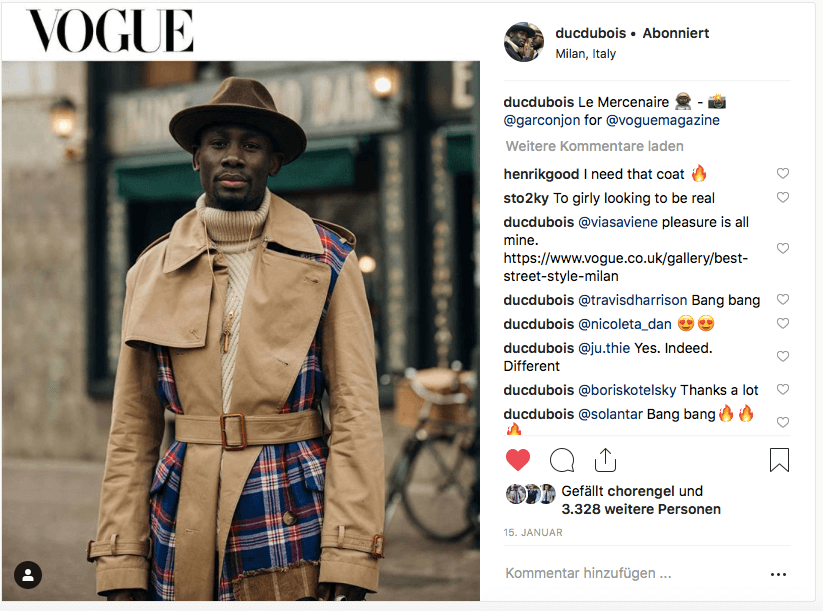 Igee Okafor
Igee is for sure one of the upcoming rising stars in the industry. His work is very authentic, his style super fashionable.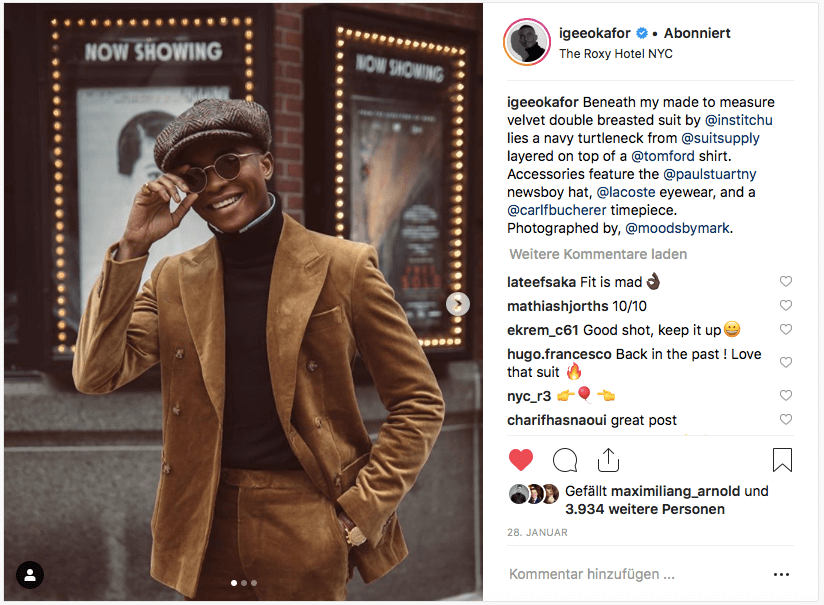 Luke Penn
At Luke's instagram account you can find everything, yes really everything if it comes to supercars. On Youtube he already has 73,000 subscribers and up to over 1 million views per video.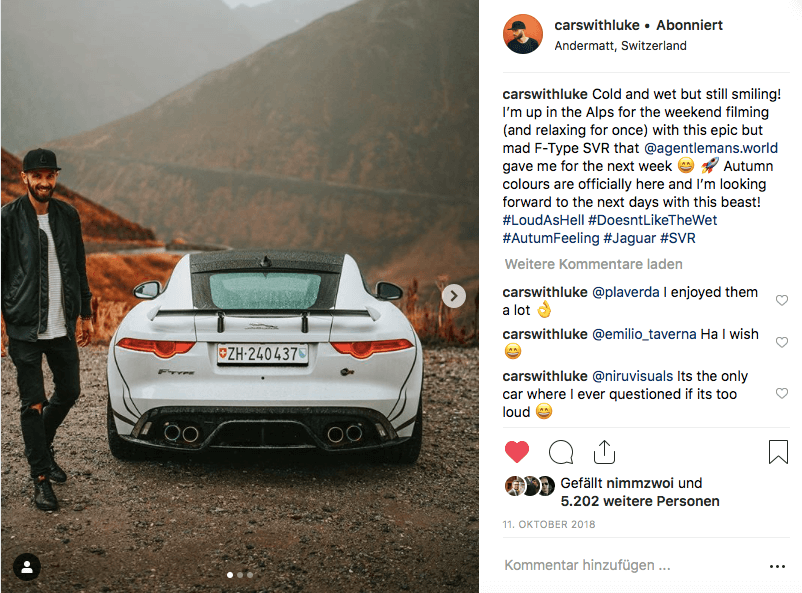 https://agentlemans.world/wp-content/uploads/2019/03/social-media-influencer.jpg
720
1280
Ralph Widmer
//media.agentlemans.world/2017/01/agw-logo-605.png
Ralph Widmer
2019-03-01 15:38:50
2019-03-06 09:43:45
12 Top Men's Instagram Accounts To Follow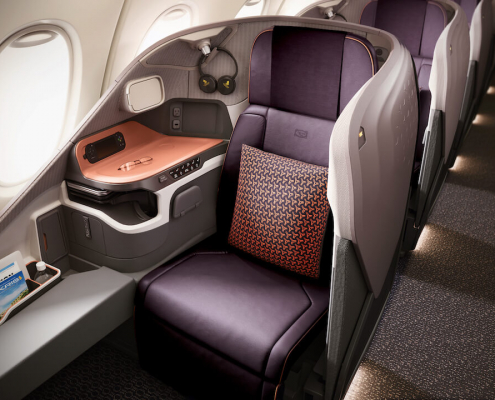 You might think there is a stopwatch somewhere: from pressing the service button in the new Singapore Airlines Business Class it takes just 15 seconds for the on-board staff to fulfill every feasible wish. It's just one of the many examples…
https://agentlemans.world/wp-content/uploads/2019/02/singapore-airlines-business-class.jpg
720
1280
Ralph Widmer
//media.agentlemans.world/2017/01/agw-logo-605.png
Ralph Widmer
2019-02-28 11:03:24
2019-03-20 14:23:56
Above The Clouds - The New Singapore Airlines Business Class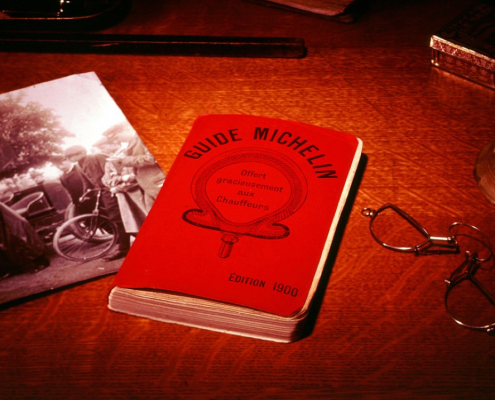 The Guide Michelin is today the holy grail, scale and something like a Bible of all chefs and gourmets around the globe. So it's not surprising that the chefs are sitting nervously on their chairs when awarding the Michelin stars, so the joy…
https://agentlemans.world/wp-content/uploads/2019/02/michelin-guide.jpg
717
1280
Ralph Widmer
//media.agentlemans.world/2017/01/agw-logo-605.png
Ralph Widmer
2019-02-27 13:25:04
2019-03-18 09:13:22
The History Of The Guide Michelin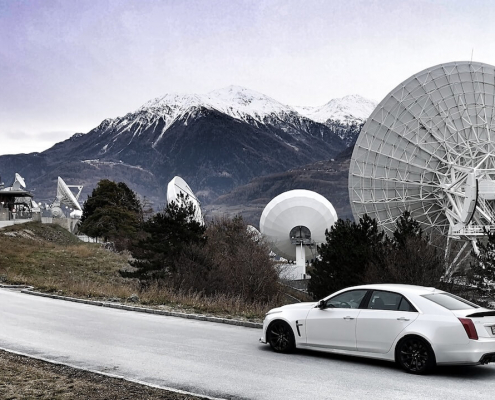 With the Cadillac CTS-V, the US manufacturer is sending a serious competitor into the race who is to inspire buyers of luxury sedans such as the BMW M5, Audi S8 or Mercedes E 63 AMG. In Switzerland, Cadillac doesn't necessarily lead the list…
https://agentlemans.world/wp-content/uploads/2019/02/cadillac-cts-v.jpeg
719
1280
Ralph Widmer
//media.agentlemans.world/2017/01/agw-logo-605.png
Ralph Widmer
2019-02-26 12:19:51
2019-02-26 12:26:35
The Cadillac CTS-V - Would less have been more?