Piedmont, late summer.  The sun is setting and shines over the hilly landscape near Barolo, while the sky turns red and twilight approaches. We are surrounded by vineyards, winding roads and pretty Italian villages. The windows are open, a pleasantly warm wind blows through my partner's hair, we are on our way to Monforte D'Alba and life is just simply beautiful. The breathtaking sound of the hissing V8 halls through the wine region as I approach the next bend – short braking, turning in and out at full power. I can feel this car doesn't do any compromises!
At this point, it's still a press car I'm testing for A Gentleman's World. It's the moment I know I want a Jaguar F-Type – simply, because it's probably the most emotional cars I've ever driven. Now, I own it since 3 months and I thought it's time to take a look back.
7 Reasons to get a Jaguar F-Type
A few months before our trip to Piedmont, we drove the Jaguar F-Type S Convertible to Gstaad, the V6 looks unbelievably beautiful and is a lot of fun – but the V8 tops simply everything.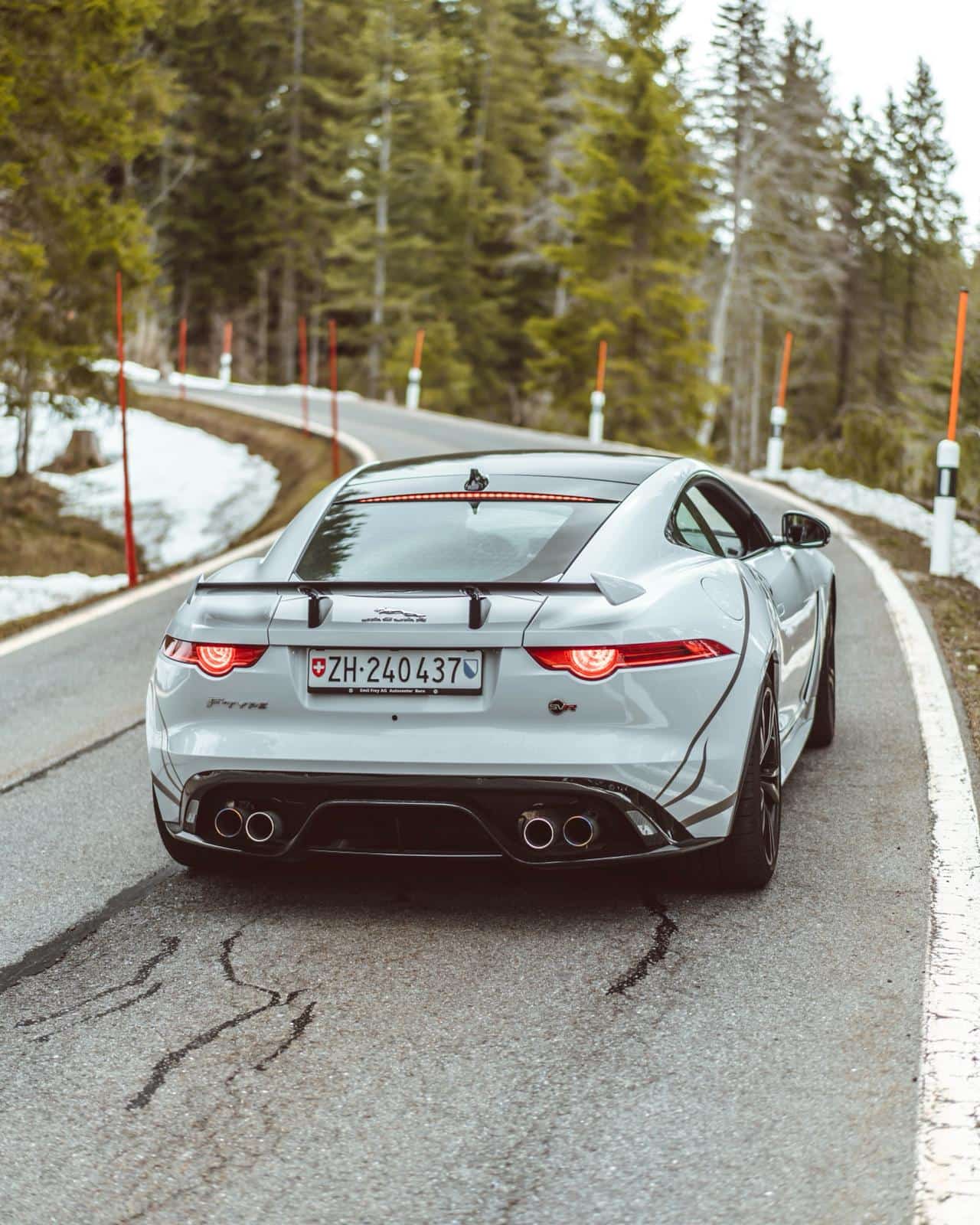 1. It's beautiful British Cat
From the long bonnet, the harmonious curves to the potent rear with its spoiler – the Jaguar F-Type is an absolute eye-catcher. It is impossible for me to stop at a gas station without talking to curious pedestrians. I've stopped counting how many great compliments I've already received for this car.
2. Interior quality
In comparison to the Italian competitors, here one finds a very noble and above all functioning interior, manufactured from high-quality, noble and solid materials. There's absolutely nothing rattling, no wind noise (which you wouldn't hear with the sound anyway) or similar. It's British made-to-measure perfection.
3. Power
The Jaguar F-Type SVR was developed by the Special Vehicle Operations (SVO) department, which focuses on how to make it aerodynamic, lighter and faster. The Jaguar F-Type lost weight and now weighs around 1'700 kg. From 0 – 100 it takes 3.7 seconds, while the titanium exhaust system initiates an orchestra that is unparalleled.
It is really impressive how severe and uncompromisingly things are progressing here. The SVR pushes so hard, you never miss power. In numbers? 575 hp and 700 Nm torque. How it feels to drive? A bit like a deafening and unstoppable wrecking ball, madness!
Then there are numerous extras: if, for example, the spoiler is extended, air resistance is reduced by 2.5 percent and the lift coefficient by 15 percent (more downforce – or even easier – more grip on the race track).
In principle the F-Type SVR is an all-wheel drive, but distributes approx. 75% to the rear axle, which leads to a lot of driving pleasure. However, it is not recommended to drive outside the race track without ESP, because the rear comes out of the bend in full force and does not allow any mistakes! With ESP, however, the Jag confidently corrects the enormous power.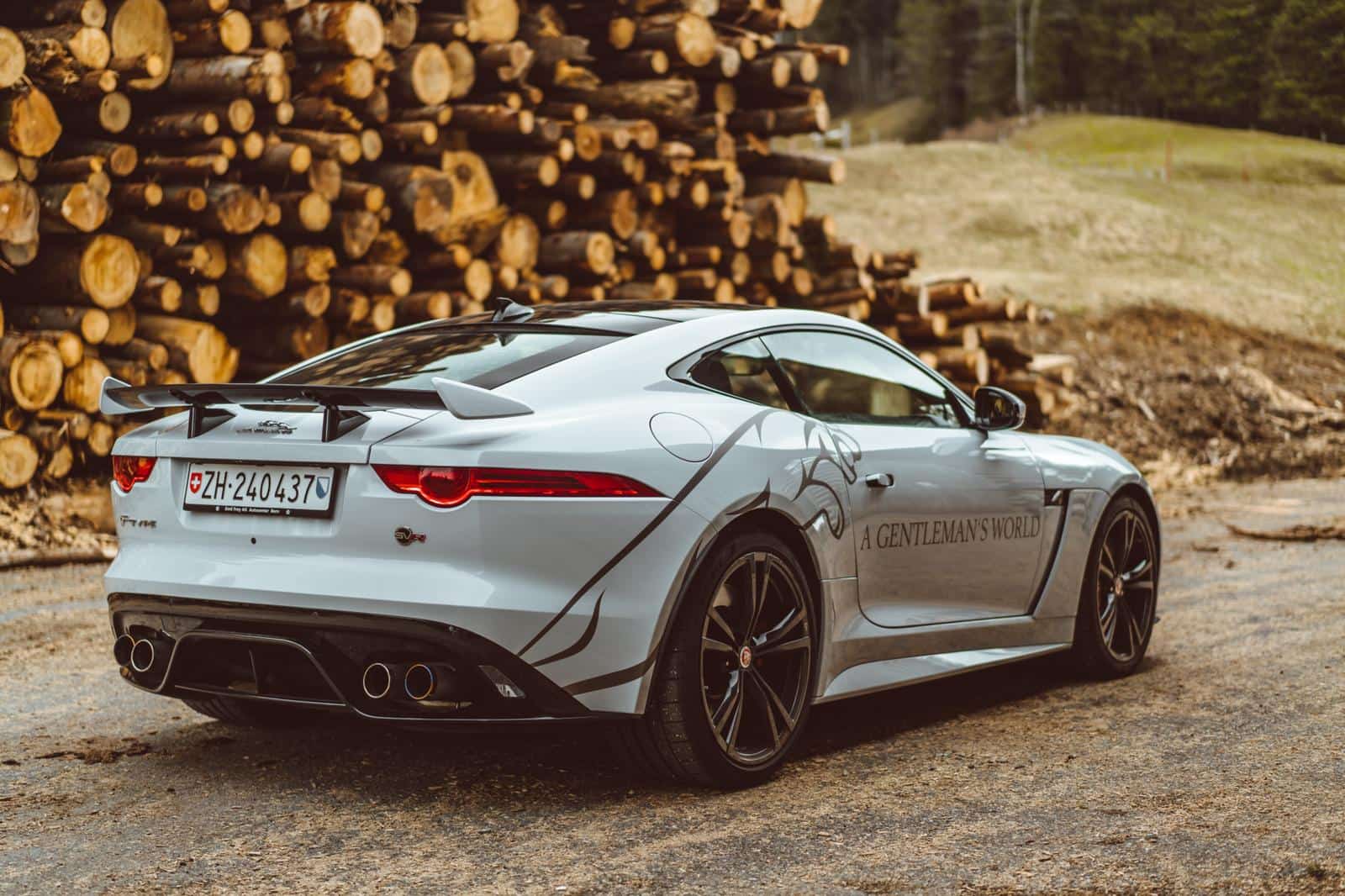 4. The coupé has enough space for a week's holiday
In terms of everyday suitability, the F-Type scores very well and offers enough space for a week's holiday. They're comparing vehicles I've already driven.
Boot volume comparison
Audi R8 5.2 FSI Quattro Plus 112 Litre
Porsche 911 Carrera 145 litres (there is some additional space at the back seat)
Ferrari 458 Speciale 230 litres
Ferrari 488 GTB 230 litres
Aston Martin DB11 270 litres
-> Jaguar F-Type SVR 310 litres (not sure if the'secret compartment' is included)
Nissan GT-R 315 litres
Mercedes AMG GT 350 litres
McLaren 570 GT 370 litres
5. Where can I get better value for money?
Of course, a car should be practical. You need a car for the city? A Range Rover Evoque could be an option. 4-person family? How about the Jaguar F-Pace? But when it comes to the perfect Grand Tourer, I simply have never had a car with such good value for money.
6. You don't see the Jaguar F-Type at every corner
There's a 911 at every corner in Zurich. At every corner. No question, it's a great car and who hasn't dreamt of it? However, an average equipped 911 4s costs a similar amount of money and in my opinion does not offer what the F-Type has. The Jaguar F-Type has something no one else has: a mix of individuality, uniqueness and elegance.
7. Elegance & timelessness
My conclusion? Jaguar got away from the somewhat rusty 'grandpa image'. They are back again, in full presence and with the typical elegance and timelessness. I am the owner of a 'Jag' – and honestly, I am more than happy with it!
https://agentlemans.world/wp-content/uploads/2018/05/svr-f-type.jpg
1066
1600
Ralph Widmer
//agentlemans.world/wp-content/uploads/2017/01/agw-logo-605.png
Ralph Widmer
2018-05-21 12:11:41
2018-05-22 10:05:59
7 Reasons to get a Jaguar F-Type

It is part of our responsibility to keep the planet clean – everyone can contribute to it. Some renowned companies are doing it with various charitable projects, so does GANT. Recently, the Swedish fashion company presented the 'Beacons Project', a shirt made of plastic waste that floats in the oceans.
It's hard to imagine: about 165 million tons of plastic waste float through the oceans of our beautiful earth. It's an unbelievable amount of waste that pollutes our seas and harms the living beings.
GANT Beacons Project – The Tech Prep Shirt made of plastic waste
Founded more than 50 years ago on the US East Coast, GANT has been strongly associated with the sea since then. This heritage and the passion to keep the oceans clean led to the GANT Beacons Project. The Tech Prep shirts are processed with upcycle plastic from the oceans.
For this project, GANT is working with the SEAQUAL organization, a company that processes the plastic waste collected in the seas into special polyester yarns, which are then used for the new GANT Tech Prep shirts.
The Beacons Project builds on GANT's vision of sustainability and the effort to produce timeless products with excellent style and quality.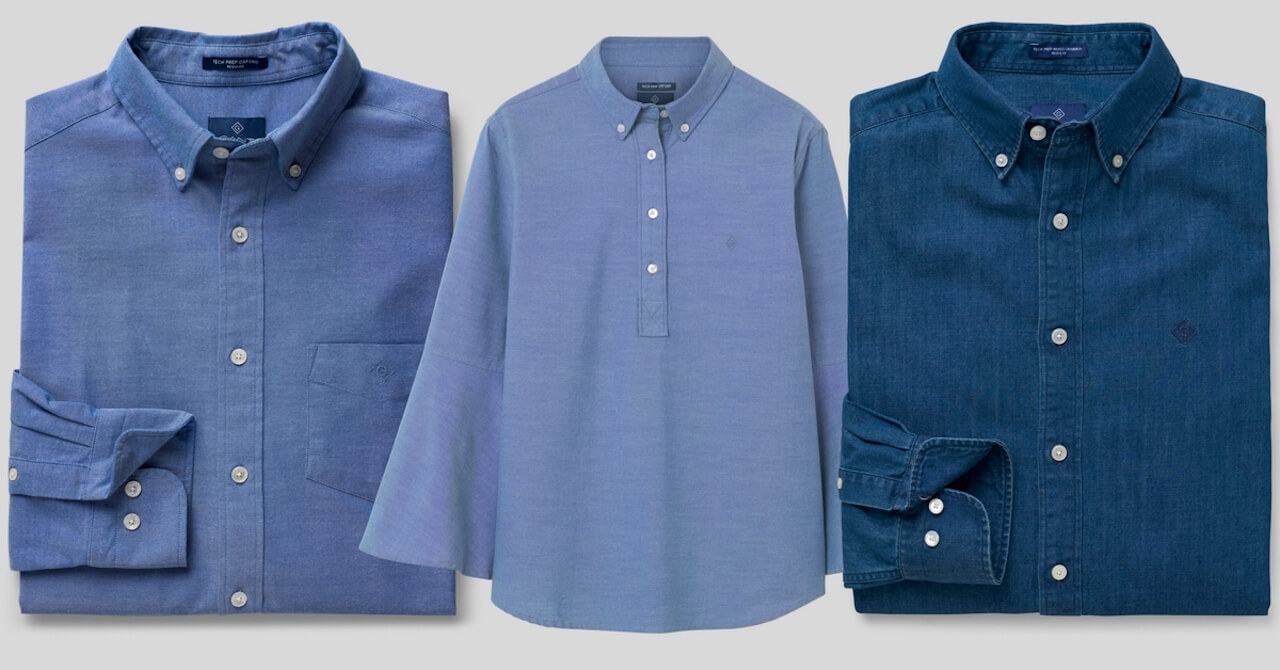 The Beacons Project Video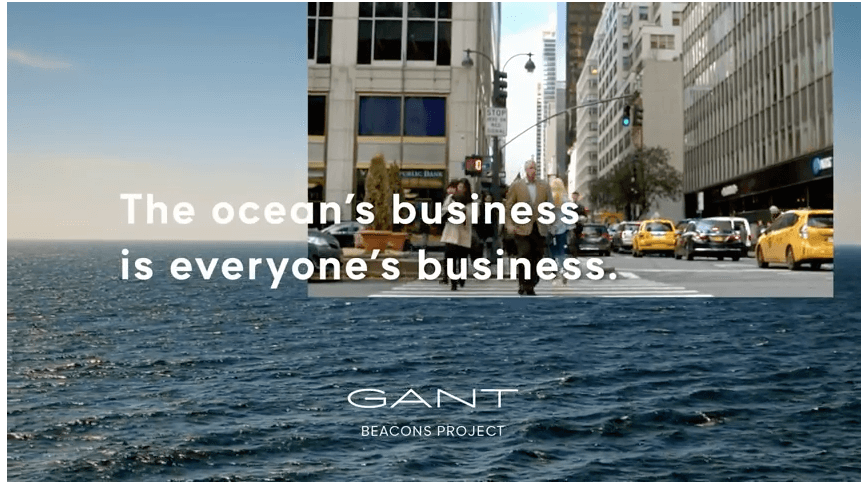 How is the shirt worn?
Ideally, it can be combined with jeans, chinos or khakis – plus an elegant blazer. Or just the shirt with some pants plus trendy sneakers looks really stylish! You can combine the shirt to dress codes like smart casual or casual.
In addition, the shirts are stretchy, breathable and moisture-regulating. The buttons and packaging are made from recycled materials.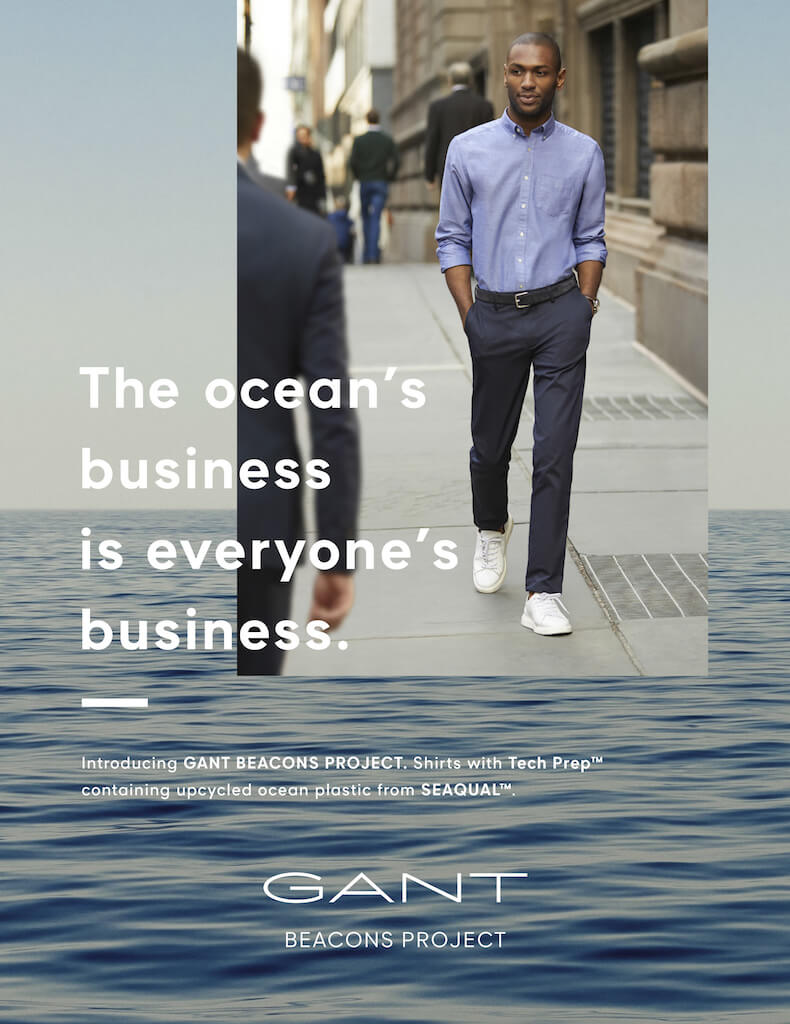 Where can I get one and how much does a shirt cost?
The new and sustainable Tech Prep shirts are now available in the GANT stores. In Zürich there is one at Europaallee, Rennweg or Glattzentrum. The shirt is priced at 179.00 CHF.
https://agentlemans.world/wp-content/uploads/2018/05/tech-prep-shirt-1.jpg
670
1280
Ralph Widmer
//agentlemans.world/wp-content/uploads/2017/01/agw-logo-605.png
Ralph Widmer
2018-05-03 11:19:44
2018-05-12 12:43:40
GANT Beacons Project - A shirt made of plastic waste

Spring is there, all salt is finally washed off the streets, first passes in the Alps re-opened after winter and sun starts to warm our souls. It is now the time in which we begin planning for upcoming Road Trips. The seaside is always a good destination, as are mountains or a meeting with likeminded people. It is up for decision if one wants to ride windy ocean or mountain roads, remote bays or mountain tops and enjoy a beer while listening to the cracking sound of your exhaust or enjoy fueled parties until the early morning
That is not a hundred percent true – because all of this is available in one of the more beautiful cities in Europe: Biarritz!
The Basque town of Biarritz located between the rough Bay of Biscay and the summits of the Pyrenees in the very south-west end of France is more known for being the cradle of European surf culture, fresh seafood and savoir vivre between buildings in neo-gothic and neo-classicism architecture than for its motorcycle culture. That changed in 2012.
Those of you that have nothing scheduled in June so far should visit the Wheels and Waves festival in Biarritz. This event grew to possibly the biggest spectacle of individual motorcycles and drivers within only six years – for a reason. It offers a pulsating mixture of fuel, races, handcraft, art, music, skating and surfing. It started as a gathering of the Southsiders MC and their friends with their either very old or very individual motorcycles in the gardens of Château de Brindos in Biarritz. Southsiders MC is formed of men that grew up with electric guitars, skateboards, love for old metal, creative jobs and the ocean just minutes away. The mixture for the Wheels and Waves was predetermined with this background. For us it is the only motoring event we ever participated where there were free beers with sushi next to handmade surfboards.
That couldn't kept secret since 2012 and it became bigger and bigger and grew out of the small parking lot at Biarritz's scenic lighthouse – also today's grounds at Cité de l'Ocean are packed very quickly.
Pictures & rights wheelsandwaves.com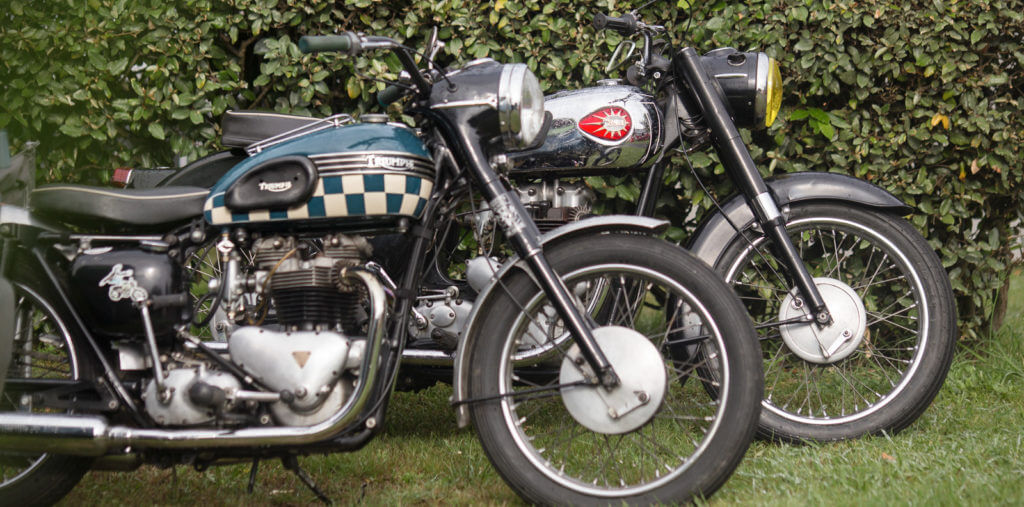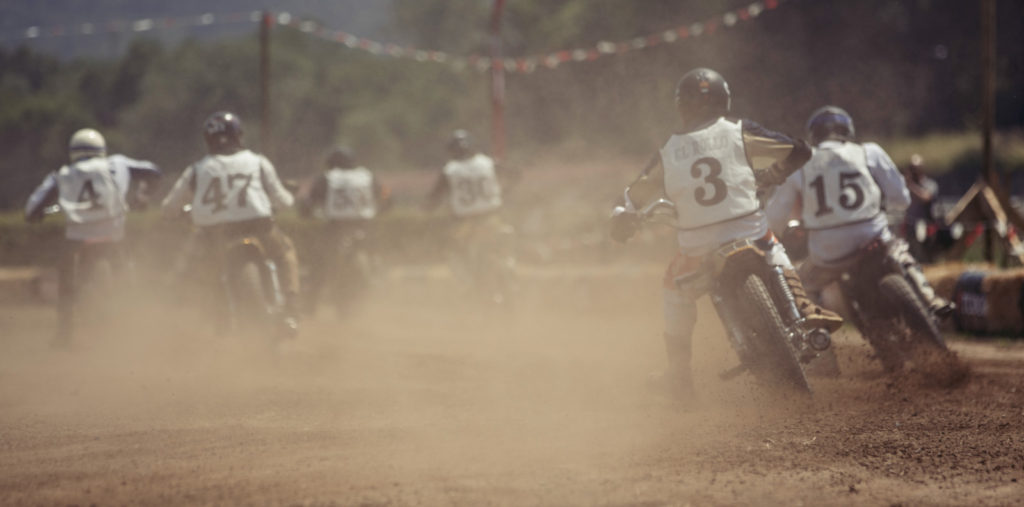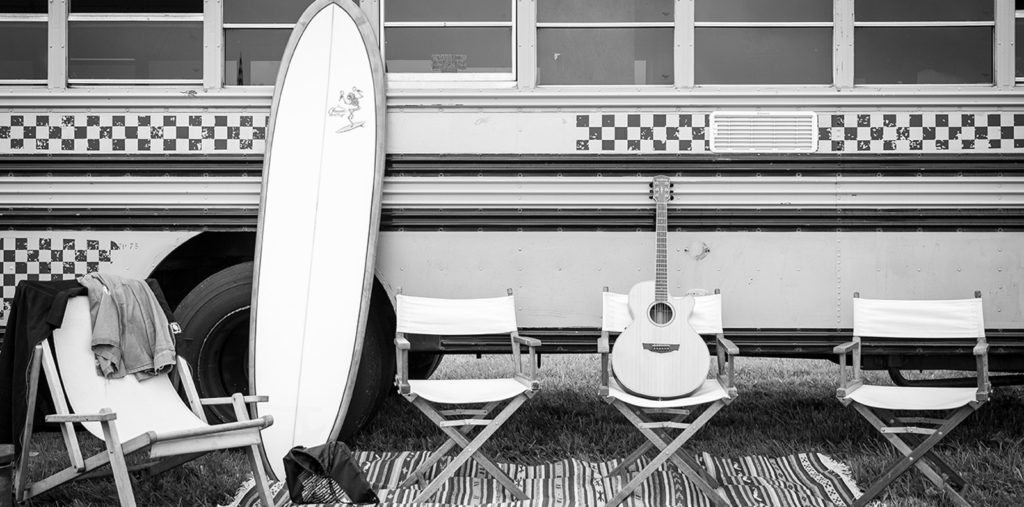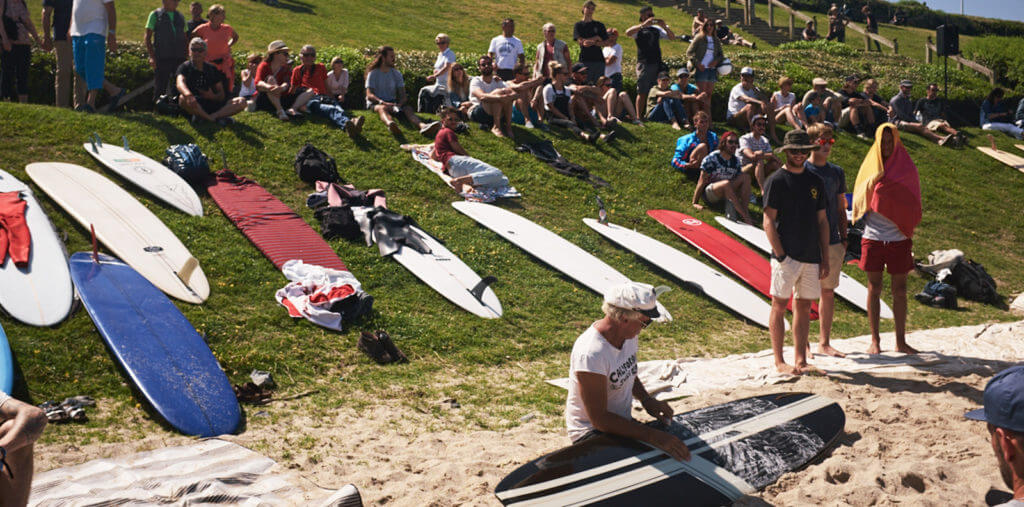 Wheels and Waves – what is it about?
Since the very first Wheels and Waves it is not solely about motorcycles but about the whole lifestyle around it. The days are packed with events like flat track races, hill climb races on a mountain pass, an art gallery in nearby Spain, a surf and skate contest and live concerts and movie screenings at night. That's the reason for its duration of full 4 days. On the festival grounds there are stands with handmade surfboards, helmets, clothing next to exhaust systems – all matching to the event and this special lifestyle on two wheels. Also, the well-known manufacturers like BMW, Triumph and Harley-Davidson are not missing and present their interpretations of individual transportation on two wheels.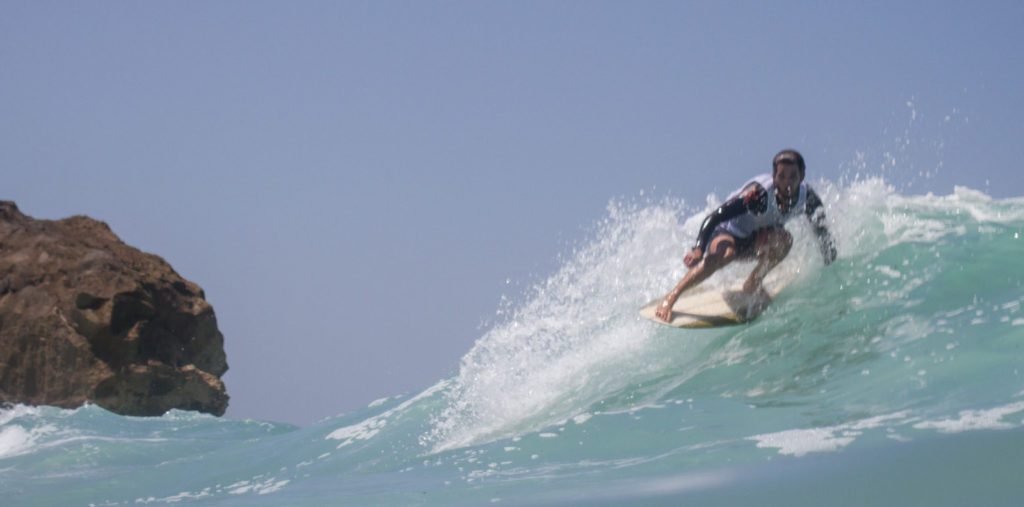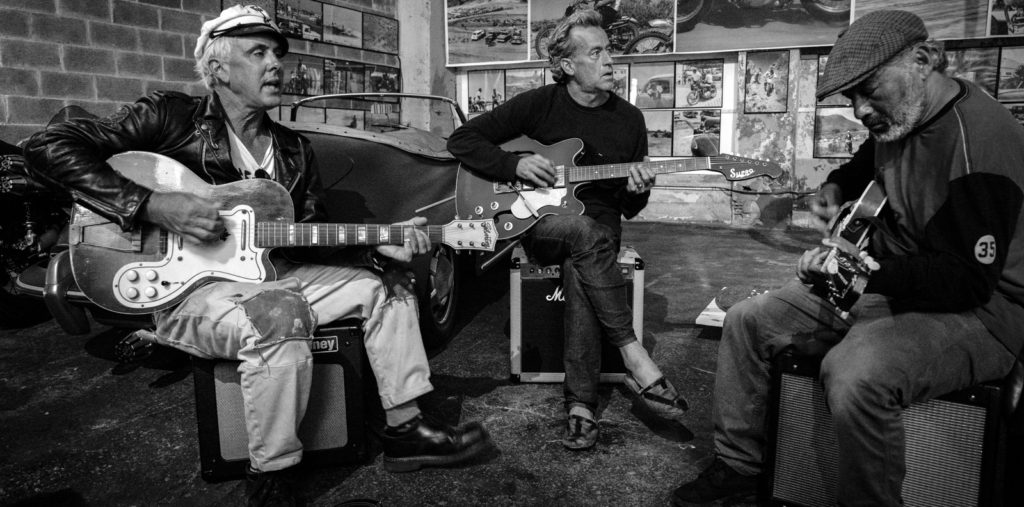 If you check the map for the first time to find out where this Biarritz might be located: you will see the ocean, mountains and seaside roads right next to it! And this is the reason why Wheels & Waves also works out with several locations. Die roads in between are just simply stunning, beautiful, empty and during the festival week you will meet like-minded people at every gas station, every parking lot and every kiosk on a mountain pass summit. And ever arrival at one of the festival's locations is like a new event for itself.
And because you spend your days between San Sebastian and Biarritz and their impressive historic city centers, there are plenty of options for enjoying a good glass of wine, tapas or sea food away from the motoring crowds. Also the Basque back country just after the city boundaries offers picturesque towns and the Pyrenees offer the roads in between. Just a 20-minute drive beams you from the city to the empty coastal forests if your mind needs some rest from all this burned fuel.
At night, you meet up again in Biarritz for a sundowner and if you want party all night with or without the bikes in small beautiful bars in the historic city centre. For everyone that suddenly feels the urge of visiting this magic place at the ocean – we disclose our most loved roads.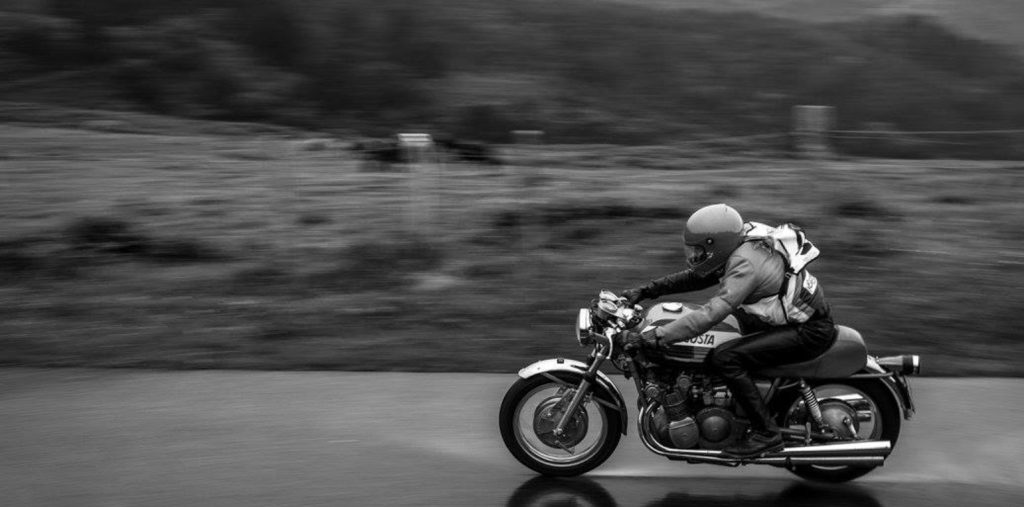 Wheels and Waves: 14th – 17th of June at the Cité de l'Ocean in Biarritz
Your ideal accommodation would be in between the city centre and the Cité de l'Ocean – then the wine will taste even better and dawn and your motorcycle just keeps parked. After sundown just walk into the city centre and stop wherever you like the music.
On two wheels you can visit the different locations via the following roads – also very nice on two wheels.
Hill climb race "Punks Peak": departure from Biarritz on the D912 via St. Jean de Luz to Hendaye and after the boarder continue to climb the GI3440 up the top of mount Jaizkibel.
Flat Track Race "El Rollo": Departure from Biarritz to Ascain, then either chose D4 or D404 to Bera or D4/D306 via Sare to Etxalar. Then take the N121-A southbound to Doneztebe, the NA-170 to Erreka, the A15/A1 northbound to Lasarte-Oria. Return either on the motorway or via the mountaintop of Jaizkibel.
Art Gallery: Either through the backcountry to San Sebastian like before over Jaizkibel's summit
https://agentlemans.world/wp-content/uploads/2018/05/wheels-and-waves.jpg
507
1024
Ralph Widmer
//agentlemans.world/wp-content/uploads/2017/01/agw-logo-605.png
Ralph Widmer
2018-05-01 09:35:08
2018-05-01 09:39:10
Wheels and Waves - savoir vivre and unleaded fuel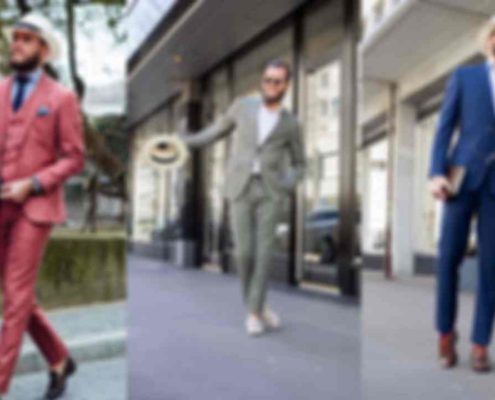 The cold days are over and slowly spring shows its beautiful glance. The flowers are blooming, the birds are singing and you're thrilled to go out, stroll through the city and end the evening with a casual dinner. It's time to put the thick…
https://agentlemans.world/wp-content/uploads/2018/04/frühlingsmode.jpg
720
1280
Ralph Widmer
//agentlemans.world/wp-content/uploads/2017/01/agw-logo-605.png
Ralph Widmer
2018-04-13 14:14:08
2018-04-13 14:14:08
Smart Casual Outfits For Springtime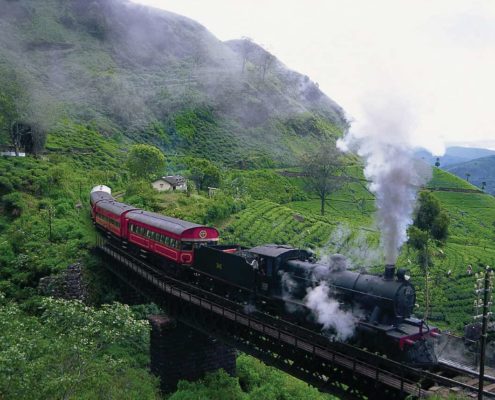 We just came back from an incredible journey, a trip to Sri Lanka -' The tear of India', as they call this astonishing country. Today we share this wonderful adventure with many impressions and lasting memories. About Sri Lanka Geography &…
https://agentlemans.world/wp-content/uploads/2018/01/Sri-Lanka-train.jpeg
858
1280
Ralph Widmer
//agentlemans.world/wp-content/uploads/2017/01/agw-logo-605.png
Ralph Widmer
2018-03-26 14:07:13
2018-03-26 14:18:06
4 Reasons Why You Should Travel To Sri Lanka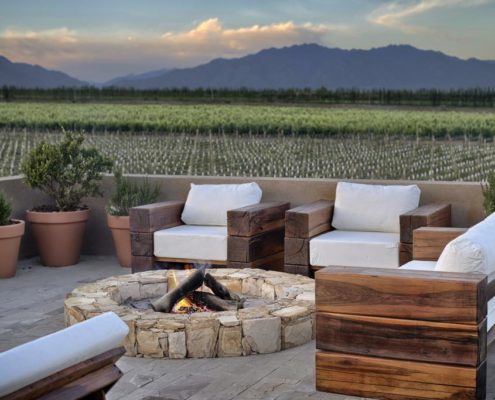 After a 3-week trip through Argentina, we're sure: you should put it on your bucket list. Argentina has this incredible infinity, this breathtaking magic. You can drive for days, thousands of kilometers and you didn't see half of the country. We…
https://agentlemans.world/wp-content/uploads/2018/03/rosell-bohrer.jpg
683
1024
Ralph Widmer
//agentlemans.world/wp-content/uploads/2017/01/agw-logo-605.png
Ralph Widmer
2018-03-20 14:08:19
2018-03-21 11:14:17
The Most Beautiful Lodges In Argentina