Piedmont, late summer.  The sun is setting and shines over the hilly landscape near Barolo, while the sky turns red and twilight approaches. We are surrounded by vineyards, winding roads and pretty Italian villages. The windows are open, a pleasantly warm wind blows through my partner's hair, we are on our way to Monforte D'Alba and life is just simply beautiful. The breathtaking sound of the hissing V8 halls through the wine region as I approach the next bend with my Jaguar F-Type – short braking, turning in and out at full power. I can feel this car doesn't do any compromises!
At this point, it's still a press car I'm testing for A Gentleman's World. It's the moment I know I want a Jaguar F-Type – simply, because it's probably the most emotional cars I've ever driven. Now, I own it since 12 months and I thought it's time to take a look back.
7 Reasons to get a Jaguar F-Type
A few months before our trip to Piedmont, we drove the Jaguar F-Type S Convertible to Gstaad, the V6 looks unbelievably beautiful and is a lot of fun – but the V8 tops simply everything.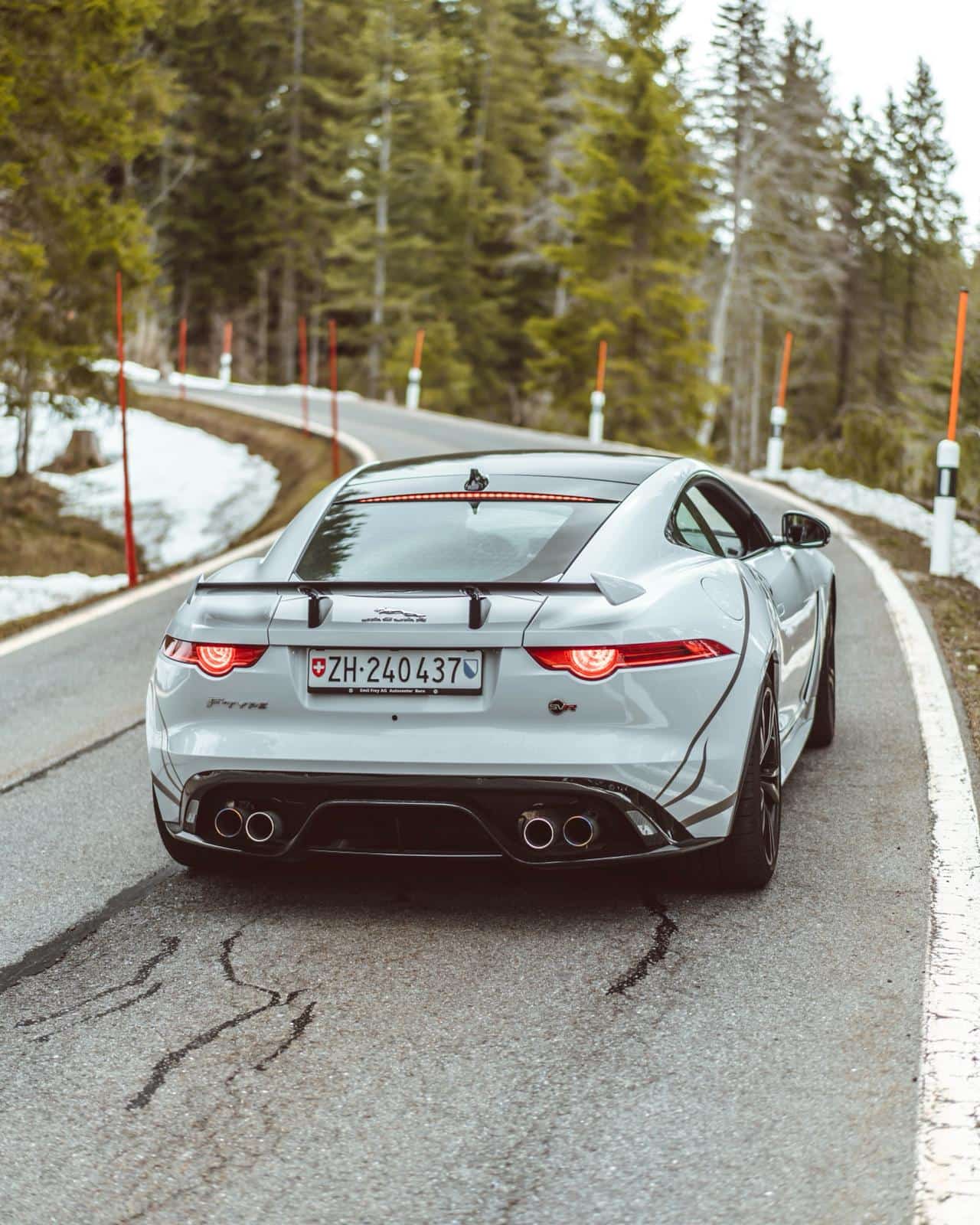 1. It's a beautiful British Cat
From the long bonnet, the harmonious curves to the potent rear with its spoiler – the Jaguar F-Type is an absolute eye-catcher. It is impossible for me to stop at a gas station without talking to curious pedestrians. I've stopped counting how many great compliments I've already received for this car.
2. Interior quality
In comparison to the some competitors, here one finds a very noble and above all functioning interior, manufactured from high-quality, noble and solid materials. There's absolutely nothing rattling, no wind noise (which you wouldn't hear with the sound anyway) or similar. It's British made-to-measure perfection.
3. Power
The Jaguar F-Type SVR was developed by the Special Vehicle Operations (SVO) department, which focuses on how to make it aerodynamic, lighter and faster. The Jaguar F-Type lost weight and now weighs around 1'700 kg. From 0 – 100 it takes 3.7 seconds, while the titanium exhaust system initiates an orchestra that is unparalleled.
It is really impressive how severe and uncompromisingly things are progressing here. The SVR pushes so hard, you never miss power. In numbers? 575 hp and 700 Nm torque. How it feels to drive? A bit like a deafening and unstoppable wrecking ball – madness!
Then there are numerous extras: if, for example, the spoiler is extended, air resistance is reduced by 2.5 percent and the lift coefficient by 15 percent (more downforce – or even easier – more grip on the race track).
In principle the F-Type SVR is an all-wheel drive, but distributes approx. 75% to the rear axle, which leads to a lot of driving pleasure. However, it is not recommended to drive outside the race track without ESP, because the rear comes out of the bend in full force and does not allow any mistakes! With ESP, however, the Jag confidently corrects the enormous power.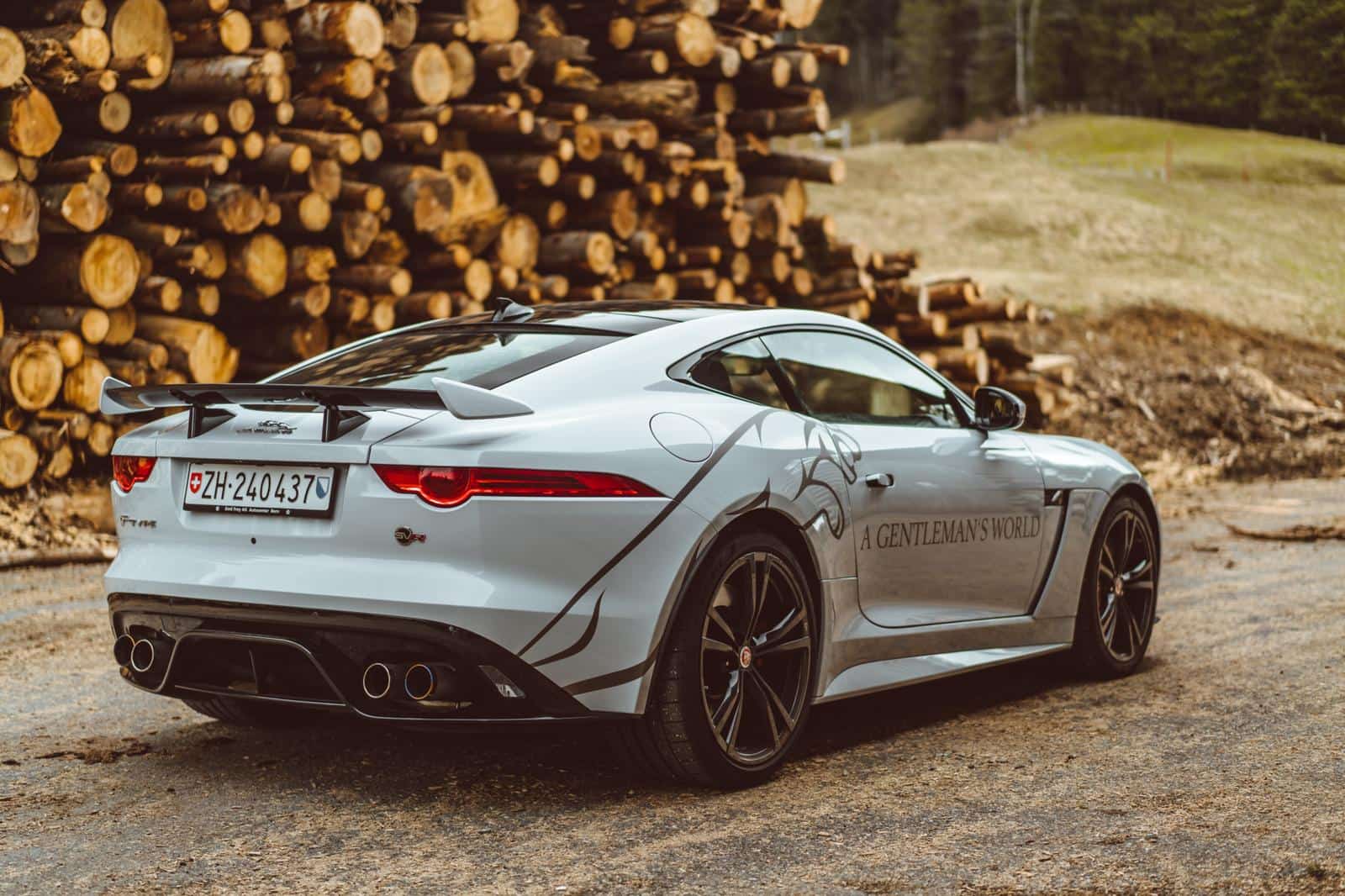 4. The coupé has enough space for a week's holiday
In terms of everyday suitability, the F-Type scores 1st rank and offers enough space for a week's holiday. That makes it a perfect grand tourer. I'm comparing vehicles I've already driven.
Boot volume comparison
Audi R8 5.2 FSI Quattro Plus 112 Litre
Porsche 911 Carrera 145 litres (there is some additional space at the back seat)
Ferrari 458 Speciale 230 litres
Ferrari 488 GTB 230 litres
Aston Martin DB11 270 litres
Nissan GT-R 315 litres
Mercedes AMG GT 350 litres
McLaren 570 GT 370 litres
-> Jaguar F-Type SVR 408 litres (without parcel tray)
5. Where can I get better value for money?
Of course, a car should be practical. You need a car for the city? A Range Rover Evoque could be an option. 4-person family? How about the Jaguar F-Pace? But when it comes to the perfect grand tourer, I simply have never had a car with such good value for money.
6. You don't see the Jaguar F-Type at every corner
There's a 911 at every corner in Zurich. At every corner. No question, it's a great car and who hasn't dreamt of it? However, an average equipped 911 4s costs a similar amount of money and in my opinion does not offer what the F-Type has. The Jaguar F-Type has something no one else has: a mix of individuality, uniqueness and elegance.
7. Elegance & timelessness
My conclusion? Jaguar got away from the somewhat rusty 'grandpa image'. They are back again, in full presence and with the typical elegance and timelessness. I am the owner of a 'Jag' – and honestly, I am more than happy with it!
https://agentlemans.world/wp-content/uploads/2018/05/svr-f-type.jpg
1066
1600
Ralph Widmer
//media.agentlemans.world/2017/01/agw-logo-605.png
Ralph Widmer
2018-05-21 12:11:41
2019-06-03 16:43:17
7 Reasons to get a Jaguar F-Type