Who doesn't know it? The next meeting is due, but Murphy has struck again and you are standing in the middle of nowhere with a flat tire. According to the TCS – the No. 1 Swiss roadside assistance – a flat tire is one of the most common causes of breakdowns in Switzerland* Now, in 2024, an environmentally friendly solution will follow: airless tires by Michelin.
The Uptis from Michelin – the most important questions about airless tires
Today, a worldwide amount of around 1 billion tires end up in the garbage every year, approximately 20 percent of them due to blowouts and irregular wear due to incorrectly adjusted tire pressure.** That's 200 million tires per year, which is about 200 times the weight of the Eiffel Tower.
What is the difference to a 'normal tire'?
The Uptis is a fixed unit. The basis is an aluminium rim, which is connected to the rubber tread of the tire by flexible plastic spokes. The resistant spokes ensure the load-bearing capacity and dampen vibrations during driving. As the tire does not require any air pressure, it is more puncture-proof than conventional tires and thus prevents the next blowout.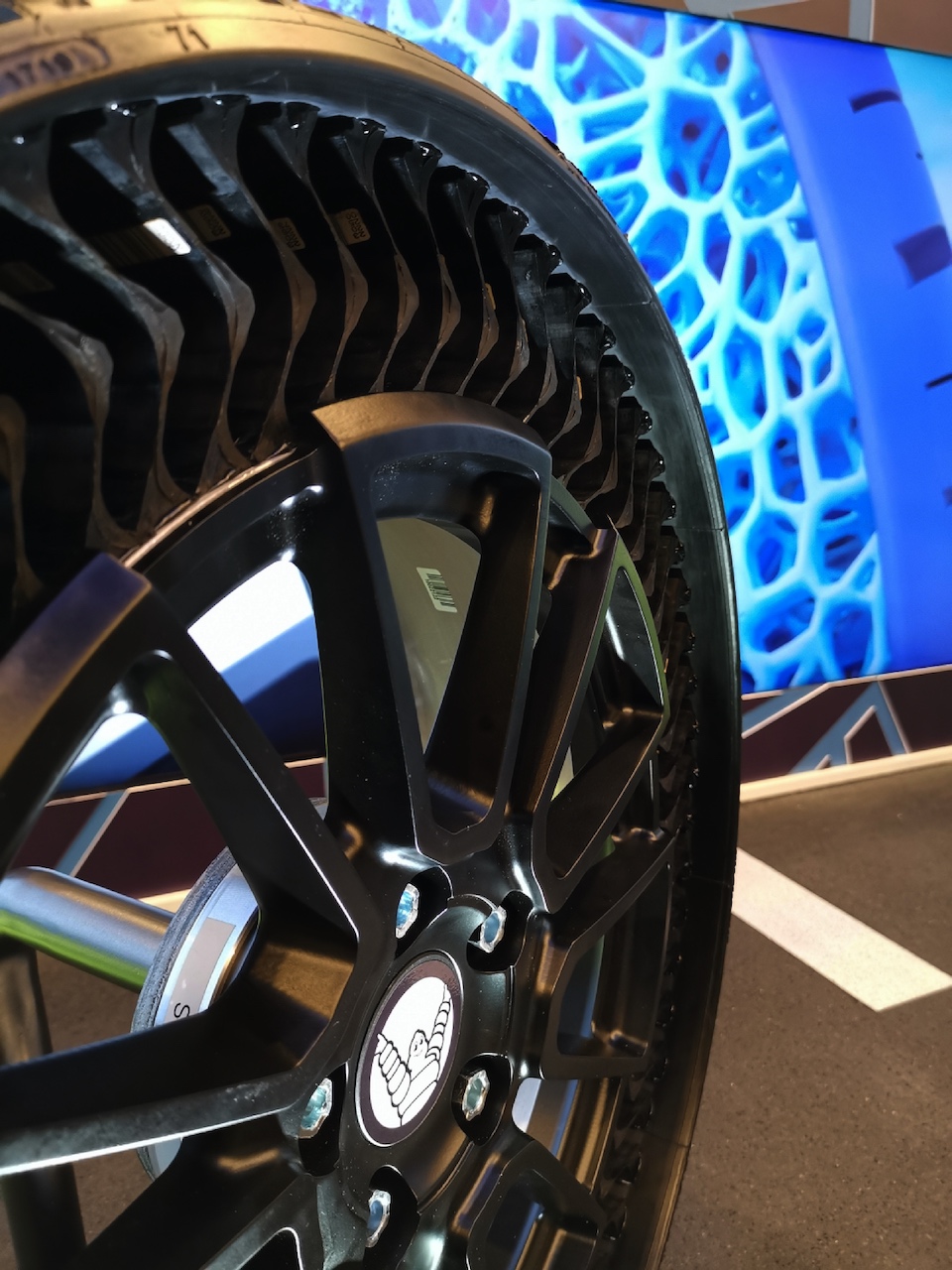 What are the advantages?
The solution is more environmentally friendly

Goodbye to blowouts, drivers feel safer on the road and dangers of flat tires are avoided.

Fleet owners and professional drivers optimize their business productivity (no




downtimes due to flat tires, almost no maintenance necessary).

The use of raw materials is reduced, which in turn reduces waste.

To what extent is an airless tire more environmentally friendly?
Reduces the number of damaged tires that are scrapped before they reach the end of their life.

Reduces the use of raw materials, energy for production and emissions associated with production.

Lasts longer as irregular wear due to incorrect tire pressure adjustment is avoided.
What can the tire do?
The Uptis is just as resilient as a pneumatic tire and has already been put through its paces on a test site. Its performance is comparable to that of a run flat tire.
When is the market launch planned?
It will be launched in 2024.
What will the tire cost?
There is no concrete price information available yet.
*Interview with Reto Blättler regarding punctures, tire expert at TCS – Tagblatt
**Derived from the Michelin survey (2012-2015), based on a sample of 135,000 tires and extrapolated from official estimates that 1 billion tires are disposed of each year.
https://agentlemans.world/wp-content/uploads/2019/10/luftlose-reifen.jpg
1538
2736
Ralph Widmer
//media.agentlemans.world/2017/01/agw-logo-605.png
Ralph Widmer
2019-10-02 10:22:02
2019-10-06 07:50:18
Goodbye to blowouts: Michelin presents airless tires