Cigars have been associated with men for centuries, among other things, they have had an important role in cementing business deals and affirming friendships. Some Gentlemen have established themselves as true champions of the cigar, named Sir Winston Churchill, Fidel Castro as well as Arnold Schwarzenegger and many more. But what about the female icons of the cigar?
Photographer: Tino Porzel
Why should women smoke cigars? This lady gave us 5 reasons why women should smoke cigars and how she does it.
Reason 1 – Classiness
This seems like the most obvious one: many people will find it classy, pretty and quite attractive if a lady knows how to smoke a cigar. While some might disagree, this is also the simplest reason for a woman to smoke cigars. However, a lady who smokes cigars should never do it for only this one reason, otherwise it will have the opposite effect and come across cheap. The classiness can be a nice side effect of the other statements.
My advice is to do it with passion and to be yourself while you smoke. Don't try to impress someone while you smoke it, just smoke the cigar the way you do it, it will suit you perfectly like that.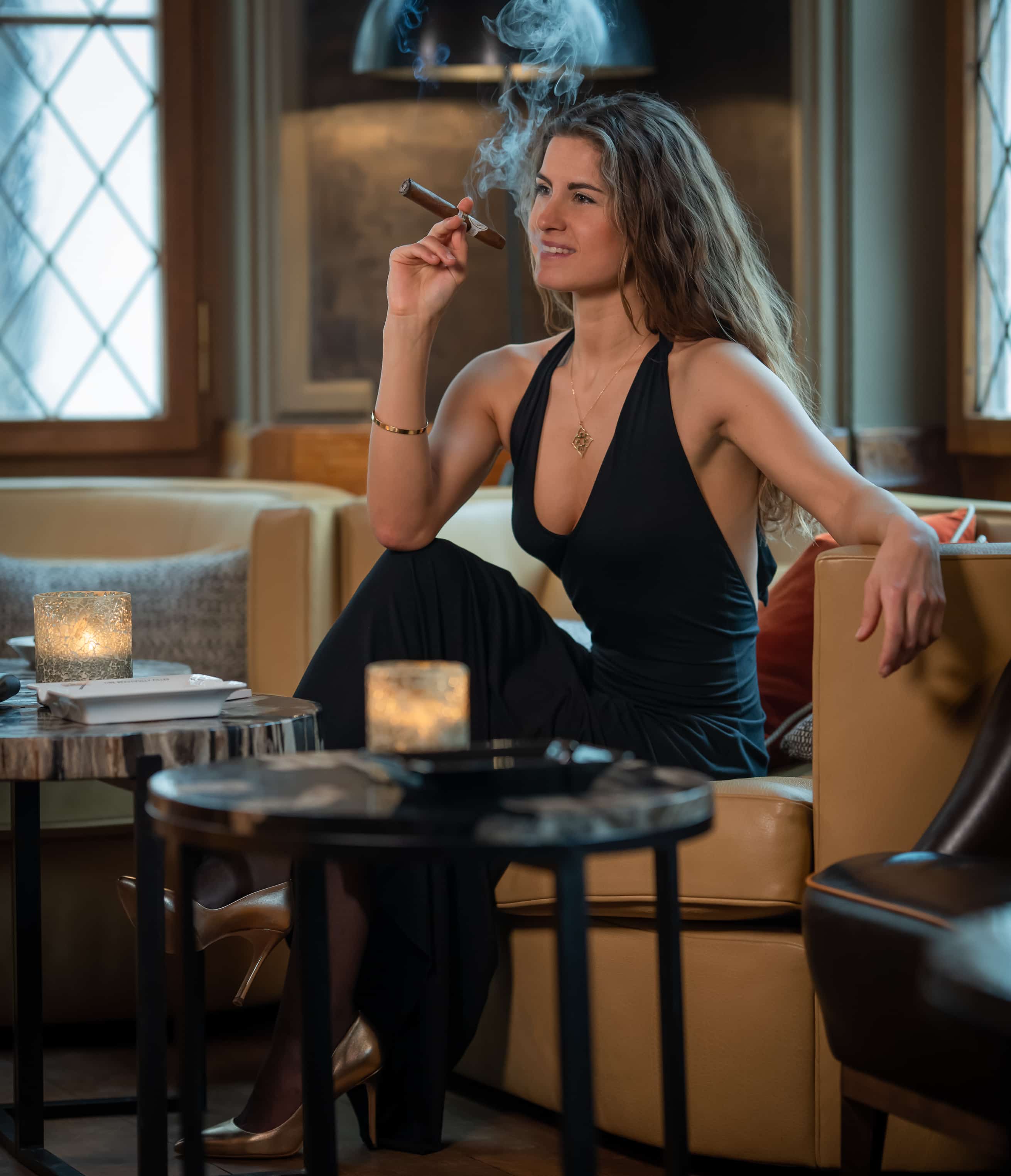 Reason 2 – Taste, enjoyment and learning
"A good cigar is like tasting a good wine: you smell it, you taste it, you look at it, you feel it, you can even say you hear it. – It satisfies all the senses."
A very wise person (who we don't know the name of, unfortunately) once said. Many women love tasting wine and comparing it to some they have tasted before. It is about stimulating the senses as well as the learning process.
Isn't it the same with cigars? Cigars can be made in different ways with various types of tobacco. Their final taste depends on many factors, on the location where the tobacco was grown, the aging process as well as the location where the cigars were stored. This is pretty much all I know about how cigars are being made, what a typical woman answer. Nevertheless, what I do know is that the making and the tasting of a cigar is very similar to wine.
I know many women who don't like the smell of cigars. The tastes can certainly be unique and it takes getting used to them. But I believe once you have smelled it enough and tried it you will start liking it. You will see the depth and the enjoyment in smoking a cigar, just like with so many other things in life that were once strange to you.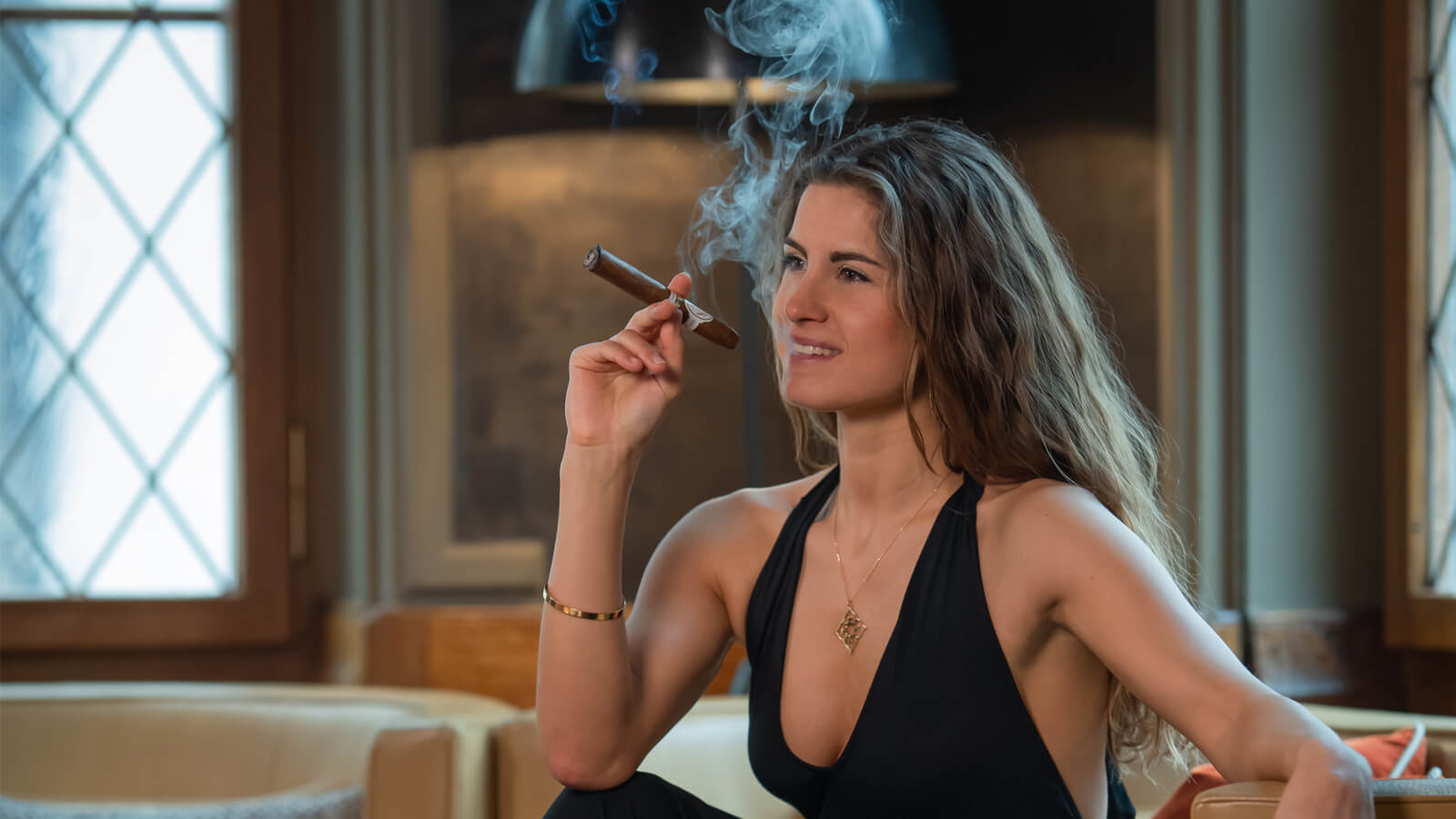 Reason 3 – Networking and meeting people
To smoke cigars can be a great door opener for women who don't love socializing at events. Whenever youare surrounded by other people as a cigar smoking lady you will find it easy to meet people and have a topic to talk about. Some might walk away because of the smoke and the smell but the majority will stay and listen to what you have to say.
Reason 4 – Time for yourself, time to reflect
It has been highly discussed that the world seems to be turning faster, stress and the lack of natural relaxation appear to be growing. Many people, especially women, nowadays find it hard to slow down and do yoga or meditation to free the mind.
A cigar, for me, is also about meditation and slowing down. To smoke a cigar it requires time, time for enjoyment. It usually takes me a while until I relax, often until half of the cigar is already gone. But when it happens I thoroughly enjoy sitting there and doing nothing but savoring the taste and watching the smoke. It's the perfect time to reflect and get lost in your thoughts.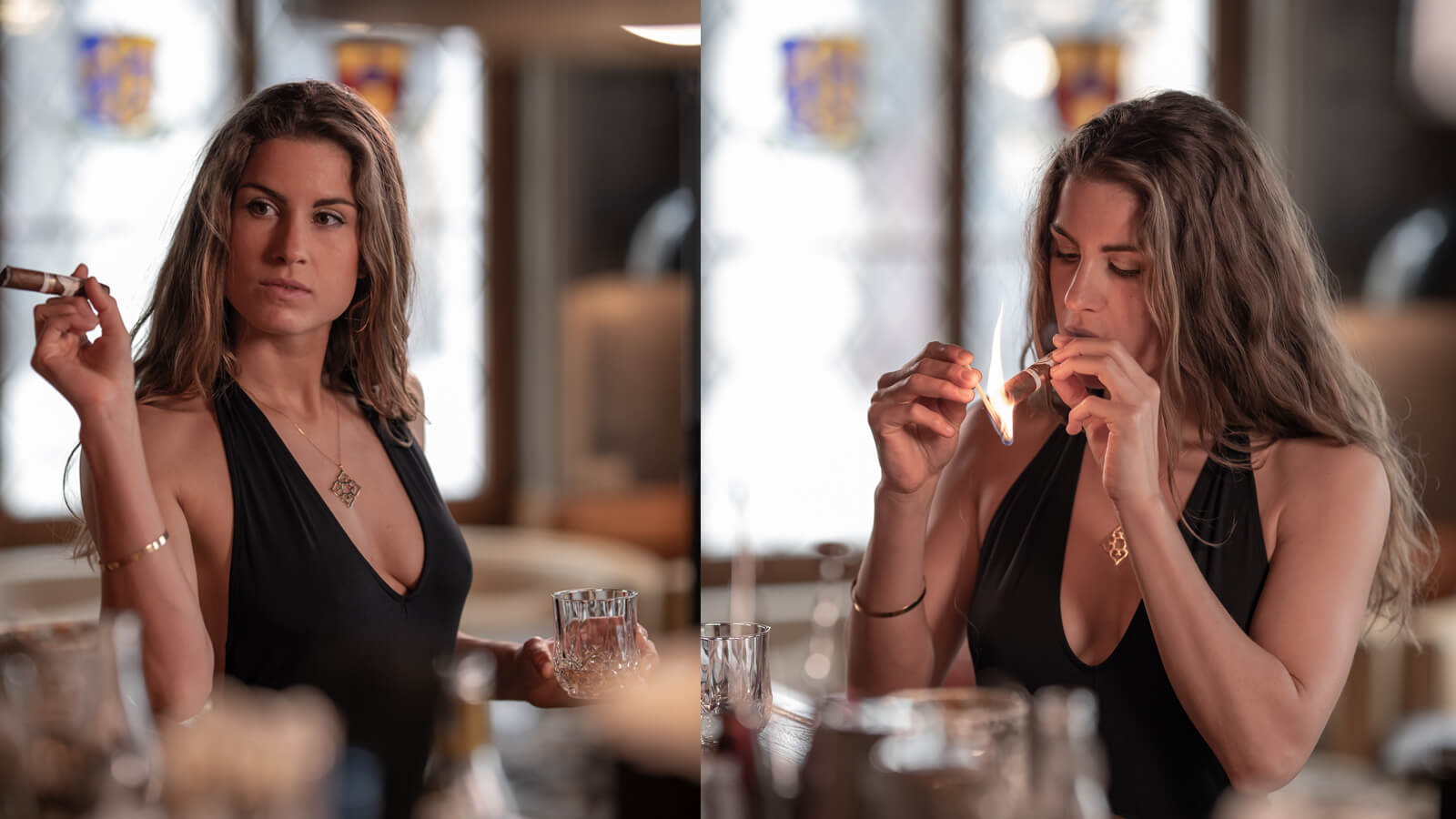 Reason 5 – Creativity and self-confidence
Creativity and self-confidence comes out of reason 4 if you smoke the cigar long enough, or maybe you need to smoke a second one. When you free your mind and clear you thoughts you can get creative again. You might as well have met some likeminded people through the enjoyment of smoking a cigar who can inspire your thoughts for your current private or business projects.
Besides the creativity smoking a cigar can also underline your self-confidence. Like walking in high heels may make you confident, so does a cigar do if you smoke it with passion and pleasure.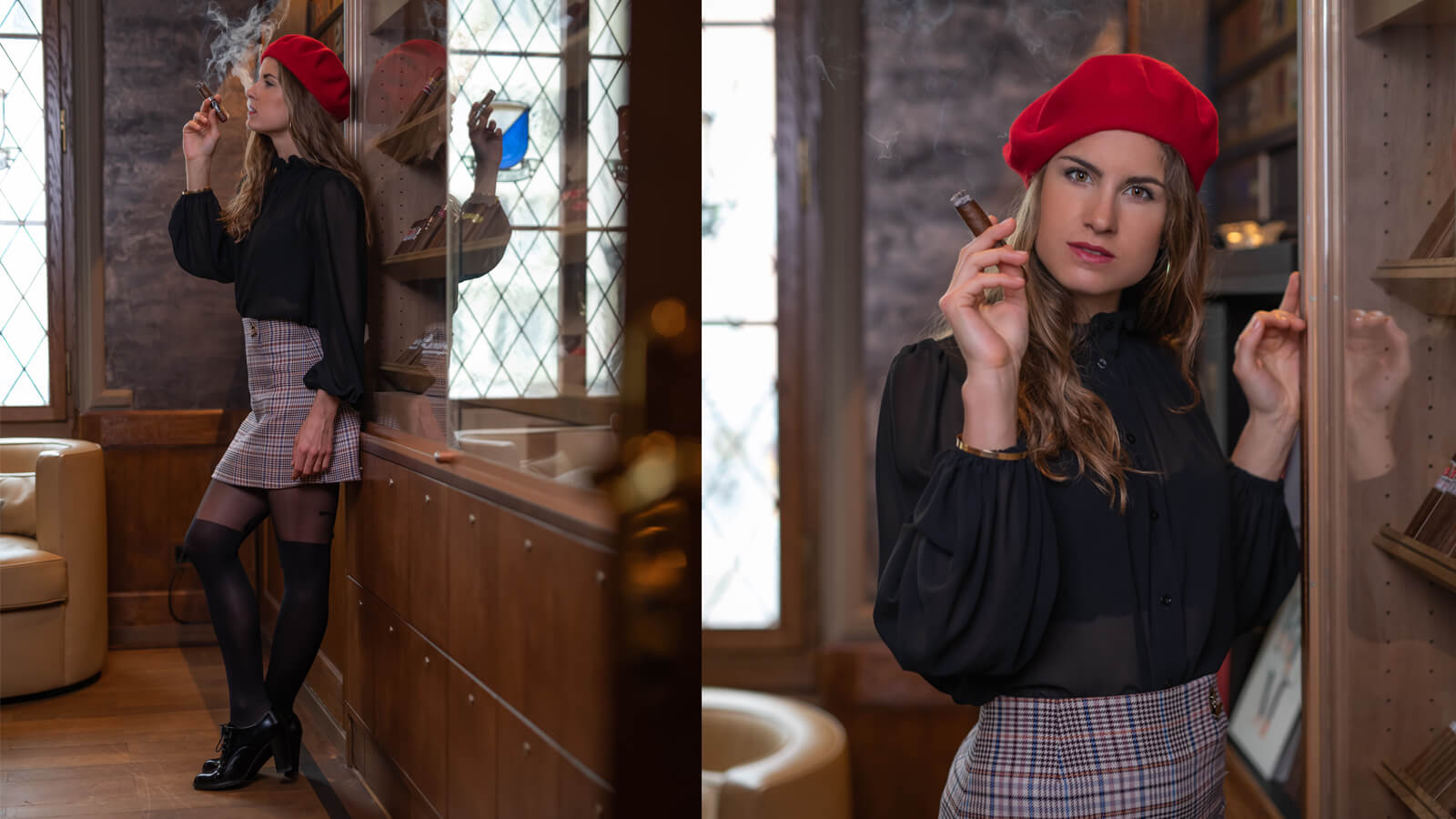 Davidoff – The ladies' choice
I love the type Robusto because it is smaller than many other cigars. The Robusto is known as the shortest member of the cigar family, it is great for beginners.
The Davidoff Escurio Robusto is my first choice if I have not smoked for a few weeks. The taste is comparably light but full of flavours at the same time. I like when the taste of the cigar stays the same while I smoke it, when it is predictable. To me the Davidoff Escurio Robusto does that. Additionally, I find it looks classy with the dark cover, "You eat with your eyes first" they say.
As an alternative to the Escurio Robusto I'd chose the Nicaragua Robusto. This is my choice when I have been smoking more often, it has stronger and spicier flavours. I also like the idea of travelling to Nicaragua, a place where I have not been yet.
Enjoy, Mona.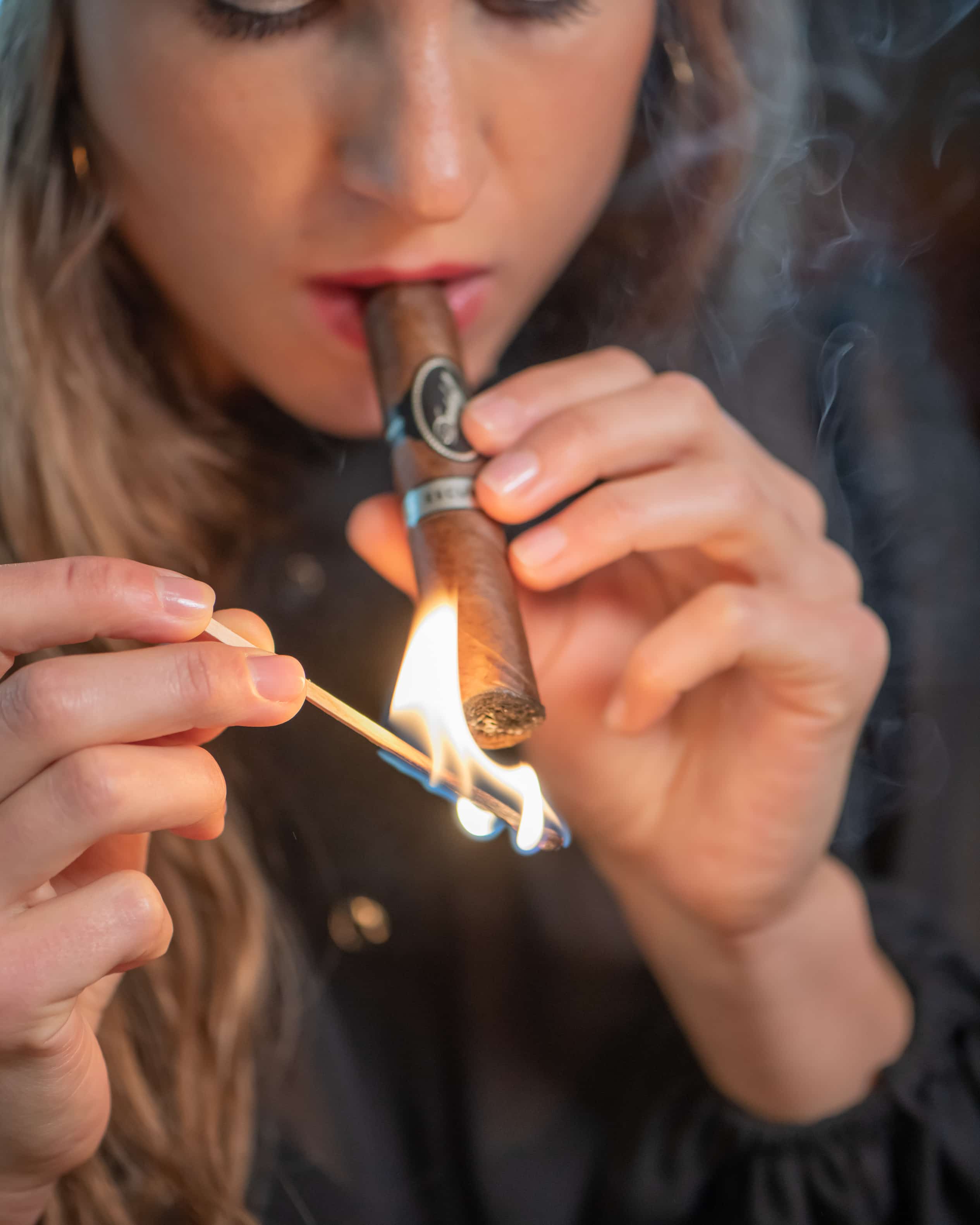 https://agentlemans.world/wp-content/uploads/2019/10/women-cigars.jpg
900
1600
Ralph Widmer
//media.agentlemans.world/2017/01/agw-logo-605.png
Ralph Widmer
2019-10-01 08:15:41
2019-10-03 15:39:30
6 Reasons Why We Love Women & Cigars