As a guy that really pays attention to details, one thing that comes to mind quickly when it comes to accessories are of course mens bracelets. There is a great variety of different models and they vary mostly in terms of material, quality and craftsmanship. Why do I love to wear bead bracelets? One of many reasons is, they are easy to put on and off and they do not feel clunky or heavy. 
Mens Bracelets by Azuro Republic – First impression
In general I loved to work with Azuro Republic. The contact was a very likeable guy from who I thought, represented the company very well. After the details were clear, I was fortunate enough to oder two of their beautiful mens bracelets for us. When the bracelets arrived at my place, I knew right away that I was up to something good! They are of a very high quality, you can really feel it.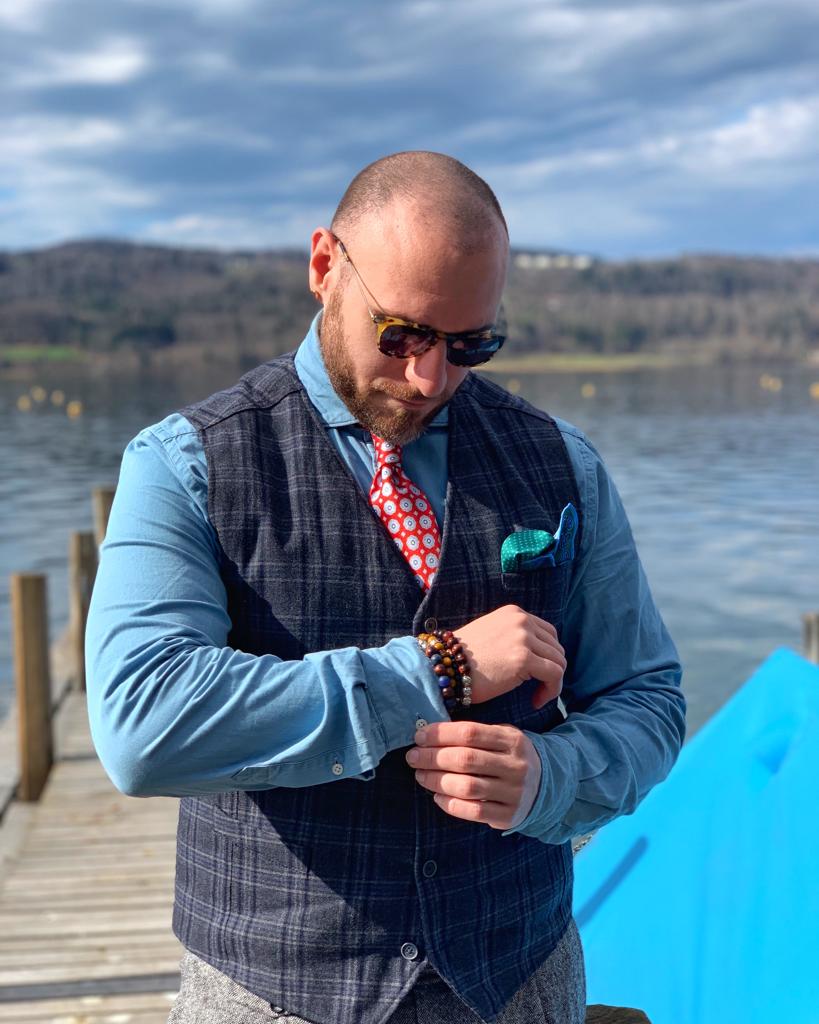 High quality boxing
You may would expect to be sent bracelets in some little bag or something similar but no, where these came in was a pretty little box that is leathery on the outside and velvet on the inside. This not only makes it easy to store the bracelet but also makes sure that is stays clean and save.
Wearing experience and tipps how to combine
The Azuro mens bracelets feel very smooth. Since they are cut to size, they fit very well. Of course, if you would like to wear them a little looser, like me, you have to order them a bit larger. Like I have mentioned in the intro, the bracelets do not feel cluncky or heavy, it's really nice to wear them.
Only if you are working at the computer, you might want to remove them while you're at the pc or laptop – To combine the bracelets is super easy, you do not even have to because they look so nice by them selfs. But if you want to, I personally would pick a detail of what I am wear it and adapt to it. For example a tie or pocket square. Combinations like this give a very nice touch to the whole outfit and sends a message that you know your style game well. If you are wearing a watch as well, that would even put more attention to your wrist. I often switch wrists, sometimes I feel like having both, watch and bracelets, on the same wrist, like in the picture but most of the time I keep them separated. In terms of colours, Azuro Republic has you covered no matter what you desire.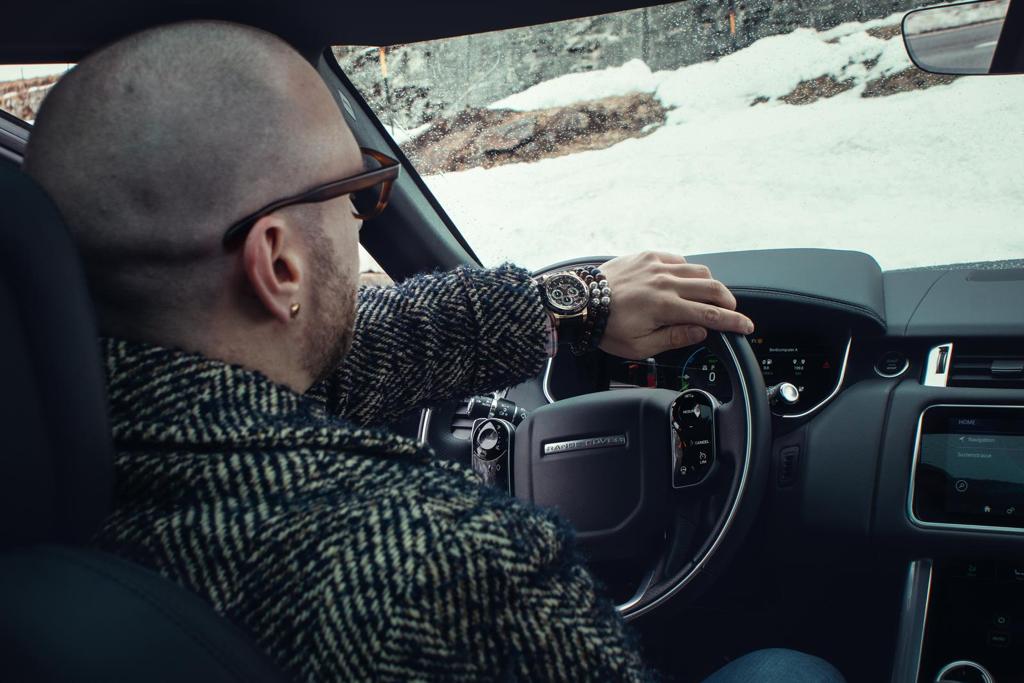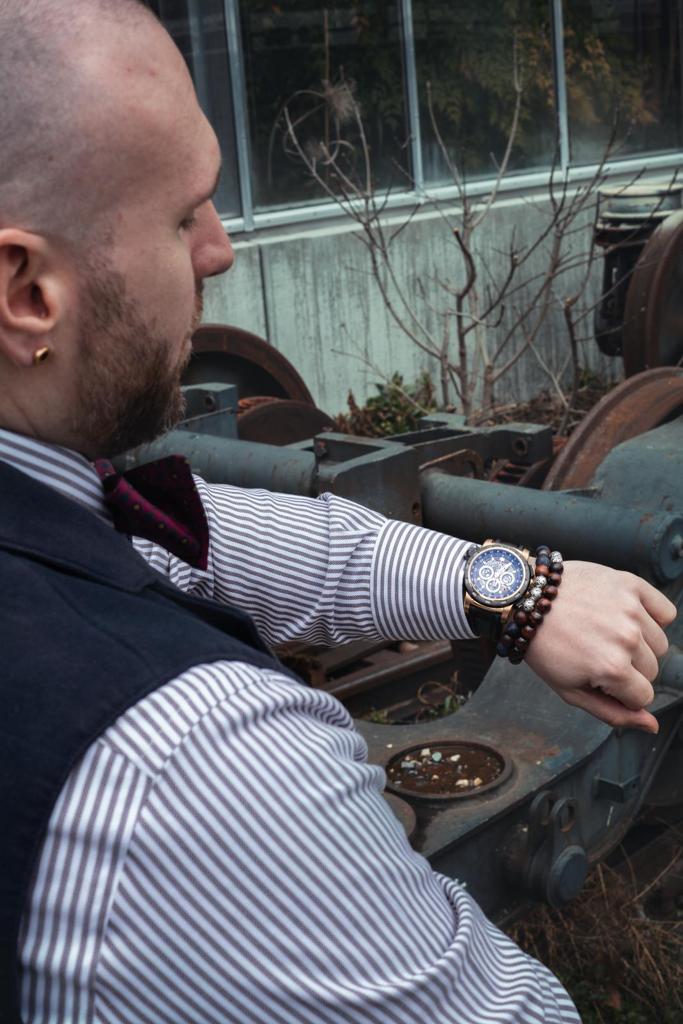 It's all about being a true gentleman. Azuro Republic has more than 30 years of experience in craftsmanship and they made passion, equality, success and inspiration their core values.
I had the pleasure to receive the following two of there awesome products. The specifications are exactly as the are on the website.
Coming from the earth, Red Tiger Eye is in brownish red and has both light and dark lines running through it. Cultivate energies and aspire an individual to strive for excellence. 
Sodalite bridges the subconscious & conscious mind, connects thoughts to feelings and strengthens mind over body. The combination of Red Tiger Eye and blue Sodalite shows a contrast of colors and reflects the value of determination and clarity. Versmee positions us to a new realm of achievement.
A tiger concentrates on its desires, which longs to attain it no matter how high the destination it may be. Its determination never ceases and it's patience adds to its significant characteristic. Red tiger eye enhances the quality of faithful mind and persistence. With its presence, it can draw courage and power to fight any negative energy, allowing people to pacify one's heart. this is a rather very charming stone.
Final conclusion?
To summarize, if you are looking for mens bracelets of a very high quality, best possible craftsmanship, of practically any color you desire and are willing to spend a little more than average for it, you definitely will find something for you at Azuro Republic. Last but not least I'd like to thank Azuro Republic for sending us two of their awesome bracelets. I had and will have a lot of fun with them and I am sure so would you if you decide to buy. 
https://agentlemans.world/wp-content/uploads/2019/04/azzuro-republic.jpg
683
1024
Juerg
//media.agentlemans.world/2017/01/agw-logo-605.png
Juerg
2019-04-02 10:03:11
2019-04-11 10:40:13
Everything you have to know about mens bracelets