The concept of an external influencer in marketing is about as old as marketing itself. Digitalization has only opened up a few new channels and opportunities, so it's no wonder social media influencers are on everyone's lips. That's why we show you the top instagram accounts to follow today.
Top Instagram Accounts to Follow
Let's be honest: the social media influencer with their tooth bleaching products, detergents, Paul Hewitt watches and similar junk are slowly getting annoying. That's why we picked out a few top instagram accounts that have the following quality characteristics:
Since this is a men's magazine, they are male social media influencers.

All have been around for a while (most more than 5 years)

Authentic profile

Cleaned up profile

You have long-term relationships with their partners

The content is great
Blake Scott
Blake is an old hand in the industry and has already been in the business for about 10 years. He is an ambassador for Carl F. Bucherer and works with brands such as Triumph, Tom Ford and Bentley. The man is always perfectly styled – an example for every gentleman.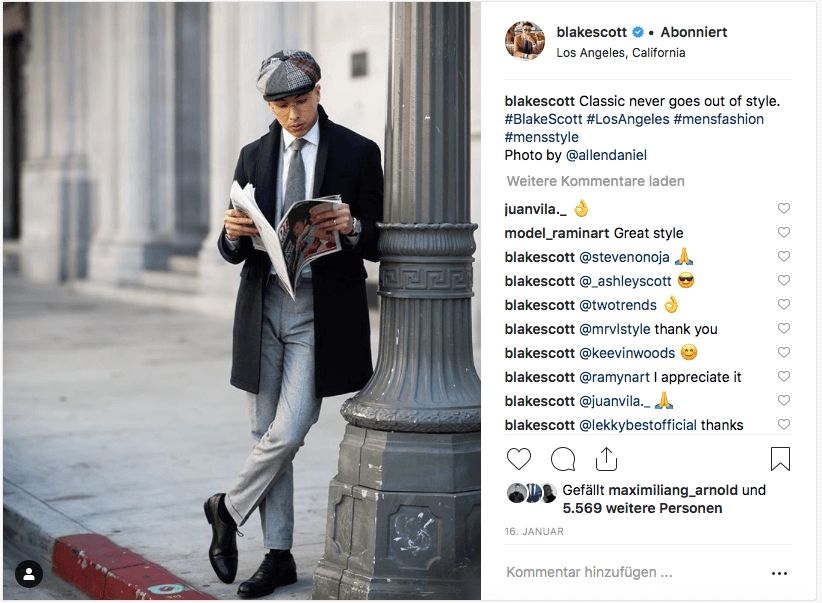 Timothy James
The guy just looks good from every angle. Tim works with international brands like Tom Ford, Bentley or Breitling. He convinces with an authentic profile, his hair and beard are always perfectly styled.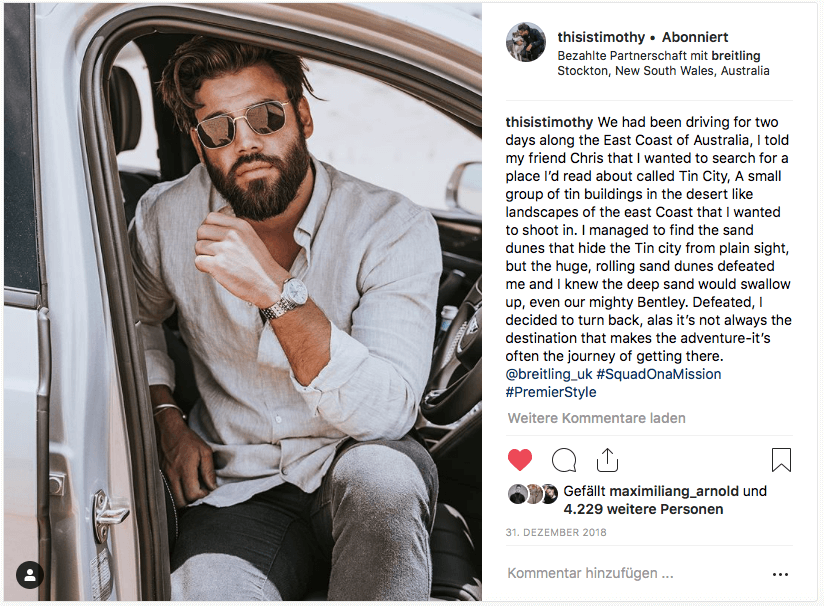 Louis Nicolas-Darbon
Louis has been around for quite some time and is also a gifted artist (@artbylouis). His feed is all about classy outfits, accessories, watches and travel. At the moment he is skiing in Switzerland.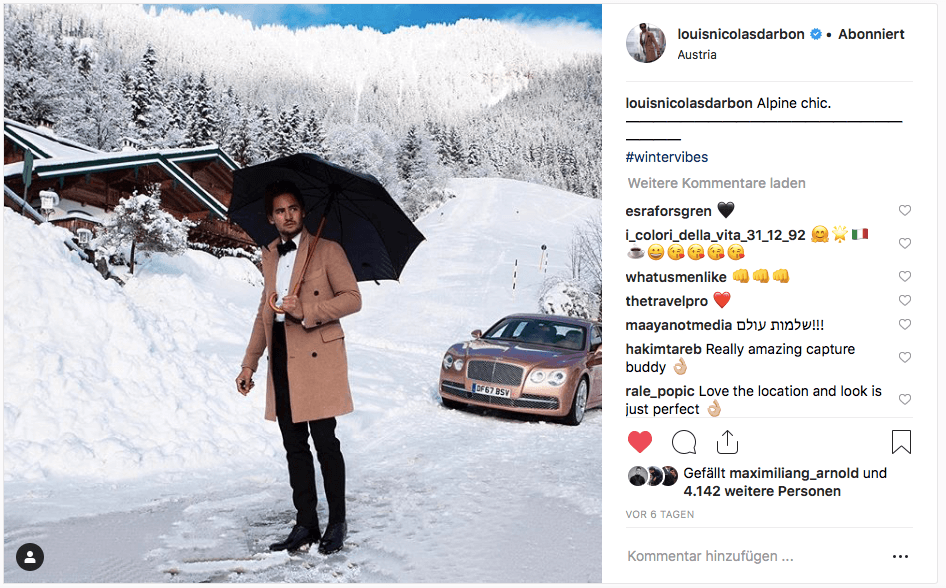 Tom Claeren
Tom embodies the superlatives of life: yachts, airplanes, sports cars, helicopters and much more. No wonder brands like Aston Martin, Bentley or Audemars Piguet work with him.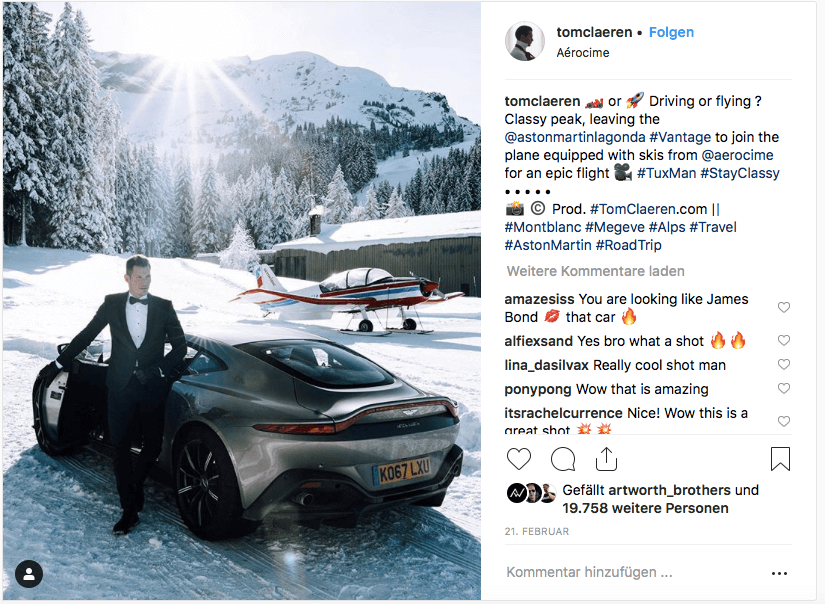 Justus Frederic Hansen
Justus was one of the first influencers in Germany and meanwhile he is well appreciated by brands like GANT or Jaeger-LeCoultre. Born in Hamburg, Justus knows exactly how a gentleman dresses and has been successfully demonstrating it for years.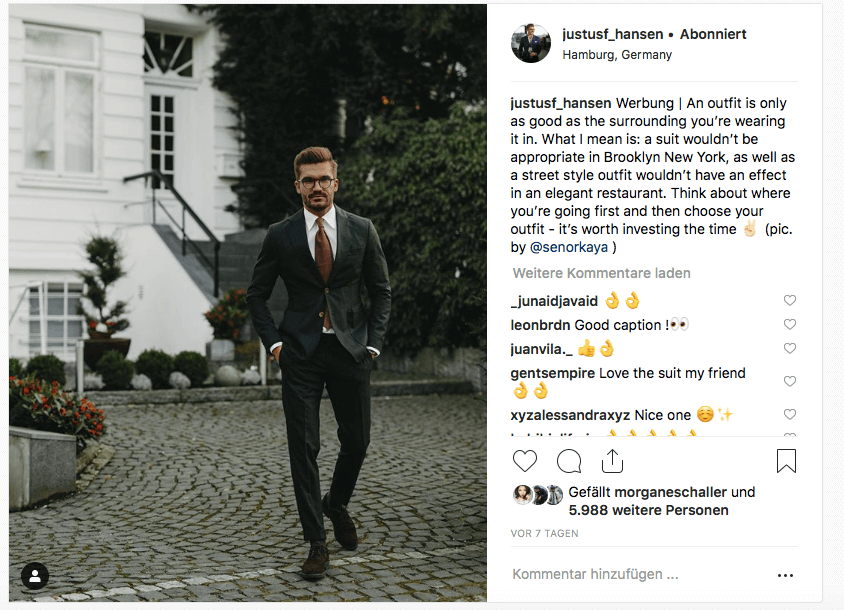 Johannes Laschet
Joe has been around for a while, he became famous for his similarity to Ryan Gosling. Once on the road with Joe, it is hard to overlook how often he has to listen to it. We love his suits and the recently more and more frequently appearing tobacco pipes.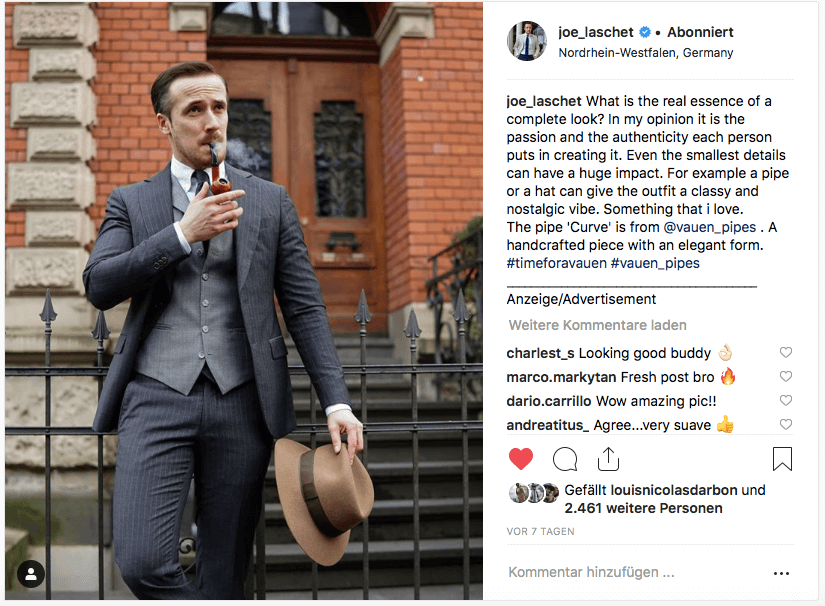 Brian Sacawa
At Brian's profile you will find cool styles and above all incredibly beautiful timepieces, worth a visit!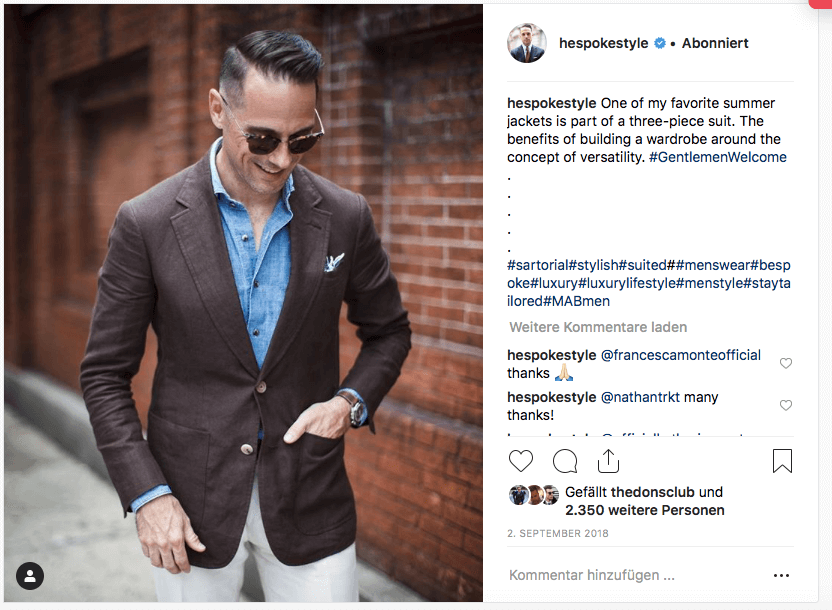 Wilhelm Strängh
Wait, is that Leo? Not really, but Will has this very authentic way of dressing – we definitely like him as an inspiration!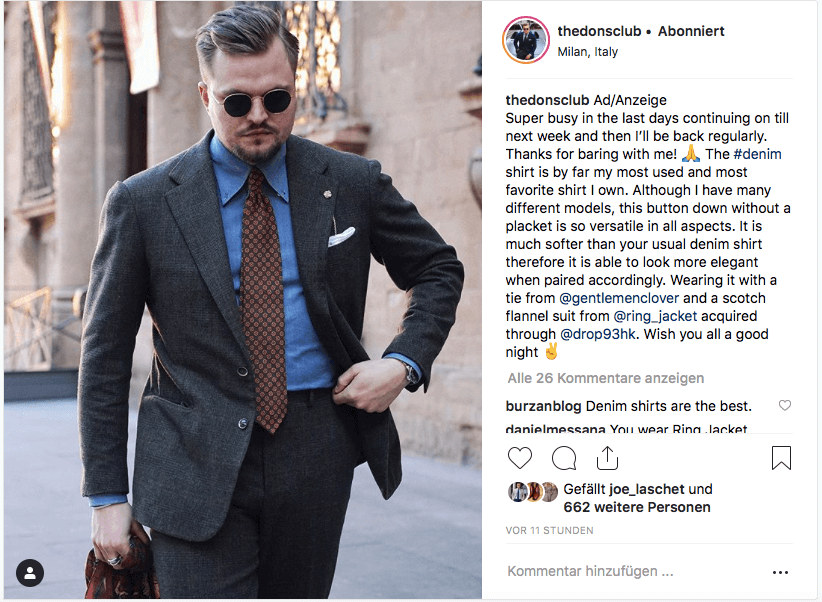 Maximilian Arnold
Max and I have been business partners for a while, he has already tested the Jaguar I-Pace and the Porsche Panamera for us, great and reliable guy – always well dressed!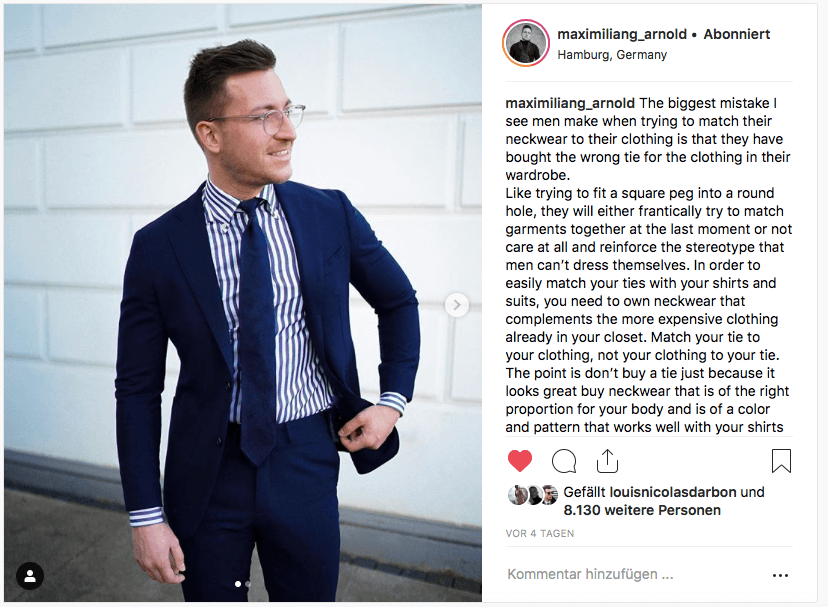 Salomon DuBois Thiombiano
In our opinion, Salomon belongs to the top 5 best dressed men on instagram. His content is always super clean and reposted by international media like GQ or Vogue.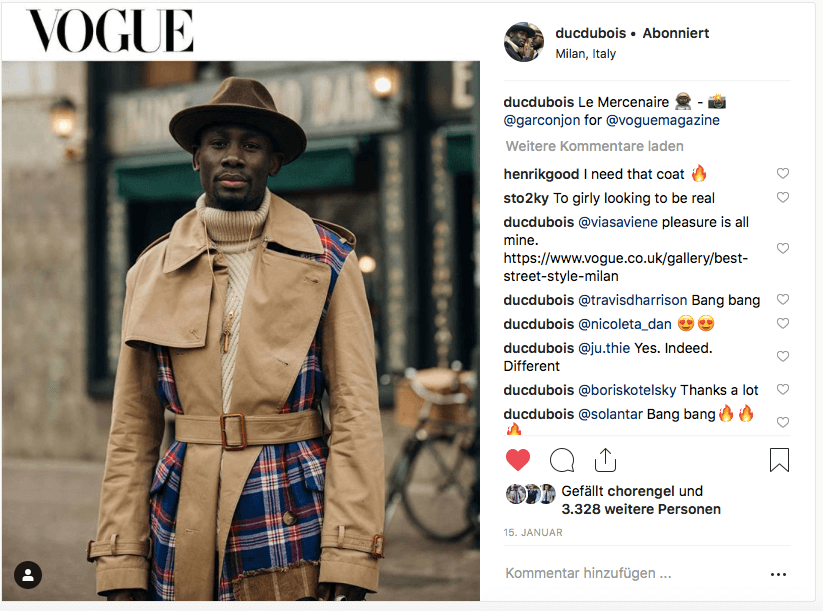 Igee Okafor
Igee is for sure one of the upcoming rising stars in the industry. His work is very authentic, his style super fashionable. When we met him in Firenze, it's hard to miss: he is a very fresh and nice gentleman.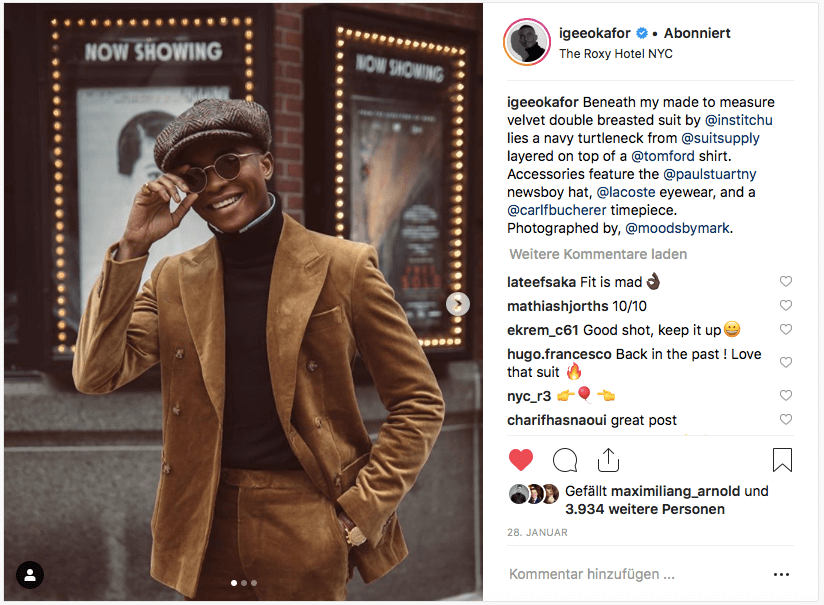 Mathias le Fèvre
A very unique gentleman. He works with partners like Vacheron Constantin or Belstaff. His work is always super clean and of high quality.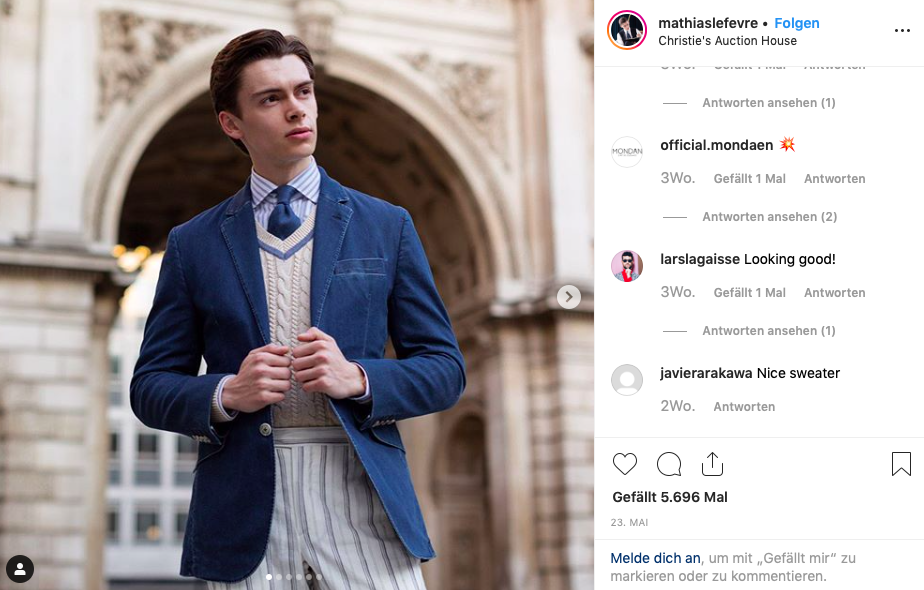 Luke Penn
At Luke's instagram account you can find everything, yes really everything if it comes to supercars. On Youtube he already has 73,000 subscribers and up to over 1 million views per video.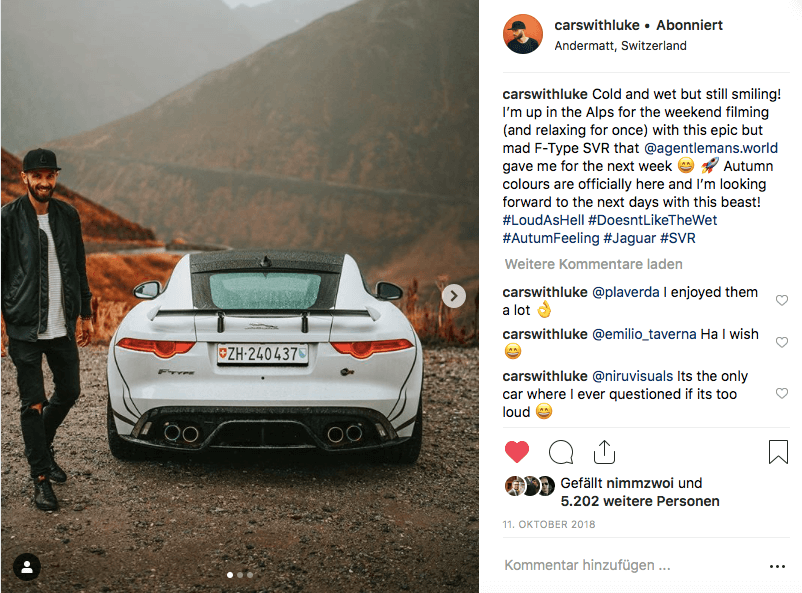 https://agentlemans.world/wp-content/uploads/2019/03/social-media-influencer.jpg
720
1280
Ralph Widmer
//media.agentlemans.world/2017/01/agw-logo-605.png
Ralph Widmer
2019-03-01 15:38:50
2019-08-19 18:04:20
12 Top Men's Instagram Accounts To Follow