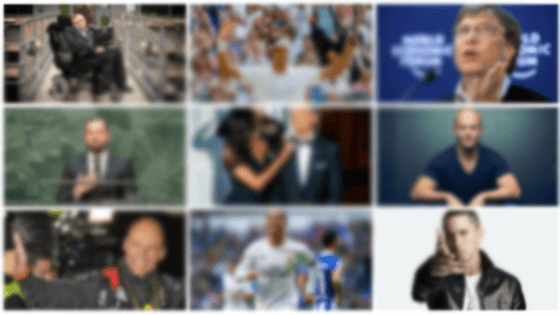 How To Be Successful – Inspired By 9 Personalities
It is part of the human DNA to seek for success, to realize oneself and to live our dreams. First of all, being successful means: working hard. But it takes a bit more than that. We thought it is inspiring to show some impressive personalities to show you how to be successful, an inspiration in every situation of an entrepreneur or; in life.
The path to success sometimes seems tough and pretty often it means to take a step back. But don't worry, success is learnable. In any case, there is a list of qualities that will help us on our way. We thought of choosing people who, in our view, have achieved something incredible.
9 Things We Can Learn From Successful People
Now, 9 personalities will follow, from whom we can learn a lot. Each character receives a quality that is particularly remarkable in our view. We're well aware that they have worked extremely hard and there are many more attributes and qualities we could list here to explain how to be successful.
Elon Musk – Innovation
Elon Musk is probably one of the most innovative geniuses of the 21st century. And he doesn't stop. Sailing around the world with some supermodels after he sold paypal? Nope. Meanwhile, he founded about 7 other companies such as Tesla or SpaceX. He keeps smashing standards and surprise society with his powerful innovations.
What we learn from Elon Musk
To think innovative and creative. There are no mistakes, only solutions. Beyond the boundaries, problems turn into challenges. Progress through free thinking. Take time to analyse everything. Look beyond the seemingly given dimensions.
Tim Ferris – There is always a way
Self-made millionaire and author of the book 'The 4-Hour Work-Week'. Not read it yet? Do it! He holds various records; besides most turns in tango, he is world champion in Chinese combat.
What we learn from Tim Ferriss
There is always a way, though it sometimes means taking a step back. We were all born with a lot of potential. We're not even using 20% of our brain capacity, not mentioning the physical possibilities. We are capable of much more than we often realize.
Stephen Hawking – Believe in it
Stephen Hawking is one of the greatest physicists in history and is highly ingenious. At the age of 20, ALS was diagnosed – the doctors gave him only a few years to live. He is now over 70 years old and still holds his presentations with a lot of humour and vitality, although he can not control any part of his body.
What we learn from Stephen Hawking
Not giving up is probably one of the most important, if not the most important feature of a successful person. Stephen Hawking proves impressively, even in an unimaginable state of health, to create incredible. Each of us carries his own backpack with individual feelings. Stephen Hawkins learns to believe in what we do and in ourselves. Not giving up, going on and on, even if it sometimes seems so hard and difficult.
Roger Federer – Stay humble
In other words, keep your feet on the ground. We all know the stories of successful people raising high like a rocket and then failing in gambling, drugs or similar. Roger Federer is probably the most famous athlete who stays humble with all that he has achieved.
What we learn from Roger Federer
Reached the top of the mountain? The way down is much faster. Roger teaches us to be smart. Not resting on our laurels, but staying modest and continuing to fight hard for the next successes. It is also important that we always look forward to our successes and take nothing for granted.
Leonardo DiCaprio – Take care of your environment
Not only one of the greatest actors of all time, oscar winner Leonardo DiCaprio (finally) travels the world and spreads his commitment to the environment.
What we learn from Leonardo DiCaprio
We have one planet earth, we're responsible to take care of it. Climate change is a fact and it follows long list of other challenges humanity is struggling with. That's why it's important to set a good example and take care of our planet. How you do it is up to you. It is important to understand that many other generations will follow after us.
Bertrand Piccard – Dream Big
Bertrand Piccard is the perfect example of an adventurer. He was the first human to fly around the earth in a hot-air balloon and in a solar airplane. To survive such crazy projects requires the ability to think and dream big.
What we learn from Bertrand Piccard
An entrepreneur needs the ability to dream about the seemingly impossible. The way to success requires a visionary eye and a boundless mind. Dreaming big brings us into paths we might have never expected.
Eminem – Break the rules
Eminem is considered the most successful rapper of all time. His poetry and technique make him unique. He became famous simply by breaking the rules and taboos.
What we learn from Eminem
This is not a call to become criminal or break any laws. Being successful means thinking beyond the goal. To bypass standards, to be different. To do something more than everyone else. To risk more than the others. To try again and again. To think further. A 'no' or 'not possible' doesn't have to mean the end.
Cristiano Ronaldo – stay focussed
There is one thing we cannot deny: Despite all naysayers, haters and negative reviews he delivers a unique performance. He is the first guy showing up in training session and also the last one leaving it. At home, he built a training-like environment. He incredibly manages to ignore everything around and keeps performing at the highest possible level.
What we learn from CR7
To become successful by focusing on ourselves and our goals. Ignore the naysayers. During our childhood we are conditioned by society. This is not possible, this is impossible, you can not manage this and that, etc. Through targeted mental training, you can get rid of these conditions and achieve a healthy mind that tells you: nothing is impossible or: everything is possible.
Bill Gates – Share
The richest person in the world leads by example: 4.6 billion will flow into his foundation in 2017. Gates donated around 5% of its assets, but it also made its largest single donation since 2000.
What we learn from Bill Gates
Imagine, you are the only person in the world and there is no way to share your luck and your successes. It would be useless. Sharing is always important, whether successful or not. The more we achieve, the more we can give to other people. Trust us, sharing feels great.
Michelle Obama – Together we're strong
The former first lady gained a lot of positive attention with her enthusiasm she is the best possible companion. Day and night at the side of the president, she goes through thick and thin with him – no matter what happens. She makes him a better person.
What we learn from Michelle Obama
Michelle stands for unity and strength. A best friend, a reliable business partner or even a strong partner is crucial for a successful, stable life. Every successful person we read about today would not here without their teams, their fellow human beings or their partner.
https://agentlemans.world/wp-content/uploads/2017/11/Erfolgreich-werden.png
315
560
Ralph Widmer
//media.agentlemans.world/2017/01/agw-logo-605.png
Ralph Widmer
2017-11-22 15:03:30
2019-01-27 12:05:24
How To Be Successful - Inspired By 9 Personalities