Alfa Romeo Giulia Quadrifoglio – Introduction
Following my article with the Alfa Romeo Giulia Quadrifoglio (manual gearbox), it was time to drive the automatic version. As previously explained, the AT model is mighty 7 seconds faster on the Nürburgring. So I kind'a knew it will be exciting to drive. But, will it convince me, so I'd buy one?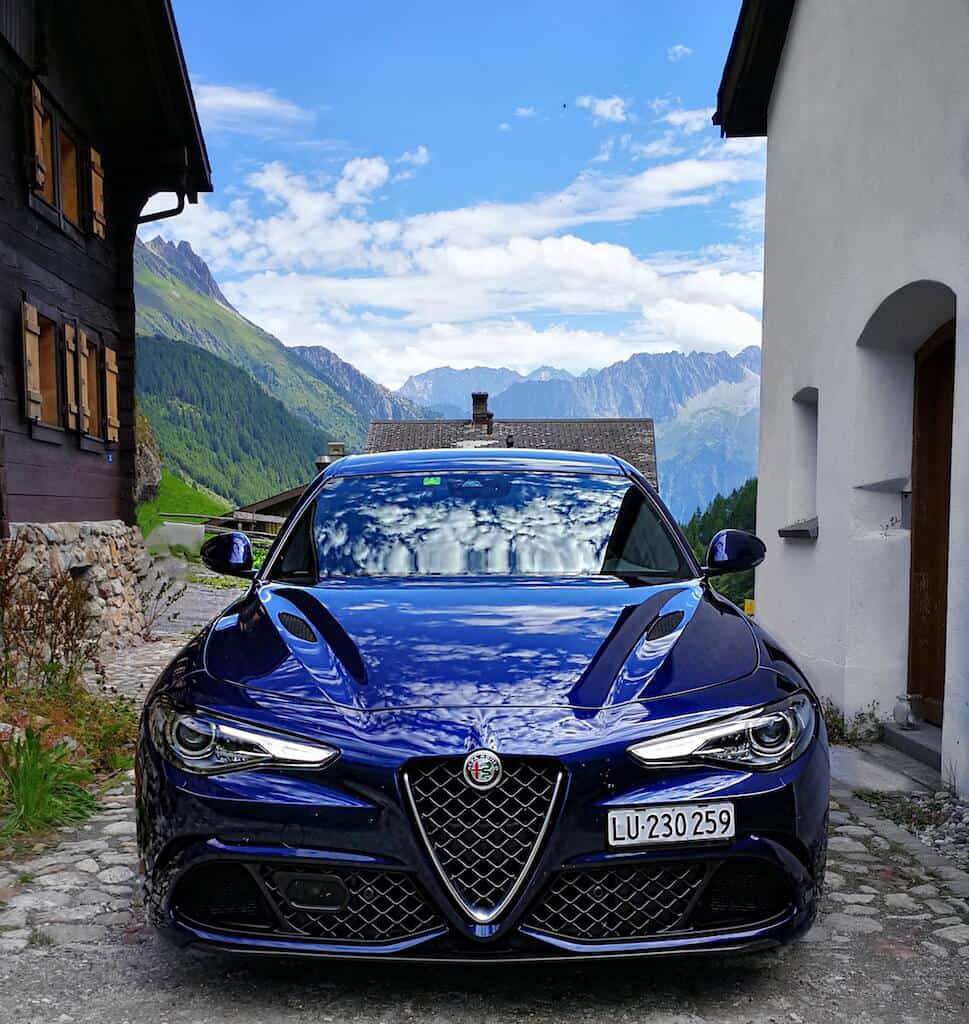 'Giulia Quadrifoglio' – what does it actually mean?
Giulia simply explains the model name of this tremendously good-looking Alfa Romeo. The term 'Quadrifoglio' might sound like a quattro formaggi pizza, but believe me, there is no relation.
Quadrifoglio – Explained
The four-leaf clover is a lucky symbol, used since 1923 by the racing technicians. First used, the car won the race. Ever since, the sign is also used for production cars.
So, in case own a BMW M3 and that makes you think you're the king – we have this Alfa, which will prove you're wrong. For a few reasons we will explain now.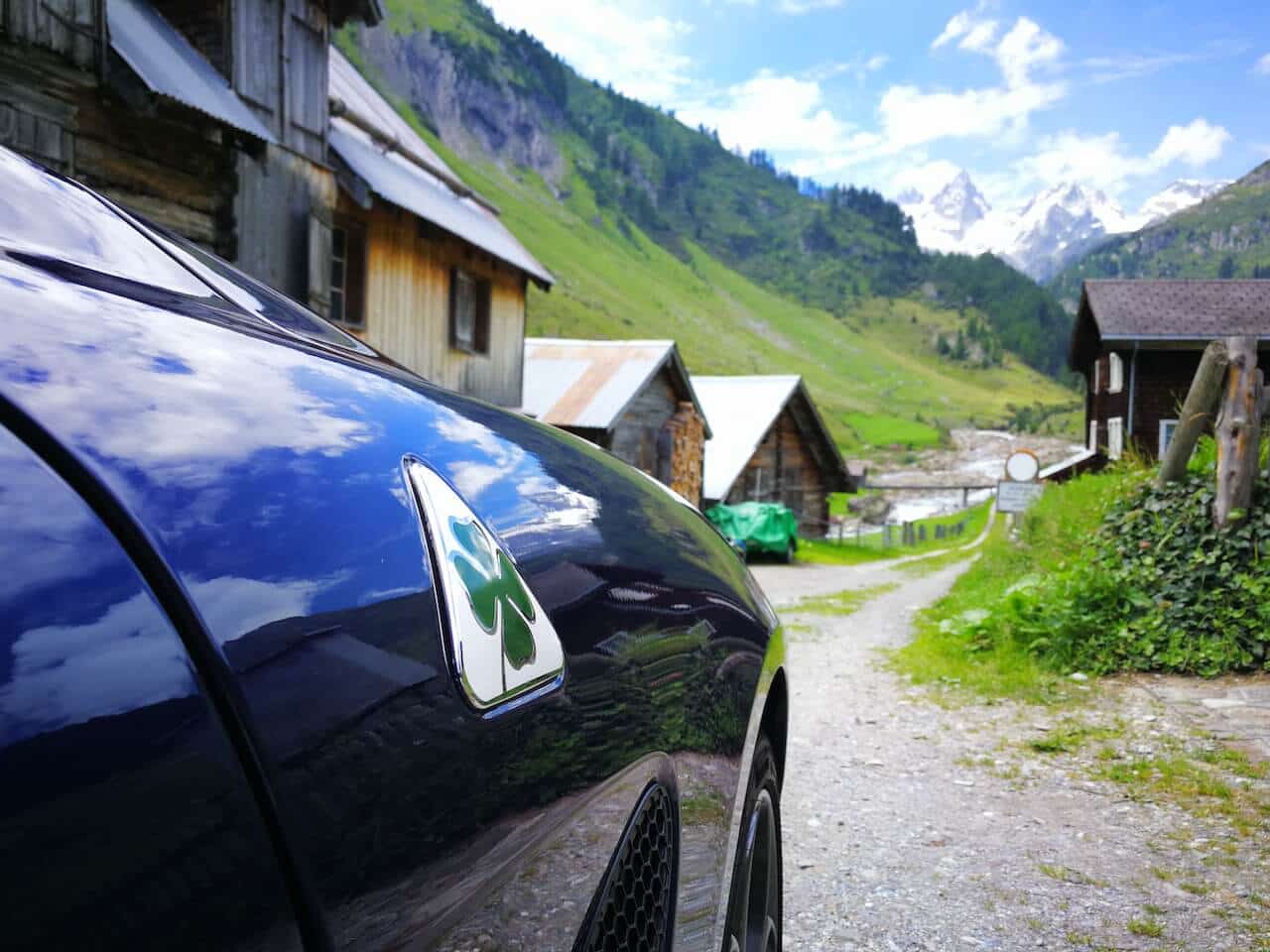 Alfa Romeo Giulia – The Performance
Man, I was surprised with the manual gearbox but the AT version is not much less than: badass. So taking a mountain pass or go to the track is what you should do with it.
Since we don't have racetracks in Switzerland, I went to do the Sustenpass chasing a few bikes (yep, the other cars simply couldn't compete.)
The day before, I came from Barcelona driving the McLaren 570S Spider. Of course, it's impossible to compare the two cars, but let me tell you one thing for sure: My first thought back in the Giulia? I was not disappointed for a single second.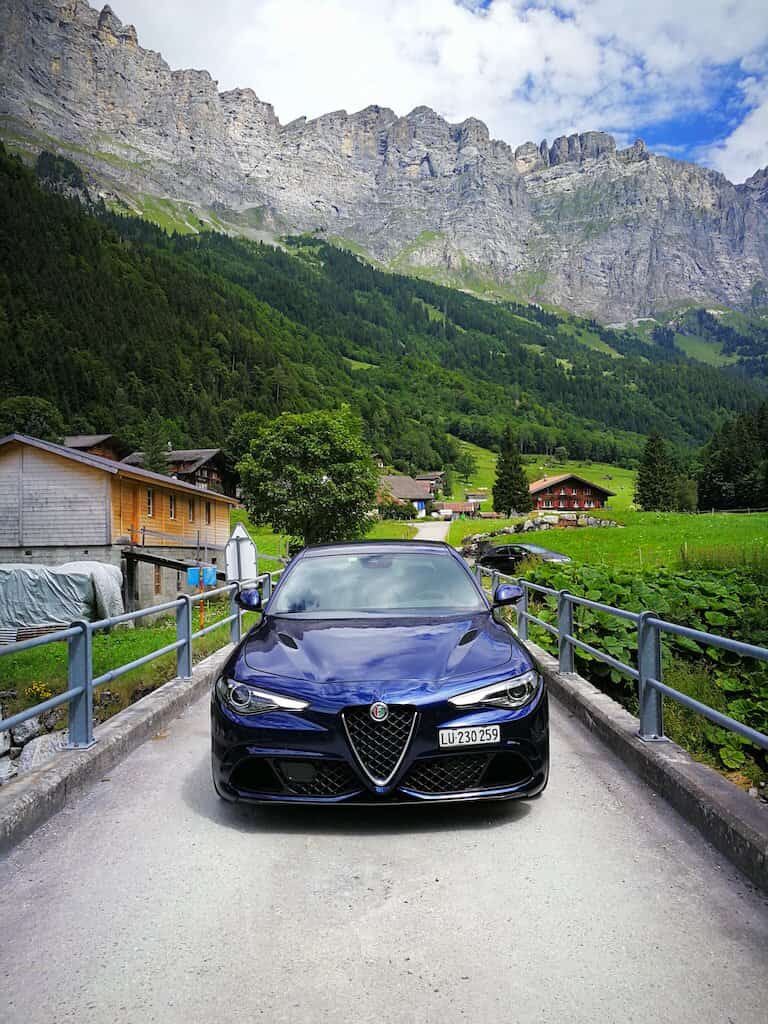 What Makes This Car So Fast?
Balance & Power
The Giulia Quadrifoglio's front-mounted, all-aluminum Twin-Turbo V6 engine and rear-wheel drive system, create a near perfect 50/50 weight distribution3 with optimal balance.
A body in high-strength steel, fenders and doors in aluminum, a carbon fiber hood, roof and driveshaft, front seats in carbon fibre  and aerodynamic appendices work in conjunction with the patented all-aluminum suspension to create a near perfect balance.
Active Aero Front Spoiler
This is the only sedan in the world to be equipped with an active aero front splitter. This adjustable carbon fiber spoiler is integrated into the front spoiler. Sophisticated and electronically controlled, it dynamically balances and adjusts overall downforce. On straights, the splitter is closed to minimize resistance and drag. On corners — or when braking — it opens up to provide up to 220 pounds of downforce for optimum balance.
Torque Vectoring
Torque vectoring technology further positions the Giulia Quadrifoglio at the top the premium mid-size sedan segment. This system controls wheel spin by optimizing the power distribution between wheels in traction. There's no loss of power— but better handling.
The Best Alfa Romeo So Far
Yes, that's what it is. Nothing breaks down, no annoying or unnecessary error messages. This Alfa Romeo actually works. The competitors? Maybe the BMW M3, Mercedes E63 AMG? Not a chance. And they're all more expensive and: slower.
To sum this up:
510bhp / 600Nm torque

Fastest four-door saloon on the Nürburgring

Torque vectoring technology provides the differential with the ability to vary the torque to each wheel.

3,9 seconds 0-100 km/h

307 km/h top speed (!)
Would I finally buy it?
Hell, yes! It's simply brilliant.
Cars

What's the best car I drove so far? Yes, that's probably the most popular question I'm being asked by my followers. But it's not so easy to answer. There are plenty of amazing cars and at the end of the day it's all about your taste and needs. Let me explain that a bit… Arguments like […]

/1 Comment/by Ralph Widmer

https://agentlemans.world/wp-content/uploads/2017/03/Jaguar-F-Type-SVR.jpg 640 960 Ralph Widmer //agentlemans.world/wp-content/uploads/2017/01/agw-logo-605.png Ralph Widmer2017-03-15 08:07:262017-07-28 10:05:24Why I Love The Jaguar F-Type SVR So Much
https://agentlemans.world/wp-content/uploads/2017/08/giulia-quadrifoglio.jpg
960
1280
Ralph Widmer
//agentlemans.world/wp-content/uploads/2017/01/agw-logo-605.png
Ralph Widmer
2017-08-11 14:44:28
2017-08-23 14:59:07
Alfa Romeo Giulia Quadrifoglio - Would I Finally Buy It?