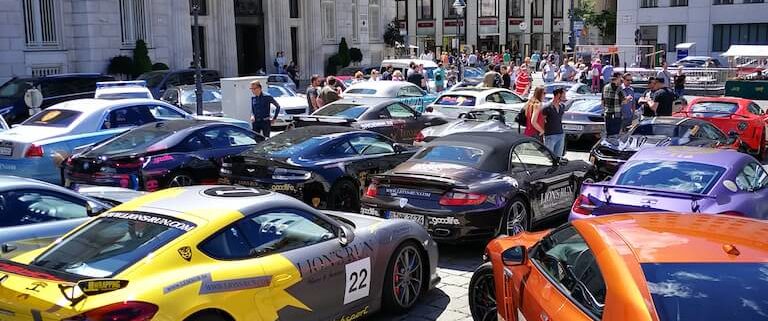 Lion's Run – Introduction
First things first: This event has absolutely nothing to do with any sort of race or similar. It's an event where like-minded people meet to share a passion: supercars.
The Lion's Run route went from Vienna to Zagreb, Split, Opatija, Trieste and finally Monaco. It's definitely a journey to meet fantastic people with a lot of entrepreneurship.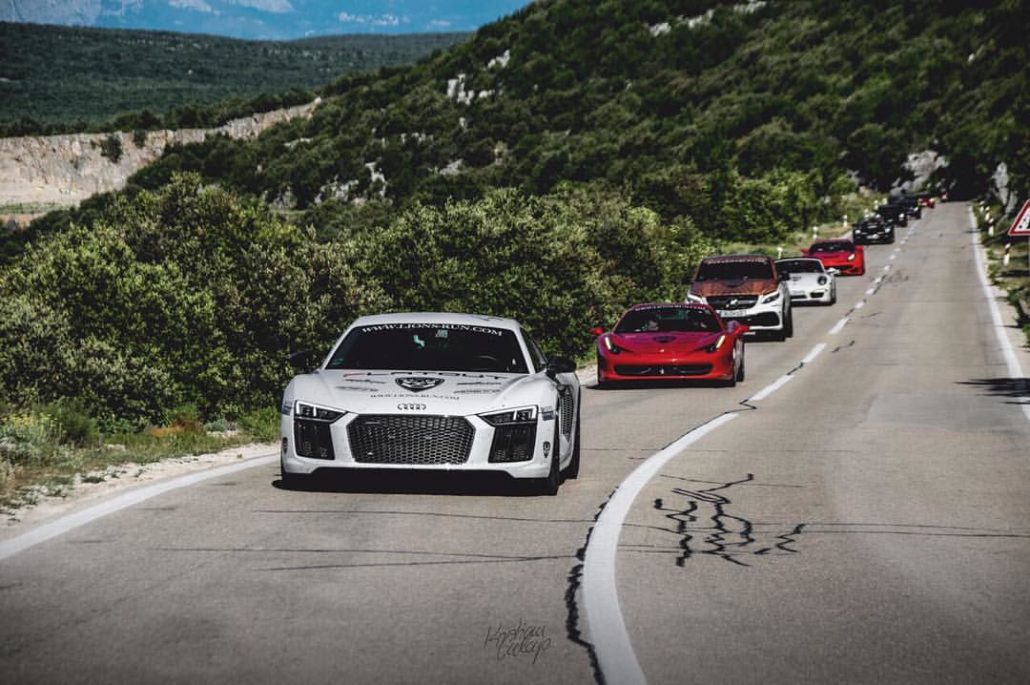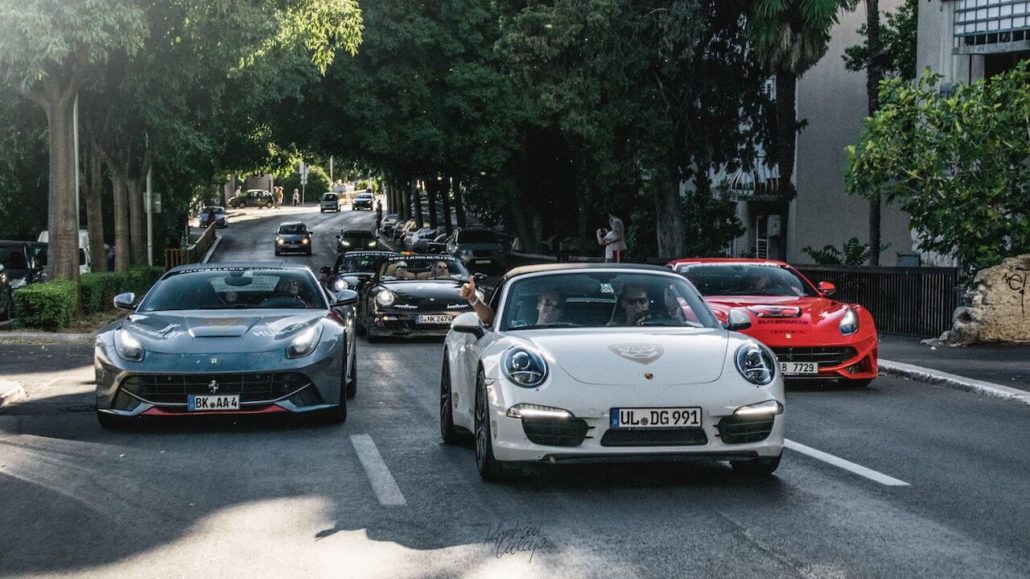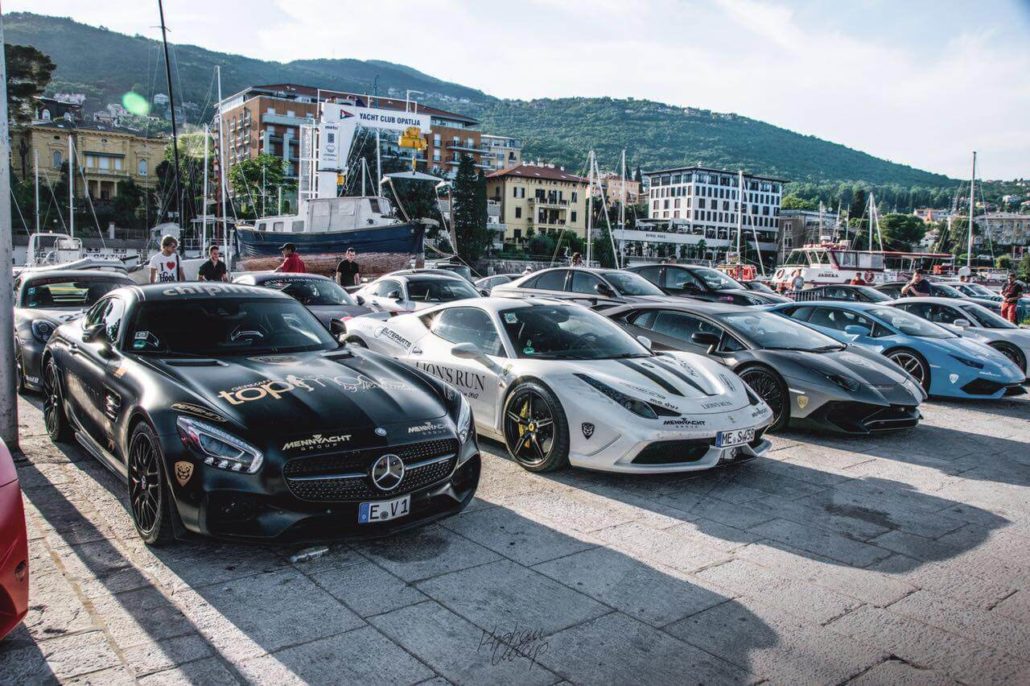 6 Reasons To Join The Lion's Run
Certainly, there are a few reasons why you should put a supercar rallye on your bucket list:
You will meet great people – the perfect place to expand your network.

It's exciting and a lot of fun.

The tour goes through several cities, you will see and experience a lot.

You can share your supercar passion.

It's a lifetime memory.

There are fans and car spotters waiting for you everywhere!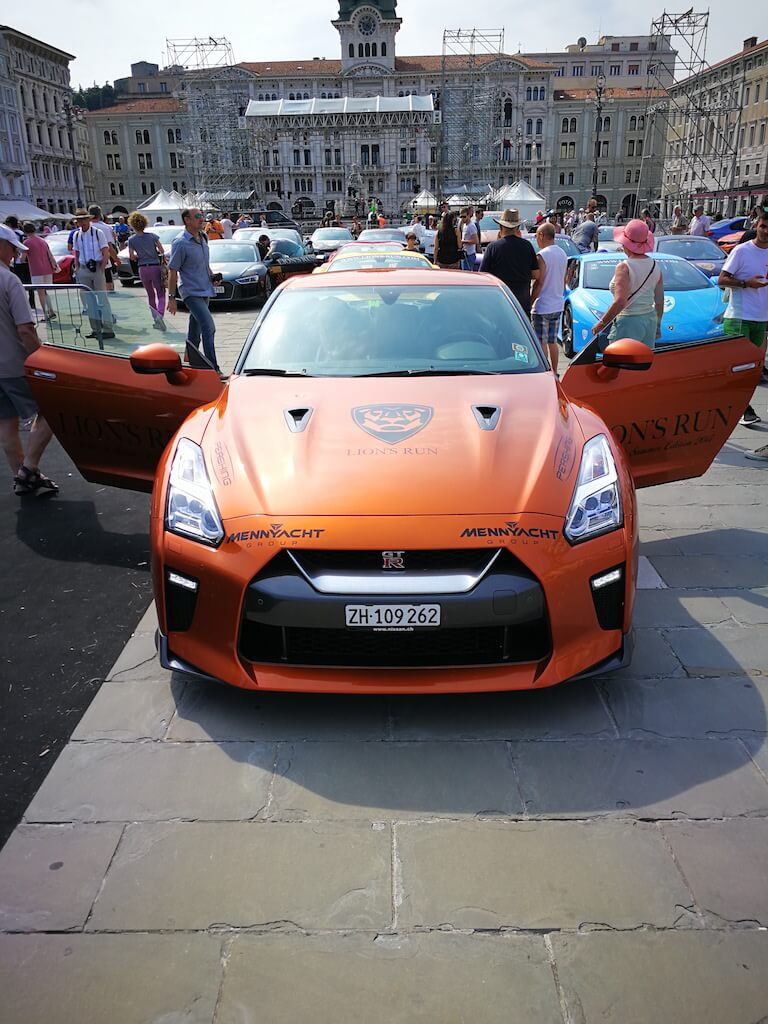 Lion's Run With The Nissan GT-R
Such a rallye requires a matching car. And as a supercar fan, I absolutely wanted to put the Nissan GT-R under the ultimate test. A tour through Europe with supercar enthusiast seemed to be the perfect thing to do.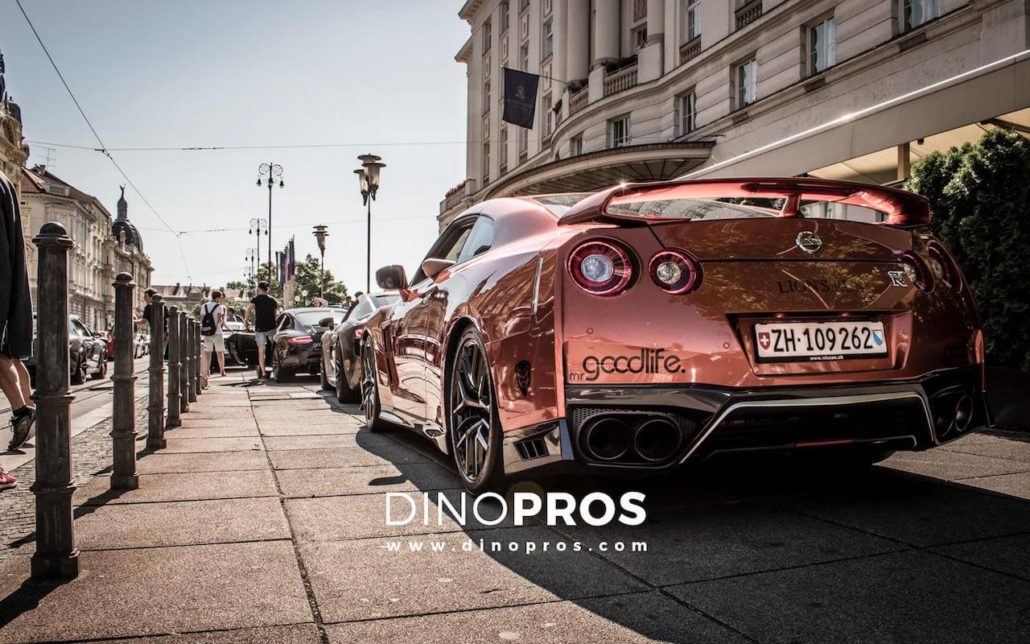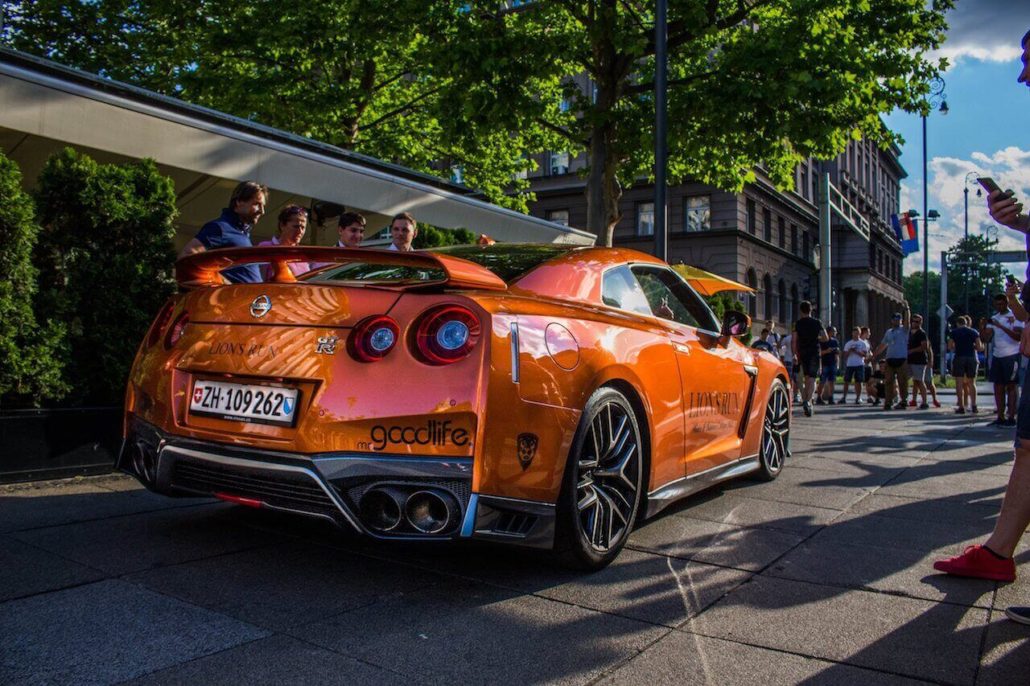 My First 3 Hours With The Nissan GT-R
Our day started with picking up the Nissan GT-R in Zürich – direction Vienna. Of course, we were super excited to drive it, simply because it was the first time with the GT-R. The car looks immensely cheeky, powerful, yet fascinating for every supercar lover – a typical Japanese beast that attracts a lot of attention.
But honestly, I spent the first 3 hours in this car looking for a button that makes it exciting. But there is no button, the facelifted 2017 Nissan GT-R sounds like a hairdryer. But let me explain more…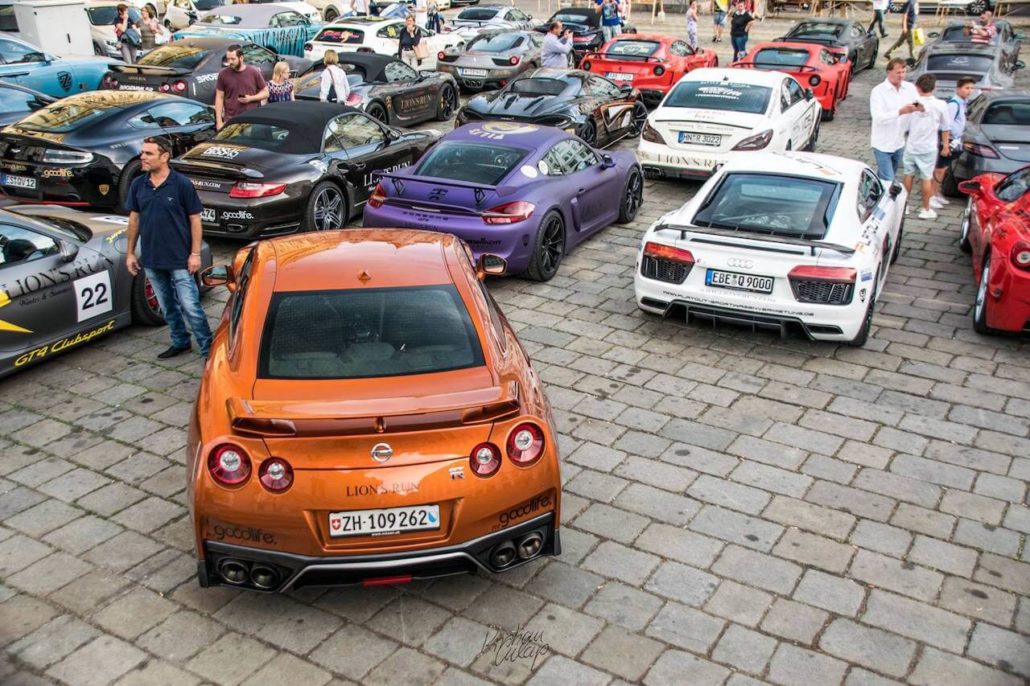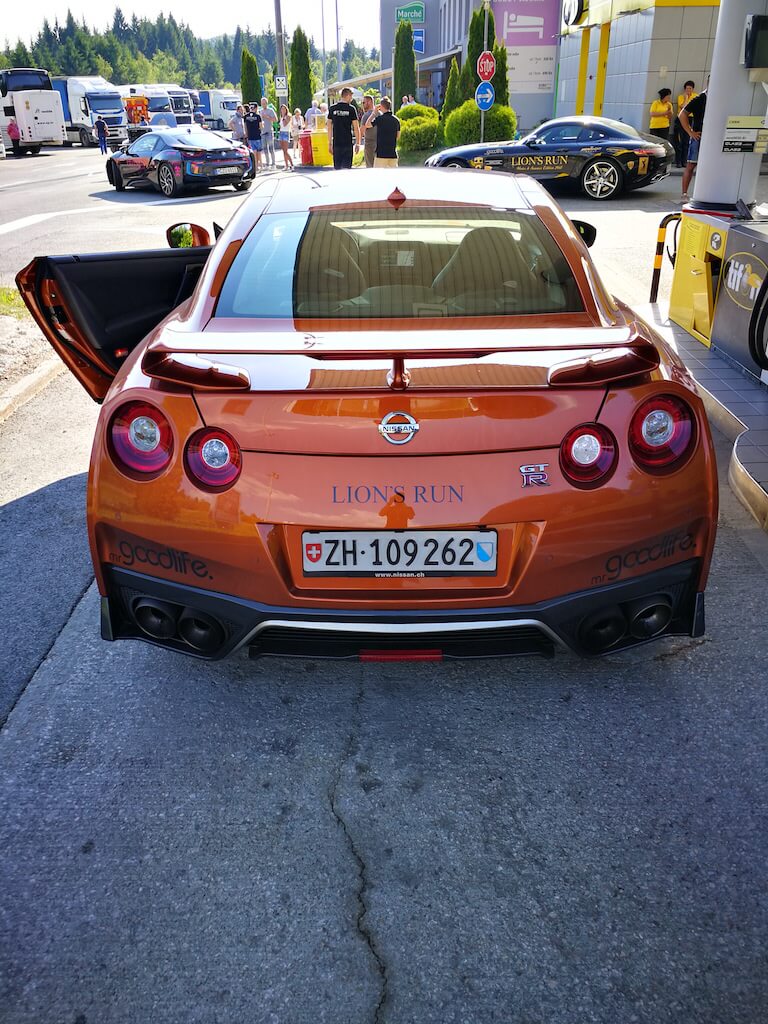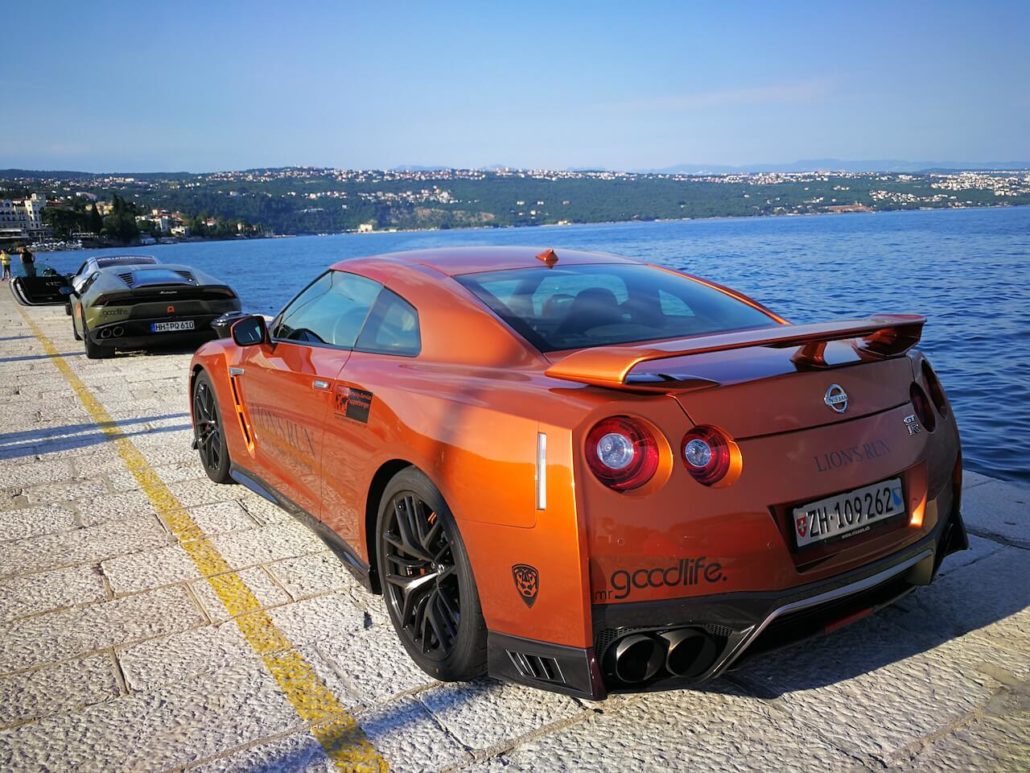 A calm sound doesn't make it slower, right?
Nope, the new GT-R is staggering fast. The numbers are almost scary:
A twin-turbo charged V6 sits underneath this beast

The 2017 GT-R is now upgraded to 570hp & 637nm of torque

It runs from 0-100 within 2,8(!) seconds
It also feels really fast, and on top of that you don't get how quick you're actually going. Driving a speed of 140 km/h feels like you're going 100 km/h. Watch your speedometer carefully!
What else has been changed?
We talked about this, there is more power. Else, the Nissan GT-R has been made much more comfortable (might be the reason it doesn't produce sound).
Whilst the former GT-R looked like a Playstation inside, the new model is sorted and clean

Steering is incredibly direct, ideal for a day on the race track

Even though it's 1750kg heavy, the traction is absolutely perfect

The GT-R now contains nice leather seats with stitches

A great working satnav (I'm really impressed)
Cool Facts About The Nissan GT-R
The Katsura Orange looks fantastic

The whole design and look is super cool

It works like a Swiss watch movement and doesn't break down under tough pressure

You will have a lot of attention, fans filming and taking pictures
The Disadvantages Of The GT-R
There is no exhaust sound

The consumption is huge, we were always the first ones on the petrol station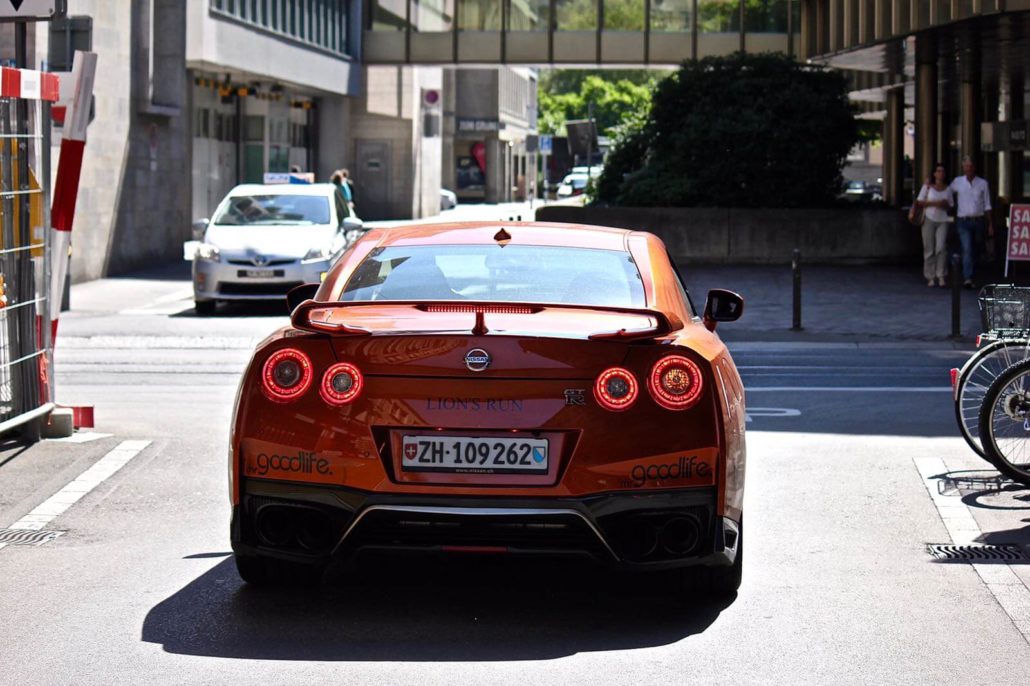 So, what changed my mind?
Yeah, like I said… It din't excite me the first few hours. But the longer we drove it, the more fun it was. But there might be another explanation for my mind-change:
I met the one and only expert when it comes to tune a Nissan GT-R. And he gave me his GT-R for a nice route. Markus changed my mind of the GT-R world from scratch. The experience we had with his GT-R was my craziest in lifetime.
But why that?
Well, his GT-R sounds like an unleashed beast that was buried for a million years. And it's much more powerful. He can actually boost it up to 950bhp… insane.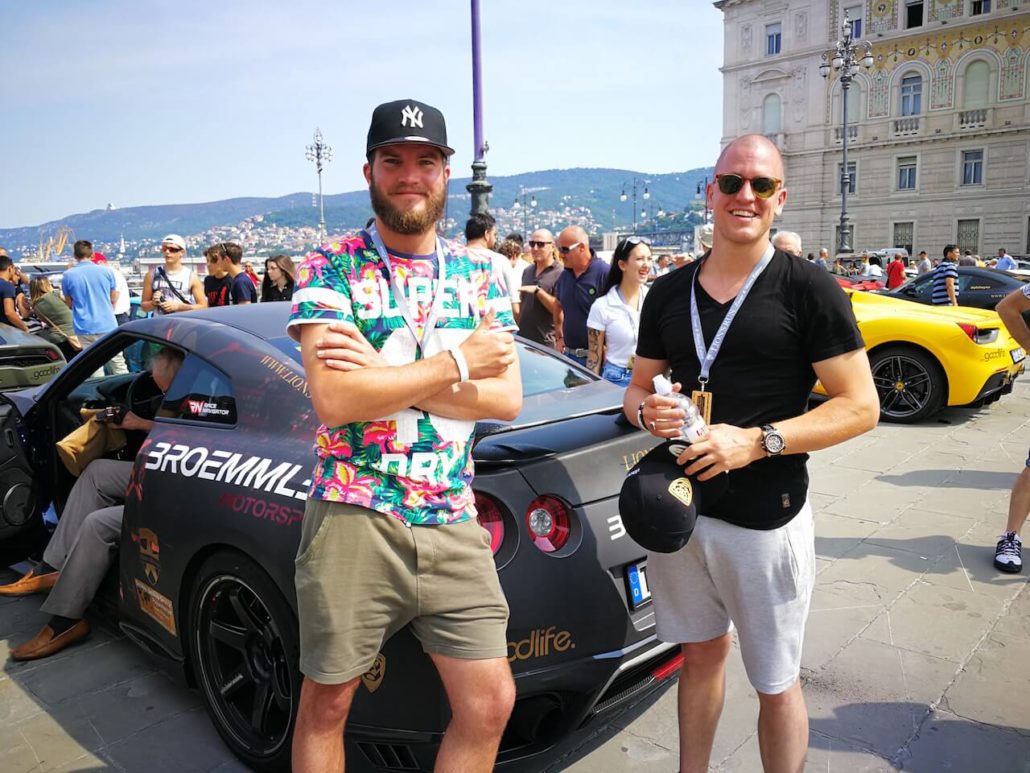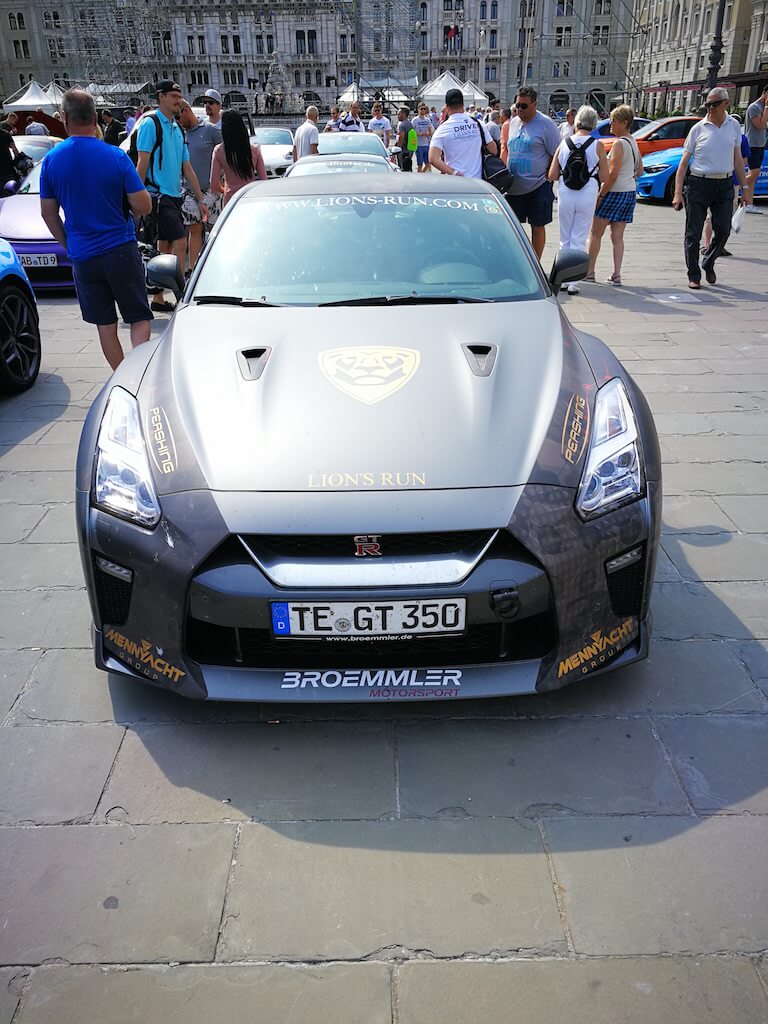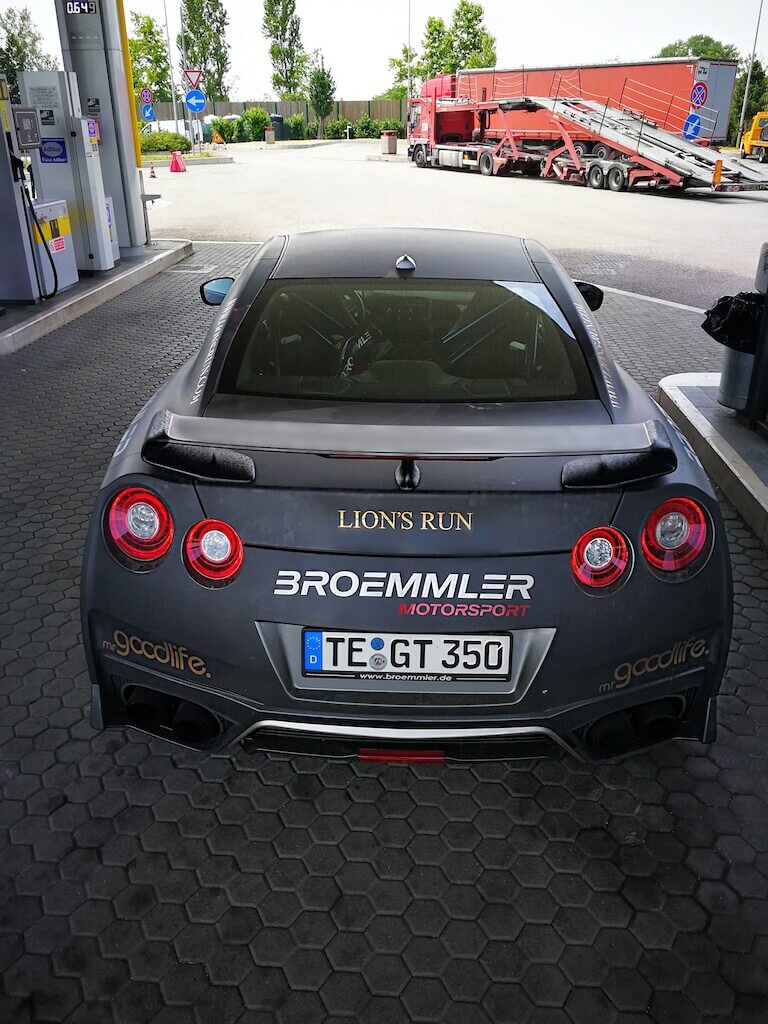 Nissan GT-R by Brömmler – Specifications
Specifications
Broemmler‐Motorsport GT‐R Clubsport II
Power
Adjustable from 700‐950 HP
Engine
Reinforced pistons, connecting rods and engine bearings
Turbocharger
Clubsport turbocharger (Broemmler‐Motorsport Spec) like GT3
Fuel system
1.050 ccm injektors, 2 bigger fuel pumps
Exhaust
Bigger catted downpipes (Broemmler‐Motorsport Spec)
Empty Y‐pipe (Broemmler‐Motorsport Spec)
Exhaust with 2 flaps system (Broemmler‐Motorsport Spec) 88‐102 mm
Transmission
1.000 HP clutch, upgraded full gear set and AWD clutch
Software
Ecutek based Clubsport II engine map (Broemmler‐Motorsport Spec)
Ecutek based GT‐R traction control (Broemmler‐Motorsport Spec)
Suspension
KW Clubsport version, SPL arms front & rear, SuperPro bushes
Safety
Clubsport rollcage (Broemmler‐Motorsport Spec)
https://agentlemans.world/wp-content/uploads/2017/07/Lions-Run-1.jpg
1024
768
Ralph Widmer
//media.agentlemans.world/2017/01/agw-logo-605.png
Ralph Widmer
2017-07-10 10:15:56
2019-01-27 12:05:47
Lion's Run - Our First Supercar Rallye With The Nissan GT-R