When it comes to passion, designed and invented by the Italians – we're reaching the highest perceptions. Designed by the great genius – Enzo Ferrari – these magnificant cars are just too powerful to be true. But let's talk about it later.
Ferrari is one of the boy dreams we all have. Driving the California T along the beautiful area of Frankfurt was simply amazing. The landscape comes up with beautiful castles, impressive architecture, endless hills and lakes.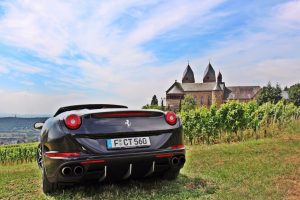 My favourite part of the California T is definitely the rear. It appears extremely masculine and powerful with it's double exhaust.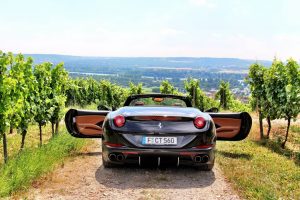 The new model of the Ferrari California T has been completely re- invented and desiged.  The brand changed pretty much everything except for the roof.
The engine has been revised, an angry V8 Bi-Turbo with a direct injection fires the new California T from 0 – 100 in just 3,6 seconds. The new Ferrari engine technology has absolutely no turbo lag, meaning you never miss power. Never. Even if you push the throttle in 5th gear on the motorway you have full torque.Over the history of the brand, Ferrari has managed to increase the power of their cars, whilst the consumption has been reduced by 50%. Another impressive fact and proof that only the best engineers are working on this technology.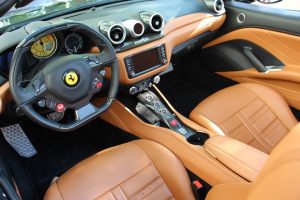 In the interior, Ferrari still follows their traditional line. The steering wheel has all the familiar buttons. If you're not used to this, it might be a bit confusing (the indicator is on the steering wheel).The rest is what you look for from such a high-class car. Beautiful brown leather, solid materials and last but not least the powerful yellow logo & speedo.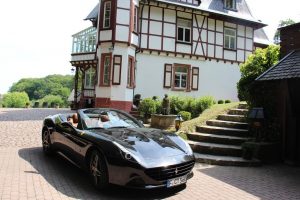 What a match, parking this brilliant designed California T in front of a German villa. Good motivation to achieve your goals.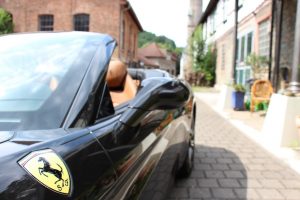 Another evidence how lovely this lines of this car have been desiged.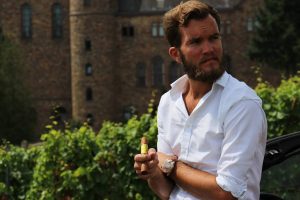 During my break I thought about what makes this car, the perfect car for a gentleman.
It is super powerful, extraordinary fast and the design by Pininfarina is just unrivaled.
The hard top roof can be flapped down within 14 seconds. And even after, there is still space in the boot. It is the most sold Ferrari, and just mass taylored for the every day use. I hope I will be able to drive it along the coast in California one day.
https://agentlemans.world/wp-content/uploads/2015/08/IMG_5935-2.jpg
682
1024
gentleman
//media.agentlemans.world/2017/01/agw-logo-605.png
gentleman
2015-08-04 09:57:00
2019-01-27 00:45:56
The New Ferrari California T